10 Lanzarote Volcanoes For An Explosive Canary Island Trip
Before you plan your trip, learn about the top 10 beautiful Lanzarote volcanoes you must visit. This guide will get you going in the right direction.
If you're ready to swap the beach for something a little unorthodox, the Lanzarote volcanoes should be on your radar. Adventuring through volcanic scenery isn't the typical summer vacation, but it's one you've got to consider.
Imagine your camera roll filled with pics of majestic mountains, fiery landscapes, and unimaginable geysers. Your friends will be oh-so-jealous, and you'll have an insane experience to look back on.
So, if you want to put on your explorer hat, Lanzarote is the island for you.
Let's jump right into the action.
Is Lanzarote a volcanic island? A quick intro: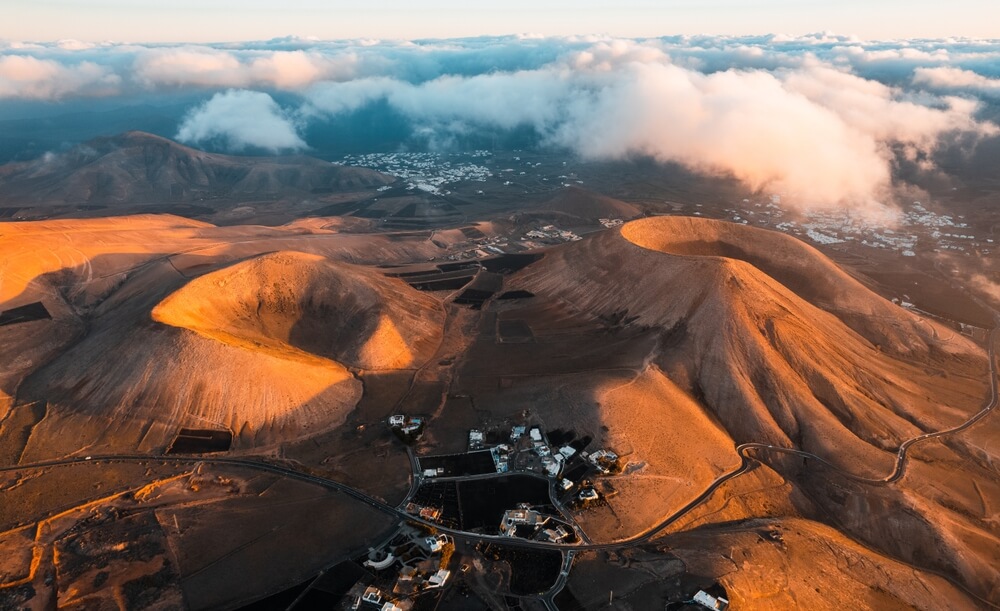 Also known as the "Island of 1000 Volcanoes," Lanzarote is the place to be if you want to admire these geographical wonders. But don't worry if you're not an experienced hiker; the island is filled with spectacular hikes for all abilities.
With dramatic landscapes and a history of eruptions, this island is home to over 300 volcanoes. Don't worry — only one is active. Its last eruption was in 1730, so it's safe to visit. Phew.
You'll find this show-stopping Canary Island off the west coast of Africa in the Atlantic Ocean. Though it's geographically part of Africa, it's still considered European territory and is part of Spain.
Fun fact: Lanzarote is over 15 million years old.
Have we enticed you to book your flights? Scroll down to get an overview of the top volcanoes and why you need to see them.
Will the Lanzarote Volcanoes erupt again?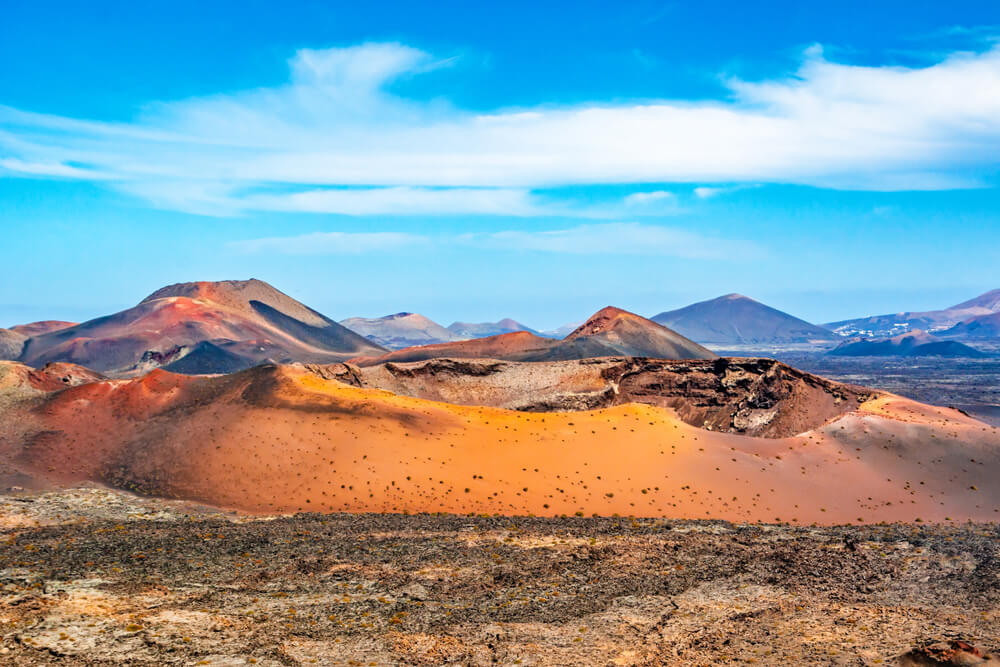 If you're curious about Lanzarote, this question is probably on your lips. But don't worry. Booking a trip to this destination won't end up in flames. A volcano eruption in Lanzarote isn't on the cards anytime soon.
Timanfaya is the only active volcano right now. But the last time it erupted was in 1730 for a whopping 2,055 days. The island's experts constantly observe volcanic activity for risks, and professionals carefully examine any seismic activity.
Fun Fact: The 1730 Timanfaya eruption is why the Tinguaton, Tao, and del Fuego volcanoes exist.
10 best Lanzarote Volcanoes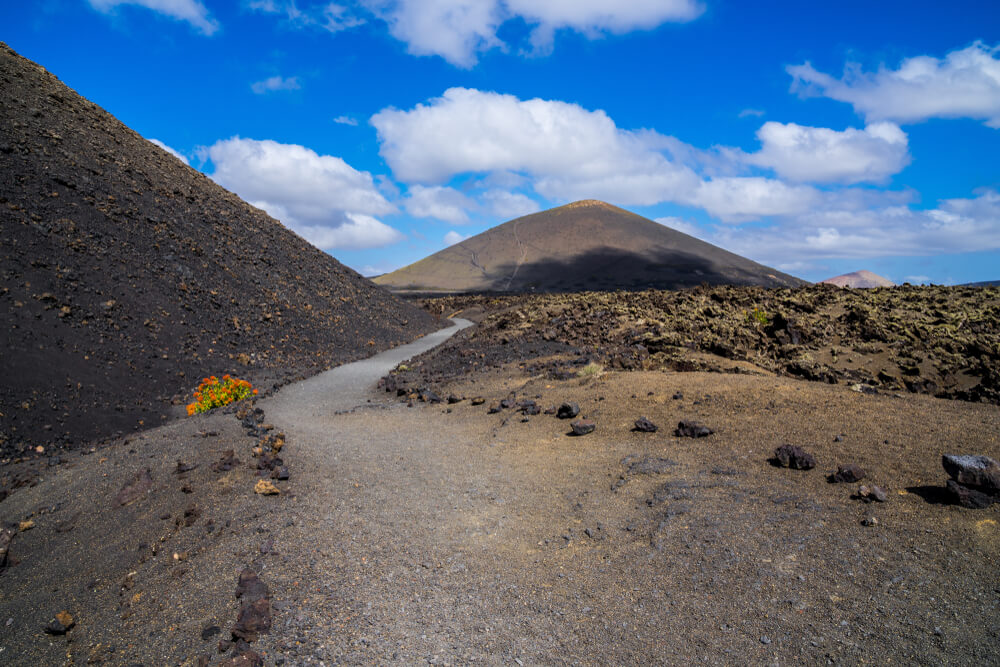 Throw out the guidebooks. This is what you really need to know about the Lanzarote mountains.
Timanfaya National Park
Best for seeing the most famous sights and the only Lanzarote active volcano.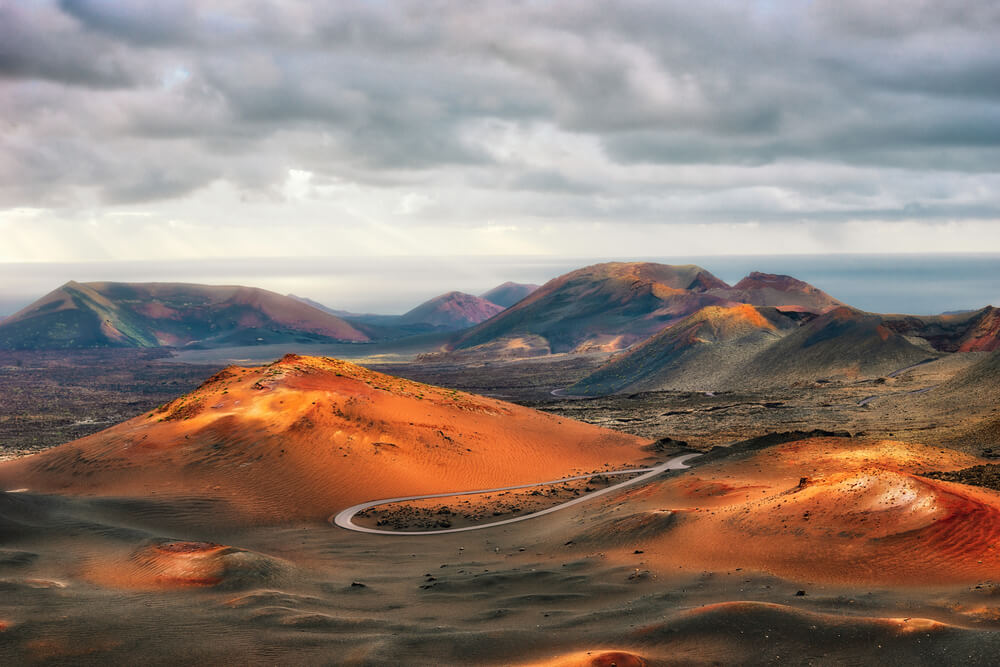 When you search for this island, the Timanfaya National Park is one of the top attractions — and for a good reason. This park isn't only photo-worthy, but it's home to an active volcano. Oh yes.
Active doesn't mean it's likely to erupt, though. The volcanic activity occurs 13 meters below the ground, and the only visible examples are the impressive jets of steam from the geysers in the park.
So, what's inside the park — aside from underground volcanic activity? You can see craters, volcanoes, geysers, lava tubes, and more here. It's a feast for the eyes. Don't miss it if you're in town.
There are several ways to see the park, including:
9 km (5.5 miles) coastal hiking trail (best for experienced hikers and takes approx three hours)
4 km (2.4 miles) walking trail (great for families and beginners)
Guided bus tours
Camel-back guided tours
As the only active volcano Lanzarote has to offer, this park will be busy in the summer months. But don't let this put you off. Since it's such a large national park, you'll have lots of space to admire the sights.
Don't miss the El Diablo restaurant. An in-park eatery that uses a 400°C/752°F pool of lava to cook the food. Foodies will want to tick this off.
Fun Fact: The national park takes up a whopping quarter of the island.
Corona Volcano
Best for anyone looking for a high-altitude day out.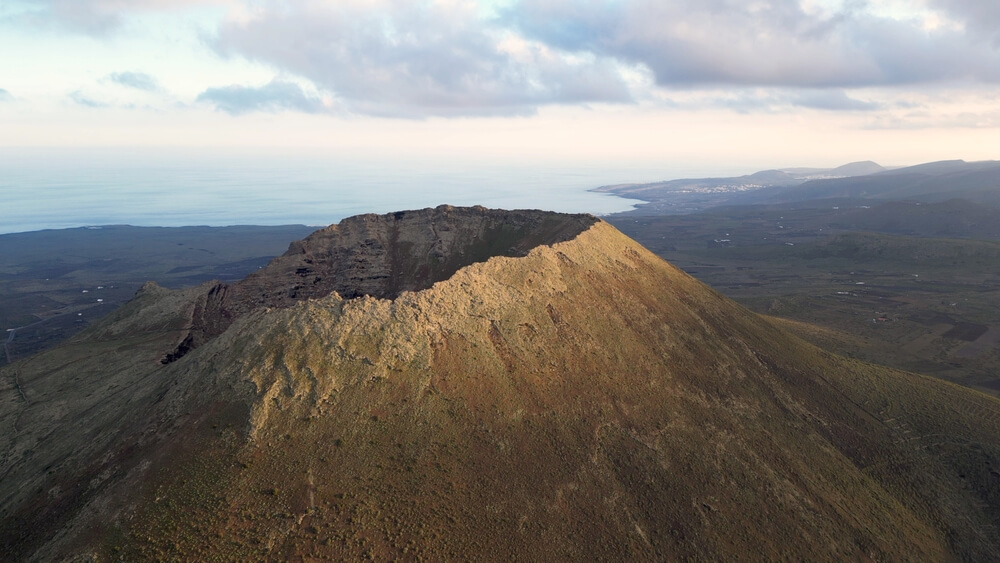 On the island's northern side, you'll find the aptly named Corona Volcano (because it's like the island's crown — get it?)
To get here, you'll need to visit Ye village, which is 605 meters (1984 ft) above sea level. From here, you can hike up the crater. It's best to go with a guided tour if you want to hear more about the history from a local guide. If you plan to go alone, make sure you have a rough idea of the trail before you arrive.
The volcano is excellent for beginner hikers and lasts around one to two hours, depending on your speed and group. The trail distance is 3.4 km (2.1 miles), and the elevation gain is 145 m (475 feet).
On the hike, you can admire the volcano's complex caves, rough black basalt, and the green grasslands at its base. A volcano trip to Lanzarote isn't complete without the Corona Volcano.
Pro Tip: Make sure you see the world's largest underwater volcanic tube before you leave. You can access this tunnel from Cueva de los Verdes.
Montana Blanca
Best if you want to see something different.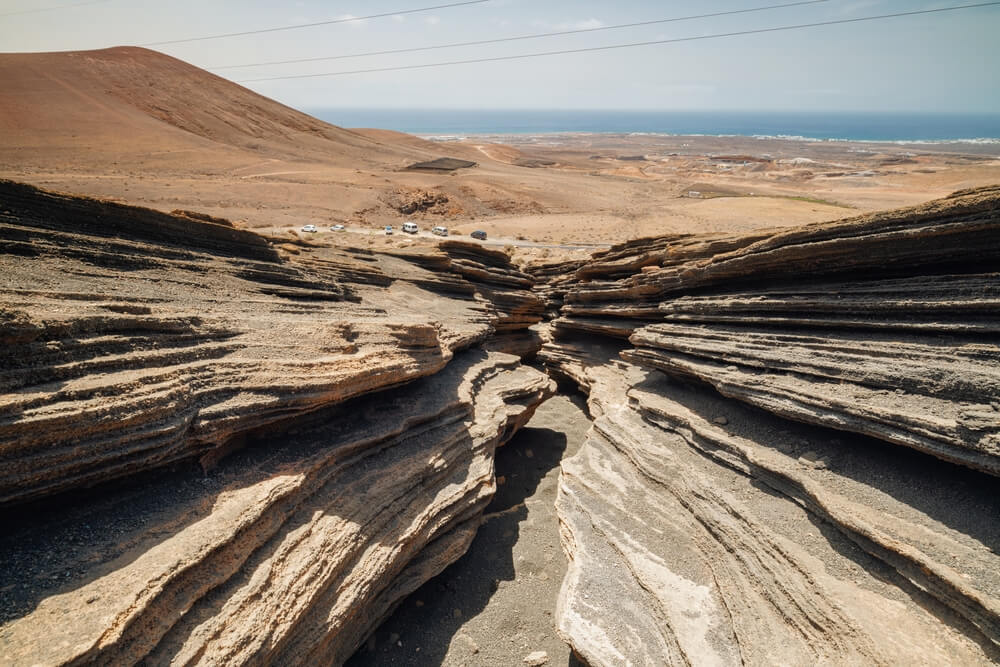 Unlike the many black basalt volcanoes on the island, the Montana Blanca Volcano in Lanzarote offers a different look. This impressive sight isn't dark and mysterious. It's pale white and the highest on the island. You won't be able to look away.
To get to this majestic site, you'll need to make your way to the municipality of San Bartolome. In this town, you'll find a visitors center, car parking, and maps with clear route markings.
The most popular hike to Montana Blanca takes approximately two hours. It takes you across different landscapes and to a gorgeous viewpoint.
Lanzarote always looks better from a height.
You may also come across mountain goats but don't worry. These guys are friendly.
For the most part, this path is wide and suitable for intermediate hikers.
Pro Tip: Don't confuse Montana Blanca with Caldera Blanca. 20 km/12 miles separate these two peaks.
Caldera Blanca
Best for keen hikers.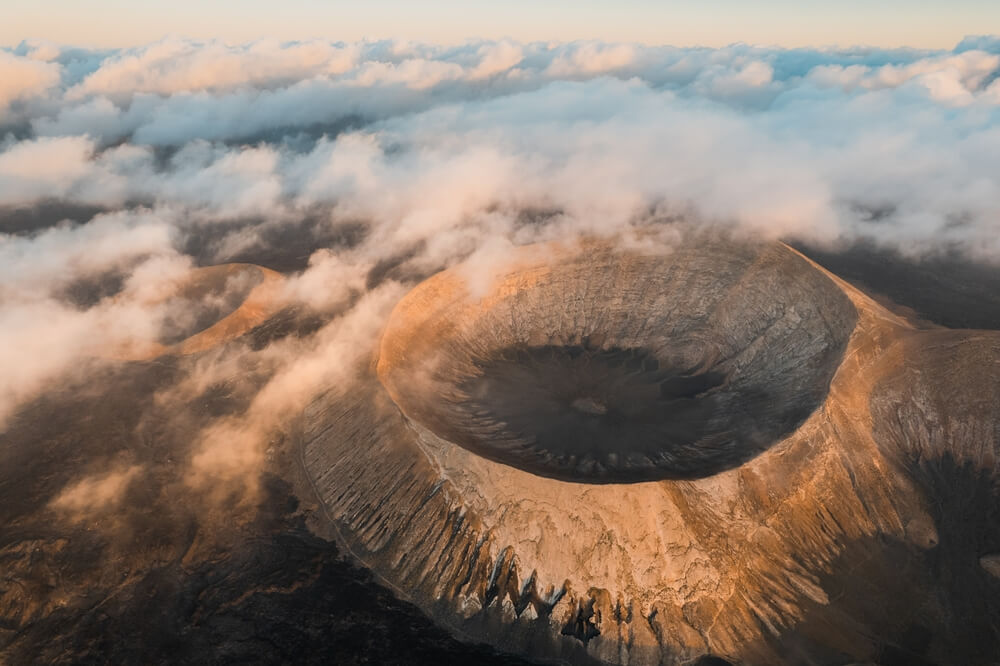 Not to be confused with Montana Blanca, Caldera Blanca is another well-known volcano on this beautiful island. Created from the 1730 eruptions, Caldera Blanca sits 500 meters (1,640 ft) tall with an impressive 1199 m (3,937 ft) wide crater.
The Caldera Blanca trail is extra special as it directly leads to the volcano's crater. The elevation of this hike is approximately 450 m (1,500 ft), and the trail is around 10 km (6.2 miles), making it a moderate hike.
Not ideal if it's your first hike, but it's not extreme. Just make sure you have water because it gets hot in the summer.
You'll need to head to Mancha Blanca to get to the grand crater. From here, you should drive towards the Timanfaya National Park. On the way, you'll see signs for this volcano. Hint: They're approximately two km (1.2 miles) from the visitor center.
Pro Tip: Download the route via an offline map app before you go.
Cuervo Volcano
Best for family-friendly trips.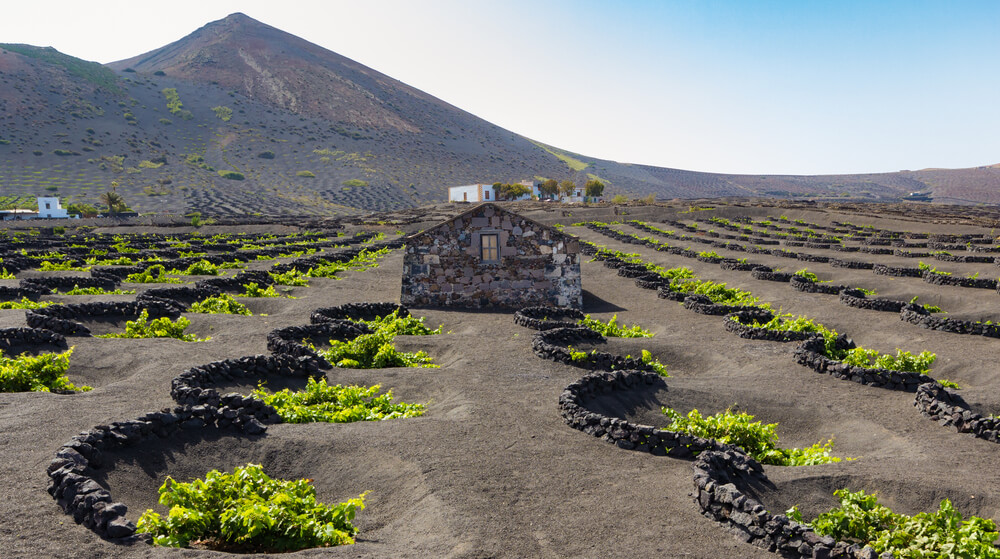 Situated between La Geria and the Timanfaya National Park, the iconic Cuervo Volcano is the first volcano formed due to the 1730 eruption.
If you want to visit the volcanoes without embarking on a difficult journey, this could be the day trip for you. Cuervo is considered a family-friendly volcano, as the main hiking trail is a simple five km (three miles) — one of the easiest on the island.
But the relaxing hike isn't the only appeal. After a five-minute drive from this peak, you'll find a volcanic winery (Bodega La Geria). Yes, a winery amongst the dry volcanic ash. This award-winning winery uses the Malvasia grape variety, creating an aromatic white wine.
Volcan Bermeja
Best for jaw-dropping views.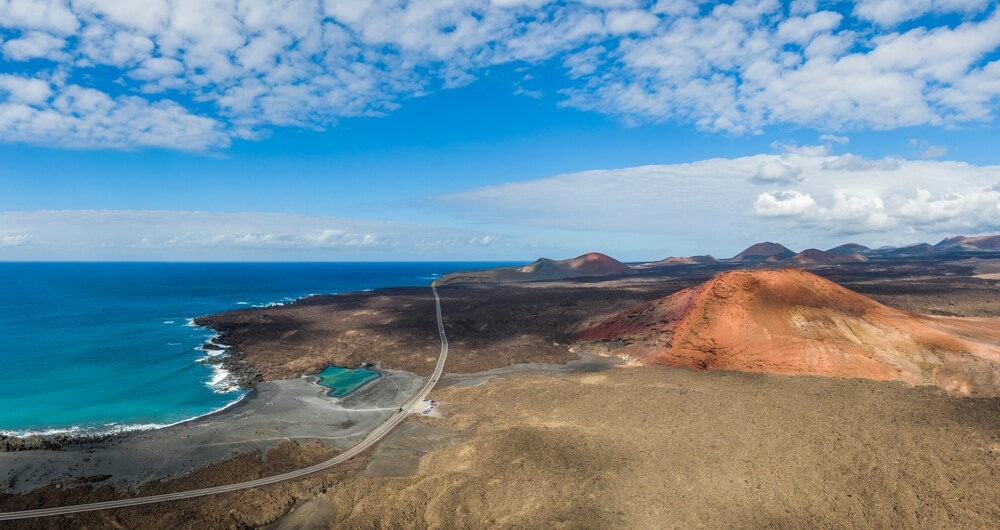 Volcan Bermeja is a must-see volcano on the east side of Lanzarote. Unlike the inland volcanoes, this beautiful red volcano is best viewed from the nearby beach — Playa Montana Bermeja. Here, you can gaze upon the red rock from a black sand beach framed by turquoise waters.
But don't bring your beach towel. Playa Montana Bermeja isn't a swimming beach. The current is too strong. Sorry, water babies! However, there are plenty of incredible swimming beaches on the island, so don't fret.
The best way to see Volcan Bermeja? On a road trip. Hire a car and drive down the island's east side to admire the scenery along this coastline.
Caldera Colorada
Best for photographers.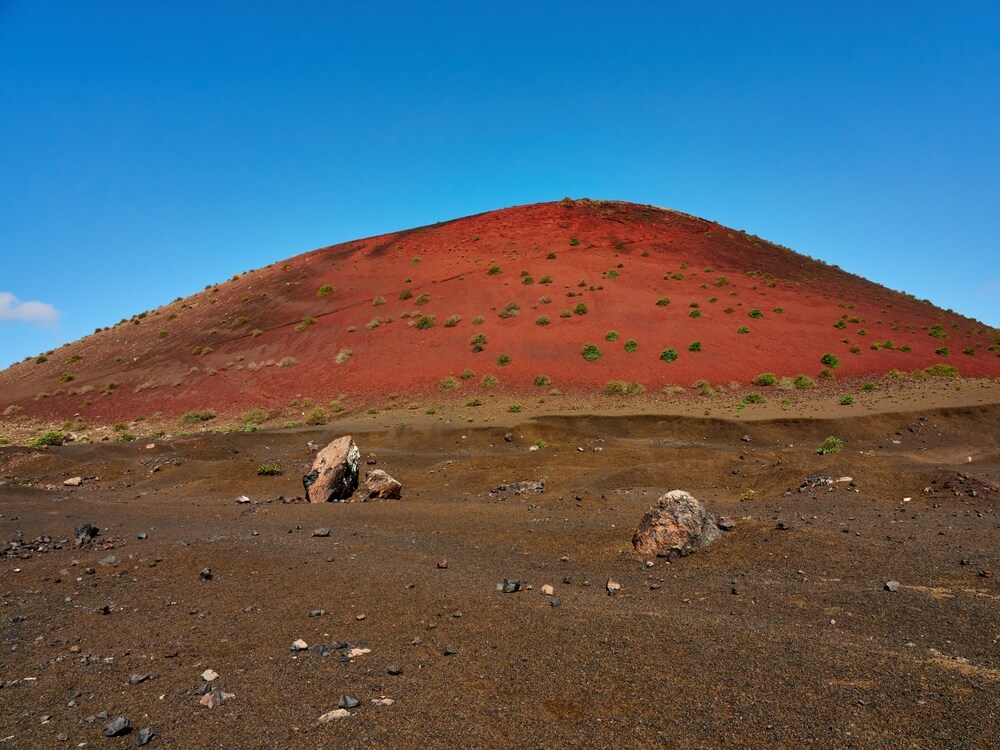 You may not return home with a Lanzarote volcano eruption photo. Still, you can snap some images of an intense red-colored volcano.
Caldera Colorada is located in the center of Lanzarote, within the Los Volcanes National Park. Unlike the other dark volcanoes, this caldera is red and brownish, making for outstanding images and unforgettable memories.
There's also a hiking trail that takes you around the volcano. You can find the trailhead in Mancha Blanca town, and it's a simple, family-friendly route. The 2.8 km (1.8 mile) trail is completely flat, which is ideal if you want to take it slow.
Montana Teneza
Best if you want to avoid the crowds.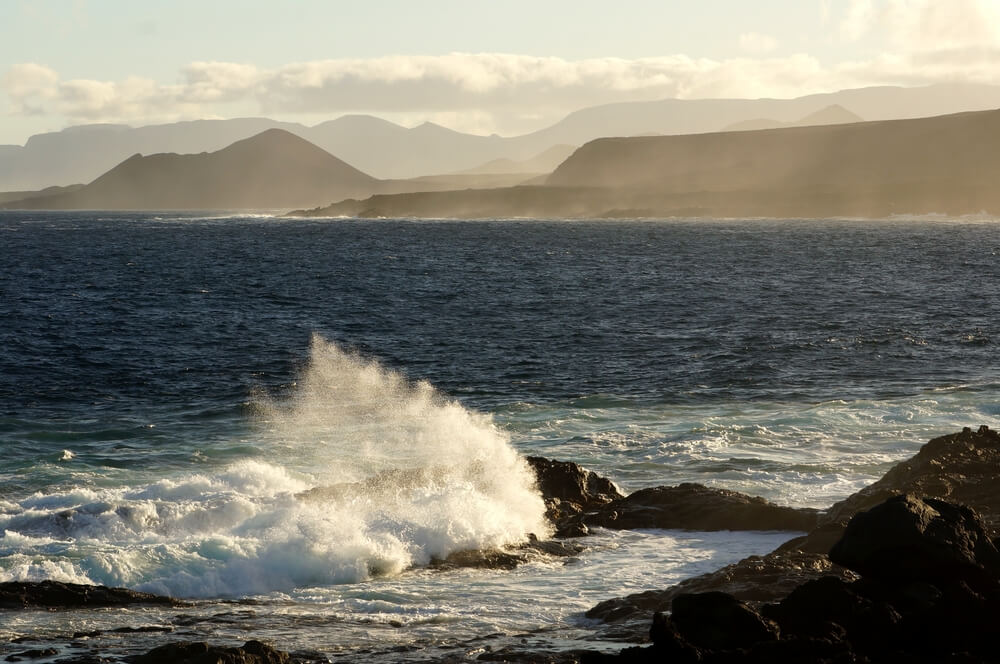 Without a doubt, Timanfaya is the most popular Lanzarote volcano. It's an impressive sight. But the crowds that come with it aren't so fun.
If you want to beat the hordes, schedule a trip to Montana Teneza. This lesser-known volcano sits within the Los Volcanes National Park but doesn't see as many visitors as its famous friend.
So, if you want to lace up your hiking boots and explore without other humans, head to this spot. The trail around the volcano passes natural pools, volcanic beaches, and even Ana Victoria cave. It's a true hidden gem.
Montana Roja
Best for a beach day.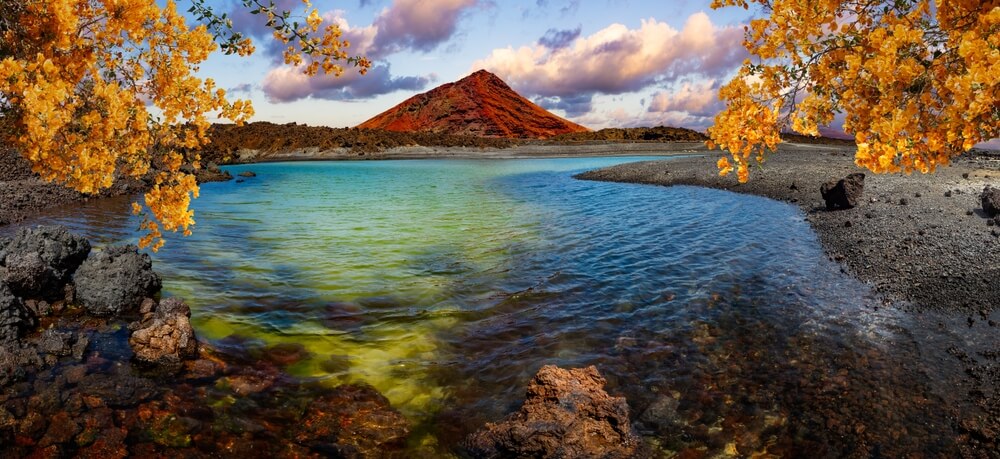 Montana Roja is a must-see volcano in the south of the island. However, you don't have to head to a sparse national park to view this beauty. It's easily seen from the beach — hence why it's also dubbed the "Playa Blanca Volcano."
Still, you can hike if you want. The Montana Roja trail starts on the west side of Playa Blanca, and the route is well-marked by an Al Volcan (to the Volcano) sign. If you're driving, you can park by Jardines Del Sol.
Pro Tip: You can explore this volcano's crater and even climb inside. Bring sturdy shoes!
Montana Rajada
Best if you're interested in hiking the Tremesana Route.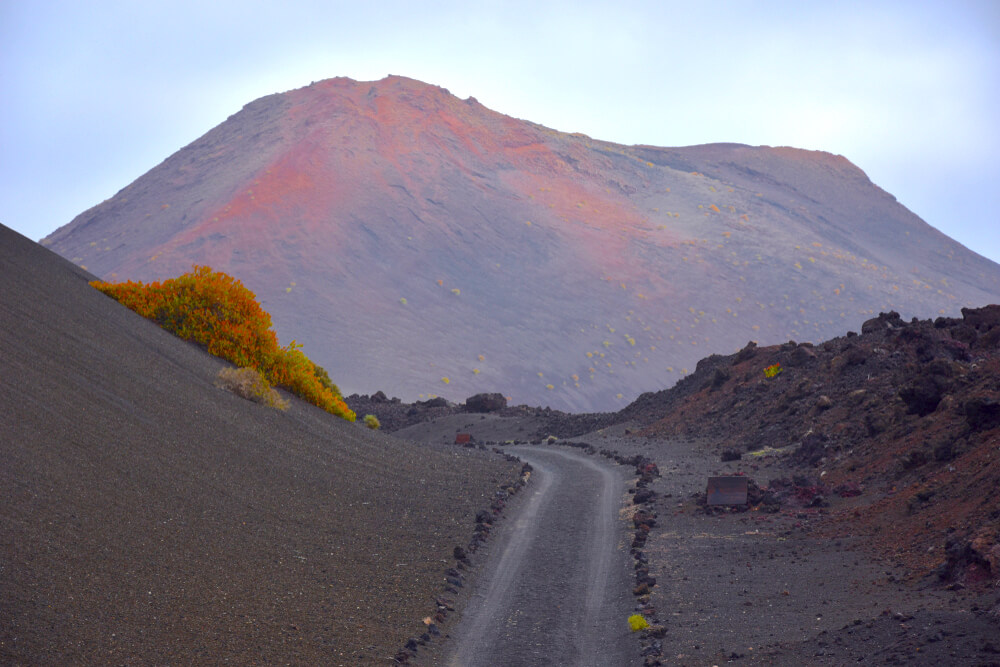 Finally, we have Montana Rajada. This is a spectacular black and red volcano with a jagged silhouette. This volcano isn't on every Lanzarote itinerary, but it should be.
It is, however, on the Tremesana Route. This famous hike takes you through the volcanoes that erupted between 1730-1736. The route is around three km (1.8 miles), and you can book guided tours in English and Spanish.
You can also take a volcano tour bus through this area if you don't want to walk long distances.
Packing list essentials for the Lanzarote Volcanoes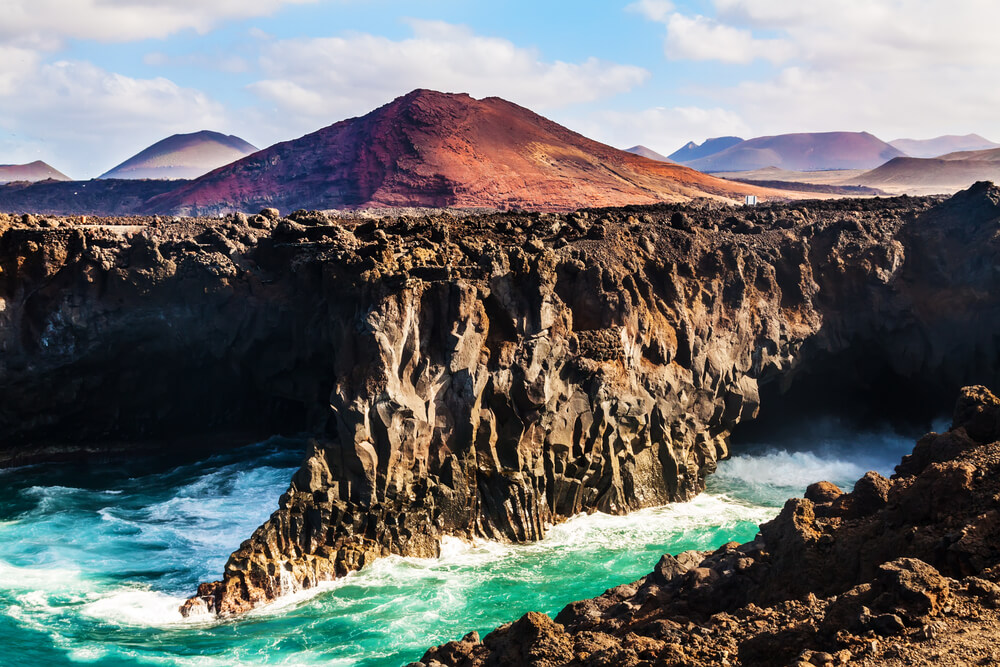 Off to the mountains in Lanzarote for your summer vacay? Don't forget these must-haves.
Swimwear
SPF
Sun protective hats
Camera and charger
Comfortable shoes
Activewear (for hiking)
UVB sunglasses
If you're visiting in the winter, you should take a light jacket for the evenings. But in the summer, don't even think about it.
Weather in Lanzarote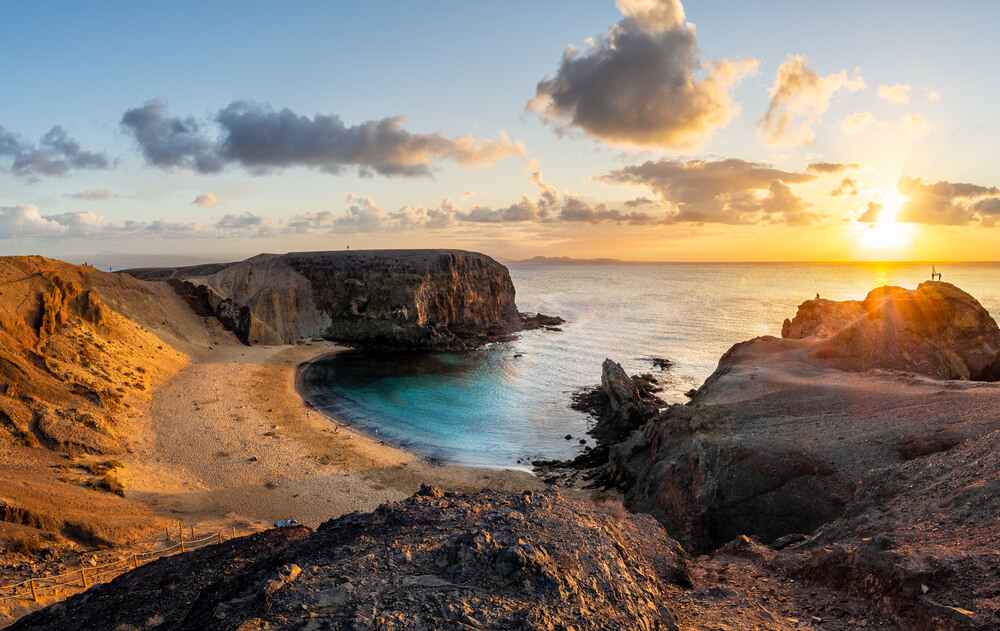 Before you adventure up a Lanzarote mountain, ensure you're dressed for the part. The best way to gauge the weather is by looking at past averages, so use these statistics as an approximation.
With over 300 days of bright sunshine per year, Lanzarote is a warm paradise. Even in the winter months (December, January, and February), daily highs sit around 22°C/71°F and drop to 14°C/57°F at night.
In the hottest summer months (June, July, August, and September), temperatures average 29°C/84°F but can reach up to 40°C/104°F — wowza! Temperatures sit around 20°C/68°F in the summer evenings.
Lanzarote has low rainfall with 125 to 150 mm per year. The wettest month is December, when you can expect 35mm of rain.
Map of the Lanzarote Volcanoes
Ready to go volcano-hopping (who knew there was such a thing)? This map will help you plan your holiday so you spend less time getting there and more time snapping incredible pics from the craters!
How to get to the Lanzarote Volcanoes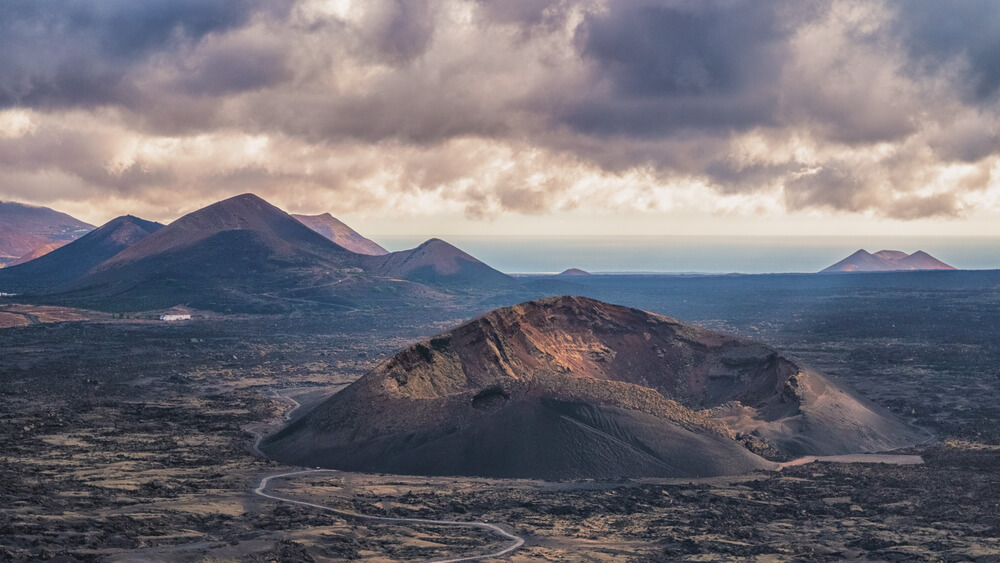 You'll probably arrive at Lanzarote Airport (ACE), the island's main international airport. From here, you'll likely travel to Costa Teguise or Arrecife — the island's two most popular destinations. Each is packed with accommodation, amenities, and restaurants.
From Lanzarote Airport to Costa Teguise, you must travel 12 km (8 miles), which takes approximately 40 minutes by car. The most popular route is a bus transfer from TL Travel.
If you want to go from Lanzarote Airport to Arrecife, you'll only have to travel five km (3.1 miles). This journey takes approximately 25 minutes via bus transfer. Quick and easy!
Final thoughts on visiting the Lanzarote Volcanos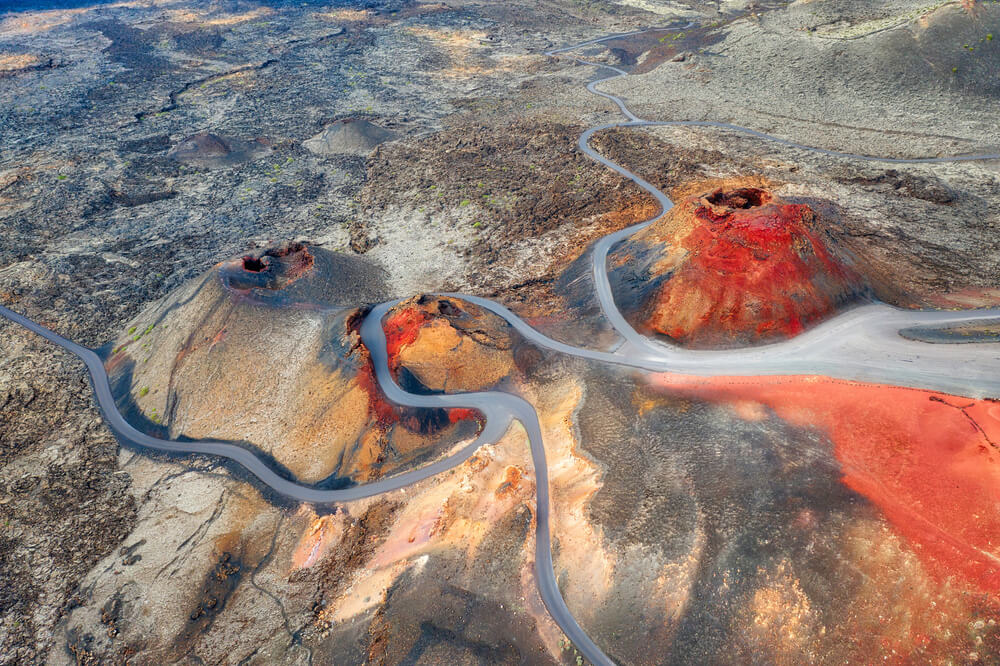 Whether you're an avid trekker or keen to see nature's most remarkable sights, the Lanzarote volcanoes will ignite your spirit. Make sure you investigate all of the options before you go. A tailor-made volcano itinerary is a must on this Canary Island.
We'll see you at the trailhead.
Start comparing journeys and prices today. See Bookaway's Lanzarote routes to learn more.
FAQ
Are there any active volcanoes in Lanzarote? 
Yes, the Lanzarote volcano Timanfaya is technically active. But it hasn't erupted since 1730. Volcanic experts constantly measure seismic activity; if the risk is observed, there's a safety plan.
When did a volcano last erupt in Lanzarote? 
The last Lanzarote eruption was in 1824 and lasted around three months. This eruption was smaller than the 1730 one, mainly from the Nuevo del Fuego vent. As far as active volcanoes in Lanzarote go, Timanfaya is the only one today.
How many volcanoes are on Lanzarote?
There are over 300 volcanoes in Lanzarote, but only Timanfaya is currently active. So, don't expect a Lanzarote volcano eruption today.