10 Unforgettable Rooftop Bars in Athens, Greece, for Sips & Sights
Visiting a rooftop bar in Athens is one of the top things to do. Read this guide to discover the best bars with even better views.
Athens is bursting with ruins and iconic landmarks. Exploring them is breathtaking, but there's something even more magical about admiring them by night, cocktail in hand, from rooftop bars in Athens.
Need somewhere to take a break from exploring? Those rooftop bars are almost as spectacular during the day. And many of them serve delicious brunches, snacks and meals to fuel your adventures in this bustling city.
Whether you're looking for eclectic, modern, fancy, or affordable, our list of the best rooftop bars in Athens has a happy place for everyone!
Best Rooftop Bars in Athens
A for Athens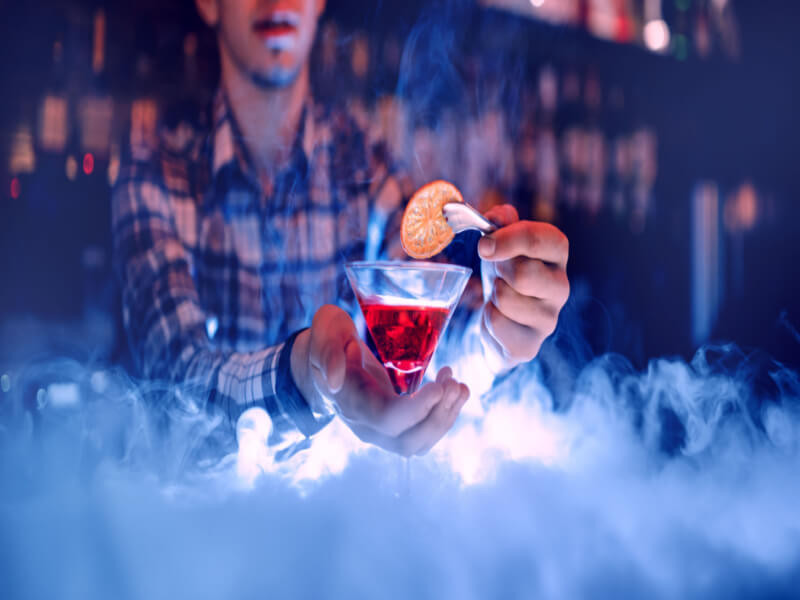 Bored of the old Pornstar Martini or Long Island Ice Tea?
The bartenders at A for Athens are literal geniuses when it comes to mixing up the perfect cocktail. Sure, you can find all of the classics, but if you fancy trying something new, they can whip up something just for you, depending on what you're feeling.
Located in the Monastiraki neighborhood, it's one of the best cocktail bars in Athens and offers some of the best views. Take a seat in the newly renovated rooftop bar and admire the unobstructed views of the Acropolis glistening in the distance.
360 Cocktail Bar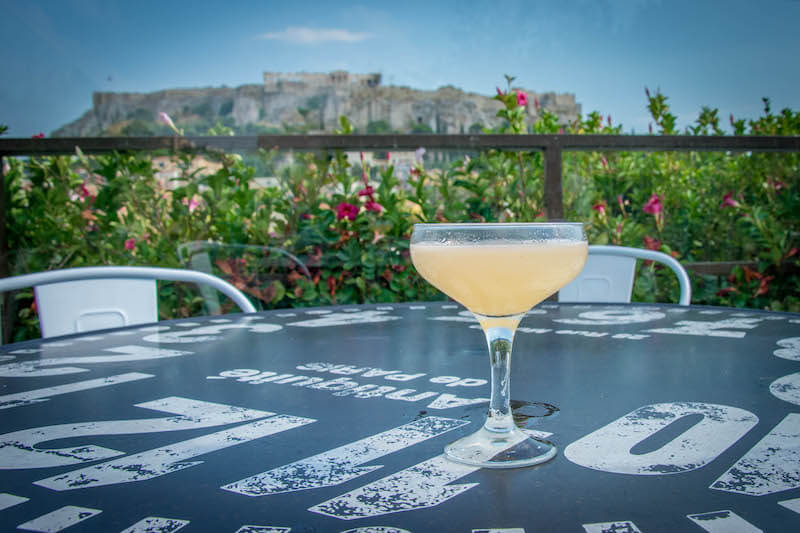 Also located in Monastiraki, 360 Cocktail Bar really does live up to its name!
It has panoramic views of Acropolis Hill and downtown Athens. The view is so mesmerizing it's addictive. It's a good thing they're open for lunch, dinner, sunset cocktails and, of course, at night, giving you plenty of opportunities to visit.
If you can take your eyes off the views for more than a few seconds, it's impossible to not fall in love with the design of the cocktail bar. It feels like you're in the middle of a forest, not a bustling urban jungle. With plants and trees popping up everywhere, it creates a relaxing, laid-back vibe.
360 is one of the best bars in Athens and a popular choice amongst locals!
Couleur Locale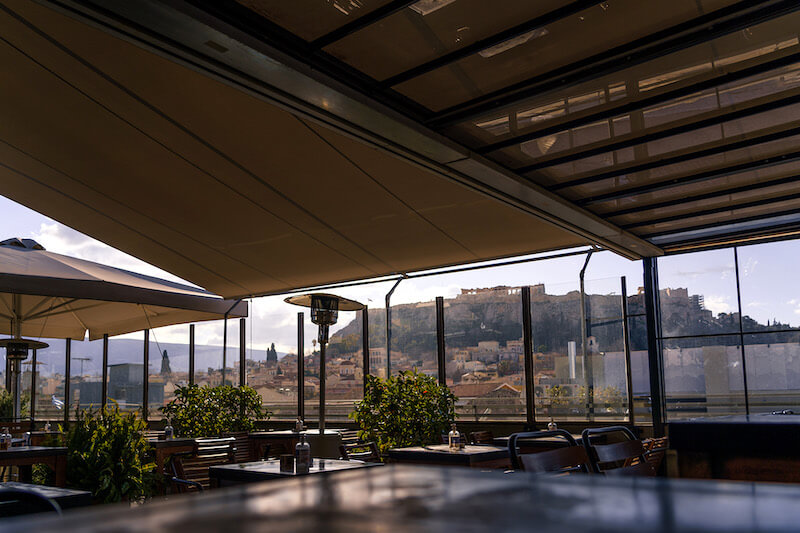 No matter where you sit at Couleur Locale, you'll be rewarded with spectacular views of the Acropolis. Despite the fancy-sounding name, this Athens rooftop bar boasts a laid-back and welcoming atmosphere.
The staff provides amazing service and offers great recommendations. If you're stuck on what to get, ask the staff!
Open pretty much all day, you can head here for some hearty pancakes for breakfast (trust us, you'll want to try them), a tasty sandwich for lunch or some of their finger food for dinner.
Couleur Locale frequently hosts lively DJ nights, so make sure to check their social media to stay updated.
Pro tip: Try to get to Couleur Locale before 8 p.m. After this time, it starts to get busy, and you might miss out on a seat.
The Foundry Rooftop Garden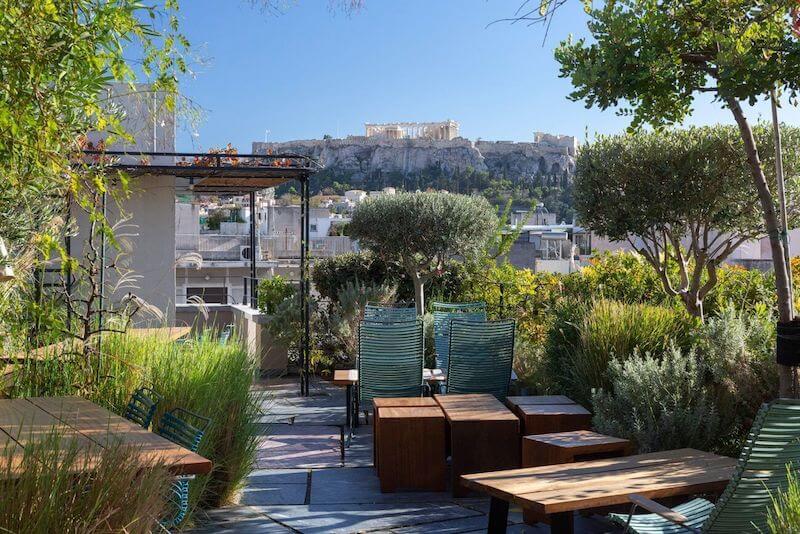 It can be hard to stand out in a city full of rooftop bars, but when The Foundry Rooftop Garden opened in 2019, it did almost instantly.
Boasting over 30 species of plants, this rooftop garden feels like a tranquil oasis overflowing with greenery. It's the perfect place to escape the hustle and bustle down below and appreciate the Acropolis without all the noise!
Their artisanal Neopolitan-style pizza also helped them to become a popular spot. Try it! Their crust is on point!
Munch on your pizza with a signature cocktail (the Griega Margarita is insane), a glass of Greek wine or a refreshing beer from a local microbrewery.
Pro tip: Try to time your visit with a full moon. They throw full moon parties with wine and pizza tastings. Sounds like the perfect night, right?
Attic Urban Rooftop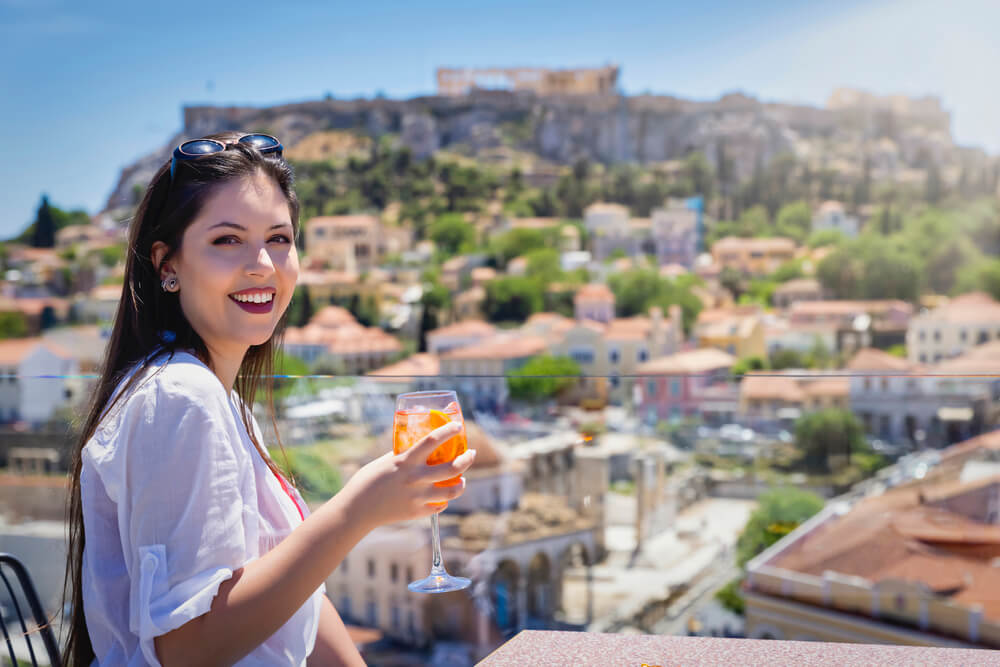 Looking for a place to enjoy some delicious food while vibing to fun music and enjoying incredible views? Attic Urban Rooftop is a bar and restaurant that ticks both boxes.
Serving brunch, lunch and dinner, you can visit at almost any time of the day. Start the day with a coffee and views of the Parthenon. Or indulge in a juicy steak later in the day.
The bohemian rooftop bar is chill during the day and really comes alive at night.
Upbeat music creates a vibrant and lively atmosphere that's infectious. If you're after a quiet spot for a romantic dinner, this isn't the place.
Pro tip: Make sure to check out the wooden swings. They're a popular Instagram spot in Athens.
The Artist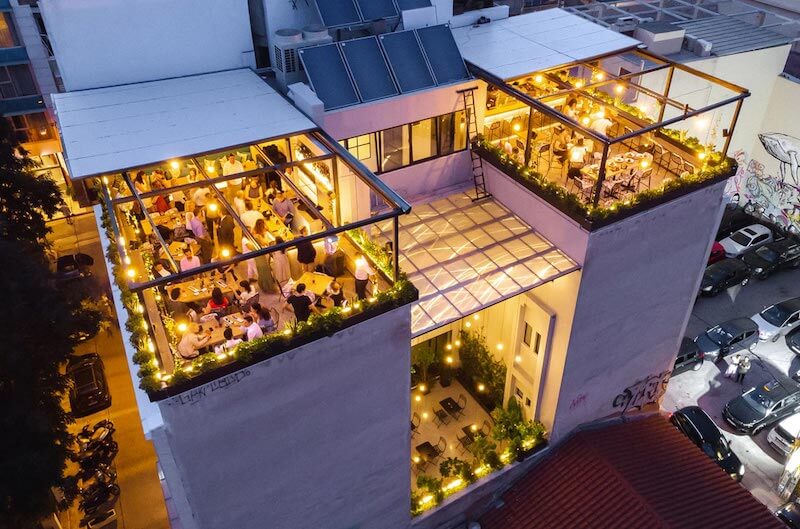 Offering two separate rooftop terraces, The Artist boasts two different vibes. One is for dining, and the other is for enjoying a cocktail while the sun sets. A great thing about this place is that you can visit it all year round thanks to its temporary roof.
If you want dinner with a view, why not try the six-course tasting menu featuring fresh seafood and the tastes of Greece.
Their drinks list seems to be neverending! Where do you even begin when choosing between ice-cold local beers, wine of every type and cocktails that tickle your taste buds.
Fancy learning something, too? The Artist also offers cooking classes and wine and beer tastings.
Pro tip: Try the Green Chilly Margaret cocktail to taste something completely new and exciting.
Boo!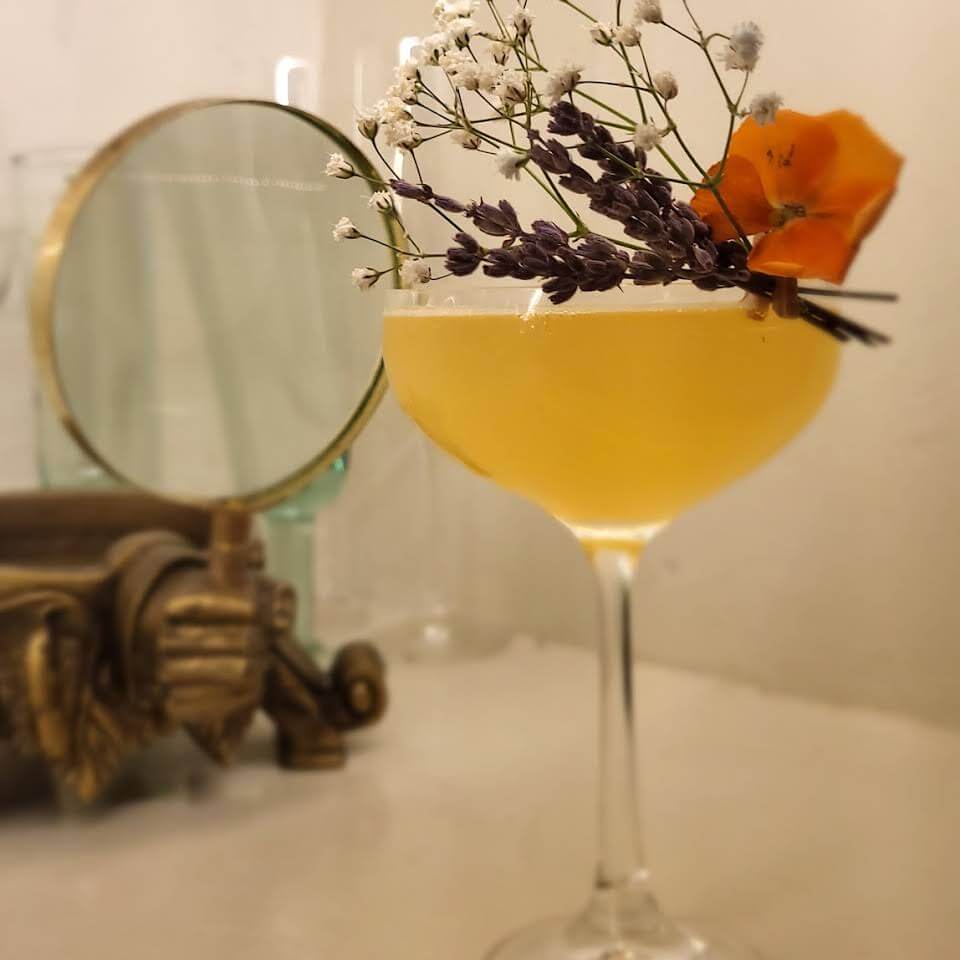 If you want to have an unforgettable night, head to Boo! Unlike many other rooftop bars in Athens, this is the place to let loose and have a boogie.
The live DJs know how to please a crowd, playing cool tropical-like electro and dance music. When the sun sets, Boo! truly comes to life!
It's not just the fun vibes that people come for—the decor is creative, eclectic and bohemian. It's house goals!
The service is excellent, and there are some cool signature cocktails to try. Have you ever tried a cocktail with pumpkin in it? Well, here is your chance.
Pro tip: This is not the place to come if you want to have a deep conversation or a romantic dinner. The music is too loud!
Manouka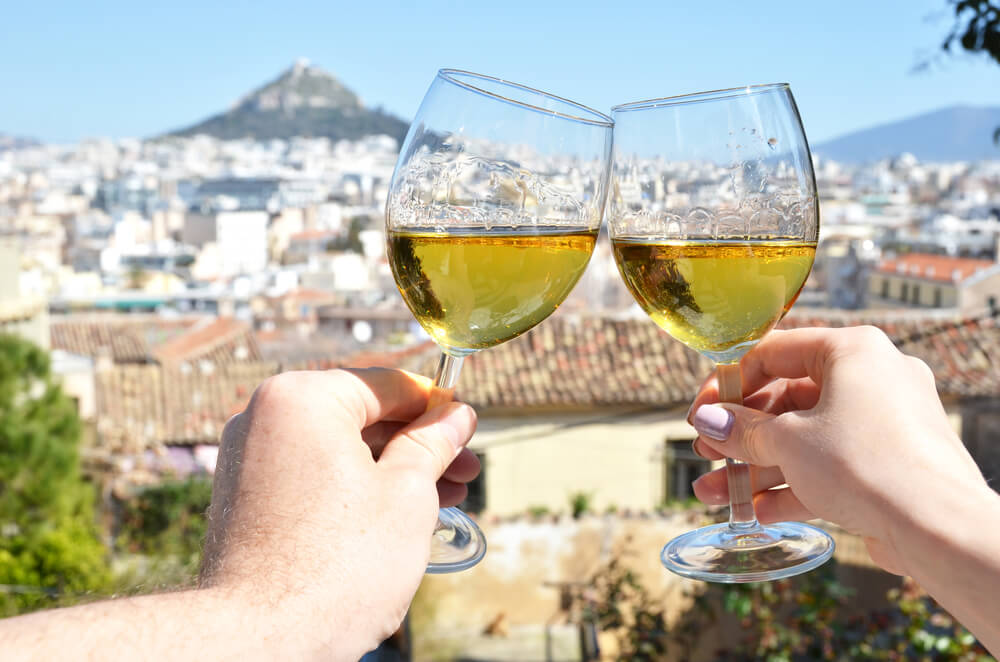 Calling all wine lovers!
Manouka is a relatively new addition to the Athens rooftop bar scene, and it's quickly becoming a favorite thanks to its extensive wine list.
They have over 100 wines by the glass, showcasing the best of what Greece offers.
Why not have your own DIY wine tasting? Seeing as it's open from 8 a.m., you'll have plenty of time to work your way through the menu.
Manouka even has wine-based cocktails. Hey, it's good to try something new!
With an endless flow of wine, you'll need something to line your stomach. You're in luck! They aren't just about wine. They also serve great cheese and meat boards, salads, appetizers and drool-worthy meat dishes.
With so much to offer, we almost forgot to mention the remarkable views of the Parthenon!
Retiré at the Ergon House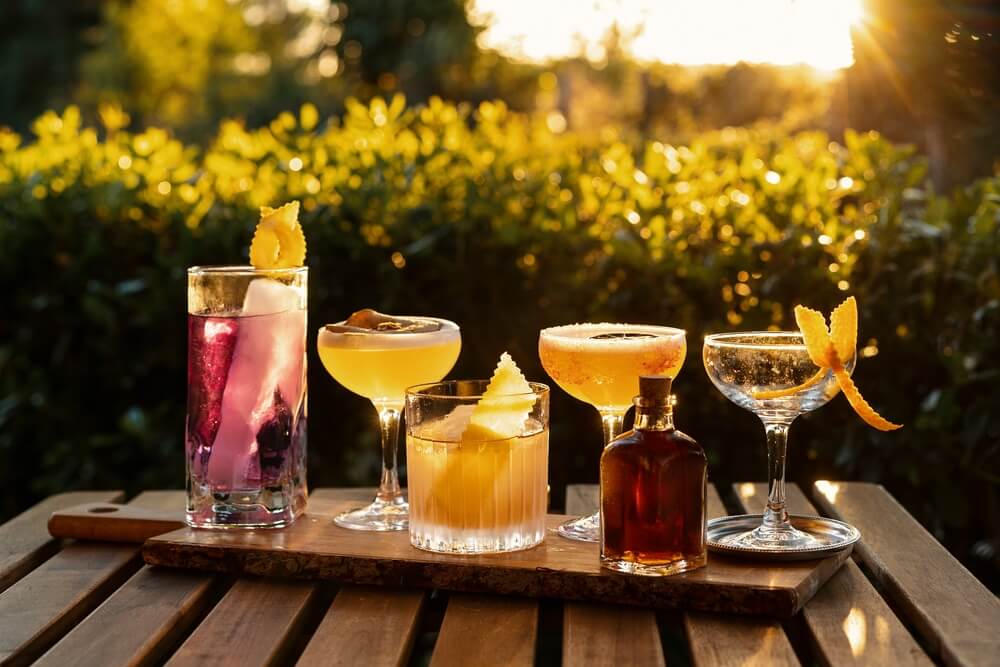 If you feel slightly out of place at swanky rooftop bars, then Retiré at the Ergon House is the perfect vibe for you. Its food trucks, wooden benches, fairy lights, and greenery offer a chilled ambiance.
The lack of fanciness in no way affects the taste of the cocktails.
They're just as incredible as the other rooftop bars in Athens.
The bartending team is well-versed in creating tasty cocktails and ensuring you're satisfied. It's a great place to come with a group of friends to enjoy a night chatting and having a laugh.
Ermou 18 Beyond the Horizon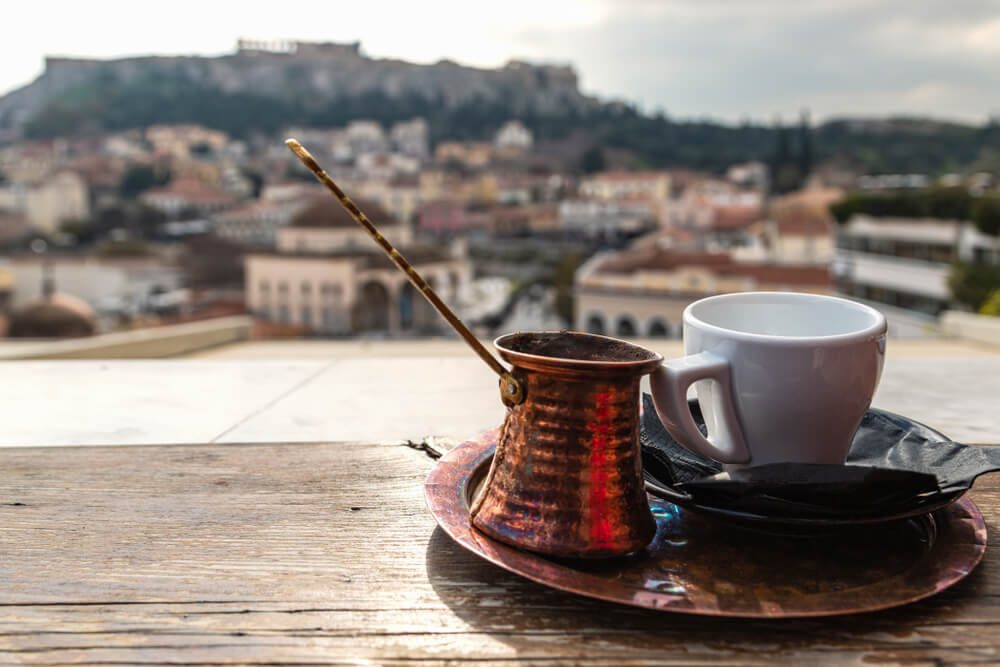 Ermou 18 Beyond the Horizon is a bit of everything!
It's a cafe, restaurant, and bar open all day. Start your day with a reasonably priced breakfast of eggs, bagels or salmon while taking in the unforgettable views of the Acropolis.
Lunch and dinner pair perfectly with the array of cocktails on offer.
Sit on the low rattan chairs or communal wooden benches and soak up the atmosphere. It's the perfect place to escape the city at any time of the day.
As if it couldn't get better, there's often live music, including a saxophonist.
Weather in Athens, Greece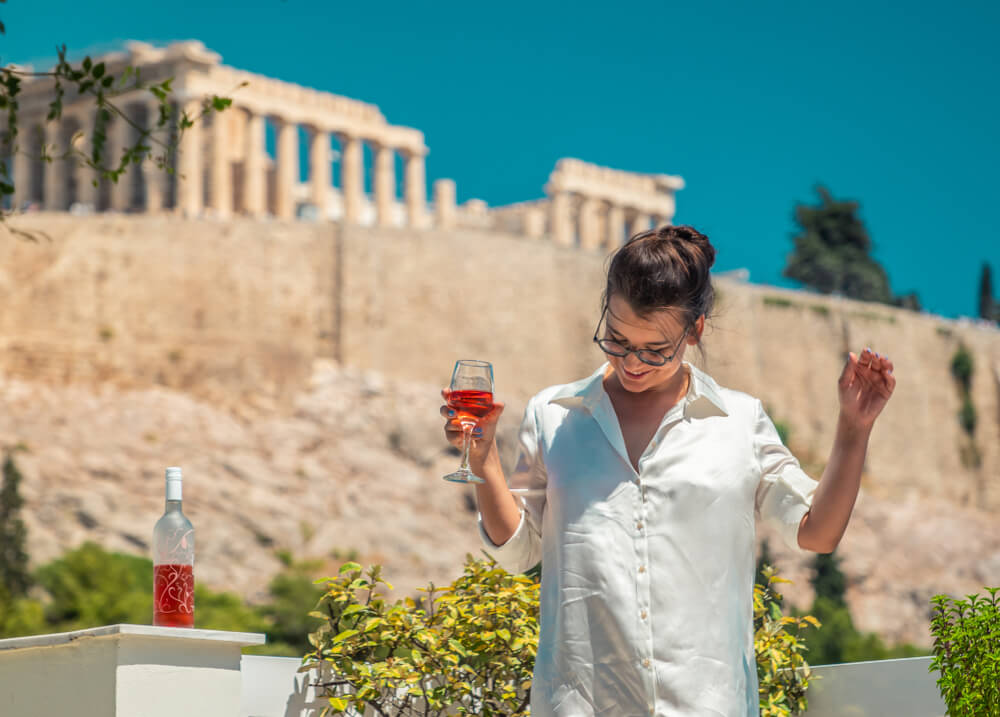 Unlike many Greek islands, Athens is a destination that people visit all year round.
Even in Greece's winter, which lasts from November to March, temperatures hover at around 13°C (55°F)—much milder than most of Europe. But don't worry. Many of the rooftop bars in Athens have heaters to keep you warm during the coldest months.
Visiting out of peak season means you can often secure cheap flights and better deals on accommodation. Plus, there are significantly less tourists.
Peak season begins in June when the temperatures heat up.
The hottest month in Athens is July. Temperatures average around 32°C (91°F) but can get much hotter. These sunny days last until the end of September.
Packing List Essentials for Athens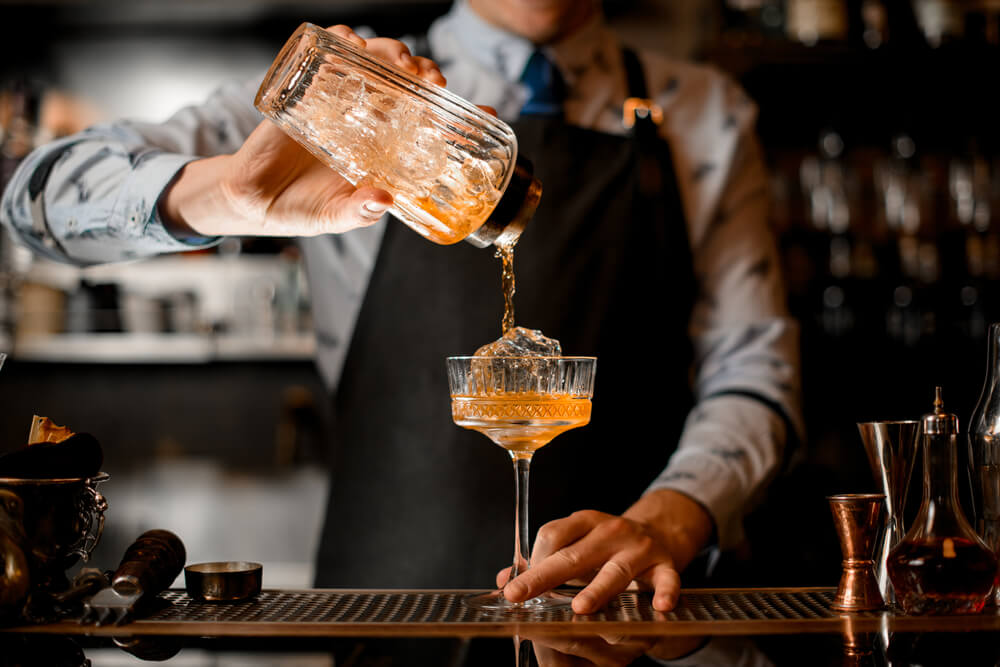 The time of year you visit Athens will affect what you need to bring. If you're traveling in the winter, bring warm clothes, as it will be relatively cold.
Looking for hot and sunny days? Bring loose-fitting clothes to keep you cool. Athens can roast!
Some essentials to bring no matter what time of the year you're visiting:
European adaptor
Comfortable shoes
A good-sized and comfortable day bag
Sunglasses
Refillable water bottle
Map of Athens' Rooftop Bars
Good news! Many of Athens' best rooftop bars are within walking distance of each other. Why not make your own rooftop bar crawl and explore as many as you can?
How to Get to Athens from Anywhere in Greece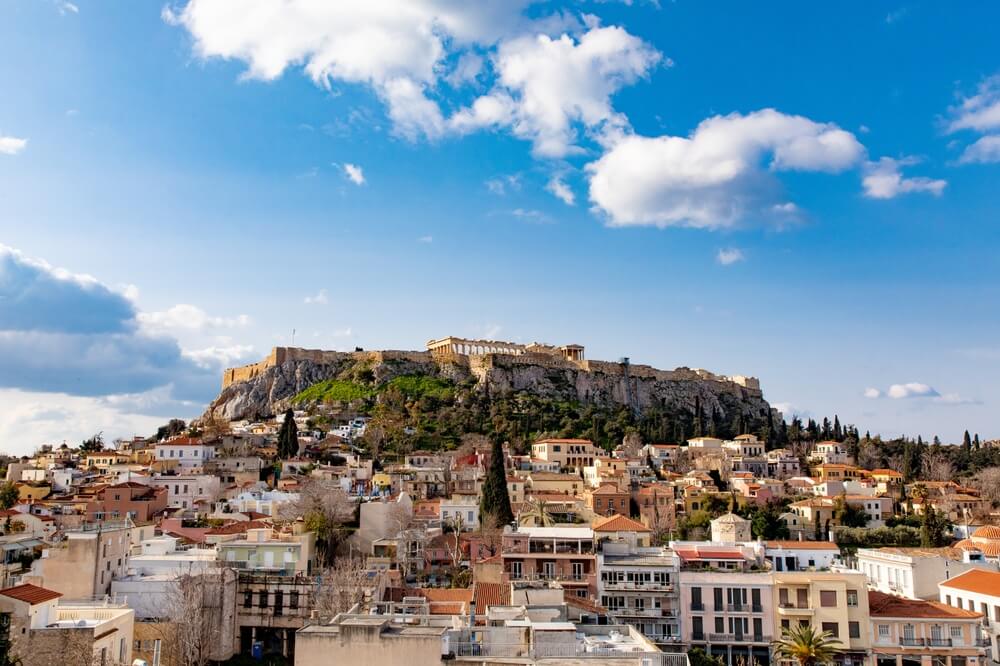 If you arrive in Athens by flight, take the 40-minute journey to the city center by hopping in a shuttle bus or private transfer.
If you are already in Greece, Athens can be reached from a number of the Greek islands by plane. Some of these include Santorini, Mykonos and Rhodes.
Ready to Enjoy a Sunset Cocktail on a Rooftop Bar in Athens?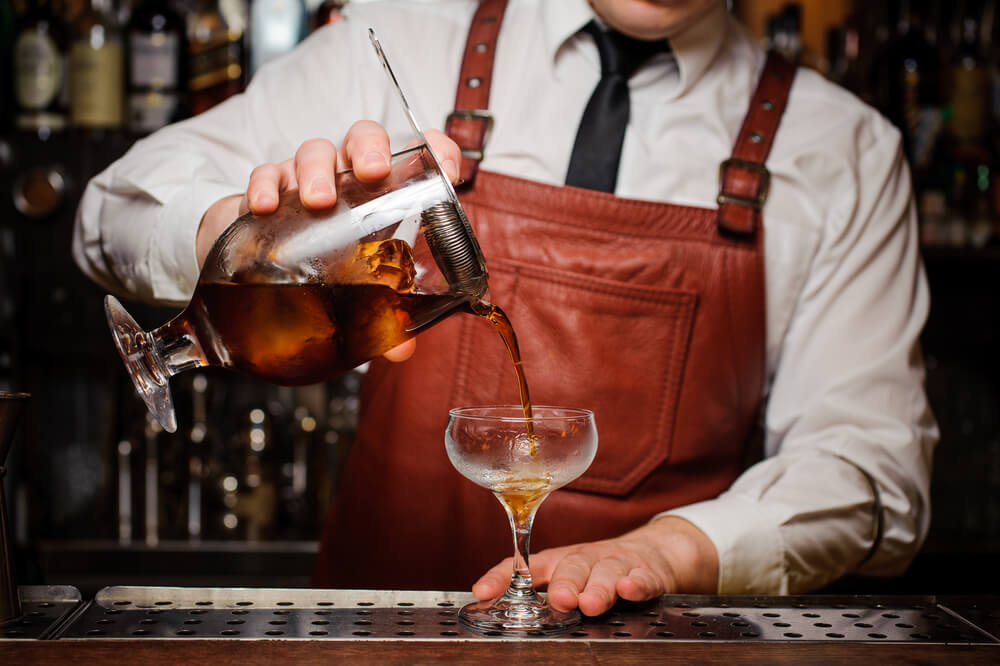 You're spoilt for choice when it comes to rooftop bars in Athens. There's one to suit every taste. And it's the ideal way to end your day in this historic and beautiful city in Greece.
While it's tempting, you'll probably not spend your entire time in Athens' rooftop bars. But if you do, we won't judge.
To help you plan the rest of your trip, check out how to spend an incredible 3 days in Athens. And have a look at all the places in Greece Bookaway can take you.
FAQ
Does Athens have a nightlife?
It sure does. There are countless rooftop bars serving delicious cocktails, nightclubs blasting music until the sun rises, and chilled live music venues. 
What is the best bar in Athens with a view of the Acropolis?
It's hard to pick just one, as so many rooftop bars in Athens offer those views. Manuka is the best bar for wine lovers, while A for Athens serves some of the best cocktails. 
Which area of Athens has the best nightlife?
Kolokotroni Street, which runs from Syntagma towards Monastiraki, hosts some of Athens' best nightlife.