15 Cities in Greece for Culture, History & Ocean-lovers
Discover the top 15 cities in Greece for an epic Mediterranean adventure. Plan your Greek getaway now!
Are you ready to unearth the magic of the Mediterranean by visiting some of the top cities in Greece?
With an incredible mixture of history, culture and picturesque landscapes, these cities promise an unforgettable experience.
Below, we will unveil hidden gems, iconic landmarks, and vibrant atmospheres that define the essence of this mesmerizing country, making them a must-visit on any traveler's list.
Your Guide to the Best Cities in Greece for Vacation
1. Athens City
The top city in Greece for cultural activities.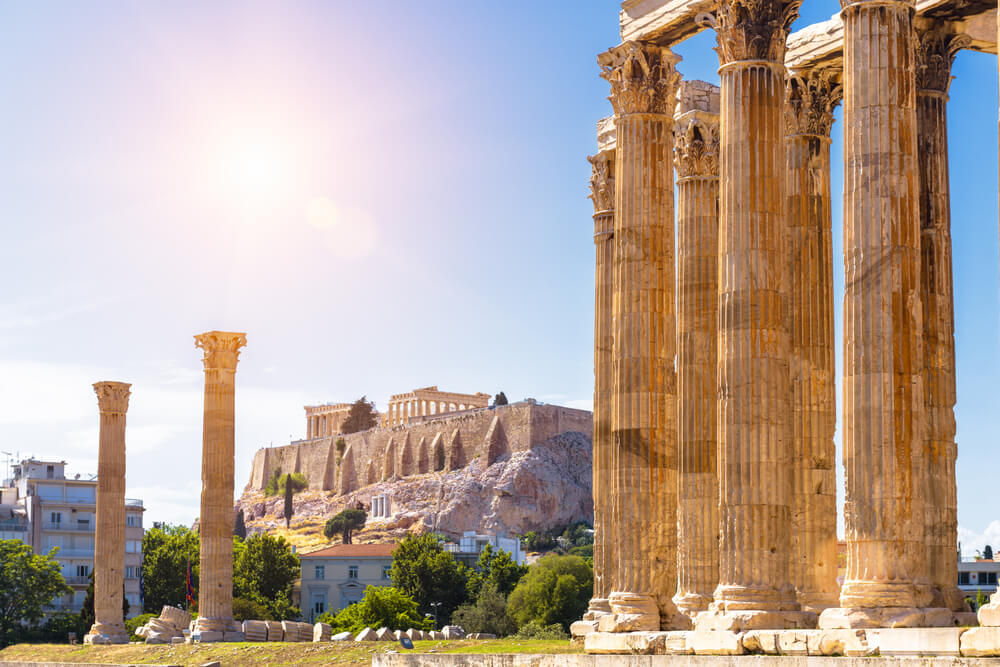 Location
It is no surprise that Athens is the capital city of Greece—it is a living testament to the nation's past and vibrant present.
Situated about 8 km (5 miles) from the Aegean Sea in the southern portion of the mainland.
Fun fact: Not only is Athens the capital, but it is also the oldest capital city in Europe, dating back over 3,400 years.
What to see and do in Athens
Are you interested in history and art? Being one of the major cities in Greece, you are spoilt for choice.
Of course, you must visit the Acropolis, the ancient citadel perched high on a rocky outcrop. This architectural masterpiece symbolizes ancient Greek civilization and is a UNESCO World Heritage Site.
The Acropolis is one of the seven hills of Athens, which are important landmarks throughout the city. So try to visit them all, especially Lycabettus and Hill of the Nymphs.
Athens is home to the Plaka neighborhood, famous for its labyrinth of narrow alleys with neoclassical buildings, quaint shops and traditional tavernas.
If you're interested in art and architecture, head to Megaron, Athens's legendary concert hall, as well as the National Museum of Contemporary Art (EMST).
2. Nafplio
Great for a day trip from Athens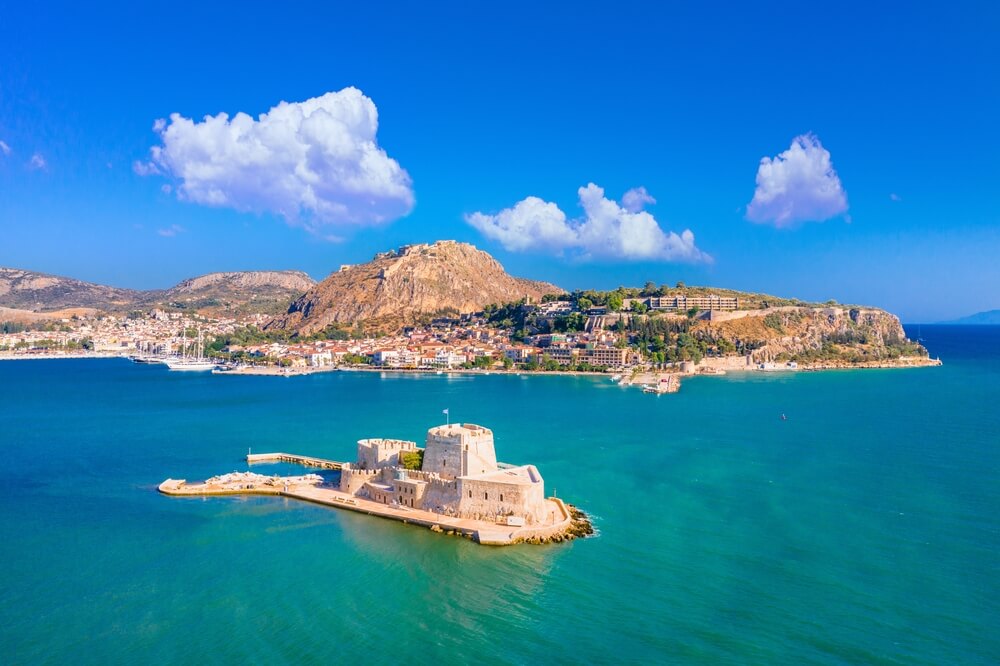 Location
This city, the original capital of modern Greece, is a picturesque coastal town just a few hour's drive southwest of Athens.
What to see and do in Nafplio
Why not see two capitals in one day? Take a day trip to Nafplio. With its rich history and stunning setting, check out the charming old town to explore its Venetian and Ottoman architecture.
Visit the historic fortresses—Bourtzi on a tiny island and Palamidi atop a hill—offering panoramic views.
Spend time at the lovely beaches, excellent tavernas, and upscale boutiques.
3. Larissa
Known for its historical significance and archaeological sites.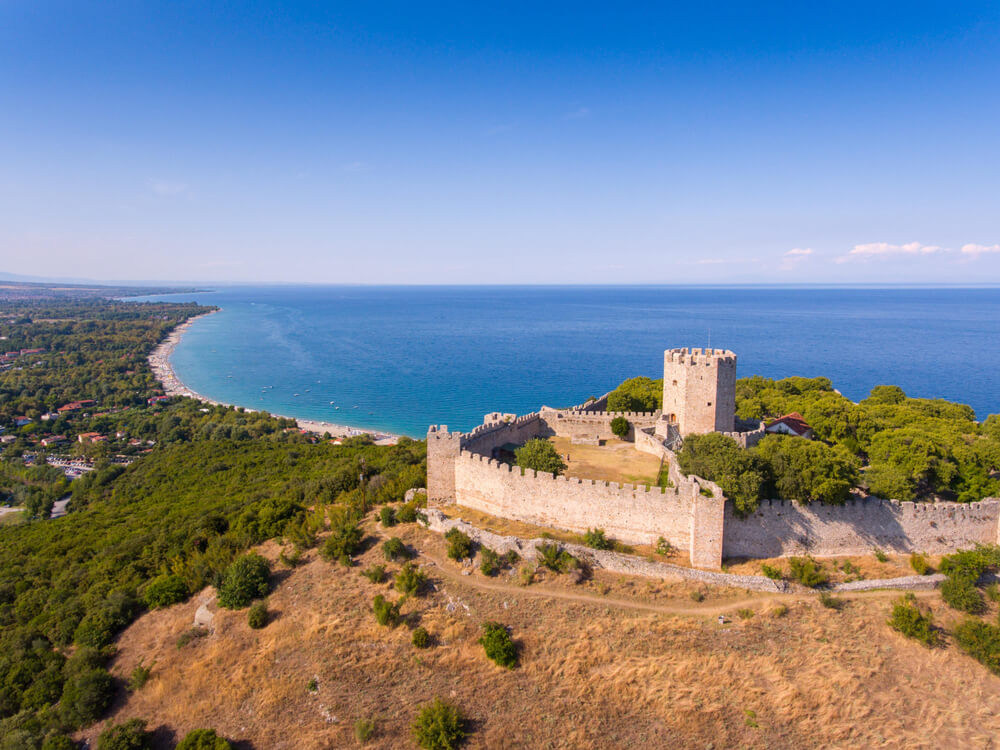 Location
You'll find this ancient city in Greece on the banks of the Pinios River in Thessaly.
It is the fourth-largest city in the country, with a history spanning around 8000 years.
What to see and do in Larissa
Being a university town, Larissa has a laid-back feel. Yet, you will be surprised how many archaeological sites and culturally rich experiences there are.
Two things you must do are head to the ancient theater and the remains of a Neolithic acropolis.
4. Ioannina
A charming lakeside gem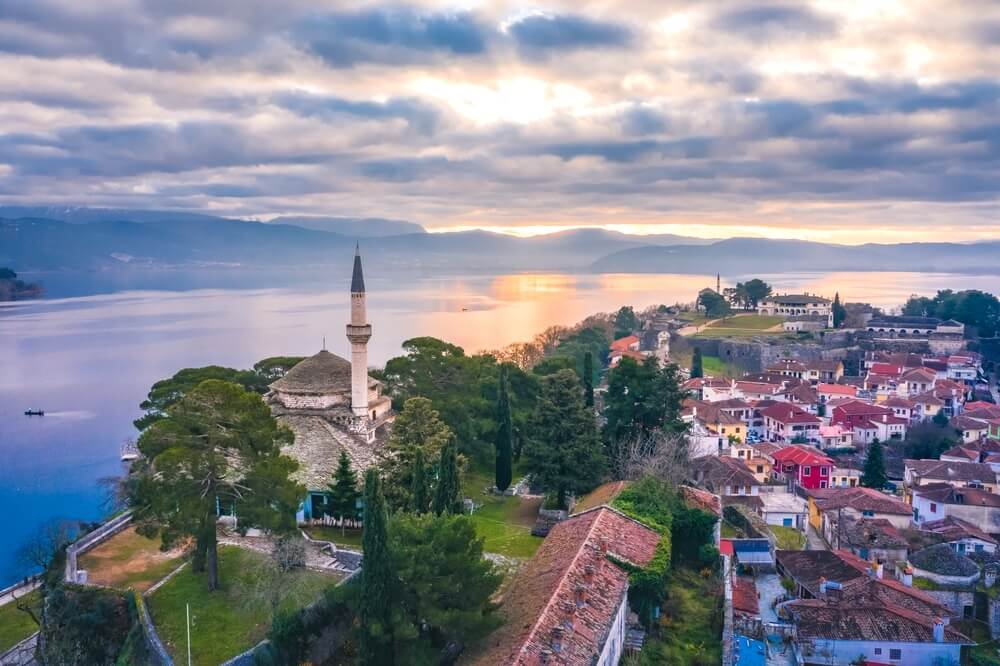 Location
Ioannina is a picturesque city in northwestern Greece, along the western shore of Lake Pamvotis.
What to see and do in Ioannina
First up, explore the old town's atmospheric charm with its fortresses and ancient walls.
You'll no doubt enjoy the city's liveliness, driven by a vibrant student community.
Visit the Ioannina Castle, Fethiye Mosque, and the ruins from the Ottoman Empire era.
Of course, you must end the day by capturing the stunning sunset vistas over Lake Pamvotis, a photographer's paradise.
Looking for more? Take a day trip to the monasteries on Nissi Island or to the fascinating caves of Perama.
5. Kalambaka
Ideal for those who appreciate history and religion.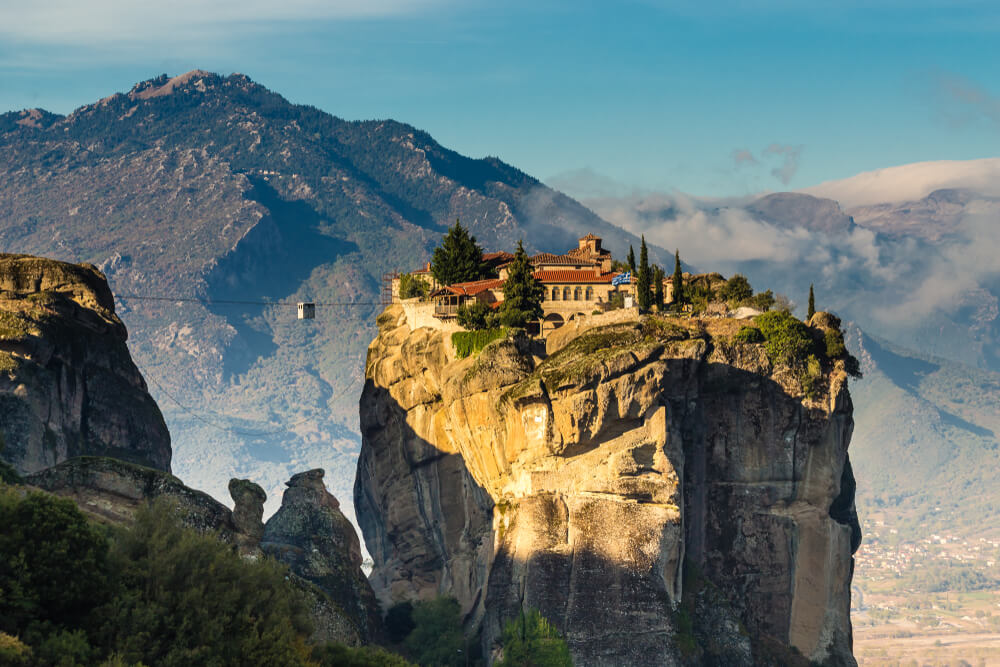 Location
One image of the cliff-hanging Meteora monasteries is all it'll take to convince you to travel to this charming town in Thessaly, central Greece.
What to see and do in Kalambaka
You cannot come to Kalambaka without visiting the iconic monasteries perched atop rocky peaks, some dating back over 600 years. From any of the 24 monasteries, you will be rewarded with mesmerizing scenery.
The best way to visit is to join a tour of the monasteries.
In Kalambaka, you can discover unique museums such as the Hellenic Culture Museum or explore the ancient Theopetra Cave dating back 130,000 years.
6. Kalamata
A fantastic city for those who adore art and theater.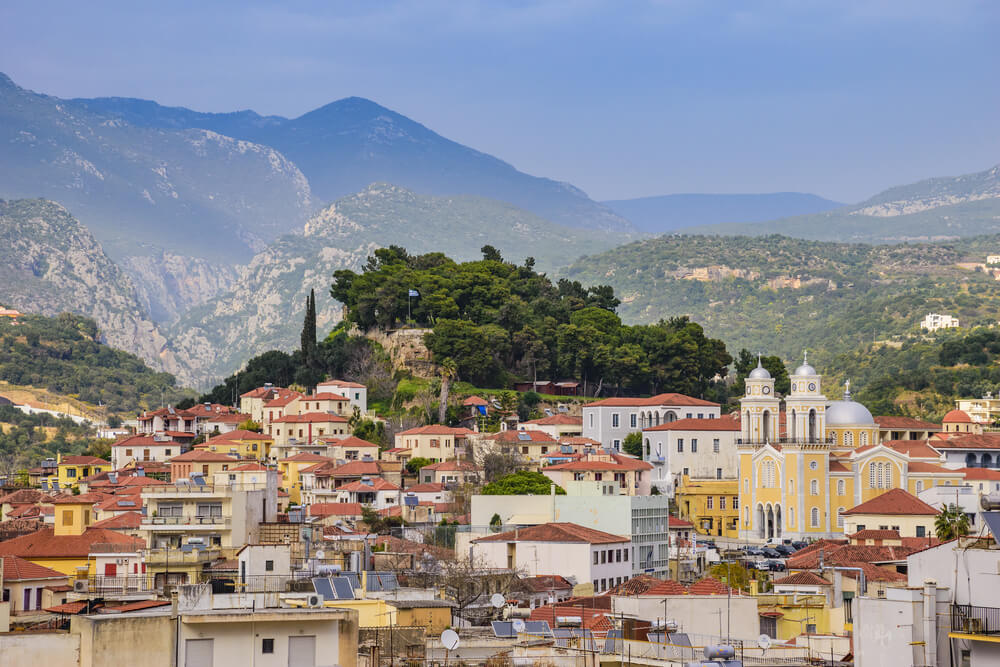 Location
Do you want to visit one of the port cities in Greece? Then, plan a visit to Kalamata, nestled on the shores of Messinian Bay.
In the background, you'll have views of the majestic Mount Taygetos.
What to see and do in Kalamata
Wandering on foot is the best way to explore a new city. Head to the charming old town with ancient churches and a 13th-century fort offering panoramic city views.
Be sure to check out the Castle of Isabeau, the city's main draw.
If you visit with children, head to the child-friendly Archaeological Museum of Messinia, which showcases exhibits from the Bronze Age and Byzantine Period.
For those who prefer to relax on vacation, enjoy the beachfront and savor the delicious local cuisine, including some of the best Kalamata olives in the world, hence the name.
7. Corfu Town
One of the best cities in Greece for vacation.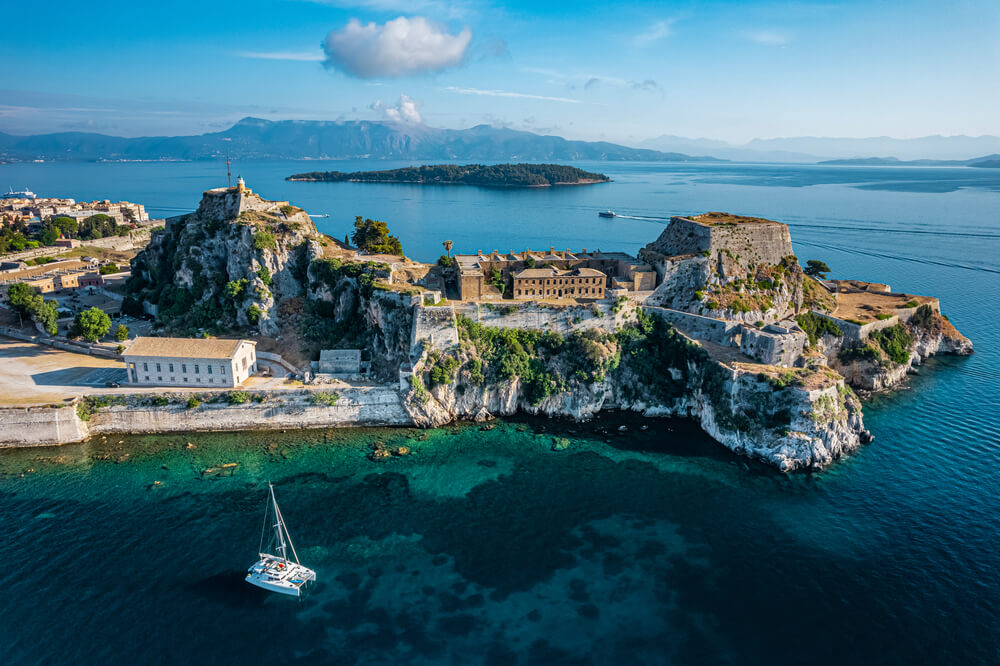 Location
While researching beach vacations, you may have come across Corfu Island in the Ionian Islands.
On the island's east coast, Corfu Town is nestled between two hills with historic fortresses.
What to see and do in Corfu
Not only is Corfu one of the best cities in Greece for a holiday, but you should take the time to explore the UNESCO old town.
Down the narrow pathways, you will come across ancient Venetian forts, including the Palace of St. Michael and St. George.
Take a break at one of the vibrant restaurants, bars, or traditional tavernas. If you spot the dish pastitsada (beef stew with pasta), give it a try!
8. Kavala
A charming gateway to the nearby Aegean Islands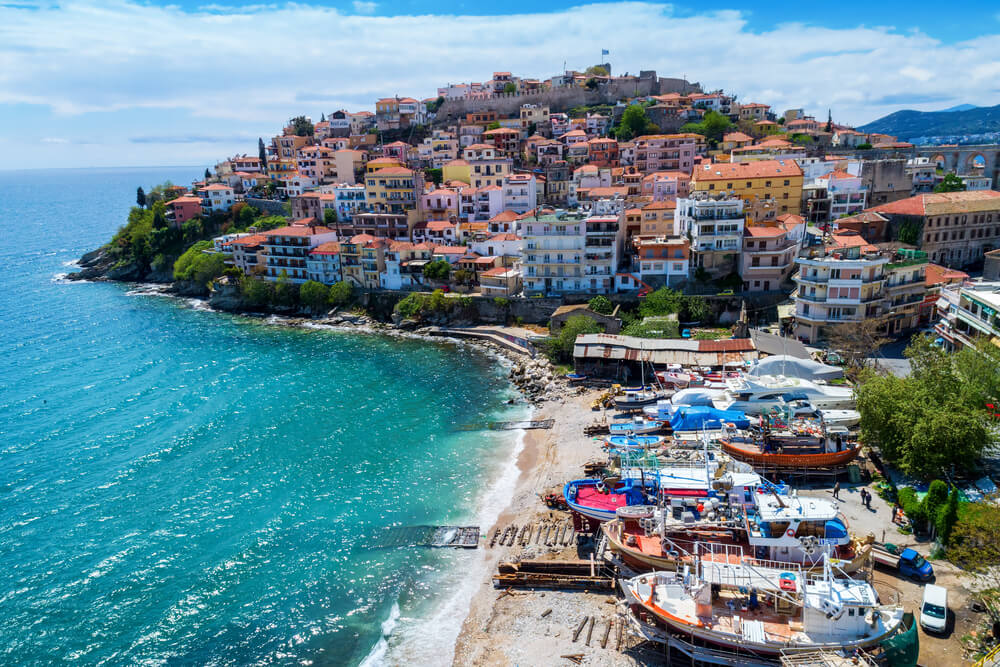 Location
Now let's head to northern Greece, where you will find the charming seaport city of Kavala.
Picture turquoise waters alongside an ancient citadel. Worth a visit? Most definitely.
What to see and do in Kavala
Explore the charming old town with narrow streets, Ottoman architecture, and traditional tavernas centered around the Acropolis of Kavala.
Visit the Archaeological Museum of Kavala, which houses significant artifacts dating back to the Neolithic Period.
Pro tip: Use Kavala City as a starting point for your adventures in the nearby Aegean Islands, including Lemnos, home to beautiful secluded beaches.
9. Patras
Come to have fun at the carnival festival from January to February.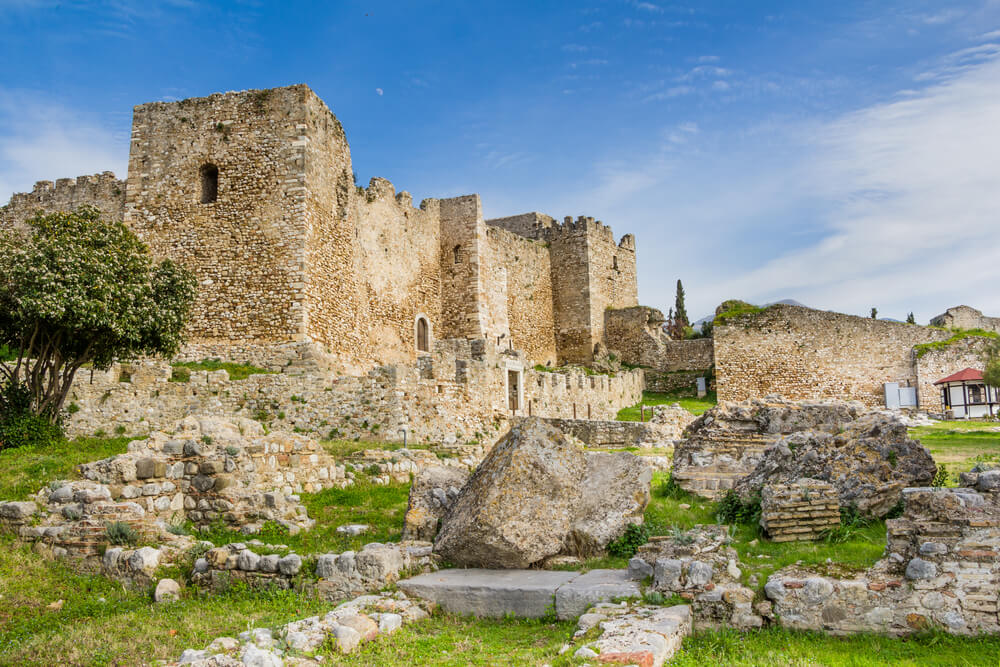 Location
Located on the western coast, this lively port city is well connected to the Ionian Islands, as well as Italy.
Fun fact: Patras is Greece's third-largest city.
What to see and do in Patras
Discover historical sights, such as the medieval castle and the Roman Odeon.
As well, it's worth visiting the Archaeological Museum of Patras, which showcases Roman mosaics and restored houses.
If you are visiting from the middle of January to the middle of February, experience the vibrant carnival celebration with lively costume parades and dancing.
For those who prefer relaxing on holidays, head to the beach promenade, where you can take in the scenic views while sipping coffee or cocktails at the numerous cafes and bars.
10. Rhodes Town
For those who enjoy history, as well as a vibrant atmosphere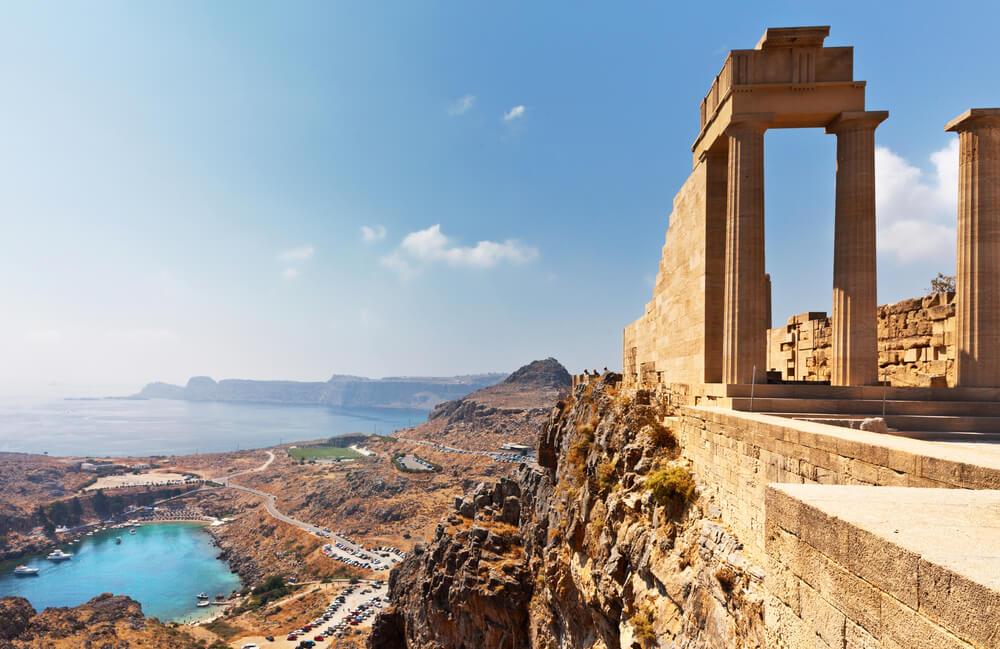 Location
If you plan a trip to Rhodes Town, the capital of Rhodes Island, you will notice the blend of ancient history and modern charm.
What to see and do in Rhodes Town
First up, explore the UNESCO-listed Medieval Town's alleyways, where you'll find endless historical gems dating back to the 5th century BC.
Take a stroll through the charming streets lined with Venetian architecture and packed with shops, vibrant bars, and tavernas near the scenic port.
Admire the Palace of the Grand Master, a medieval marvel.
For those looking for something more adventurous, climb the Roloi Clock Tower for magnificent sea views.
11. Heraklion
For those interested in ancient Greek history and mythology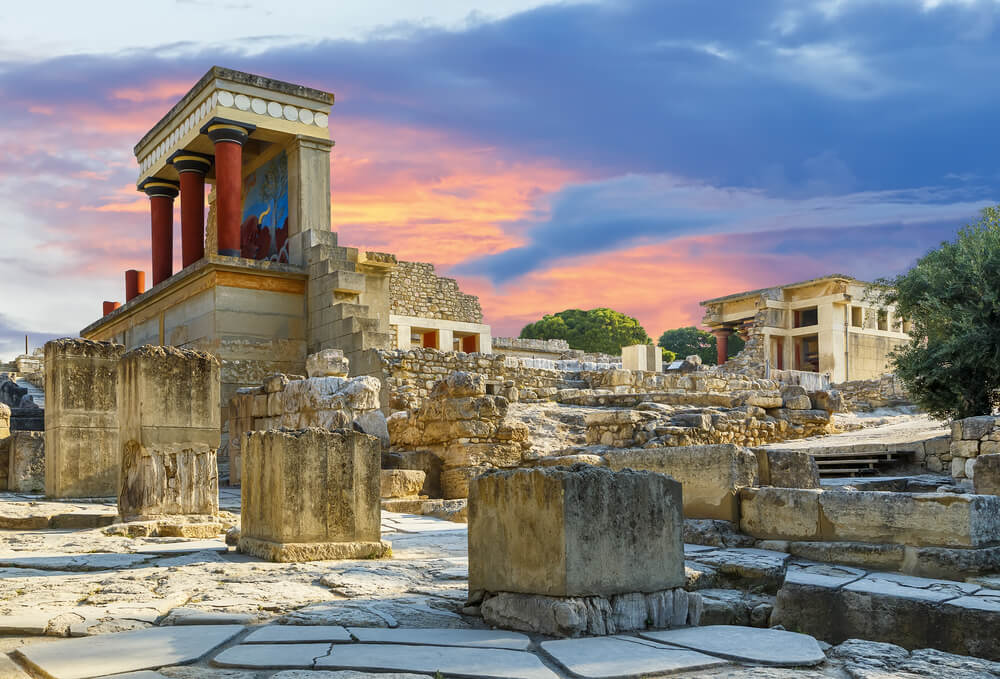 Location
You will find the city of Heraklion on the northeast coast of the famous island of Crete.
What to see and do in Heraklion
Discover the enchanting walled old town, with a remarkable fortress overlooking the harbor and vibrant waterfront.
Immerse yourself in the rich ancient history at the Heraklion Archaeological Museum and the iconic Palace of Knossos. It's a window into the Minoan civilization that existed primarily during the Bronze Age from approximately 2700 BC to 1450 BC. It was named after the legendary King Minos, a figure in Greek mythology.
To see the city come to life, head to the lively markets, street bars, and traditional tavernas.
12. Chania
For those looking for a picturesque town in the Greek Islands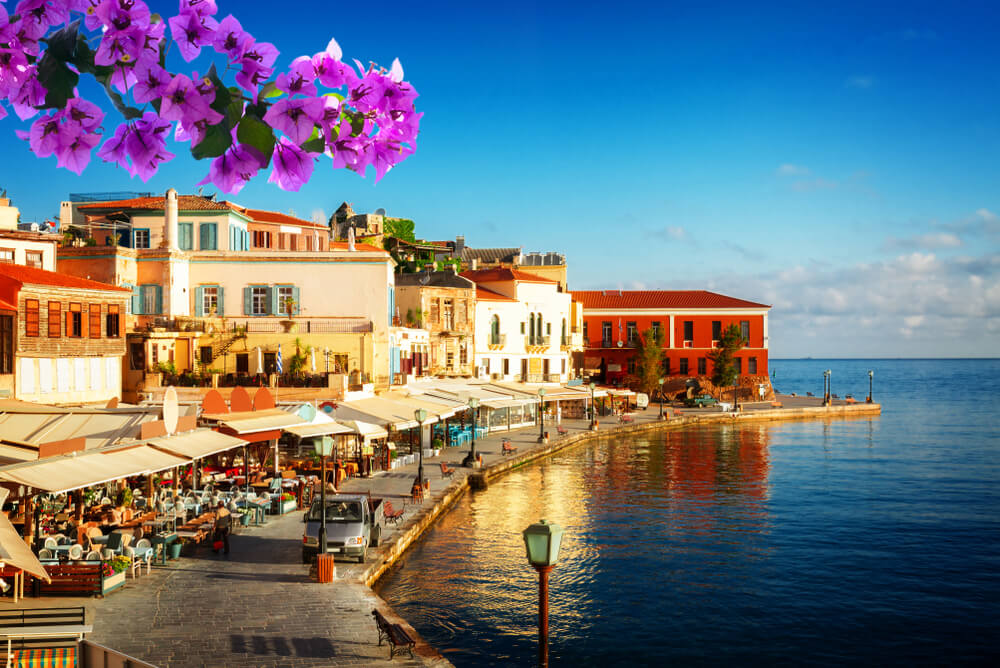 Location
Not far from Heraklion City is Chania, a charming town on Crete's northwest coast. Don't miss this town—it's known as one of the prettiest cities in Greece, which says a lot.
What to see and do in Chania
It's easy to see why people fall in love with this historic old port town, graced by a distinctive lighthouse.
Explore Chania's quaint cobbled streets with Venetian and Turkish architecture. Poke your head into the new Archaeological Museum of Chania and the Maritime Museum of Crete.
Wander narrow streets, savor local cuisine at cafes, and enjoy the vibrant nightlife. You can even find somewhere to dance.
13. Thessaloniki
One-stop shop for culture and atmosphere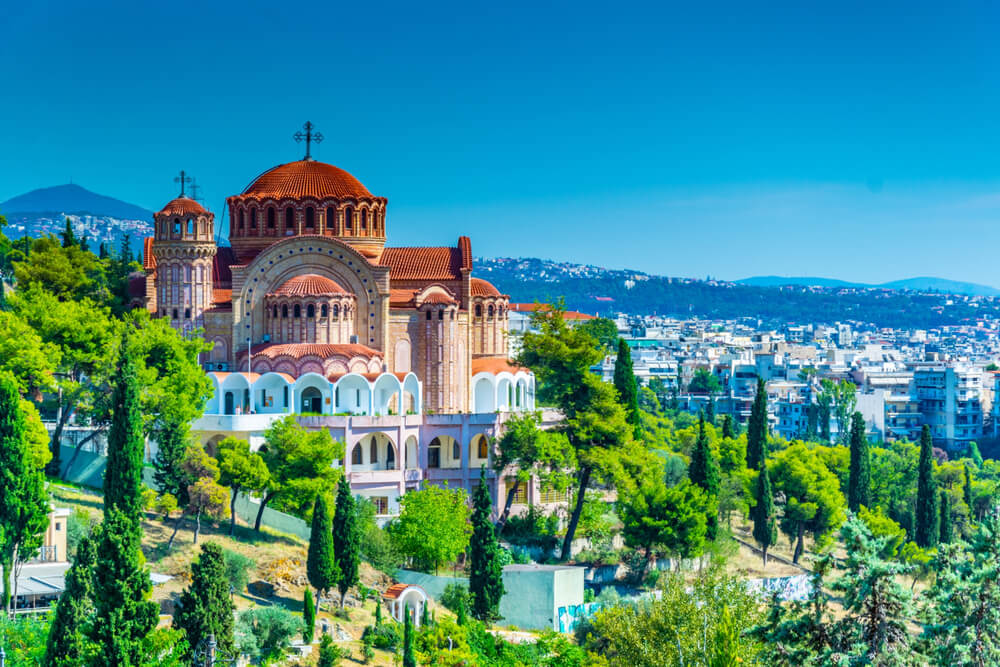 Location
Thessaloniki, in the historical region of Macedonia, stands as Greece's cultural capital and second-largest city.
It boasts a vibrant blend of history and modernity.
What to see and do in Thessaloniki
The hardest decision of your visit will be choosing what to see first—the Roman ruins, the Ottoman architecture, or the Byzantine churches that reflect the 3000-year history of the city.
The modern waterfront area is lovely for a leisurely walk, with the iconic 15th-century White Tower as a highlight.
Discover the Arch of Galerius and Egnatia Street's shopping delights.
Embrace the city's dynamic spirit with a bustling nightlife, world-class festivals, and a multicultural vibe fueled by a thriving student community.
14. Nafpaktos
Ideal for those who like to explore off-the-beaten-track locations.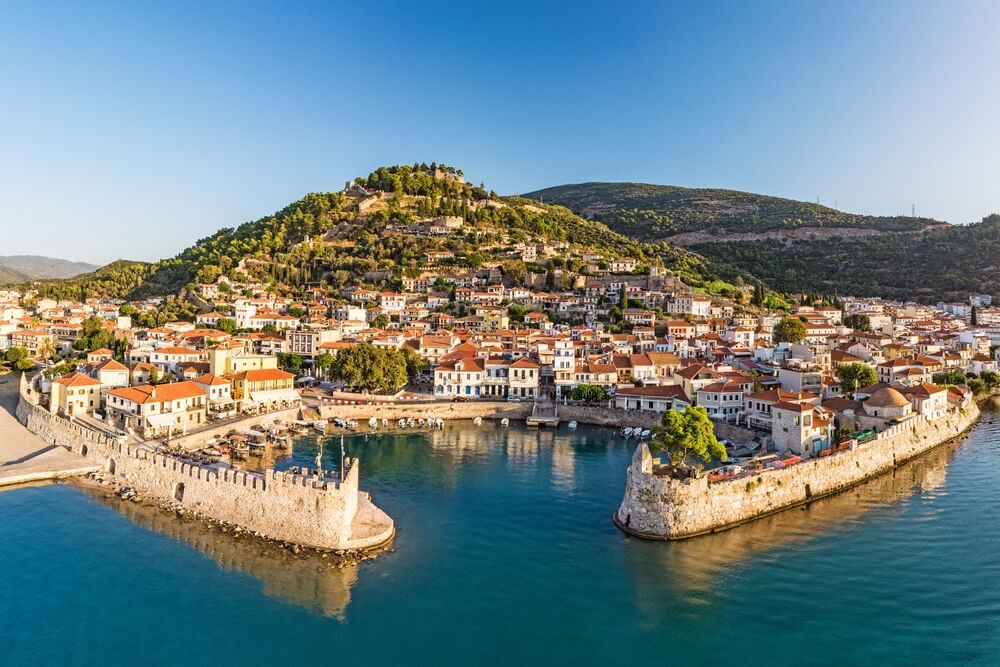 Location
Nafpaktos is a beautiful port town near Patras, easily accessible via the Rio-Antirrio Bridge.
An ideal weekend getaway from Athens, it boasts stunning harbor views and a delightful atmosphere.
What to see and do in Nafpaktos
It's hard to miss a visit to this city with a picturesque harbor offering diverse dining options.
Nature enthusiasts can venture into nearby mountains for biking and hiking adventures.
Experience authentic Greek life, sipping coffee in a kafenia (traditional coffee shop) while locals engage in backgammon, Greece's national game.
For a great photography opportunity, head to the Venetian castle for breathtaking views of the Bay of Patras.
15. Volos
Your gateway to the Sporades Islands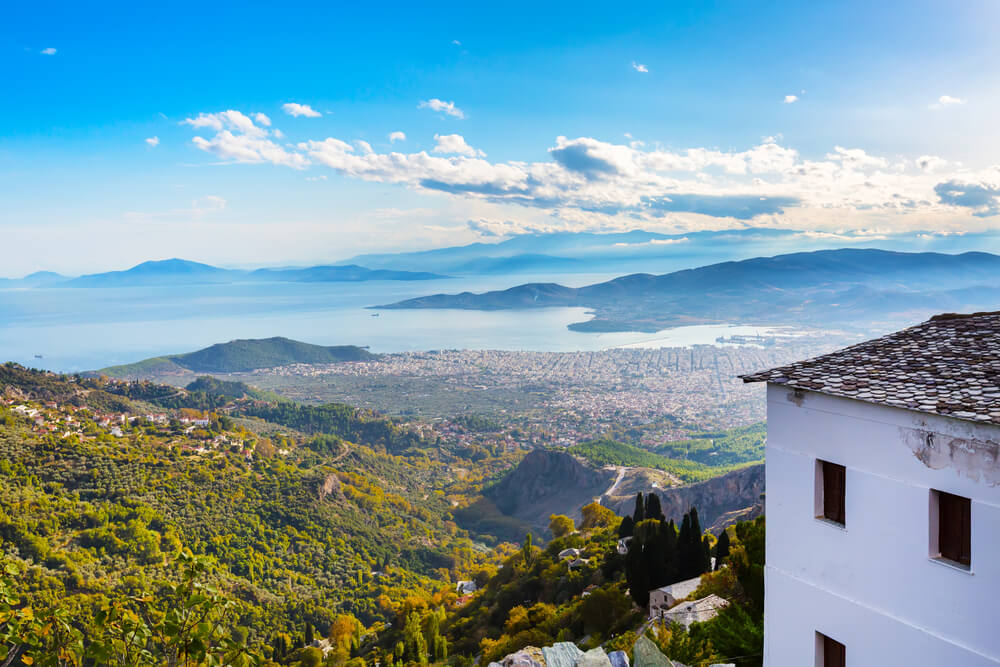 Location
Located in mainland Greece, Volos is blessed by the shores of the Pagasetic Gulf, providing a charming coastal retreat.
What to see and do in Volos
Experience the seafront's allure, lined with local tavernas offering delectable fresh fish and peinrilli (the Greek version of a pizza).
During the evening, embrace the lively piazza encircling Agios Nikolaos Church, where you can find stylish cocktail bars.
For beach enthusiasts, pristine shores are just nearby. The city's port connects travelers to the idyllic Sporades Islands via ferries, including Skiathos, Skopelos, and Alonissos.
Weather in Greece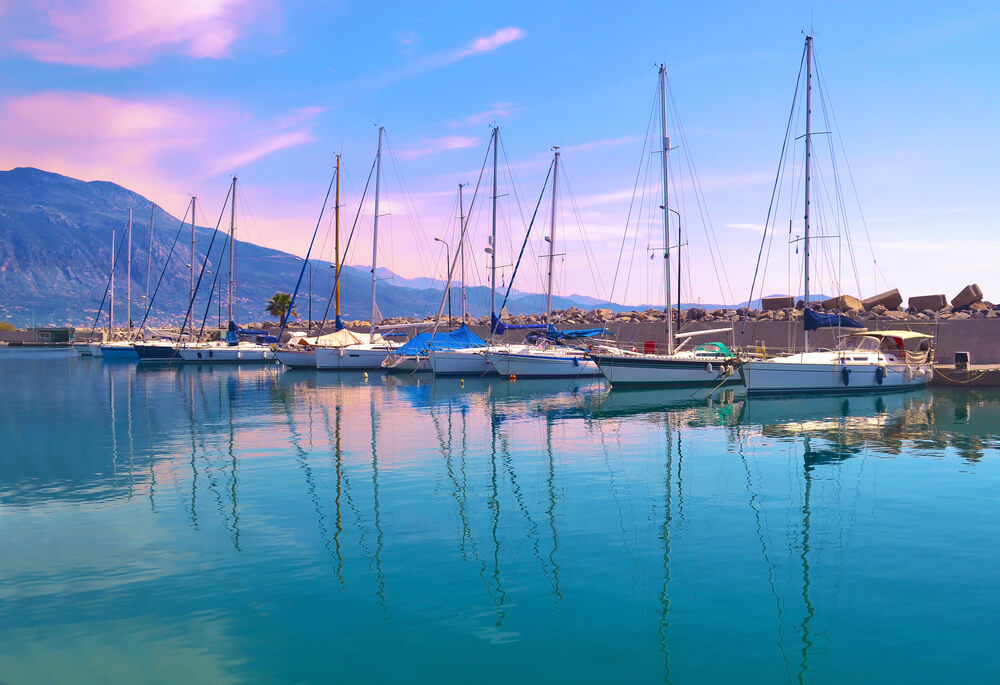 Greece experiences a Mediterranean climate with four distinct seasons. So when should you plan your trip?
Well, that depends on whether you want to island-hop or join walking tours through cities like Kalamata or Larissa.
Summers (June to August) are hot and dry, with temperatures averaging 30-35°C (86-95°F) in Athens and Corfu.
The autumn months (September to November) are an ideal time to sightsee. If you visit at the beginning of September, you will still be able to enjoy a swim in the Mediterranean Sea. Expect temperatures averaging 20-25°C (68-77°F).
Greece isn't as popular with tourists in winter (December to February), when temperatures are cool. In Athens, you can expect temperatures averaging 10-15°C (50-59°F).
Spring (March to May) brings pleasant weather suitable for sightseeing, with temperatures ranging from 15-25°C (59-77°F).
Packing list essentials for Greece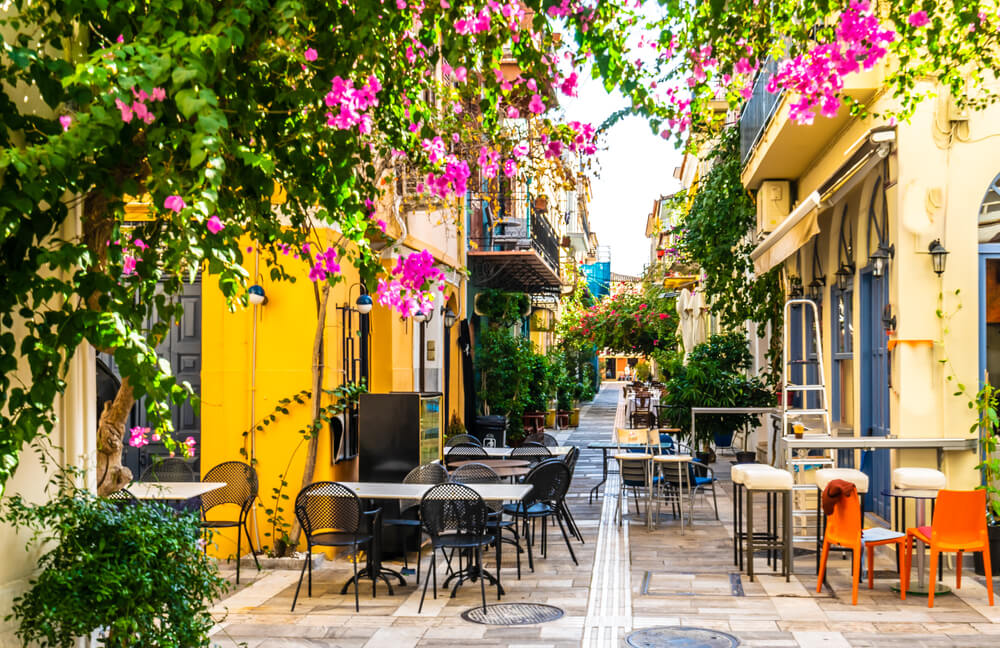 Now that you know some of the most visited cities in Greece, it's time to start thinking about what to pack.
Of course, the clothes you take to Athens will differ from those you need for the islands. The key is to pack lightweight clothing you can layer if need be.
Besides clothing items, there are a few other essentials to take when visiting some of the most important cities in Greece:
Portable charger: This could be your best friend for the trip. Nothing is worse than exploring a city for a full day only to realize your phone dies after lunch.
GoPro or digital camera: While it's simple to take photos on your phone, a GoPro or digital camera can up your photography game to another level!
A Greek phrasebook: Of course, it's easy to use Google Translate nowadays, but a phrasebook will come in handy if you don't have cellular data. They also include common expressions and greetings, which provide better interactions with locals.
Comfortable walking shoes: This is a must. Nothing is worse than exploring a city for a day and coming home with blisters.
European travel adapter: This is an easy item to forget, but whether you are staying in a hotel, hostel, or rental accommodation, it's essential to charge your electronics.
Map of the best 15 cities in Greece
Greece is large. There is a lot to see. This map will help you plan your route throughout the country so you can travel seamlessly and with ease.
How to get to Greece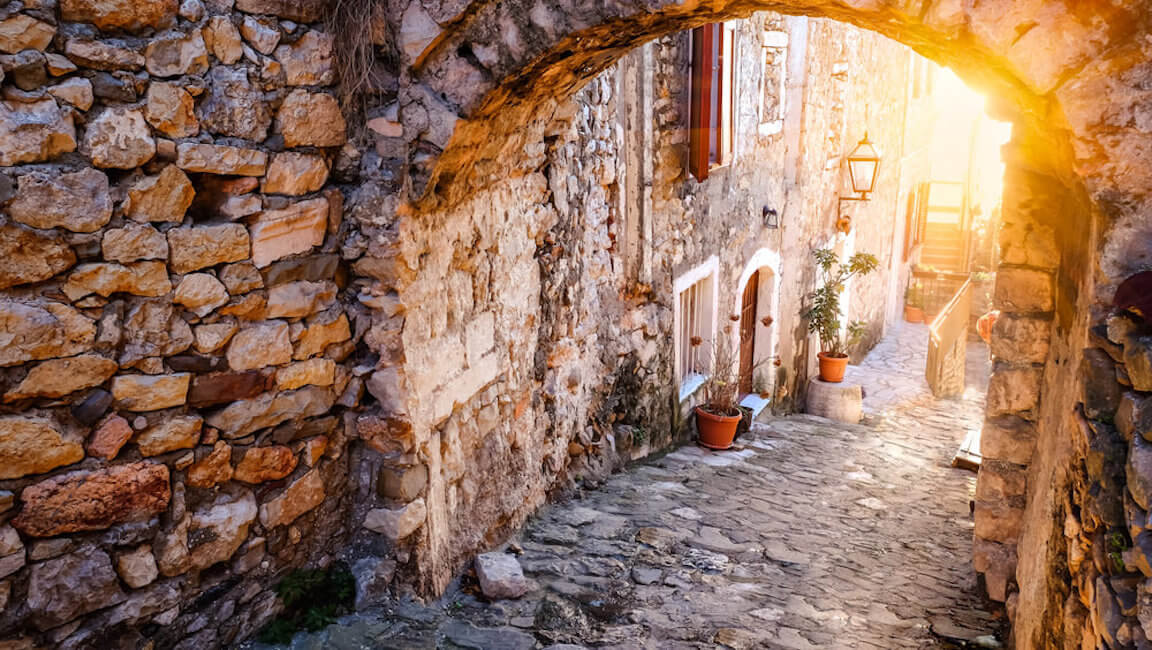 Wherever you are traveling from, you will likely arrive in Athens.
There is so much to see and do in Athens. You must spend a few nights there before heading to other cities in Greece. From Athens to Larissa, a first-class train will take approximately 3 hours.
You can visit one of the Ionian Islands, such as Corfu. From Athens to Chania, it is an easy 1-hour direct flight.
If you plan on visiting the Sporades Islands (Skiathos, Skopelos or Alonissos) instead, you won't regret visiting Volos. From Athens to Volos, it is a three-hour and 40-minute transfer in a private car.
Time to book your trip…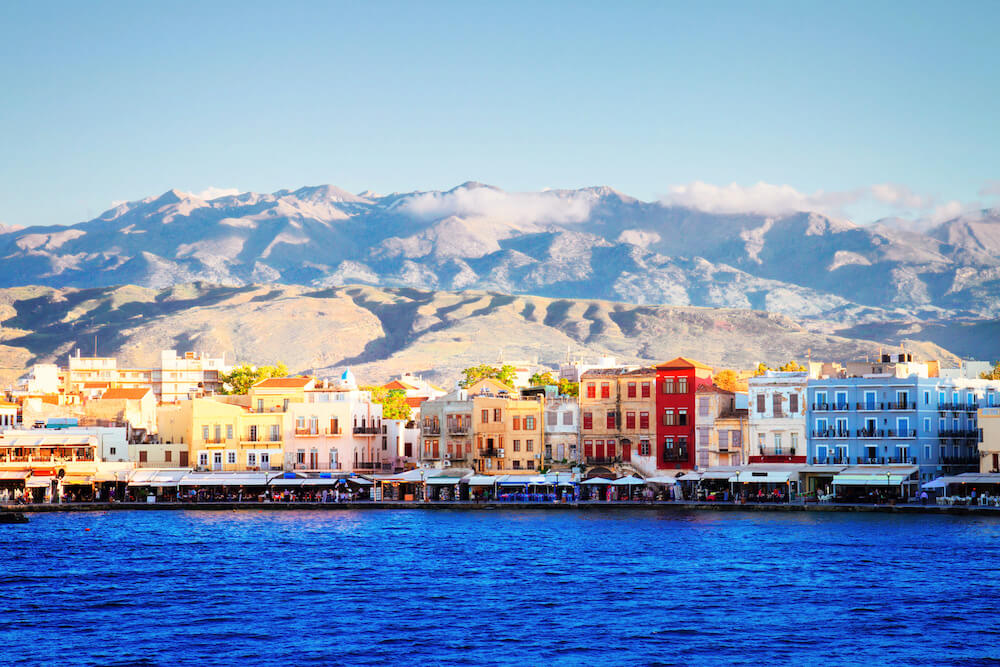 Going to Greece is like stepping back in time. It's a journey through ancient history fused with a paradise of sun-kissed islands and blessed with warm hospitality.
Sound like the perfect holiday?
100%.
FAQ
What are Greece's major cities? 
In terms of size, the largest metropolitan centers are Athens, Thessaloniki and Patras. 
Where should I go for the first time in Greece?
Read above for the best 15 places to start. 
What are the best towns to visit in Greece?
That depends on what you are looking for. For cultural experiences, head to Athens or Thessaloniki. If you want a beach paradise, head to Corfu or Crete.