9 Breathtaking Hot Air Balloon Rides Around Asia
Looking for an epic adventure? How about an affordable hot air balloon ride in Asia? Check out this in-depth guide for your bird's eye view.
When you think of a hot air balloon, the first image is usually of a rich couple sipping champagne in their private basket and taking in the views. This luxurious mirage means far too many people cross it off their bucket list before giving it a chance.
A hot air balloon ride in Southeast or South Asia doesn't have to be out of your budget.
I dreamed of floating in the air beneath the fiery flame of a hot air balloon for years, but I kept dismissing the idea because I was a budget traveler.
Now that I've spent over a year traveling throughout Southeast Asia, I know anyone can cross this unbeatable experience off their must-do list for a bargain price.
While Cappadocia, Turkey, is the ballooning capital of the world, with over 100 balloons flying through the sky each morning, there are countless other options to take this ride.
What is a hot air balloon ride like?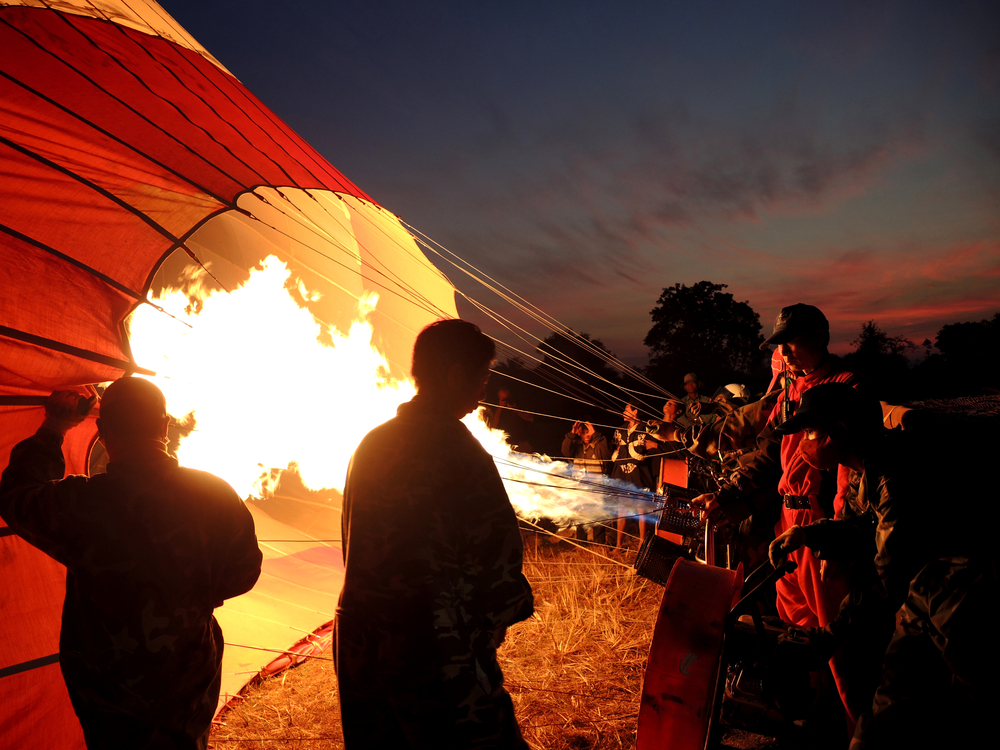 Honestly, it's terrifying.
Don't get me wrong, it's exhilarating and mesmerizingly beautiful, too, but watching the ground disappear beneath you is daunting.
Before boarding a hot air balloon ride, the pilots and assistants stretch out the balloon on the ground while they affix it to the basket. Then, it's slowly inflated until it's looming over the basket and the ground below.
The boarding process happens quickly because once the balloon is inflated, it wants to go up. You'll step into the basket through a small door that will lock behind you. Once you're in the basket, its ascent is swift.
When I took my first hot air balloon ride in Laos, it felt like we soared upwards to meet the sky in seconds. It was the smoothest flight I've ever taken. The flight is slow and relaxed, bobbing gently up and down through the air.
However, the heat of the burner—basically the engine—is searing. There is nowhere to escape in the tiny basket, and between the noise and the flame, it's sensory overload. Despite this, the magical scenery makes it easy to ignore.
The descent is bumpier than the takeoff. A hot air balloon pilot will slowly bring the balloon back down to earth until it drops to the ground, a shaky re-entry into land-dwelling life.
Once the passengers disembark, the balloon is swiftly deflated, ready to return to its temporary home before another flight.
Your experience will vary depending on your pilot. After watching an unlucky group spend most of their flight time hovering near the ground, I asked my pilot why we were allowed to soar into the clouds.
He said that all pilots have their own flying style, and some aren't comfortable flying too high. If reaching the clouds is crucial for this bucket list item, ask for the best possible views upfront.
Best places for hot air balloon rides in Southeast Asia
Laos, Vang Vieng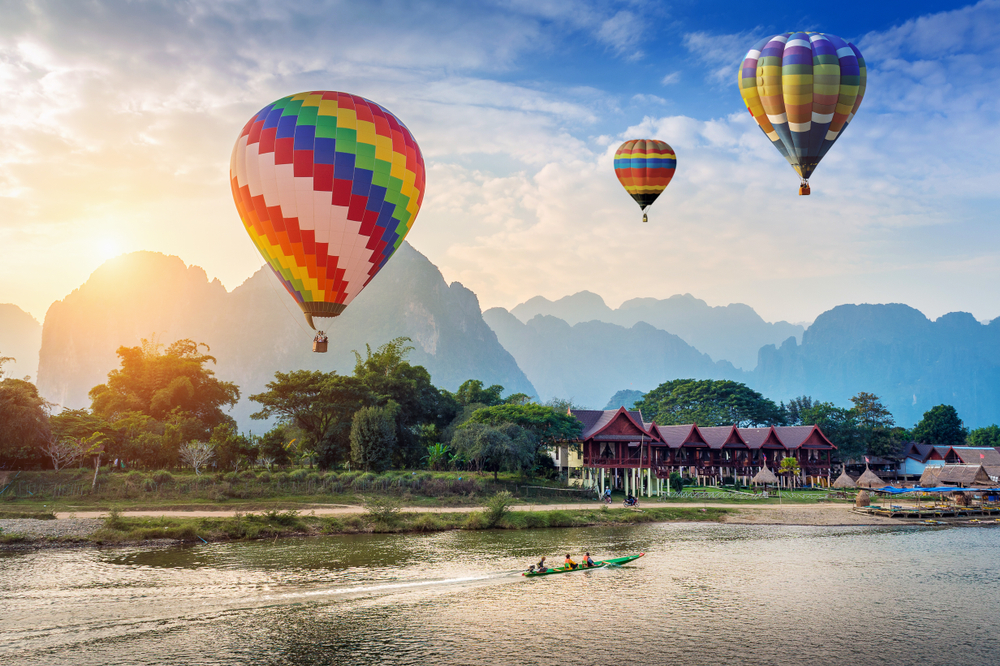 Vang Vieng is quickly becoming the adventure capital of Laos. This small town north of the country's capital, Vientiane, sits on the Nam Song River. The surrounding mountains and caves loom over the town center, offering striking views.
It's also known for stunning lagoons and a network of beautiful caves, including Tham Nam Cave and Tham Xang Cave, which has a stalactite that resembles an elephant. There are also 16th and 17th-century monasteries to explore.
But the best way to see this town is absolutely by hot air balloon ride. When I arrived, I wasn't excited to explore. The main town is a small area without a lot to do to fill up time. And most activities are geared toward tourists, so getting an authentic taste of life in the area is difficult.
A balloon ride whisks you away from tourist traps and into a fantasy land of Phineas Fogg-style adventures. Vendors all over the town sell rides at varying prices. You can book a ride on the same day if it's outside of peak times.
Prices vary and are cheaper when flying with more people. I booked a smaller basket with three others and paid $85 each for a 45-minute ride. A bargain! It also included pick-up and drop-off from my hostel.
Prices reach $120 for an hour's ride, but kids between 5 and 12 pay half price. For an extra cost, you can fly in a balloon that goes even higher, almost touching the top of the surrounding mountain ranges.
Pro tip: Be prepared to bargain because the first quote you get will be exorbitantly high.
When to fly in Vang Vieng
Flights are weather-dependent and launch at sunrise and sunset.
The best time to fly over Laos is between November and April.
The monsoon season, running from May to mid-October, makes it impossible to safely launch balloons on a regular schedule.
Siem Reap, Cambodia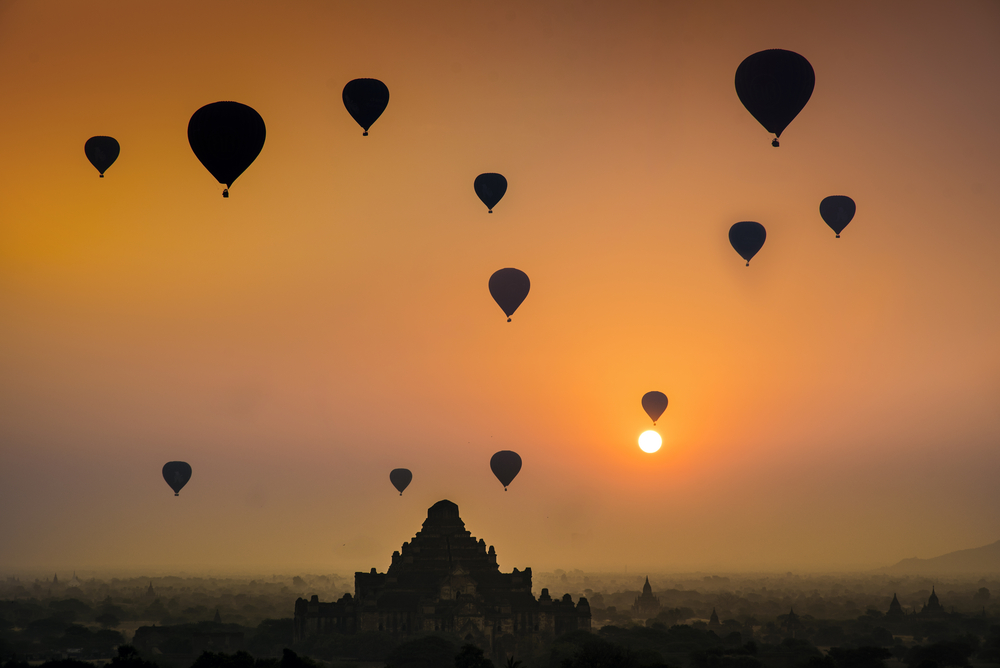 A must-visit for all wayward travelers, Siem Reap, Cambodia, is an enchanting city.
It owes most of its mystique to the sprawling Angkor Wat, home to more than 70 temples and buildings.
A little-known—and truly magical—way to experience this complex is by taking a hot air balloon ride. Riders get a unique view soaring over this ancient city like a bird, just with a little more phoenix energy.
Two hot air balloons operate in Siem Reap.
The first costs about $125 for a 30-minute ride. It doesn't guarantee a view of Angkor Wat, though. The course depends on the weather, and sometimes it will take riders over the countryside instead of towards one of the seven wonders. Even so, it's worth it for the thrill of the ride.
The second option is a tethered helium balloon. It's anchored about 800 meters from the west gate of Angkor Wat.
The balloon can lift 30 people 120 meters into the air to view the temple complex. The ride costs about $20 for a ten-minute ride, but a sunrise flight will cost extra.
When to fly in Siem Reap
Angkor Wat's tethered balloon operates all year round, depending on weather conditions. Between November and April, it flies in the afternoons, and from May to October, it rises in the morning.
However, there is a short window for a free-floating hot air balloon ride. Typically, they only fly between December and March, so, pick your arrival time carefully to see Angkor Wat from a new perspective.
Chiang Mai and Chiang Rai, Thailand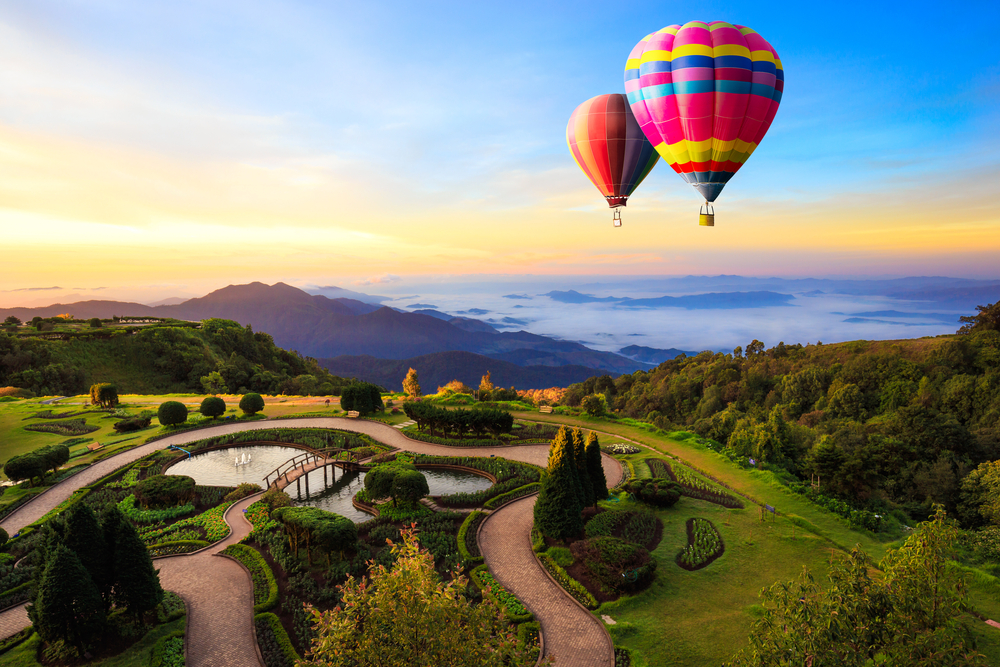 The north of Thailand is a treasure trove of natural beauty, lovely people, and even better food. It's a dreamy place many travelers disappear into when they fall in love with the culture and peaceful pace of life.
Perhaps this hot air balloon ride isn't as mind-blowing as the others on this list because you won't see anything particularly unique. But oh, the scenery. Rides still provide unforgettable views of jungles, small villages, and temples.
Don't forget to wave at the locals as you fly over! They'll all be out to say hello.
You'll pay a little more, with one-hour flights costing about $300.
When to fly in Northern Thailand
Flights in Chiang Mai and Chiang Rai operate all year round but may be canceled at short notice during the summer monsoon months.
Flights take off at sunrise and sunset.
Chiang Rai is also home to Thailand's annual international balloon festival. Every February, pilots gather to show off their glowing balloons before they rise into the air as one, and tourists can join in on the fun, too.
Nha Trang, Vietnam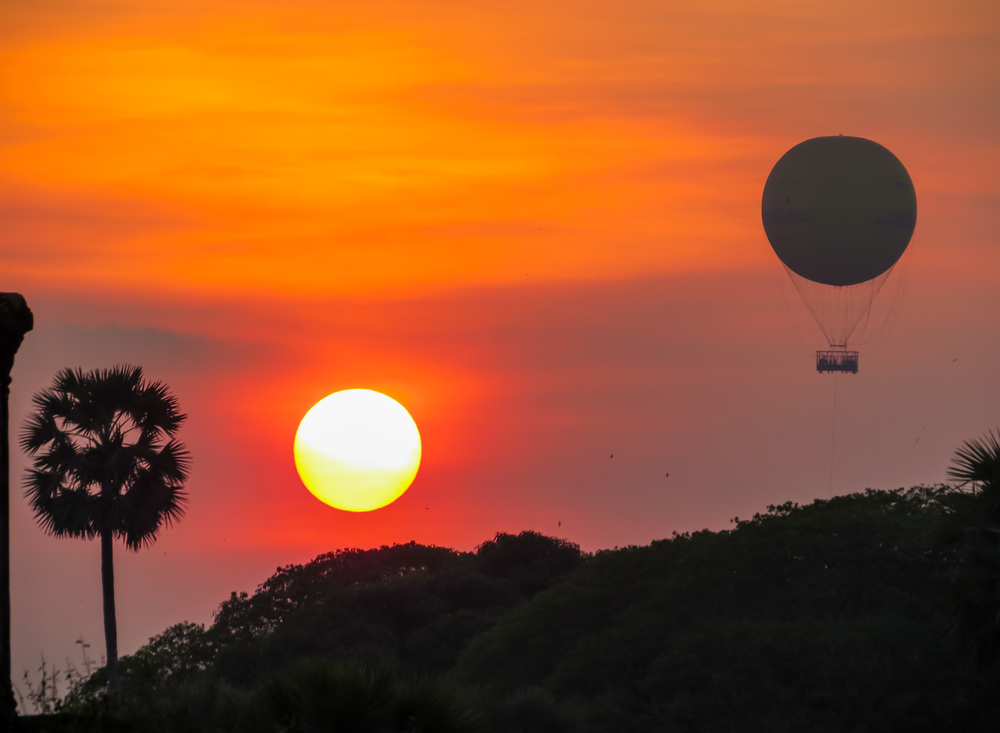 If a long ride triggers a spike in fear, then Nha Trang might be the best destination.
Travelers eager to hit all the hotspots of Vietnam often skip this coastal city, but they're missing out.
It has a little bit of everything: a cityscape skyline dotted with highrises, crystal-clear sea waters, and luxurious sandy beaches, all surrounded by lush green mountain peaks.
Visit the hot air balloon ride center near Pham Van Dong Street.
A 20-minute ride lifts visitors 150 meters into the air to enjoy a panoramic 360-degree perspective of the city from the tethered balloon.
Tickets are about $5 in the evening and just $4 for a morning ride. Children get an even better discount.
When to fly in Nha Trang
Nha Trang's hot air balloon company operates all year round, but peak season is during the dry months between January and September.
Flights may be grounded during monsoon season due to heavy rains and wind, so avoid visiting between October and December if a hot air balloon ride is at the top of your itinerary.
Ubud, Indonesia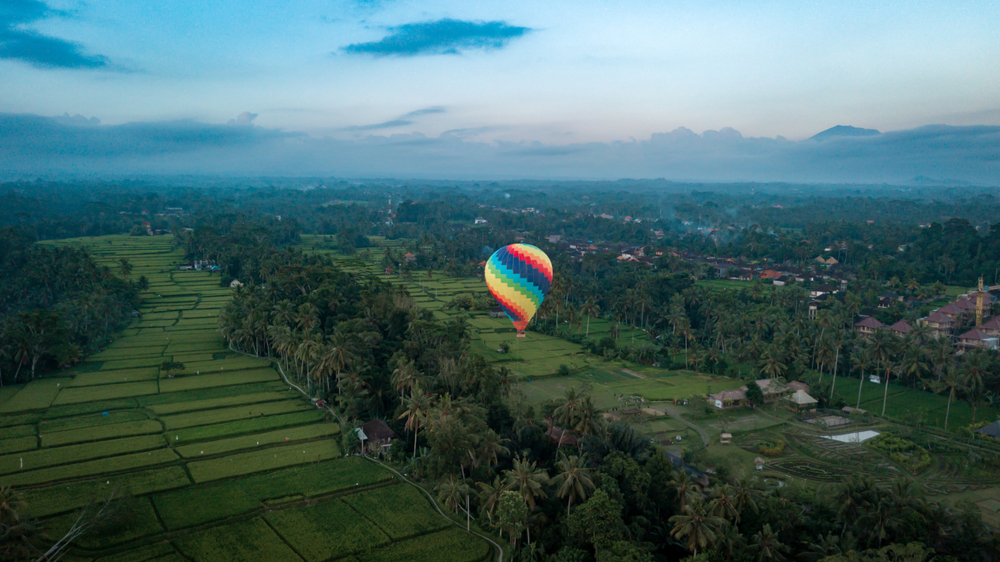 Visitors to the island of Bali usually spend their days knee-deep in spirituality, running between waterfalls, temples, and yoga retreats. But, between your time spent introspecting, make sure to see the sights.
Ubud is a city littered with enthralling architecture, with ancient temples and regular houses often having equally beautiful structures.
What better way to see it all than from the air?
The only operator in the area takes visitors up to 50 meters above ground to enjoy the gorgeous rice fields and skyline.
Three packages are available, taking off at sunrise, sunset, and during dinner.
The views are spectacular at any time of day, but nothing beats a Bali sunset. I have witnessed many, and each burned into my brain as an orange-tinged daydream.
All available rides offer breakfast, afternoon tea, or dinner before takeoff. These options cost between $85 and $110. A ride with a hotel transfer will cost up to $140.
When to fly in Ubud
Hot air balloon flights in Ubud typically take off at sunrise and sunset, with accompanying breakfast or dinner.
Rides launch all year round, but travelers should be aware that they can be canceled at the last minute if weather and wind conditions make flying unsafe.
The best time to fly is during the dry season, which runs from April to October.
Best places for hot air balloon rides in South Asia
Dambulla, Sri Lanka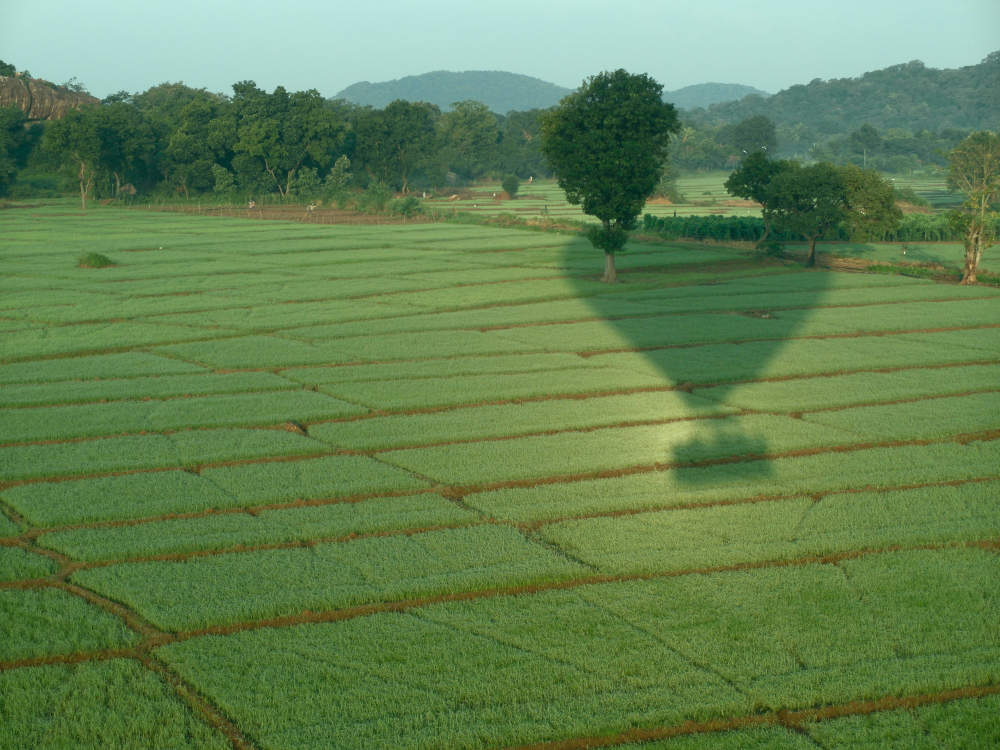 Famed for its Cave Temple, a UNESCO World Heritage Site, people don't usually shout about Dambulla's hot air balloon riding opportunities.
But they should.
Dambulla is one of three main towns nestled in a cultural triangle, a hot spot for travelers seeking to soak up the culture and history of this beautiful country.
Extraordinary lakes, mammoth jungles, tea plantations, and chattering wildlife make the area an unbeatable natural highlight. Naturally, seeing it from above should be high on the hit list for visitors.
If you're lucky, you'll fly on a day that allows the pilot to swing by Sigiriya, an awe-inspiring rock formation.
Hot air balloon rides in the area cost about $210 for a one-hour sunrise flight, including pick-up and return to your hotel. It's a little pricier than other countries in the region, yet it's worth the price tag.
When to fly in Dambulla
It's only possible to take sunrise flights because the afternoon weather makes sunset flights unsuitable.
The best time to visit is between November and April, when there are fewer cancellations due to weather conditions.
Pokhara, Nepal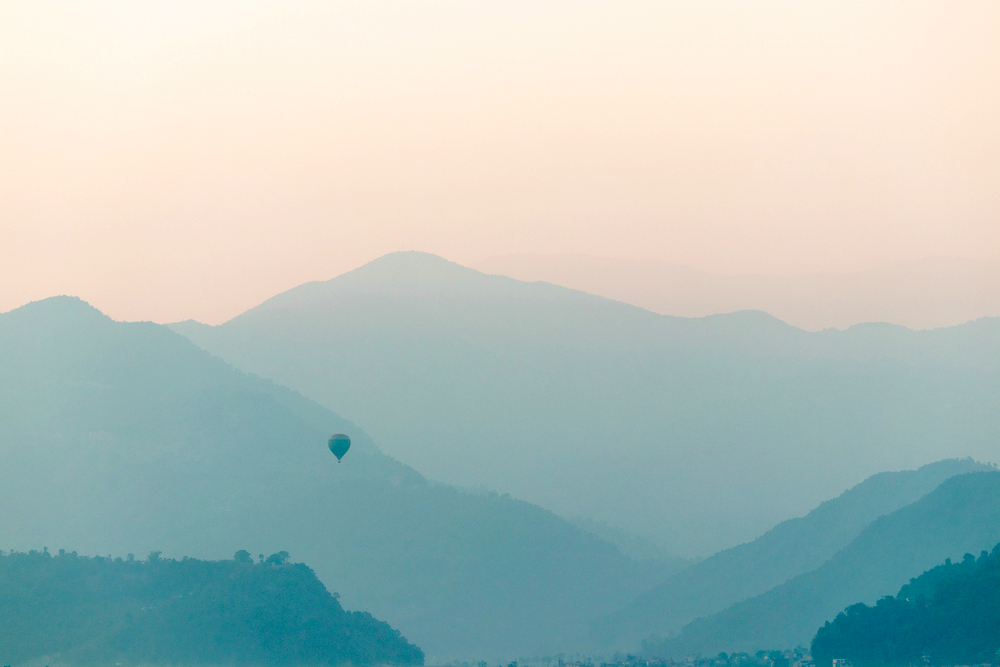 When travelers talk about Nepal, they focus on its unbelievable hikes and unbeatable scenery. A hot air balloon ride is an unconventional and unmissable way to see this city.
Prices are higher than in Laos but remain consistent between operators. A short 30-35 minute ride will cost around $120, and a longer 50-60 minute ride will cost approximately $150.
Fees will include pick-up and return to hotels in the surrounding area.
When to fly in Pokhara
Most hot air balloon rides offer views under a blinding sun. In Pokhara, visitors can take a winter ride. It doesn't often snow in the region, but between September and May, hot air balloon riders can see snowfall from the basket.
Don't forget to wrap up warm because temperatures drop lower the higher you get. It's worth it for the views, but brace yourself.
Operators do not fly in the monsoon season from June to August.
Tour companies usually operate sunrise and sunset rides; it will depend on the day's weather. Book in advance because balloons fill up quickly in peak seasons.
Jaipur, India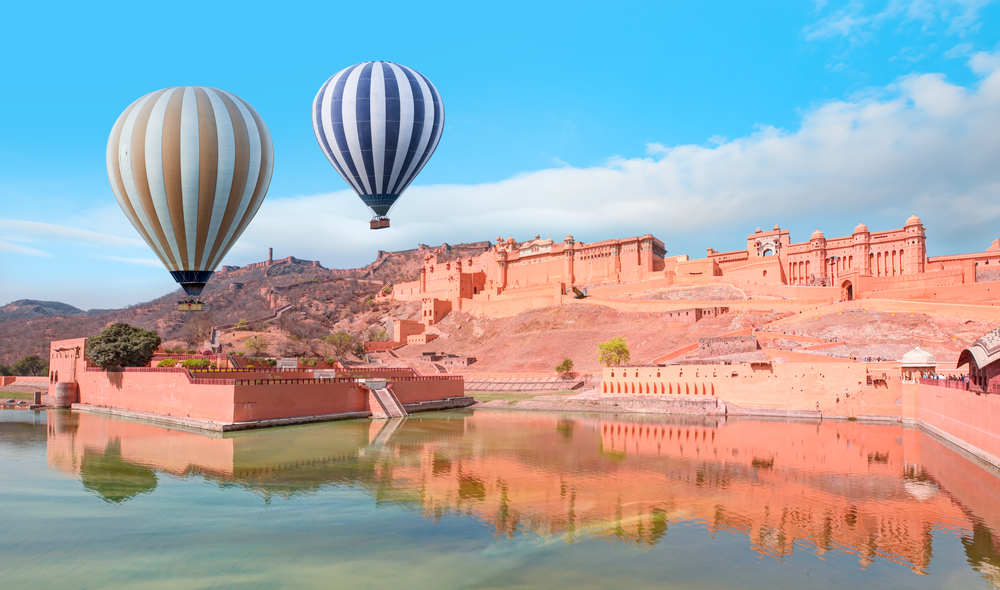 The vast countryside and rich cultural history of India are unmatched by surrounding countries, with views made to be seen from the skies. A hot air balloon ride here will be the memory of a lifetime.
There are countless hot air balloon rides in India, but the most popular spot is Jaipur. The pink city is already a tourist hotspot, and its burgeoning hot air balloon industry is flourishing.
Escape from the hustle and bustle of Indian city life and rise above the city to catch glimpses of some of the area's most beautiful sites, including the Amber Fort, a UNESCO heritage-listed site.
Local operators recently introduced hot air balloon flights over Bandhavgarh National Park and the Tiger Reserve in Madhya Pradesh.
When to fly in Jaipur
Operators fly between September and April. A one-hour ride will cost about $280.
Flight routes depend on wind direction, so you're never guaranteed to see everything.
Most flights take off at sunrise, but sunset flights are available when the weather is at its best.
Balloon sizes in Jaipur vary between baskets that hold 22 people and smaller ones that carry three to eight passengers.
Is a hot air balloon ride safe in Asia?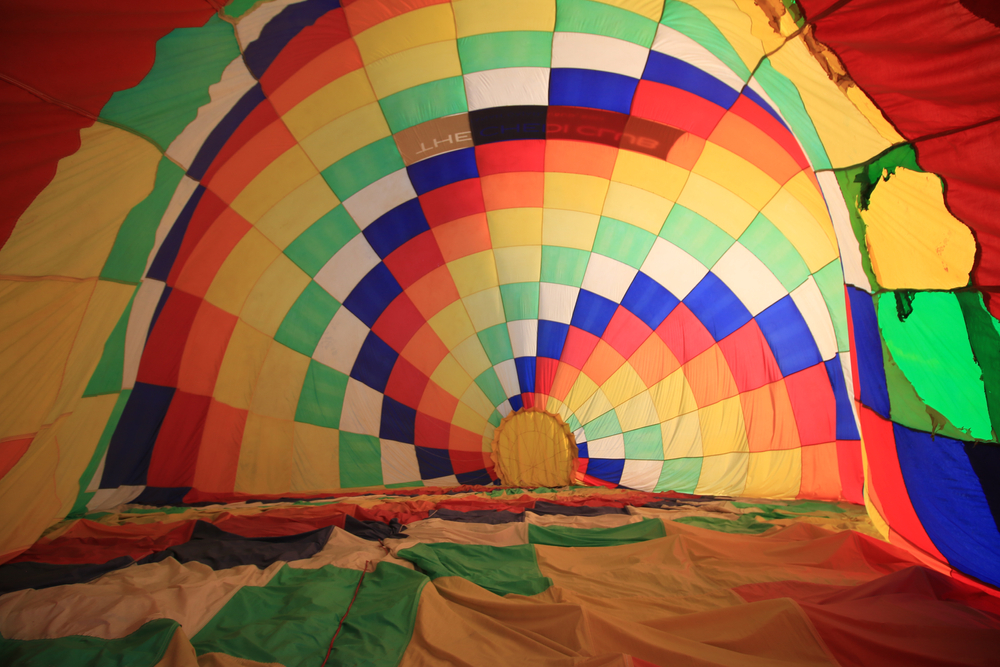 Hot air balloon accidents are rare but not impossible. Research your provider before booking to check their track record because it's the responsible thing to do. And safety first.
Don't miss out due to unfounded fears, though.
A few operators offer safety briefings before the flight, and others will not. If you're riding with young children or just irresponsible adults, make time to have your briefing before boarding.
Don't get so entranced by the views that you lean overboard; keep everything inside the basket, and no one will get hurt.
Hot Air Balloon Rides in Asia Wrap-up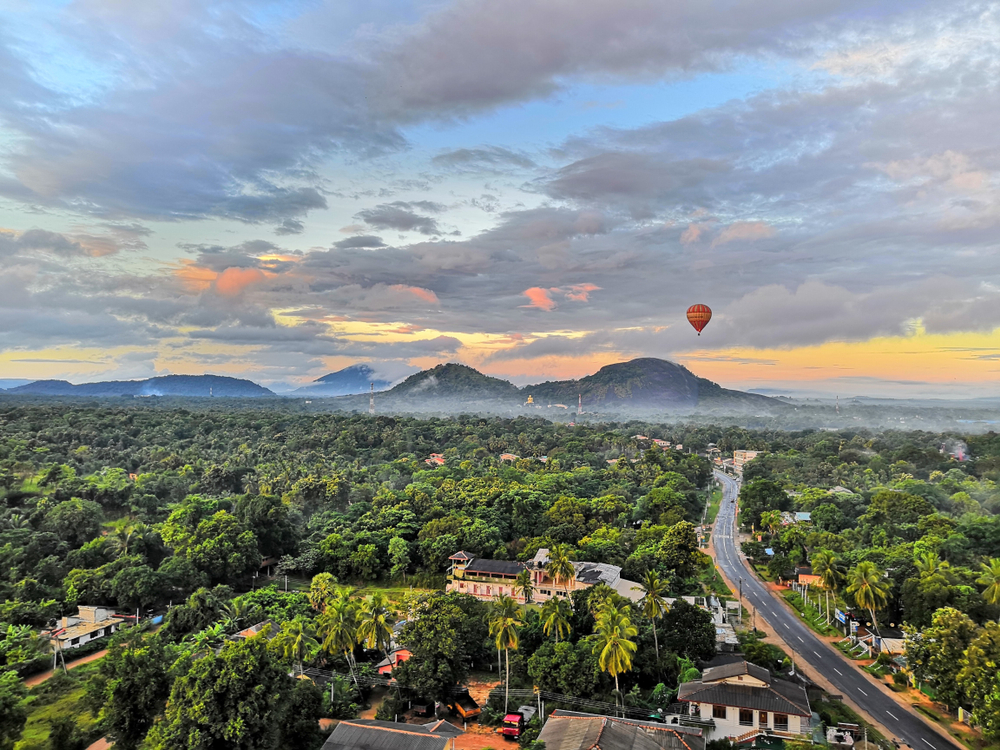 A hot air balloon ride in Asia is an unmissable experience.
Enchanting views and exhilarating adrenaline blast away fear and make the burner's heat feel like the sun's gorgeous glow.
Don't miss out on this experience in one of the world's most beautiful regions.
FAQ
Where is Southeast Asia's most affordable location to take a hot air balloon ride?
Vang Vieng, Laos, is probably the most affordable place. Group trips can cost as little as $85 per person. However, there will be no safety briefing, and not all the pilots fly to the same height, so the best views are not guaranteed. Some will take you to the heavens; others will float along the river. 
Where has the best view for a hot air balloon ride?
You can't beat Thailand and Laos. But the Asian countryside has a lot of similarities. Jaipur, India, is known for its natural beauty, and there is no better way to see it than from above.
Is it worth the money?
Absolutely! A hot air balloon ride is a pricey attraction, especially for those on a backpacker budget. But it's undoubtedly one of the cheapest regions in the world to have this experience, and you'll never forget it.