An Insider's Guide to Thailand's "Love Island," Koh Pha Ngan
Explore the highlights of Koh Pha Ngan, one of Thailand's hottest tourist destinations, with our insider's guide to this mesmerizing island.
Thailand's islands are world-renowned for their mesmerizing beaches and picturesque scenery. Some dismiss these stunning stretches of land as unworthy of visiting because so many tourists flock to some of them like moths to a flame — they are wrong.
I first visited Koh Pha Ngan at the start of my life as a digital nomad. I've been drawn back multiple times, spending nearly six months in paradise. It's like a magnet, always pulling visitors back in with its enchanting ways.
It's famous for being the birthplace of the Full Moon Party in the Land of Smiles. However, this isolated island offers way more than one great party a month.
Also known for its spirituality and nicknamed Love Island, it's a must-visit for anyone exploring Southern Thailand. Here is my insider's guide to Koh Pha Ngan.
About Koh Pha Ngan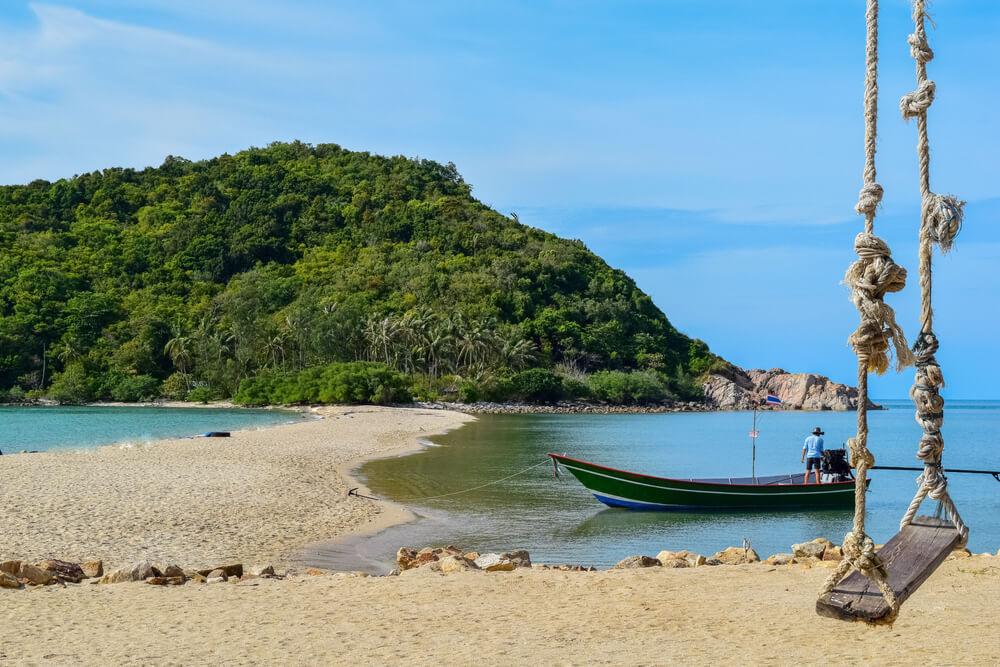 Nestled just north of the coastal town of Suratthani, Koh Pha Ngan — sometimes spelled Koh Phangan — sits between Koh Samui and Koh Tao. It's covered in gorgeous rainforests, idyllic beaches, and panoramic views.
It is a party island with an ancient history.
There is evidence of settlements dating back to more than 2,000 years ago. It's believed that sea nomads, known as Chao Leh, were the first to settle there and were skilled fishermen and traders.
Later, Malay and Chinese traders called the island home, as well as a small community of sea gypsies. By the late 1800s, Thailand had assumed control over the island, and it began to be primarily used for coconut plantations.
The Full Moon Party was born in the 1980s. It allegedly started when a group of tourists had an impromptu party on Haad Rin Beach. The party is a monthly staple in Koh Pha Ngan that gradually built an infamous reputation through word of mouth. Today, the event entices crowds of up to 30,000 people every full moon.
The Spiritual Scene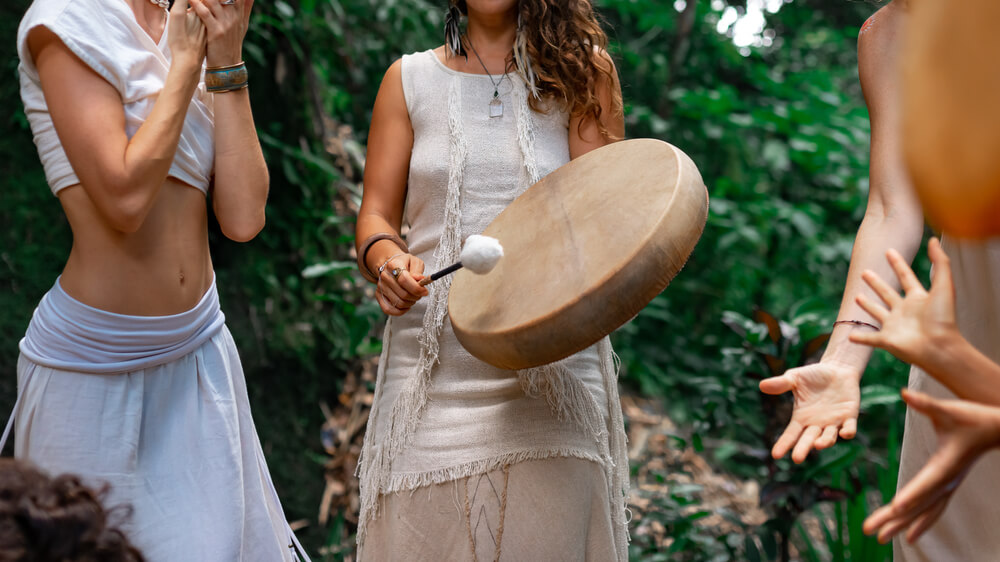 The hippie community on Koh Pha Ngan is the island's second most famous import. Whether you want to get a yoga instructor certification, connect with your inner self, or heal past traumas, this island has it all.
Orion Healing Center is the perfect place to start.
Situated right on the beach with gorgeous panoramic views, this iconic center offers everything a spiritual seeker could want. Attend a yoga session, release stress at a breathwork class, develop introspection through shadow work sessions, or sample a sound healing workshop to find peace.
If Orion isn't right for you, check out one of the island's many other spiritual centers.
The Jade Temple and Shakti Yoga Center are known for their excellent yoga retreats. Wherever you go, visit with an open mind. Cynics, beware: change comes easily in this place.
Koh Pha Ngan's party scene is globally famous. Still, there are plenty of quieter spots for a peaceful evening. Visit The Dome in the center of the island for a sauna session before lying beneath the stars as the owner serenades you with sound healing bowls.
Dancing is a staple of spiritual life on the island. Every Friday at sunset, I head to Zen Beach to dance around a bonfire while drummers jam the night away with entrancing beats. It's an opportunity for total freedom of expression and physical liberation.
Venture into the jungle for a sober dance experience at Pyramid Yoga Center. Starting slow, building to an intense climax, and then leveling out for shared meditation at the end, this four-hour ecstatic dance experience is not to be missed.
At first, I hid on the outskirts of the circle, afraid to truly let go. By the last event, I pranced around like an exotic bird trying to impress its mate. It's a judgment-free zone, so everyone can move without fear; even people who dance like noodles swaying in the wind will be embraced.
Other ecstatic dances on the island are hosted at the Orion Healing Center and Aum Sound Healing Center. If you want to dance like a fool, there is always a place ready to host you.
The Love Scene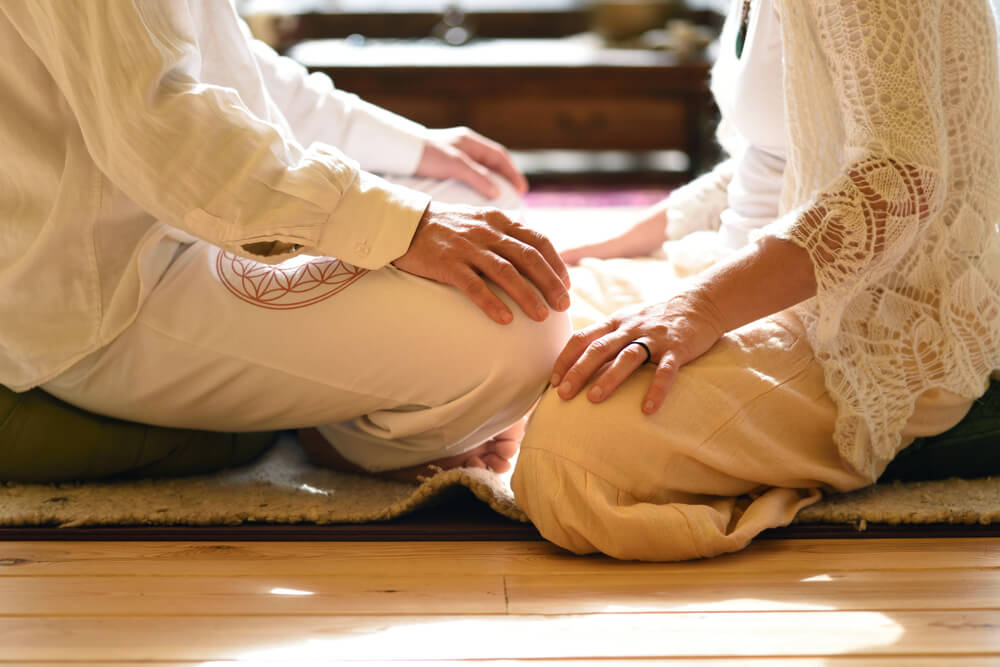 Koh Pha Ngan gets its nickname from its embrace of spiritual Tantra classes on the island.
Tantra is a yogic practice stemming from India. Despite its reputation, Tantra is not just about volcanic sex. It also allows people to weave together parts of themselves through deep physical and psychological introspection.
Samma Karuna and Tantra Mela offer a range of options to test out the art.
Don't let nerves keep you out of the party. But, if Tantra feels too intimidating, try a cuddle party first to loosen up. Most events are invite-only, so get to know the locals to find the best ones.
I went to my very first cuddle party on Koh Pha Ngan. It started painfully awkwardly. Everyone struggled to touch each other, but our facilitators loosened us up. Before I knew it, I was in the middle of a cuddle bundle on the floor. Total bliss.
If the slow, explorative nature of Tantra isn't for you, look no further than the local kink scene. Majik Juice Attire hosts weekly meet-up events for local kinksters, and you can experiment with bondage at their regular Shibari lessons.
The Party Scene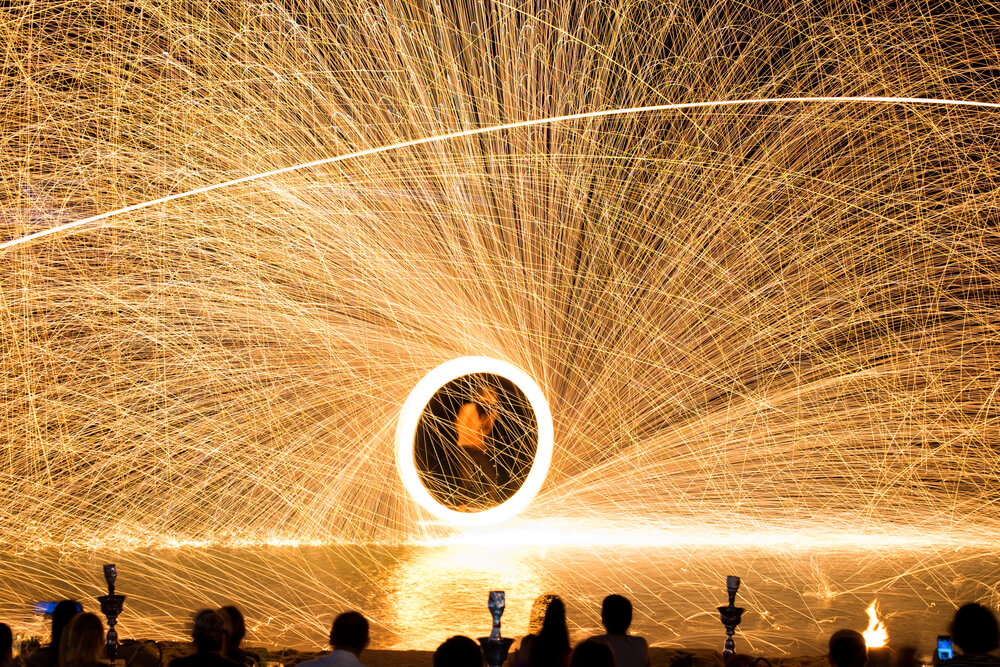 Don't miss out on Ko Pha Ngan's iconic party scene.
Of course, the Full Moon Party is worth a visit, but it's not the only option. Head to Haad Rin Beach on the full moon to get a taste of the classic experience and soak up the atmosphere, but save your money for other events.
Check out Eden Bar for the wildest all-night party of your life. The party occurs most Saturday nights and is especially wild on the full moon.
You can get to the bar by taxi or boat from Haad Rin, which is obviously the most exciting option. Brace yourself for rough seas, though.
I nearly got whiplash the last time I went, and on the way home, several people were flung from the boats into the sea. Don't worry. The locals are swift to act and protect everyone's safety!
Eden Bar is tucked away on a cliff overlooking the stunning ocean. Stay up all night to see the sun rise above the rocks and go skinny dipping in the morning sun. I spent my birthday here this year, and starting my 29th year, watching the sun crest over the rocks was an unbeatable feeling.
Latin dancing also abounds on the island. Visit Peyote, the tastiest Mexican restaurant on the island, for enchiladas and a bachata lesson every Thursday and Sunday. On Saturdays, Latins dance the night away at the Mexican restaurant La Casa.
Altogether too much for you?
Grab a quiet drink along the island's west coast, which also has the best sunset views.
El Paso is the ultimate spot with stunning views, cozy seats, and a welcoming atmosphere.
Summer Salts also offers delicious cocktails, and Romanzo Tropicale has some of the best Italian food on the island.
The Food Scene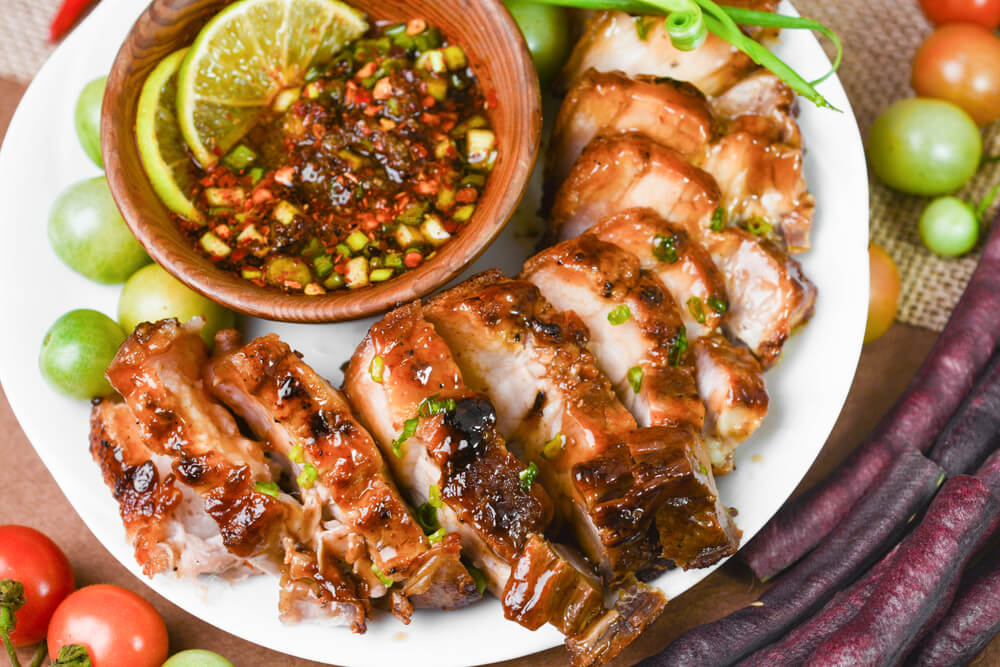 Delectable food is available all over the island.
With so many visitors, the island constantly has new restaurants catering to global tastes.
For the freshest Thai food, head straight to Mama Kop. They have two locations: one in Srithanu and another on the beach. Both offer the full range of Thai classics, and the price is unmatched.
If you don't mind a limited menu, head to a tiny shop near Chaloklum Beach, literally called "Cheap Thai Food 40 baht" on Google Maps. There are only eight things on the menu, and every single one is delicious.
Eat breakfast at one of the many brunch places scattered across the islands.
A favorite for the view is What's Cup, perched on a hill overlooking the northwest part of the island. Bubba's Roastery and its neighbor, Pura Vida Cafe, also have delicious breakfast options.
Once you've sampled the best Thai food, head to Satipot for the best Persian food ever to grace your tongue. It's impossible to order badly here, but start with the lamb and cheesy mashed potato side.
Fresh sushi is also available. The highlight is Sushiya, a small yet mighty restaurant in the heart of Srithanu.
Best Spots for Work or a Quiet Chat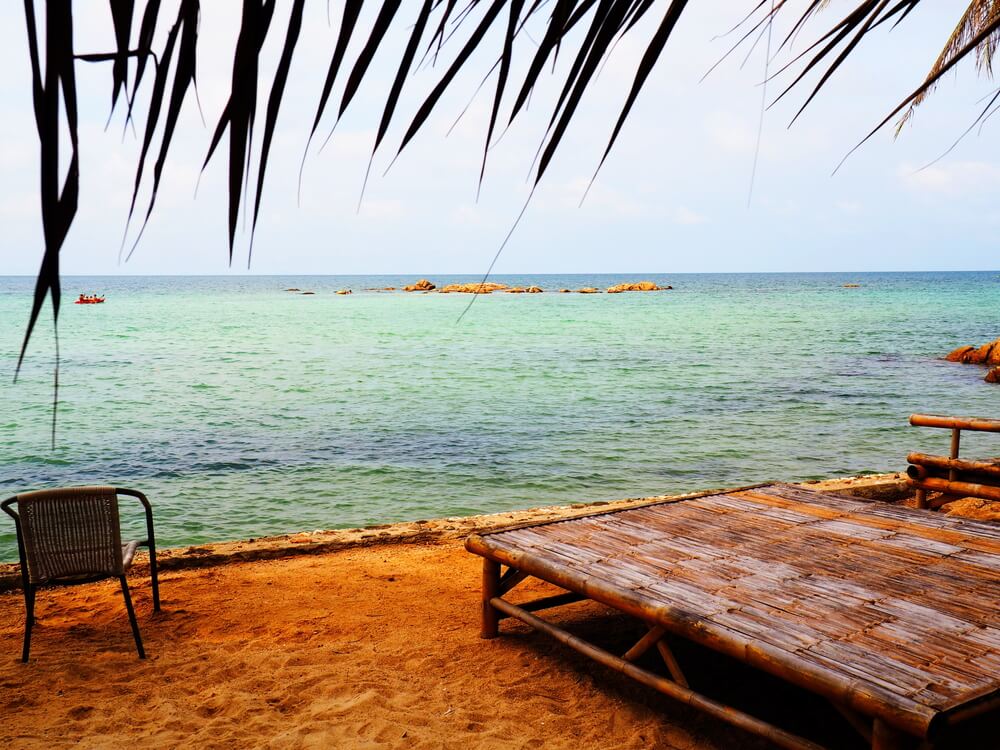 Between spiritual explorations and party exploits, chill out in one of the island's many cafes and bars.
Sit beneath the sunshine with a book at Bake Sense on the island's west side. Run by a lovely husband and wife duo, visitors will delight in the food before having a go at the pottery studio next door. I spent many days sunbathing beneath the sun between rounds of tea and dashes of work.
Visit Sun Bowl for breakfast in a calm atmosphere. I highly recommend getting there early. People on the island are late risers, and if you pop in at 9 a.m., you'll have the place to yourself.
Footprint Cafe in Srithanu is another island favorite, with views overlooking a lake where you can see monitor lizards lazily swimming through the water. Head into the jungle for a quiet breakfast at La Datcha, a tiny cafe known for its short opening times, beautiful location, and delicious brunch food.
Navigating the Best Beaches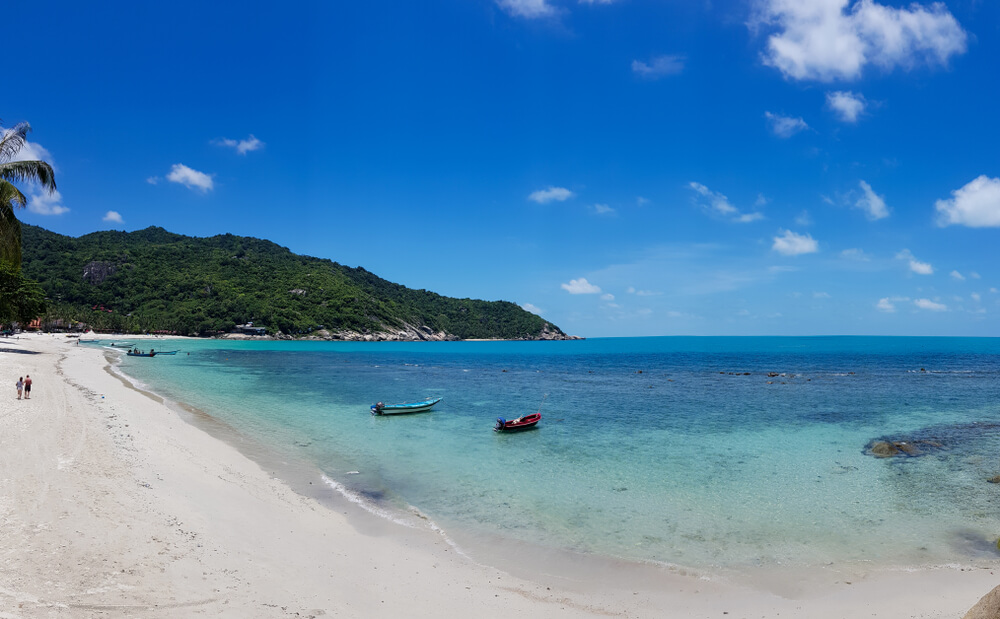 Koh Pha Ngan is home to an array of mesmerizingly beautiful beaches. Among the best are Koh Ma and Mae Haad Beach. Connected by a long sandbank, these two beaches are perfect for swimming, paddleboarding, kayaking, and snorkeling. You can even get a massage right on the shore.
Zen Beach is known as the hippie beach because of its weekly drum circle and nearby unofficial nude section. Be careful, though. Public nudity is not legal in Thailand, even though visitors strip off with confidence on this liberal stretch of land.
Haad Khom and Bottle Beach are another nestling pair on the north of the island. They are slightly harder to get to but worth the trek. You can hike through the jungle or hire a boat to drive from Chaloklum Beach.
Get Lost in Koh Phangan's Nature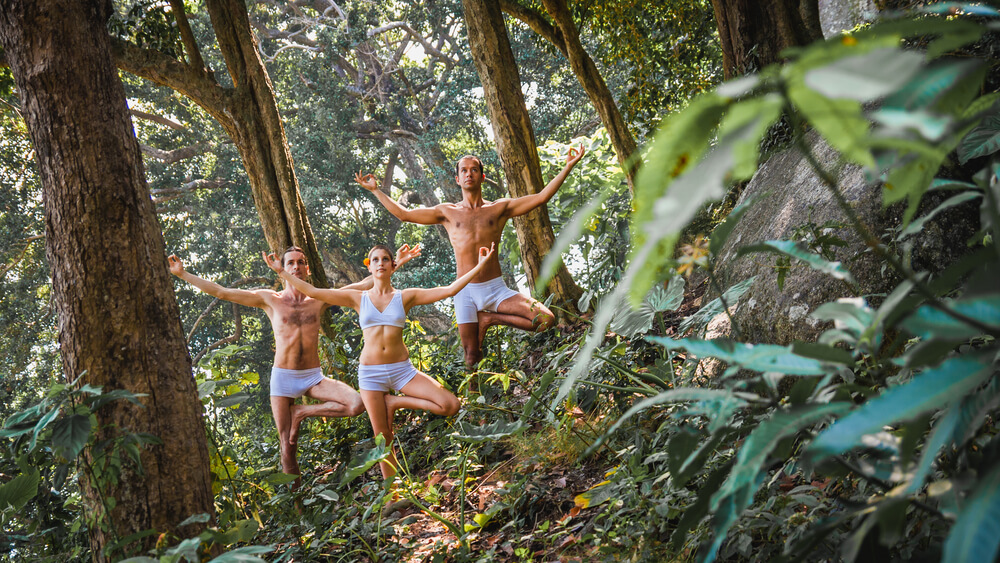 For some natural beauty and a relaxing dip, head to the island's center to explore Paradise Waterfall. You can climb almost to the water source of this stunning area. Just watch your footing.
Wang Sai Waterfall is another stunning spot. Head to the peaceful tea house in a treehouse to relax inside on the way up or down the waterfall.
Nature lovers should not miss out on hiking in the Khao Ra nature reserve, which has nearly panoramic views of the island at its peak.
Look no further than the Mu Ko Ang Thong National Marine Park for a full-day trip adventure. A few hour's boat ride from Koh Pha Ngan, this network of islands offers unbeatable views and experiences. Snorkel the most transparent waters around, hike to magnificent viewpoints, and marvel at the beauty of the Emerald Lake.
Weather in Koh Pha Ngan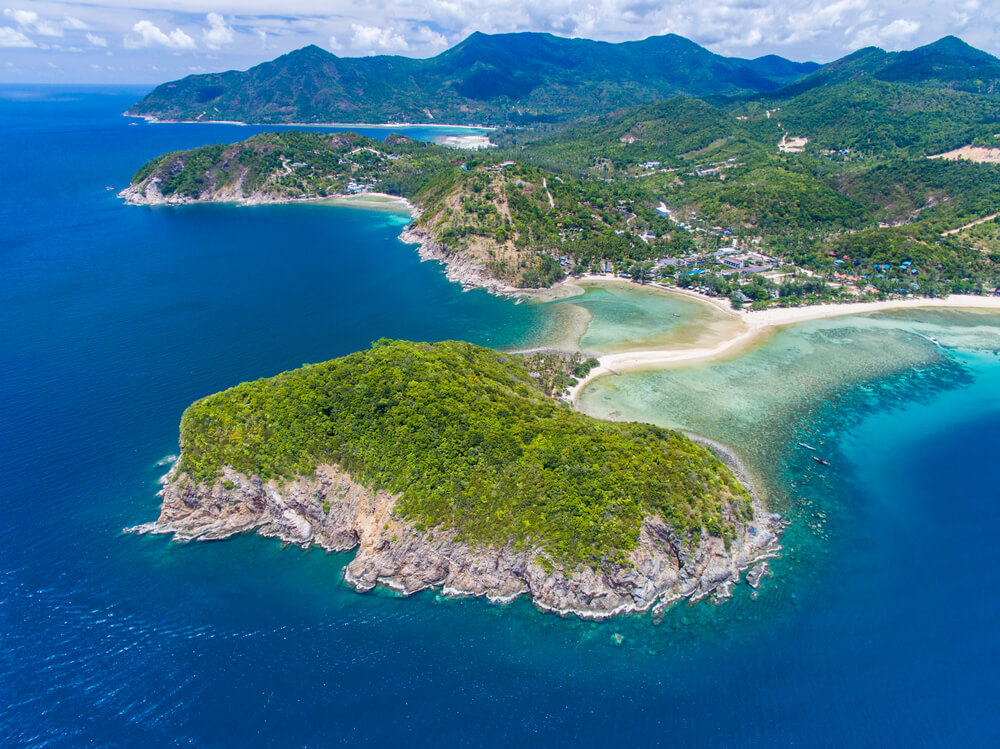 Ko Pha Ngan is a tropical island, so the weather is going to be hot, with an emphasis on the hot. Temperatures usually sit between 77°F (25°C) and 95°F (35°C) all year round.
There are three seasons throughout the year.
The wet season runs from September to November, the cool and dry season stretches from December to March, and the hot season blasts between April and June.
Peak season on the island is typically between December and April. Book accommodation in advance if you want the best spots.
To avoid crowds, visit in the rainy season. It does rain about half of the time, but it's possible to soak up the island's magic between showers. Plus, the island is most beautiful when it's the least populated.
One of my favorite memories on the island is driving to Koh Ma and swimming on its deserted beach in the pouring rain. It was just me and a friend absorbing the island's enchantments.
Packing List Essentials for Koh Pha Ngan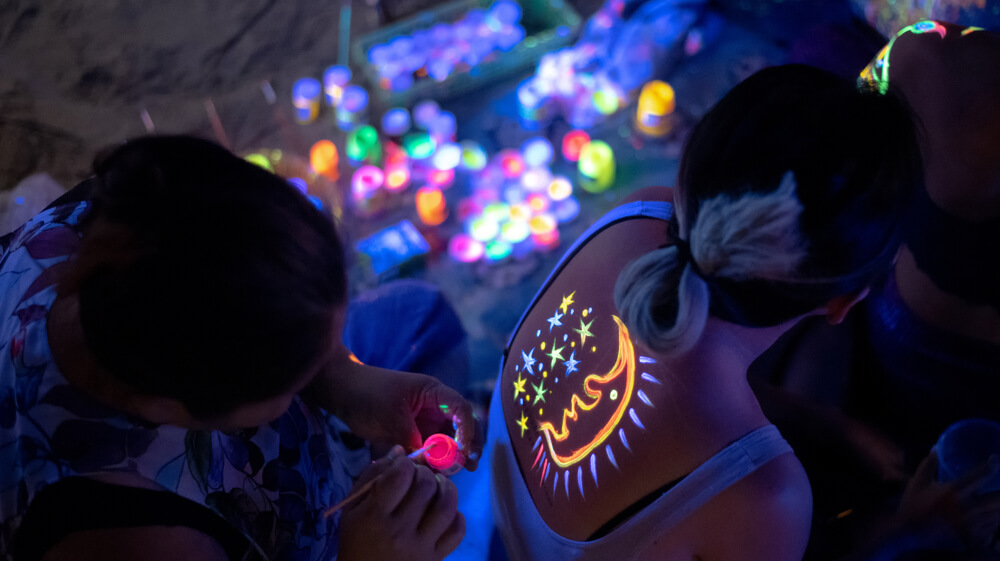 Whether you're visiting the island for a short or a long stretch, visitors must pack a few essentials to survive this tropical adventure. Do not forget to bring:
Flowy clothes to survive the heat. This is not the place for jeans.
Shoes that are easy to slip on and off. Most places do not like you to wear shoes inside, so save yourself the hassle and buy some flip-flops.
Sunscreen. Buy as much as you need and then double it. It's also significantly more expensive in Thailand, so bring some from abroad if possible.
Hats and sunglasses. The heat is no joke in Thailand, so protect your delicate face and skin as much as possible.
Gym or yoga clothes. This island has tons of physical activities on offer, and they should not be missed. Pack ready for an adventure.
Your smile. Thailand is known as the Land of Smiles; the friendlier you are, the more welcoming locals will be. Stay open, and you'll make friends in no time at all.
Map of Koh Phangan's Hotspots
We don't want you to miss out on a thing. This map will help you find all the hotspots in this blog.
How to Get to Koh Pha Ngan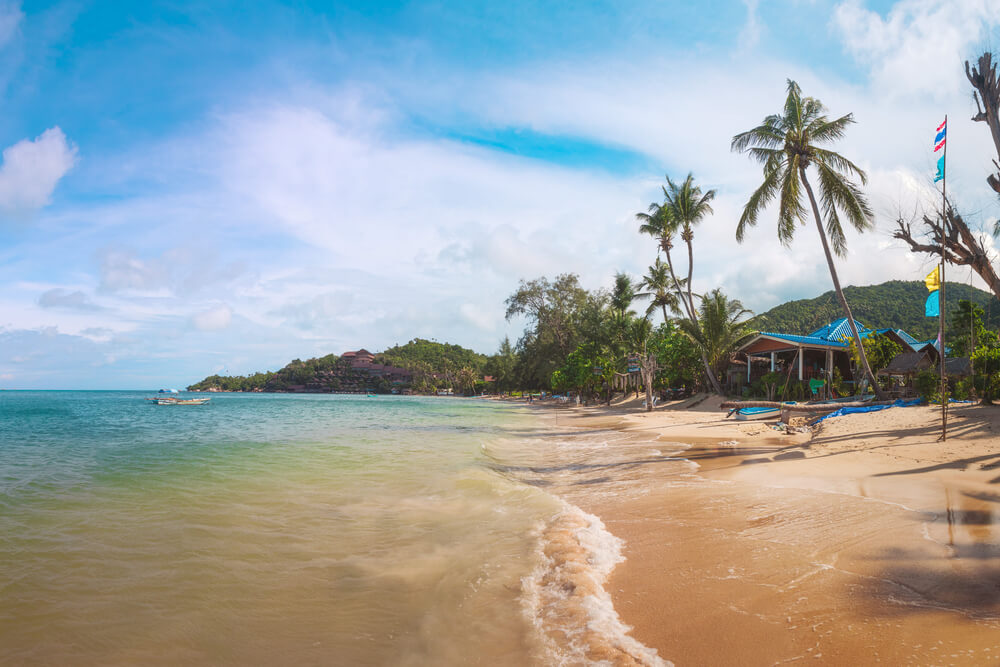 Getting to Koh Pha Ngan is a little tricky.
You can take a train, a bus, or a flight to get near it, but a ferry will always be the last leg of your journey.
To fly, catch a plane from Bangkok to Suratthani or Koh Samui and then take a van followed by a ferry to the island.
One of the most affordable ways to get to Ko Pha Ngan is to take an overnight bus or train from Bangkok to Chumphon or Suratthani and then catch a boat from there.
While on the island, hop from Koh Pha Ngan to Koh Tao or Koh Samui for a different island experience and incredible scuba diving.
The Koh Pha Ngan Wrap-Up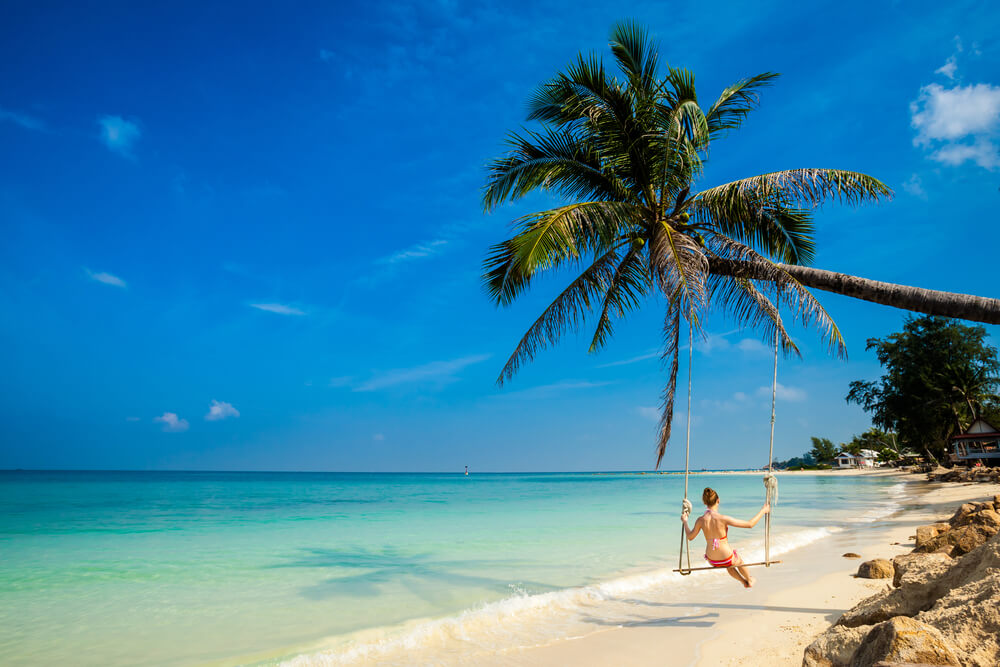 Koh Pha Ngan is like an ice cream shop. There's something for everyone on every budget. I get lost in its magic touch every time I visit, and so will you.
The island collects spiritual people like moths to a flame, so take the opportunity to try something new and embrace everything this idyllic island offers.
FAQ
Is it worth going to Koh Pha Ngan?
Absolutely! Koh Pha Ngan is growing in popularity, but its gems are still worth visiting. There is something for everyone, and you will not be disappointed by this tropical treasure. 
Is there more to Koh Pha Ngan than the party scene?
For sure! You can party the whole time you're there, but you'll miss out on the real magic of the island. One of the reasons so many people come back is the community. The people are the best part, not the parties. 
Is Koh Pha Ngan too touristy?
The main town, Thong Sala, is the most tourist-heavy part of the island. Although it's convenient, step away to see the best side of Ko Pha Ngan. The areas populated least by tourists are the north and northeast sides of the island. 
Is Koh Pha Ngan affordable?
Thailand's islands are generally more expensive than the rest of the country. This is because most of the food and other exports cost more to get there. It's worth the extra cost, though. Food is only slightly more expensive, and the sights make every baht count.