Playa Camaron, Mazatlan: Best Beach for…Everything
Discover Playa Camaron, Mazatlan's most famous beach. Read on to find out why it's so popular, plus, all the details to plan your perfect holiday.
Popular places become popular for a reason. And that wisdom rings true at Playa Camaron — a lovely beach smack in the middle of Mazatlan's Zona Dorada. If you like your beaches within walking distance of a city, this is the place for you.
Read on to learn more about this justifiably popular beach and why you should see it for yourself.
Where is Playa Camaron, Mazatlan located?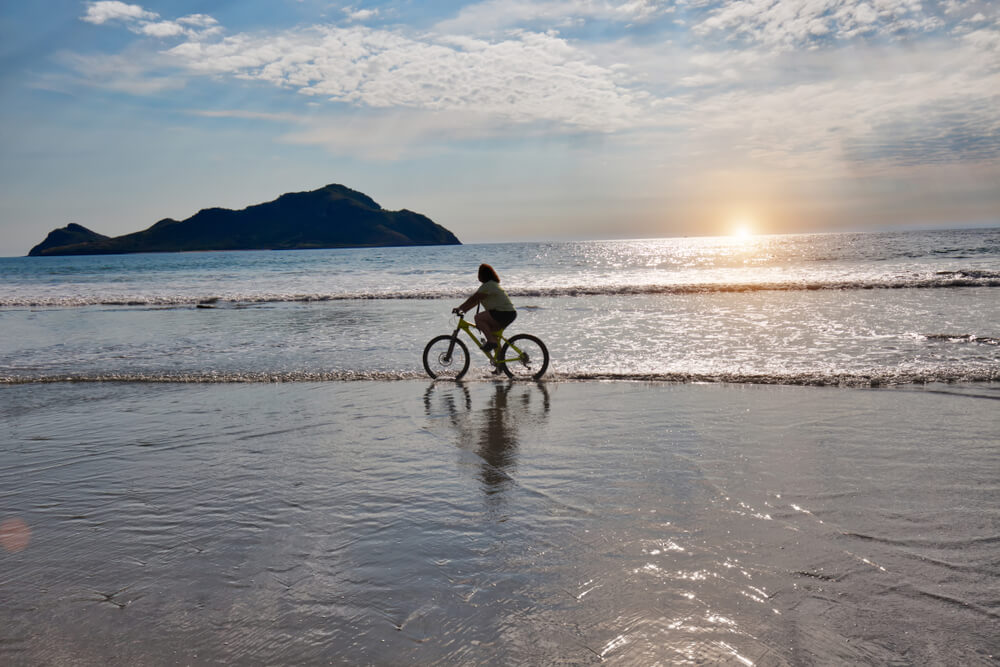 Mazatlan is a fabulous tourism destination on Mexico's Central Pacific coast, right across the Gulf of California from Cabo San Lucas.
Playa Camaron — sometimes called Playa Camaron Sabalo — is located in Mazatlan's Golden Zone (Zona Dorada), the city's primary tourist area.
What's the beach like at Playa del Camarón?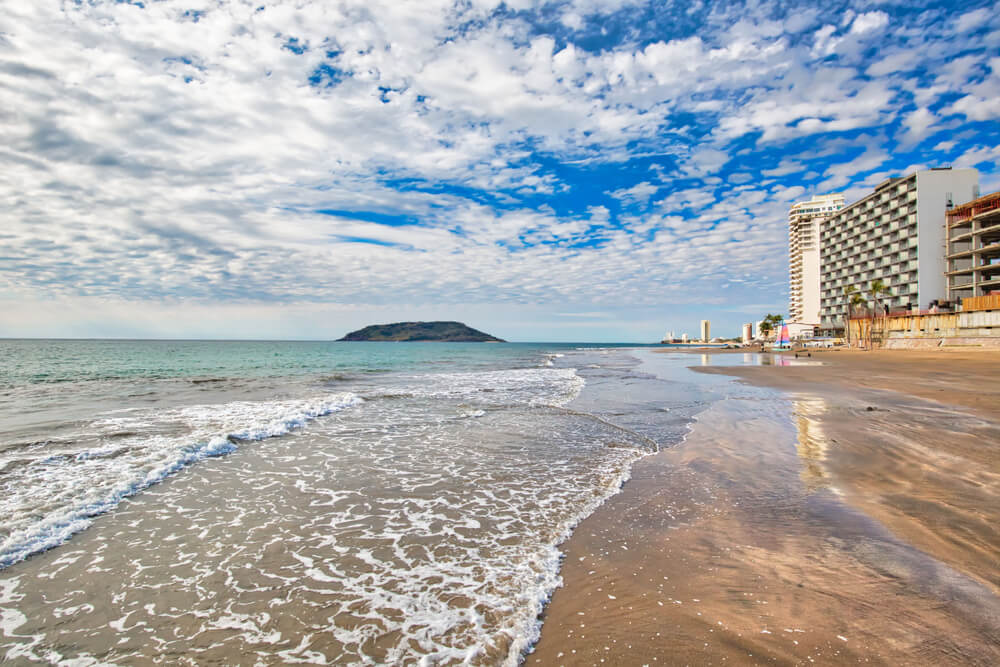 In a word, dreamy.
The sand is a light golden color and soft enough not to require water shoes or other footwear. It dazzles during sunsets, and its western-facing location makes this a great place to catch one.
The entire stretch goes on for about two kilometers, fronting a collection of hotels and restaurants usually hopping with visitors. Though it can be relatively narrow in some parts, with a gentle slope leading toward deeper water, there's always enough space to snag a place of your own.
The water is crystal clear and seaweed-free, making for pleasant conditions regardless of your water-based activity. Waves are sufficient to keep surfers occupied but not so strong as to pose a danger.
One of the best features of Cameron Beach is the abundance of facilities and activities available.
Numerous hotels, ranging from giant behemoths to smaller lodges, offer rental loungers, umbrellas and refreshments all along its length. Bars and restaurants are just a quick walk away from nearly every point, offering both food and restroom access.
With its impressive length and location right in the heart of the touristy section of town, parking spots are available at many points along the beach. You can even take public transport from other parts of town and access the beach just about anywhere you'd like.
Is there an entrance fee for Playa del Camarón?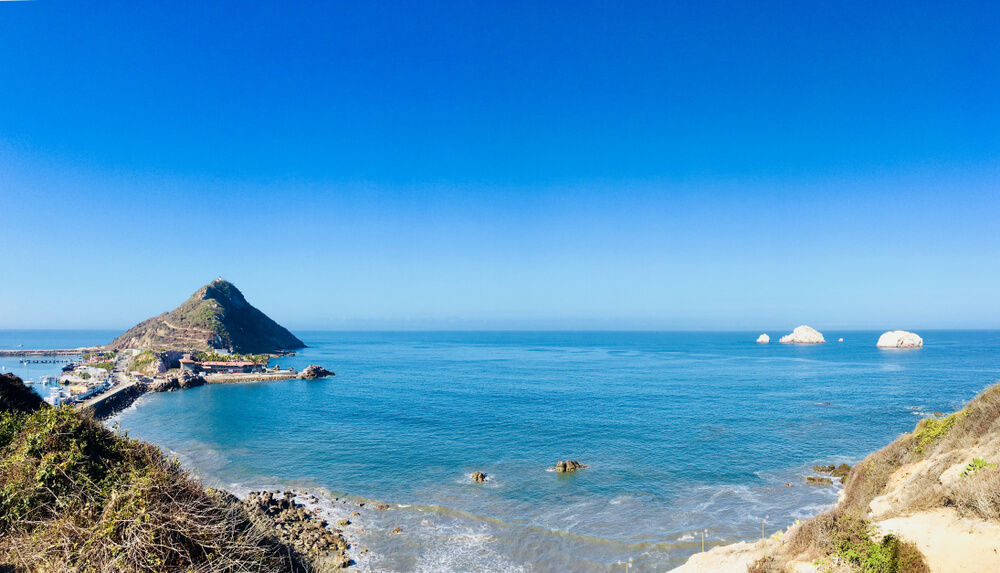 As they say in Mexico, absolutely nada! There is no fee to access or spend time on the beach, and you can come and go from surrounding hotels, restaurants and shops as much as you please.
Does Playa Camaron have seaweed?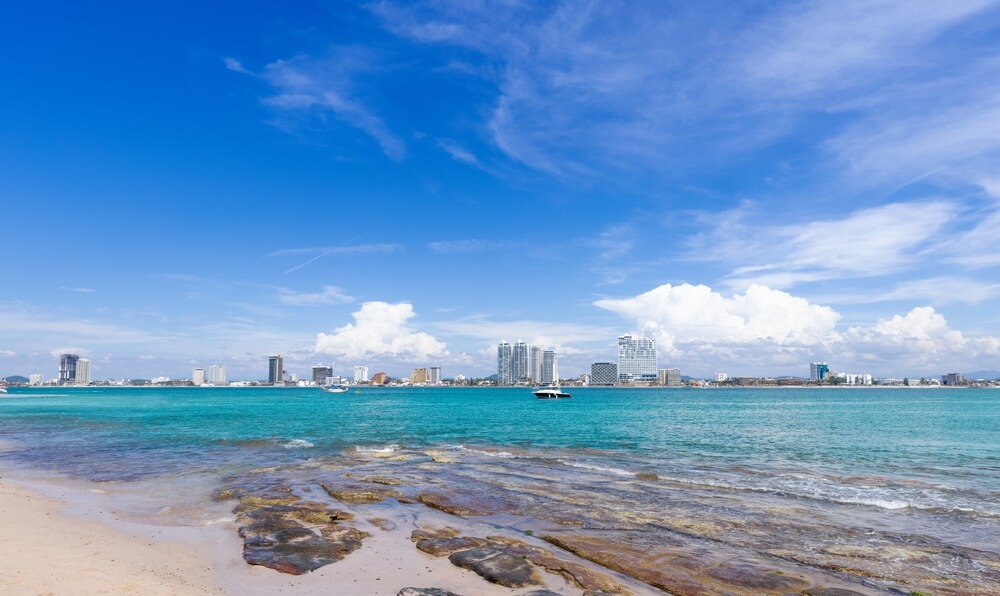 Fortunately, unlike many Caribbean and Gulf destinations in Mexico, the beaches in the state of Sinaloa are generally unaffected by the plague of sargassum seaweed, so you can expect to wade in peace.
Things to do in Playa Camaron, Mazatlan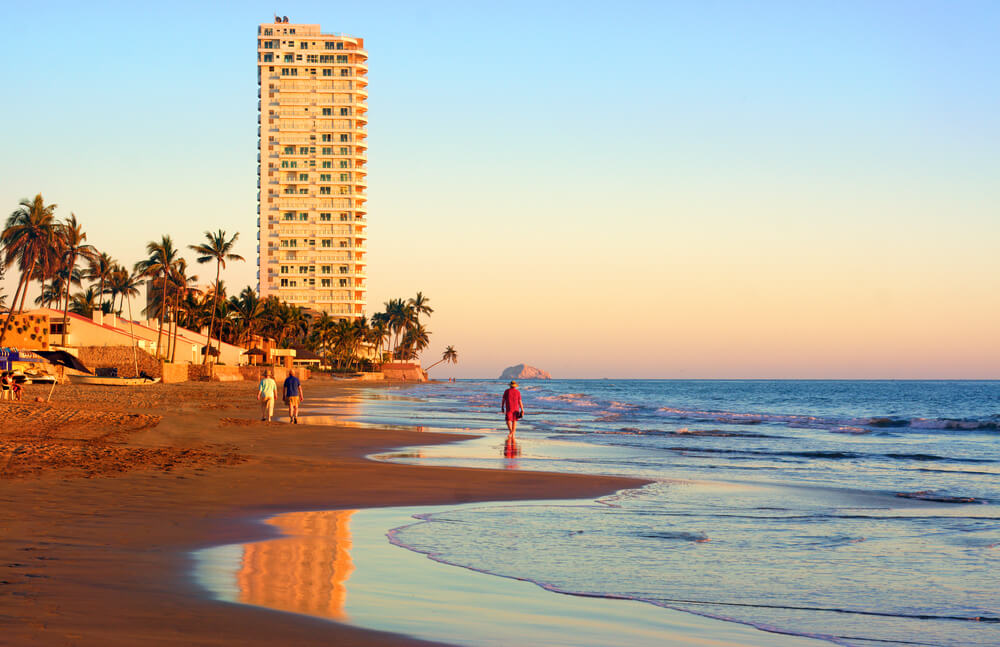 Chill at the beach
The main draw to Mazatlan is, of course, its beaches. So rent a lounger in the shade, get a margarita, and wile away a morning or afternoon in the glorious sunshine of the Pacific coast.
Go swimming
With a gradual slope and crystal clear waters, this is a great spot to swim. The waves are strong enough to enjoy a little motion yet calm enough to keep you in the water.
Go surfing or bodyboarding
Mexico's Pacific Coast is a hotspot for surfing activities, and Playa Camaron is no exception. Surfers and bodyboarders can catch some waves all morning and still have time to grab lunch in town.
Get out on the water
As a heavily-touristed area, there is no shortage of waterborne activities. Take your pick from thrilling options like banana boat rides, parasailing, sailboat rentals, kayaking and much more.
However you do it, spending time in the inviting water is all part of a trip to Mazatlan.
Take in the sunset
Facing the western horizon, Playa Camaron is an ideal place to watch the sun sink down into the Pacific Ocean in a dazzling array of colors — preferably with a drink in your hand.
So make it a ritual to stop what you're doing and take in the show for a few minutes each evening. You won't be disappointed!
Things to do near Camaron Beach, Mazatlan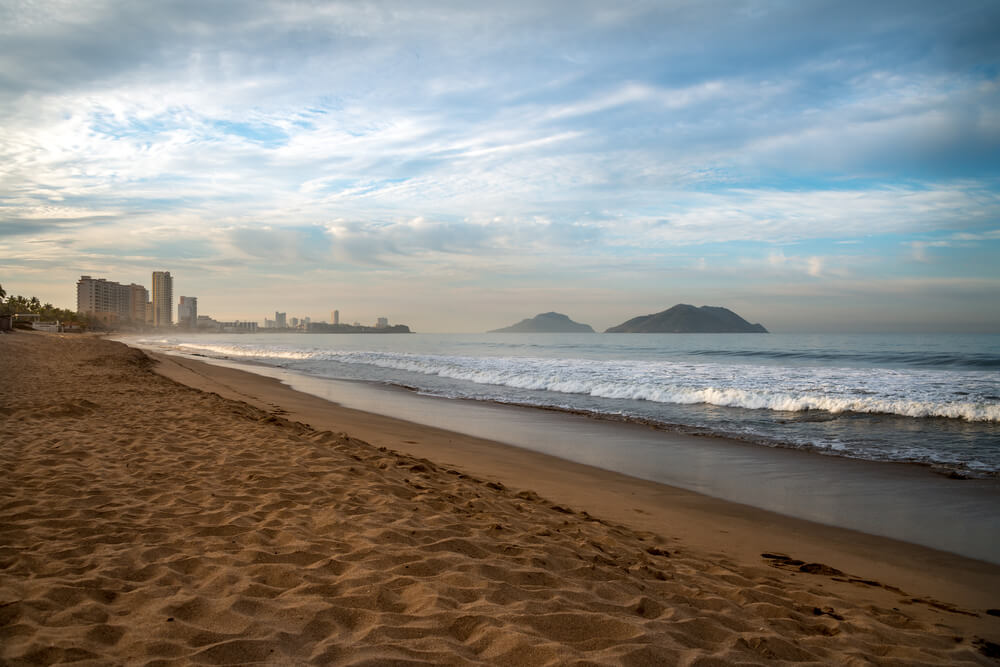 While you'll want to spend some time on the beach, its location in Mazatlan's Zona Dorada means you have plenty of other activities to choose from nearby and further afield.
Go beach hopping
Mazatlan's claim to fame is its beaches, so be sure to check out the other ones nearby to round out your experience. Here are two highly-rated favorites:
Playa de Mazatlan
Playa de Mazatlan is a little over three kilometers north of Playa Camaron. Here, you can find more of the same golden sand and turquoise water without the same number of tourists. Once again, it's free to access and has plenty of amenities—albeit outside the main tourist area.
Isla de la Piedra Beach
Ten kilometers to the south is Isla de la Piedra (Stone Island) Beach. This broad swath of soft golden sand has gentle waves, making it an excellent beach for kids. It also has all the needed amenities, such as a restaurant, loungers and toilets.
All in all, it's a great place for a mini-escape.
Visit Isla Venados
Also called Isla Enmedio, this uninhabited island gem is a great way to escape the city while staying within sight of it.
Here, you can enjoy unspoiled beaches and natural surroundings. The water is calm, making it great for kids and snorkeling.
You can get there via your own rental panga (small boat) or kayak (provided you have the stamina). Or opt for a guided tour, including transportation, drinks, umbrellas and snorkeling equipment.
Pro tip: There are no restaurants or electricity on the island, so pack accordingly if you choose to visit (and you should!).
Head inland to the Sierra Madre Mountains
Add a little turf to your surf with an excursion into the nearby Sierra Madre Mountains.
A popular tour is via an ATV. You'll get to play on the hills and trails while getting an authentic taste of the lovely Mexican interior.
Some tours also include a thrilling zip line adventure!
How is the weather in Playa el Camaron, Mazatlan?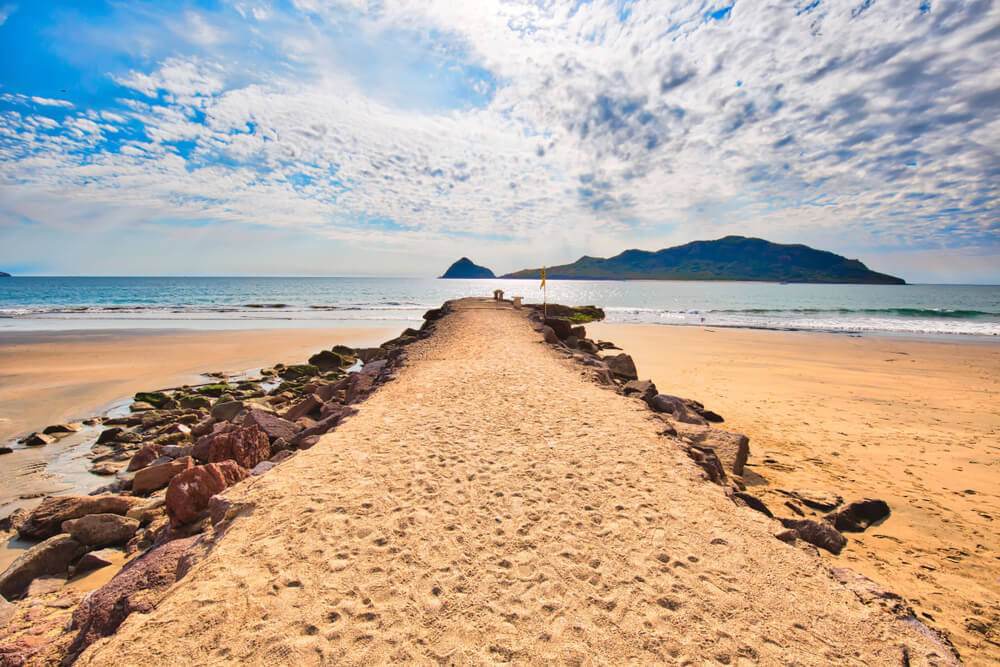 By far, the best time to visit is during October and November. At this point, daily temperatures remain warm for days at the beach (highs around 28-32°C/84-90°F) with minimal precipitation.
The rainy season stretches from June through September, with August seeing the highest rainfall totals. This is also the hottest time of year.
The winter sees little precipitation, but cooler temperatures (highs in the mid-20's°C/upper 70's°F), while comfortable, could put a crimp in your desire to lounge on the beach.
Where to stay in Playa Camaron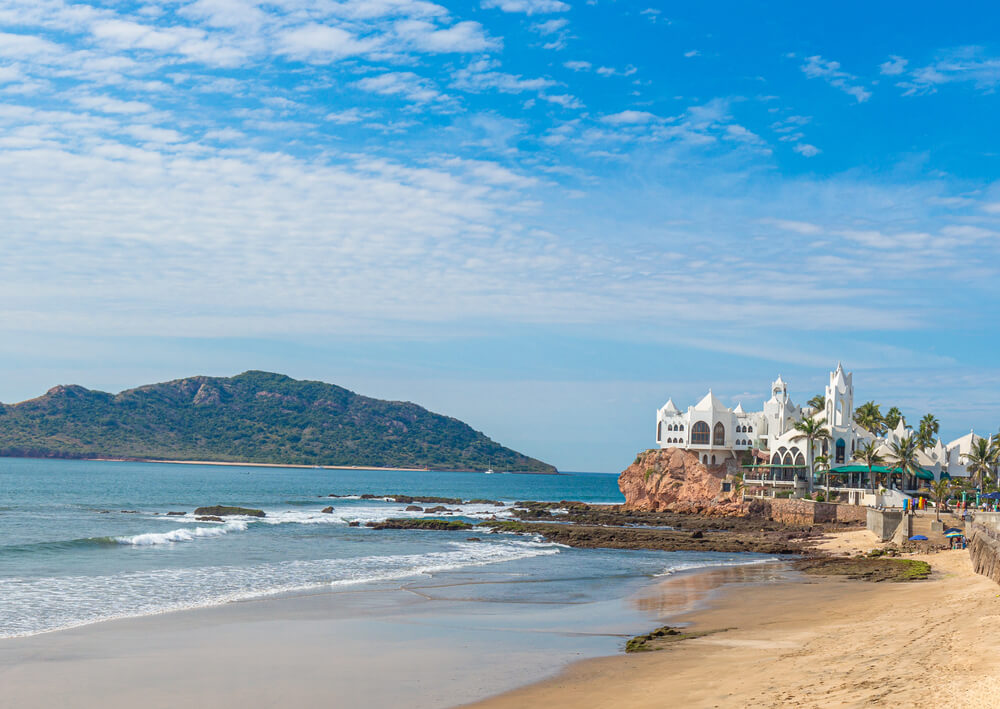 Since the Zona Dorada is the city's tourism hub, there is an abundance of accommodations to choose from that provide easy access to Playa Camaron.
On the beachfront are several large resorts with breathtaking views and enough amenities to keep you busy for days.
There are also plenty of smaller accommodations, particularly vacation rentals, where you can self-cater and save some pesos. 
Map of Playa Camaron, Mazatlan
Check out this map to get a feel for the area and its nearby beaches. And if you want to head south after Mazatlan, you're not far from Puerto Vallarta.
How to get to Playa Camaron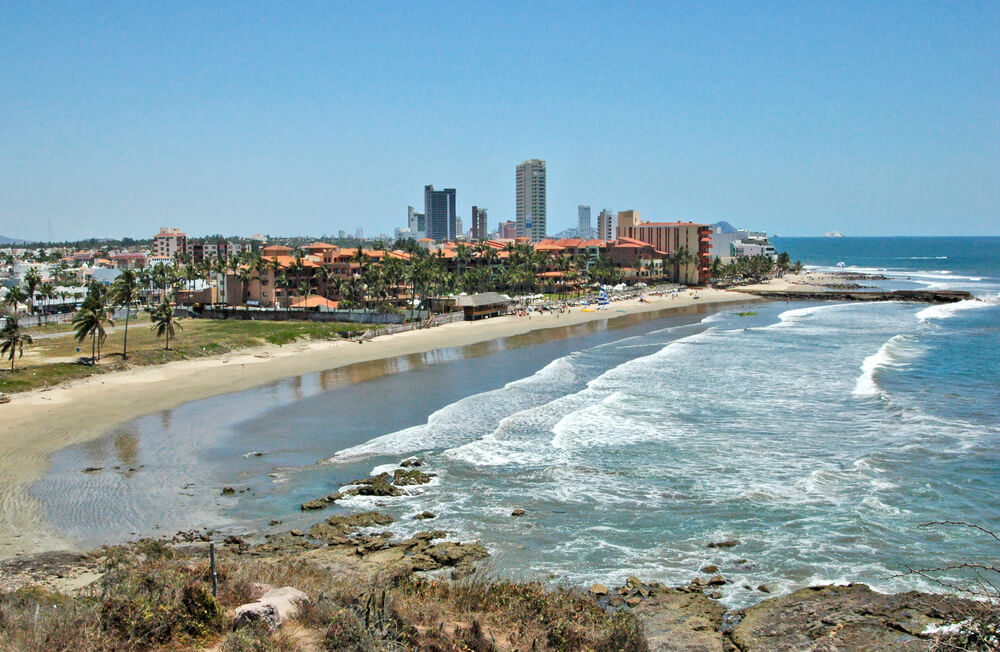 Mazatlan International Airport (code MZT) is the best airport for getting here. From the airport to the Zona Dorada, it's about a 40-minute taxi ride (about 37 kilometers/23 miles). Taxis are the predominant way of getting between the two places, though sometimes shuttles can be arranged.
The town is a cruising hotspot. Book a cruise, arrive via ship, and take a taxi to the beach.
Alternatively, if you're starting off in Mexico City, you have a couple of transportation options to get to Mazatlan.
While planning your Mexican itinerary, your best options for getting around the country are to rent a car for maximum freedom or take buses, which leaves the hassle of driving to someone else.
Packing list essentials for Playa Camaron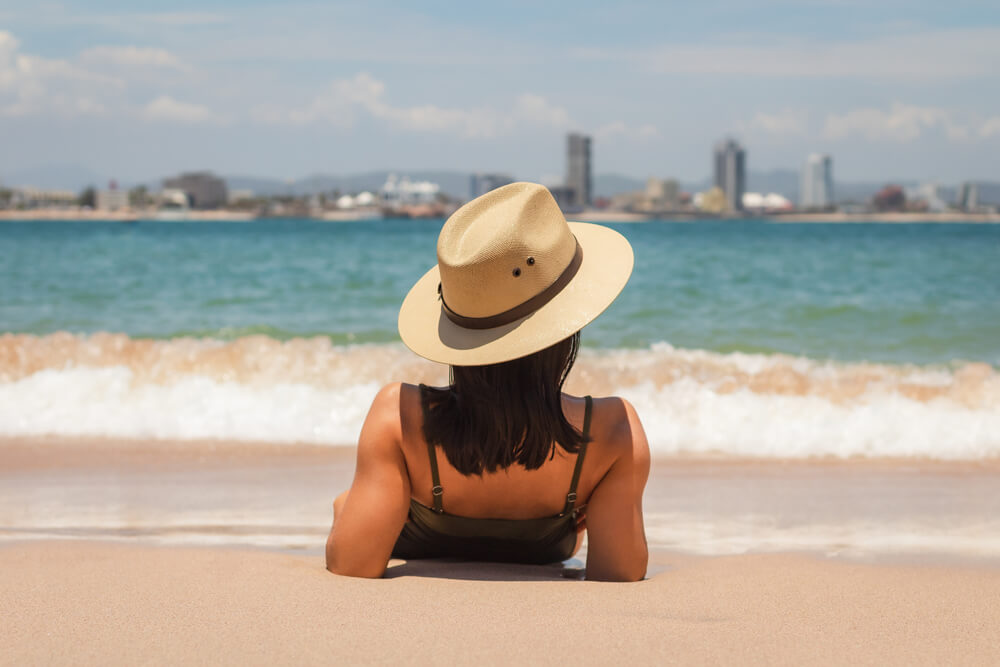 High-SPF sunscreen for when you venture beyond the shade—especially in summer!
A wide-brimmed hat to bring your shade along with you.
Several bathing suits for more than one day at the beach.
Flip flops or sandals that can go from beach to street (or vice versa).
A wrap or cover-up for shopping or a bite directly from the beach.
Closed-toed shoes for hiking, touring and other adventurous activities in the area.
Bug spray for mosquitoes.
Underwater camera and dry bag for your valuables.
Your own snorkel and mask if you intend to see the underwater world.
Lightweight backpack for bringing your snacks and equipment, especially to Isla Venados.
Final thoughts on Playa Camaron, Mazatlan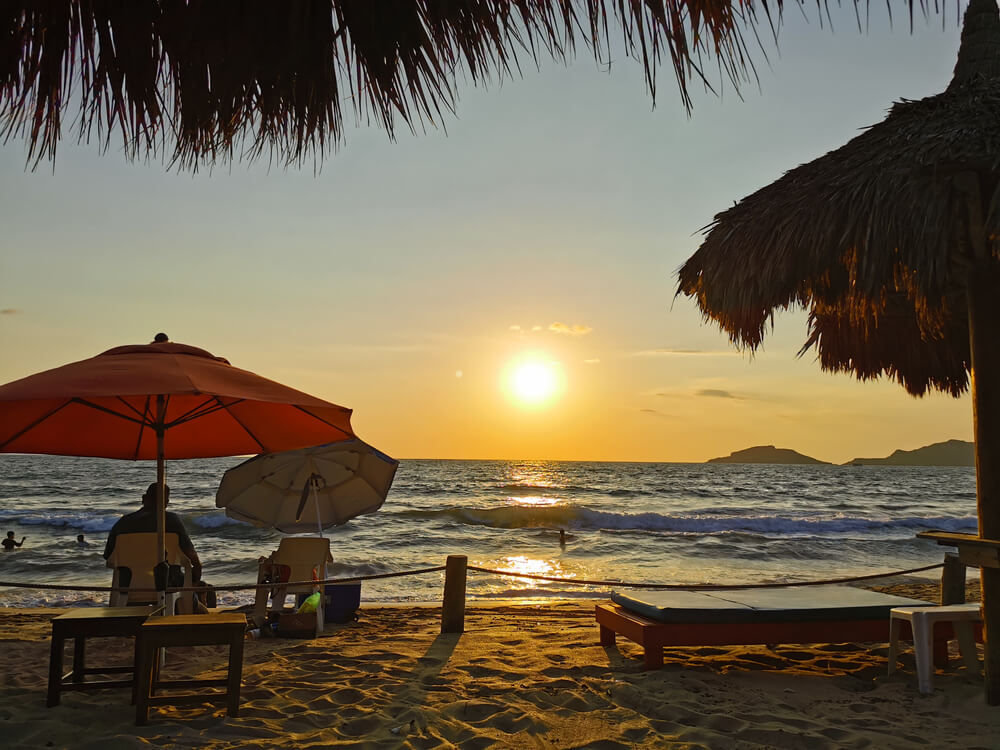 Playa Camaron is a popular beach, and now you know why. Sure, you'll likely encounter some crowds, but that's part of the exciting ambiance of a visit to Mazatlan's Golden Zone.
So, pick out your lounger, watch the sunset, and then hit the clubs in this popular yet fun beach destination.
FAQ
What is the closest airport to Playa Camaron?
The closest airport is Mazatlan International Airport (code MZT), located approximately 37 kilometers (23 miles) to the southeast. Travel time by taxi is about 40 minutes.
What is the closest town to Playa Camaron?
You are right smack in the heart of the action in Mazatlan's Zona Dorada.
Is Playa Camaron safe?
Yes, though the usual precautions of leaving your valuables locked away and keeping an eye on your belongings are always advised.
Can you swim at Playa Camaron?
Yes, the shallow grade and gorgeous water make this a great beach for swimming.