Playa Ruinas: The Past & Present on One Beach
Want to step back in time while dipping in the Caribbean Sea? Playa Ruinas, Mexico is the best of the past & present. Find out all it about here.
Have you ever visited an archeological site and a tropical beach on the same day?
If the answer is "nope," we've got a spot that'll impress you and your Instagram followers. Welcome to Playa Ruinas in Tulum, Mexico, a beachside destination home to impeccable Caribbean waves and historic Mayan ruins.
This iconic location completes any Mexico trip, but don't arrive without the complete lowdown. So keep reading; in five minutes, you'll be an expert on this unforgettable and cultural spot.
About Playa Ruinas, Tulum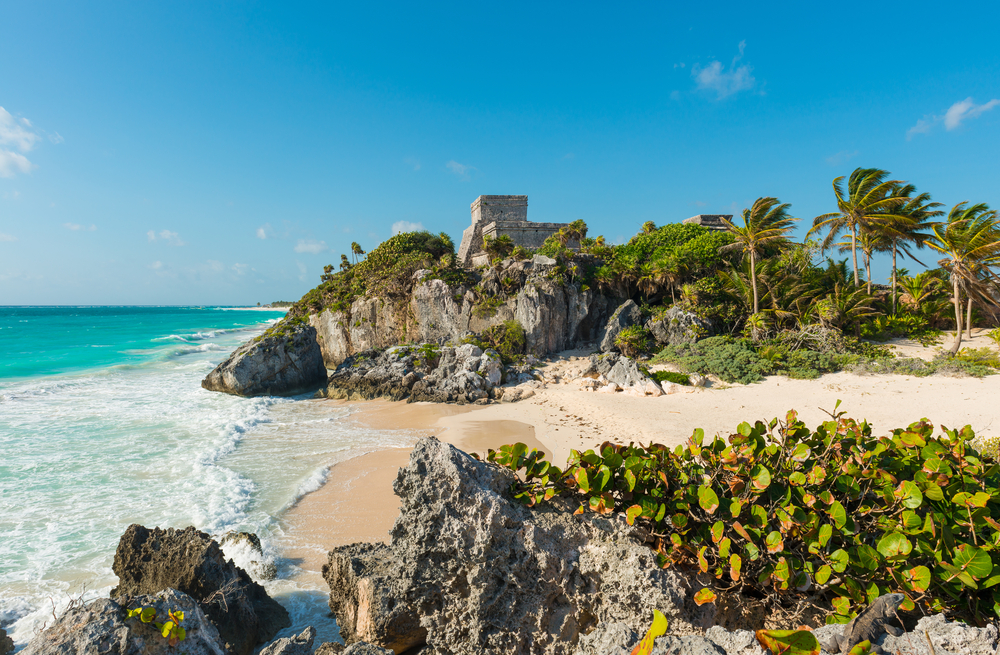 What do you get when you mix a tropical beach and ancient artifacts? The answer is Playa Ruinas!
Located in the state of Quintana Roo on the Yucatan Peninsula, this beach gives breathtaking views of the ocean and Mayan architecture. The easiest way to visit this beach is by stopping in Tulum, a world-famous beach town.
Though this beach is near a populated beach town, it is home to cliff-top ruins that date back to the Mayan age.
Alongside wonders from times passed, Playa Ruinas offers turquoise waters, golden sands, and palm-lined cliffs. Whether you want to take a dip or lay on the sand, this coastline is one-of-a-kind.
The Ruins: What You Need to Know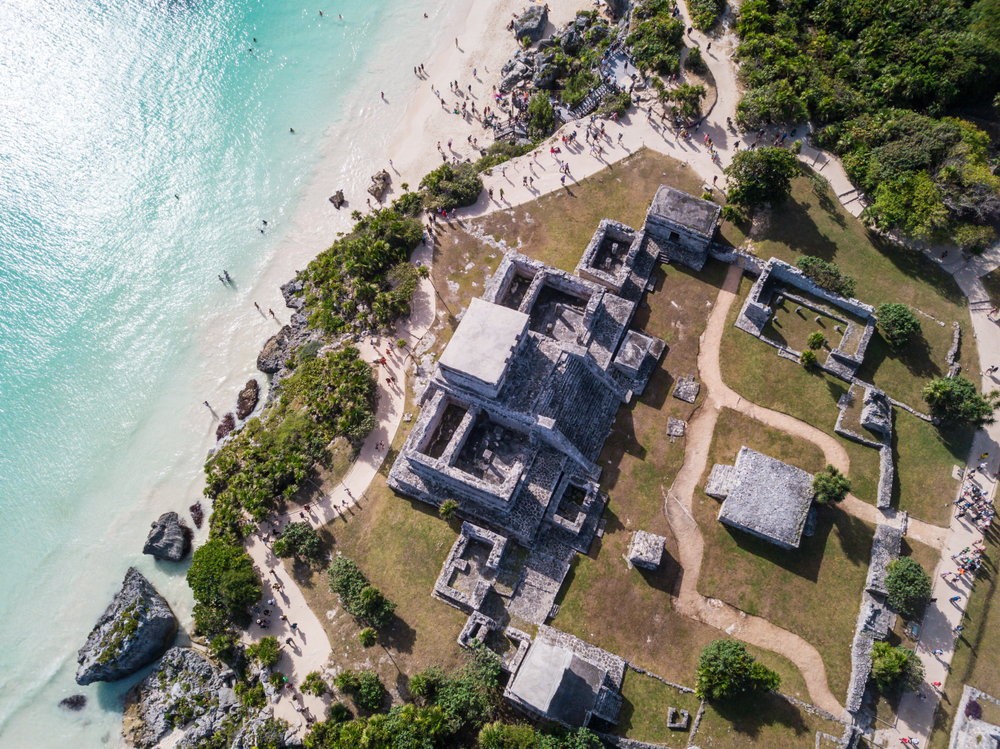 Let's face it. While Playas Ruinas is a gorgeous coastal spot, most visitors stop by to see the famous El Castillo Mayan ruins.
But why are these here?
In the Mayan age, Tulum was a bustling city called Zama, which means a place of the dawning sun. The beach town used to be a city with a durable fortress that prevented invaders from taking over. It had three sturdy walls and the Caribbean coastline on the fourth side. The Mayan city's focus was religious ceremonies and worshiping the gods.
Today, you can still find parts of the temples and fortresses scattered across the coastline. They look majestic against the seascape, and visitors can see these archaeological wonders up close. Many of the ruins showcase different building styles, and they make a great day activity for history buffs, beach lovers, and photographers.
Did you know? These ruins are the third most visited in Mexico. The top two sites are Chichen Itza and Teotihuacan.
Getting into Playa Ruinas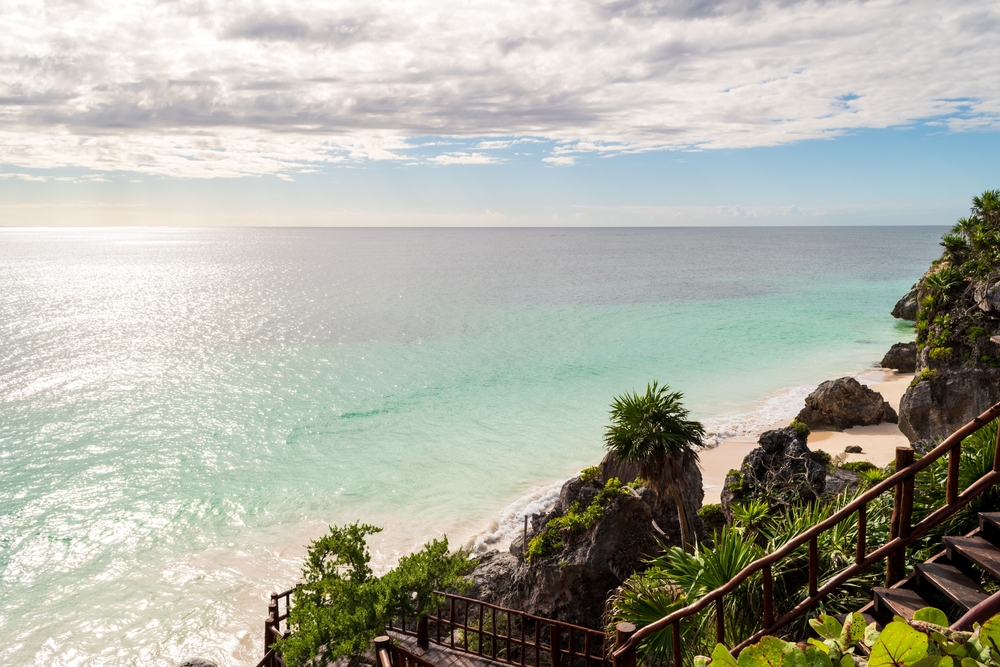 Due to this beach's unique location, getting in takes a few extra steps compared to other Tulum beaches.
The beach can only be accessed through the Tulum Archeological Park. Head for the ruins, and you'll find the beach. There is a small fee to access the ruins and the beach, so have some pesos on hand.
This is more fuss than simply rocking up to the coast. But you get to experience a world-class beach and ancient ruins. It's worth the small fee!
Food and Amenities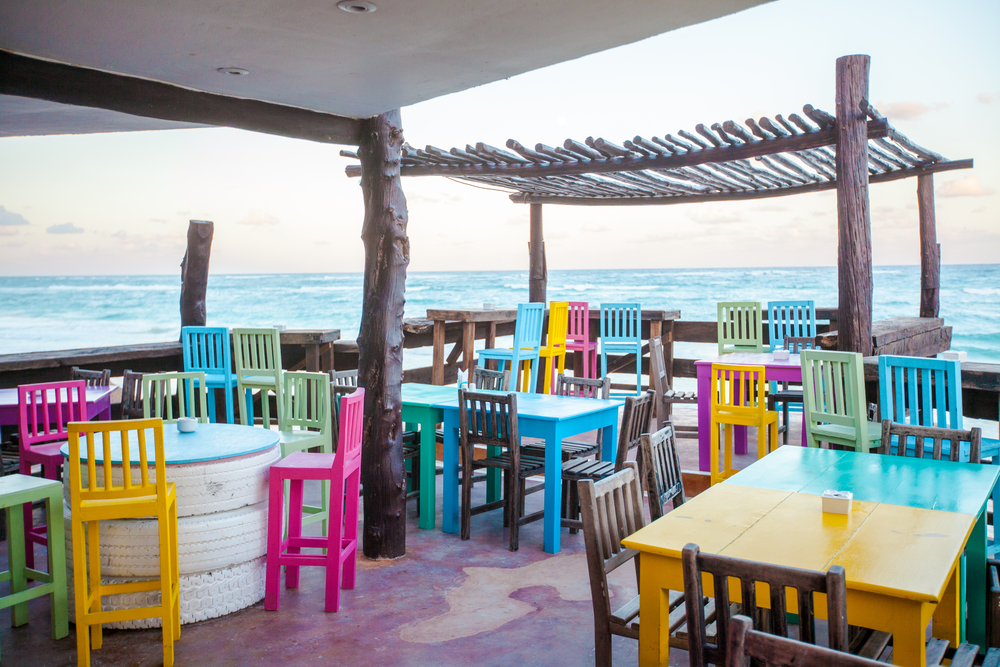 After sunbathing or inspecting the ruins, it's time for a snack. Unfortunately, however, Playa Ruinas has no food stores or restaurants.
Your first option is to pack a picnic lunch and enjoy your own food by the shore. This is the route to choose if you want to eat at Playa Ruinas. Shop for affordable food in Tulum and pack it in your beach bag. Then grab a spot in the sand and start feasting with ancient ruins just over your shoulder.
Alternatively, you can leave the beach and explore the nearby eateries. The neighboring beaches are home to local restaurants, international cuisine, coffee shops, seafood joints, and beachside bars. You're spoiled for culinary choice and views.
Pro Tip: Remember your cash for nearby beach restaurants. Credit and debit cards aren't always accepted.
Activities on Ruinas Beach
Playa Ruinas is the place to be if you want to create life-long memories while admiring ancient culture. Below are the top activities you can enjoy.
Exploring the Ruins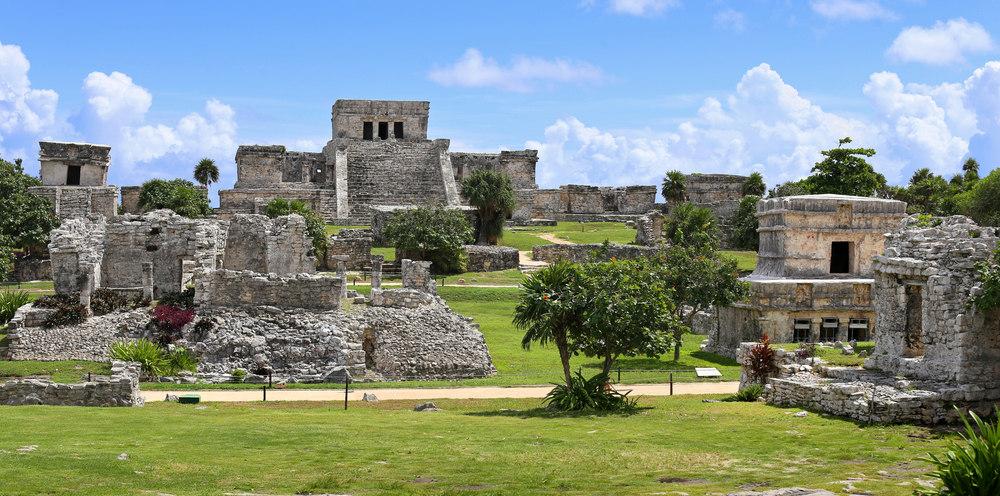 The main focus of Playa Ruinas, Tulum, is the ruins, of course. Though we've already covered these famous buildings, we haven't covered the two best ways to see them.
If you want to receive the entire backstory from an experienced guide, we recommend booking one of the many professional ruins tours. And we have great news for thrill-seekers. You can combine your ruins tour with a tour of the cenotes and a day of snorkeling. These tours can be found online or via tourist information centers in Tulum.
Fancy taking the ruins at your own pace? No stress. These ruins are accessible without a tour group—you can browse them at your leisure. You can buy tickets at the entrance to the park.
Swim Out and Enjoy the View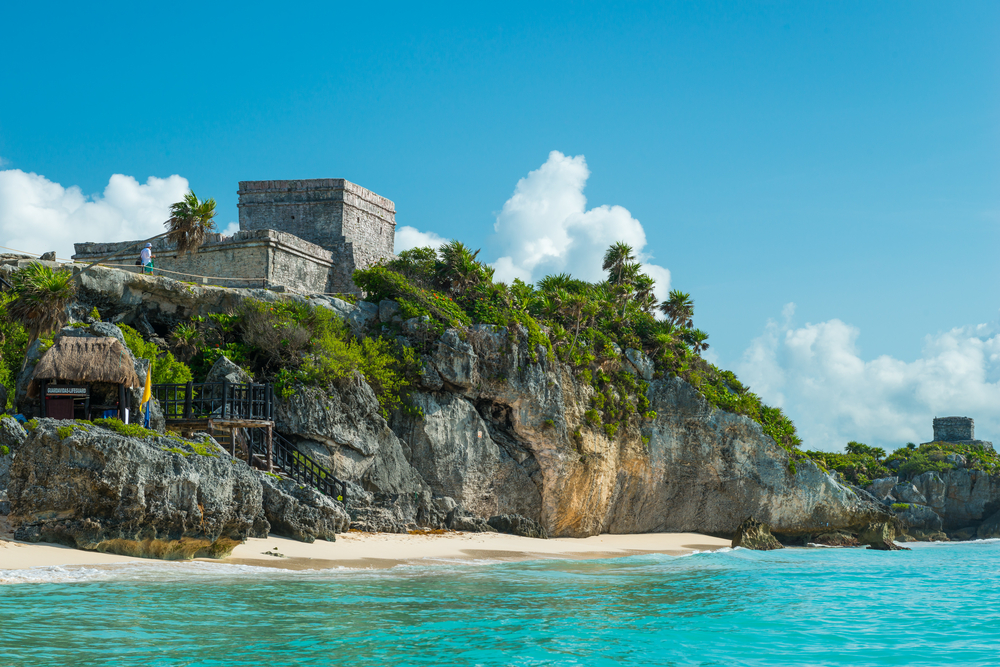 The second-best way to see the ruins? From the ocean.
While these ruins look majestic on land, if you swim out from the beach, you can catch a glimpse of the ruins as the Mayans did when arriving on shore. If you have a waterproof camera, pack it. You can snap some great images from this vantage point.
Relax on the Beach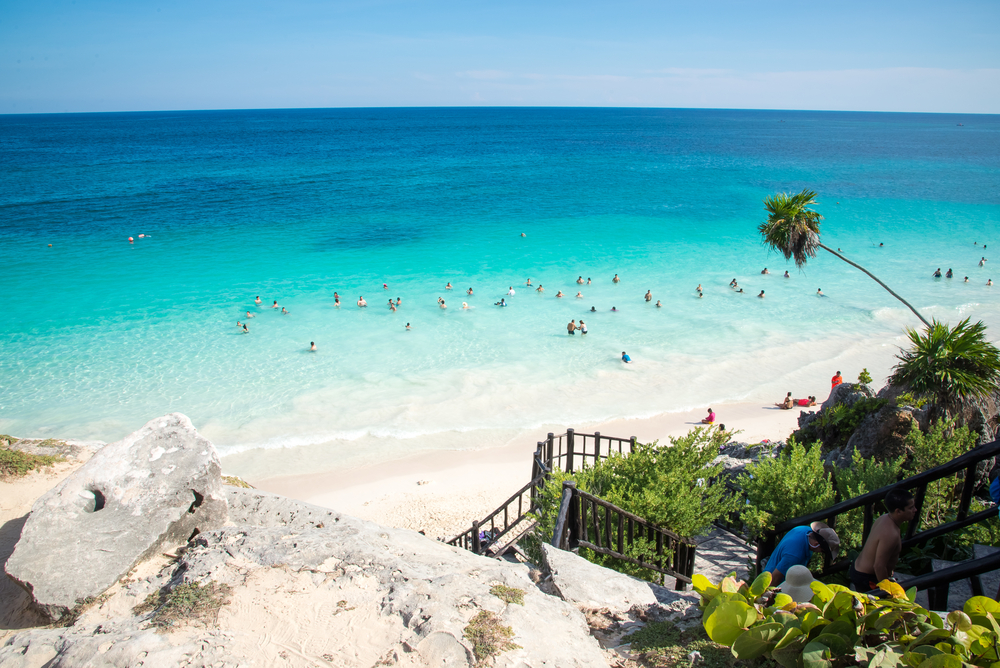 It's easy to focus on the ruins at this beach (and believe us, they deserve your time!), but it's also important to remember the beach itself is a showstopper.
Close your eyes and picture fine sands, warm crystal waters, and a palm-lined backdrop—so don't skip out on its beauty.
Remember to pack your beach towel so you can spend hours lazing on the shore.
Note: The northern end of Playa Ruinas is always closed to protect the turtles that live there. Give this area some space and enjoy the southern end of the coast to ensure the wildlife gets some quiet time.
Sip a Cold Drink & Soak Up the Culture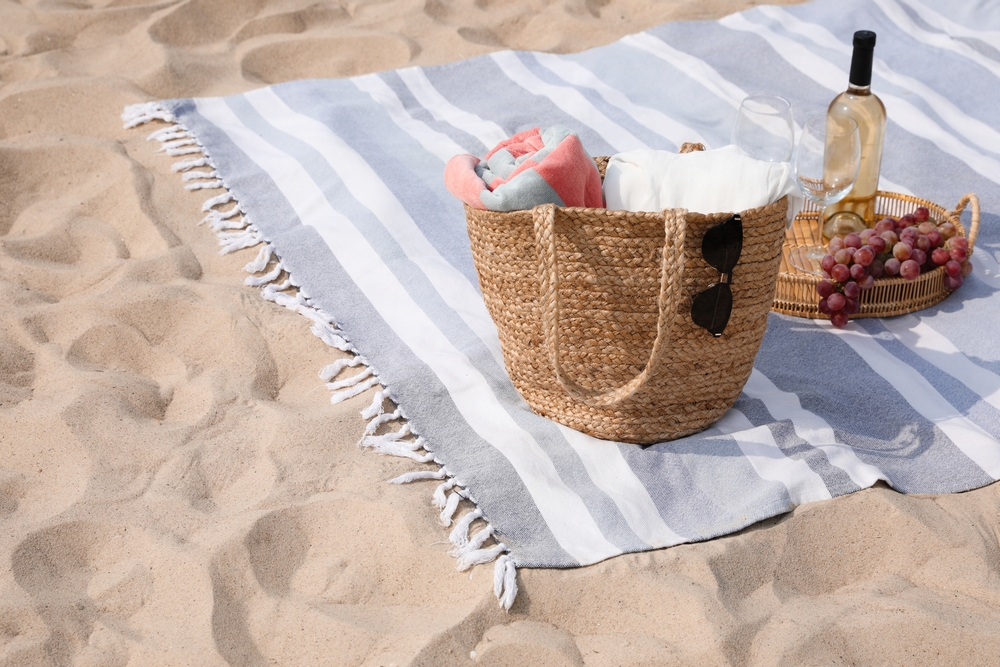 If you want to use your vacation time to chill out, this beach can accommodate you. Though there aren't any vendors on this beach, you can pack some cool refreshments to enjoy on arrival.
From beers to sodas, take your favorite beverage to cool down after some ancient exploration. You'll be thankful you did when you're unwinding with a cool can and impressive ruins! A moment to remember, for sure.
Pro Tips for Visiting Ruinas Beach
Planning is key to a fulfilling trip. Use these tips to ensure you make memories you don't want to forget.
Arrive Early to Make the Most of the Ruins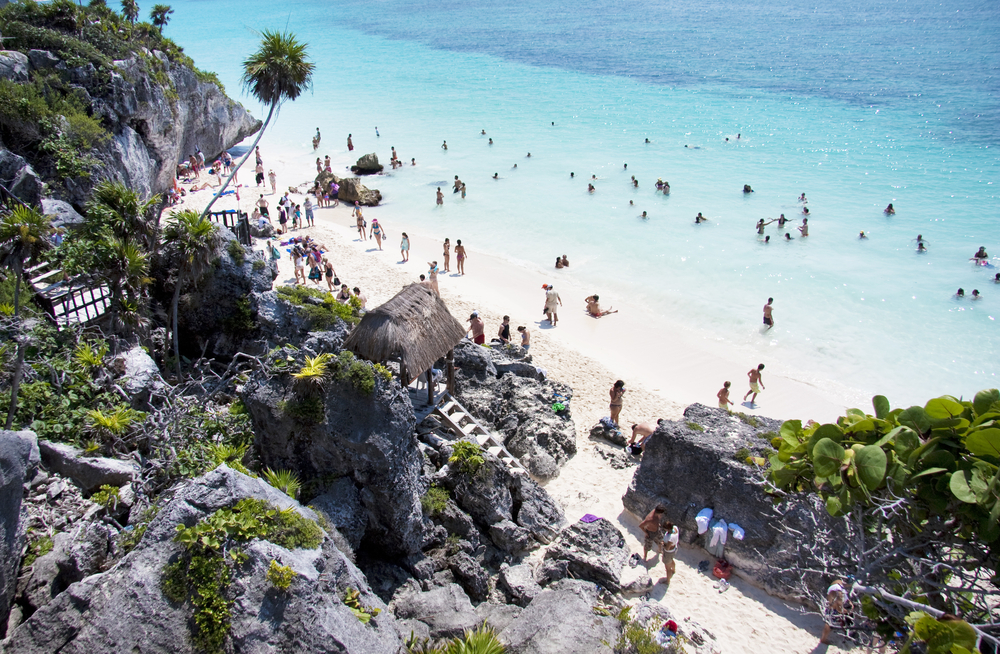 Not all visitors are dead set on seeing the ruins in peace and quiet. But they are best viewed with extra space and some quiet time.
If you want to skip the crowds, we recommend rocking up before 12 pm or an hour before closing. The afternoon is the busiest time here, and in the peak season, it is jam-packed with curious tourists. Some tour buses arrive as early as 10 am—so don't be late!
Enjoy All the Beaches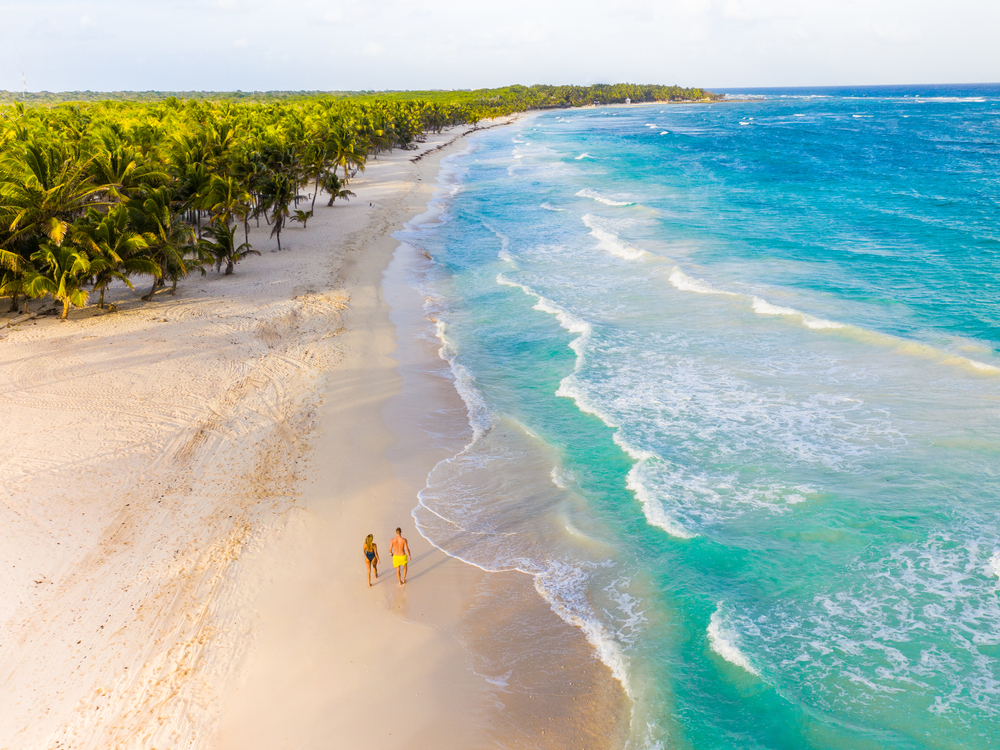 Playa Ruinas is right near Playa Paraiso and Playa Las Palmas, two popular beaches located in Tulum.
We recommend splitting time between the three beaches, as each has a unique ambiance. For a quiet afternoon, pitch up at Las Palmas. Want to take in the scenery and enjoy a beachfront meal? Playa Paraiso is the one for you.
In fact, all the Tulum beaches are worth visiting. This is a coastline you won't want to skip.
Carry Pesos for Food & Drink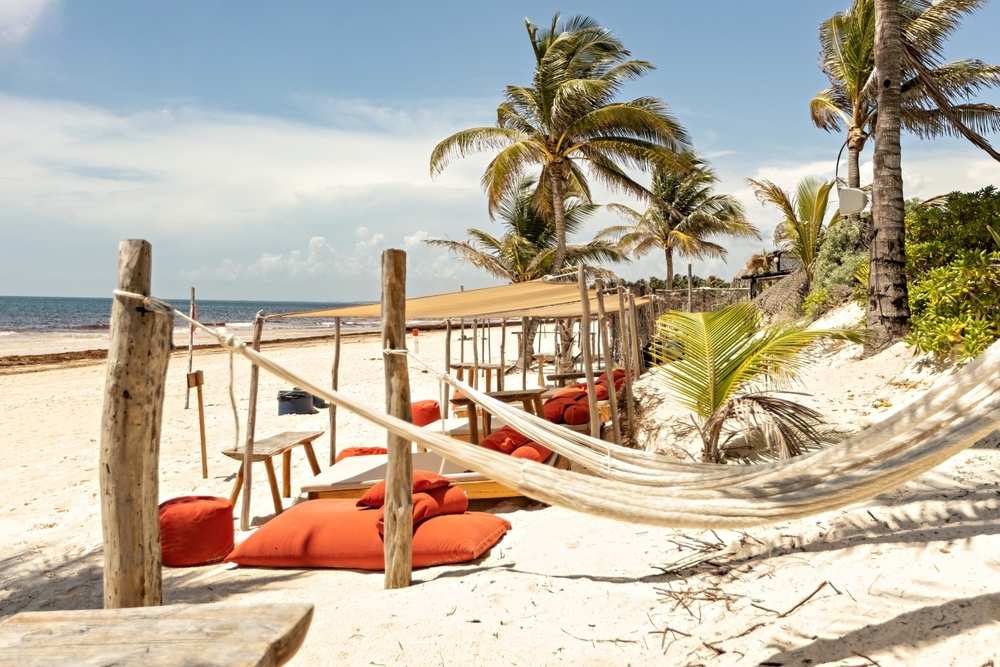 The beachside bars and vendors along the coastline are ideal for unwinding and fueling your activities. However, not all small businesses in this area accept cards.
Forget your contactless companion. Instead, carry some spare cash to pay for margaritas or tacos. You'll be thankful when you don't have to rush to the ATM.
Playa Ruinas Parking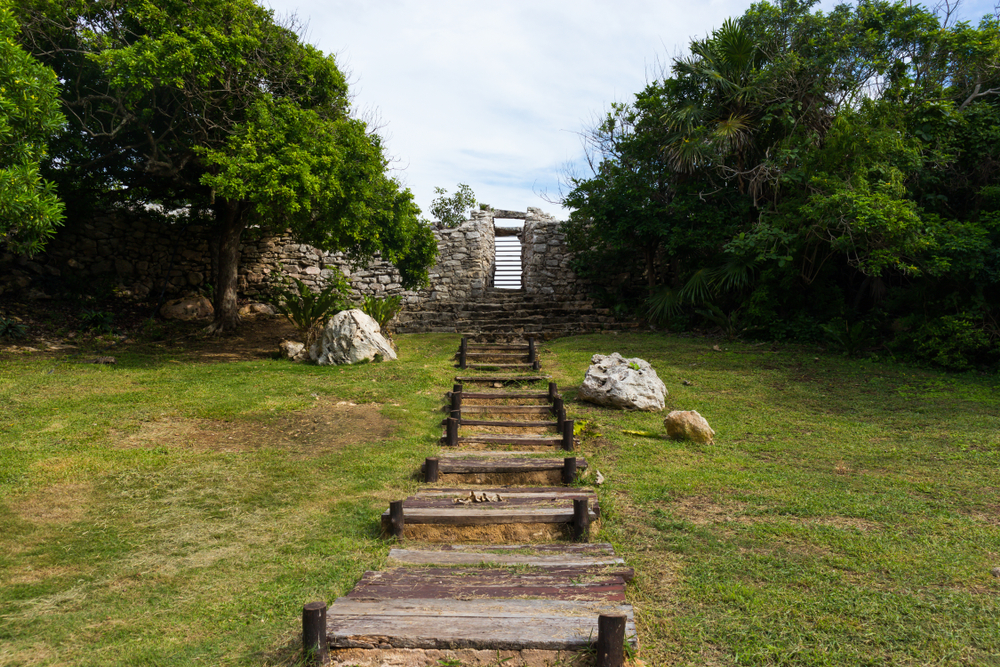 Hiring a car and exploring the Mexican coast is a fabulous way to spend your vacation. Luckily, there is a parking spot near the ruins. But it's around a 10-minute walk away, and there's a small fee.
Alternatively, visitors can park on Tulum Boca Paila road for free, but this can get busy during peak season.
Weather in Playa Ruinas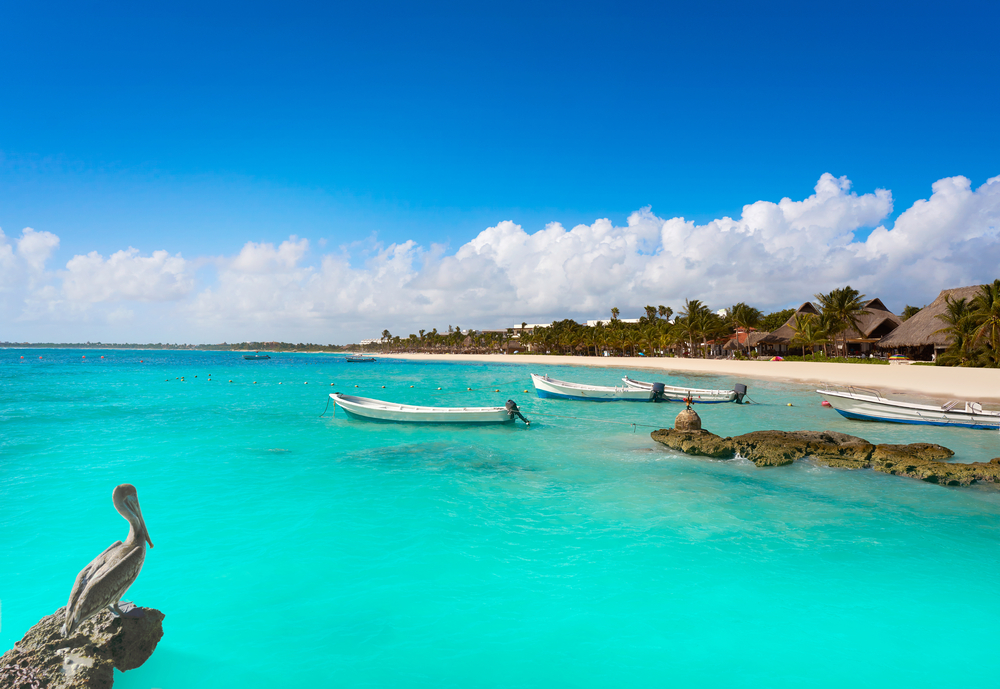 Weather can make or break a trip, so investigate the weather before you press confirm on your tickets.
Typically, Ruinas Beach and the surrounding Tulum area see the best weather from December to April. During this period, visitors can expect highs of 84°F (29°C) and lows of approximately 71°F (22°C). There's also little rain in this period, making it the busiest time to visit.
From May to November, the temperature rises to highs of 86°F (30°C). After that, however, the weather is much more humid and rainy. The peak of the heat is in June, July, and August.
Lots of travelers avoid the wet season but don't let the extra precipitation put you off. In these months, the jungle vegetation is lush, rates are cheaper, and you get more space to explore the beaches (and ruins!)
Packing List for Ruinas Beach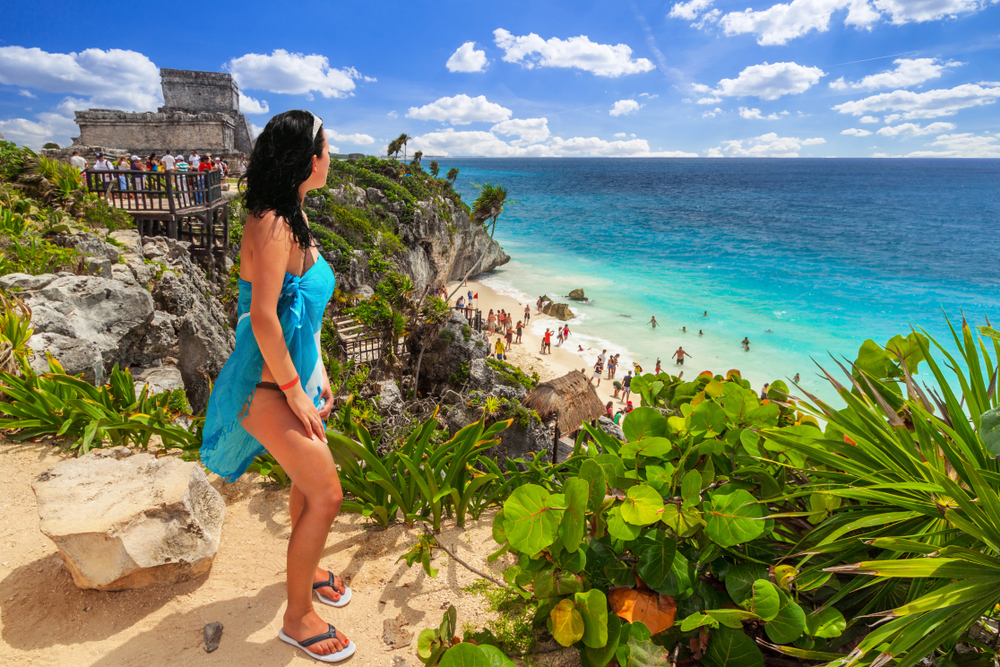 One foot out the door? Hold up! Don't leave yet. Use this packing list to reduce any travel anxiety surrounding your Playa Ruinas visit.
Reef-safe sunscreen
Camera (for snapping those views!)
Protective sun hat
UVA/UVB protective sunglasses
Spare pesos for beachside vendors
Comfortable shoes
Beach coverup
Swimwear
Beach towels
Waterproof bag
Water bottle
Map of Playa Ruinas in Tulum
This map of Tulum and the area will point you in the right direction, quite literally. You can see how close all the beaches are when planning your beach hopping days. And it's very close to Playa Paraiso and Playa Las Palmas.
How to Get to Playa Ruinas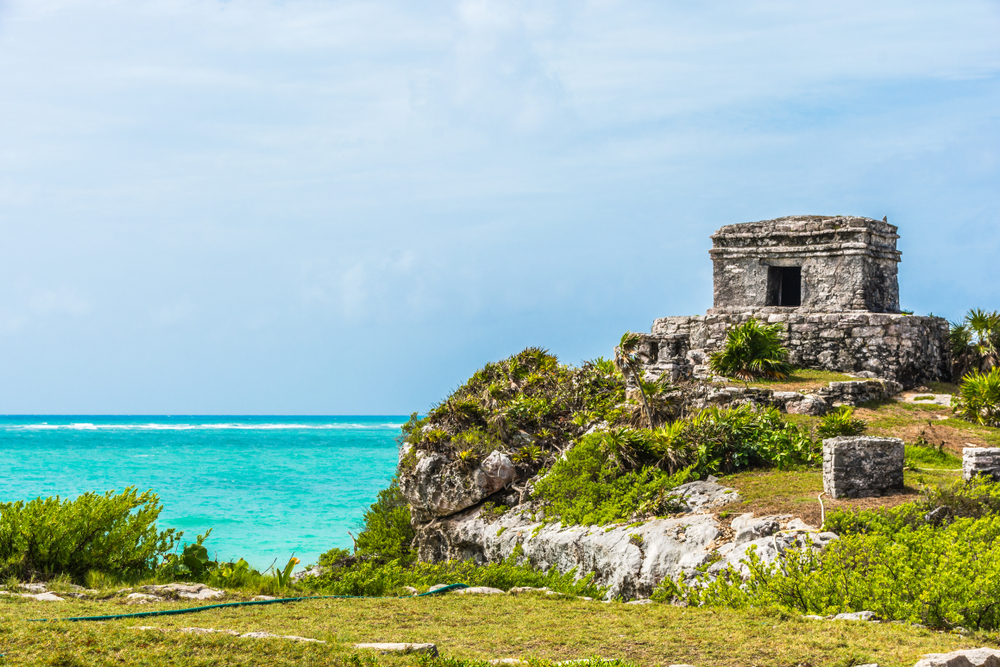 Before stepping foot in the Playa Ruinas sand, you'll need to get to the beautiful city of Tulum. And this is easy with the right transportation!
If you're traveling from Mexico City to Tulum, flights are frequently available and take approximately 2 hours and 35 minutes. You'll fly into the Cancun airport, about 2 to 2.5 hours away.
There is also an option to go from Mexico City to Tulum via bus. However, the full journey takes one day and 25 minutes. So, a quick flight is easier unless you're considering a nationwide road trip.
Alternatively, many travelers visit Tulum from Cancun or Playa del Carmen, as these popular spots are on the same coastline.
Popular options for traveling from Cancun to Tulum include a bus, minivan, or car rental.
If you depart from Playa Del Carmen to Tulum, you can travel via bus and arrive in approximately 1 hour and 10 minutes.
The Wrap Up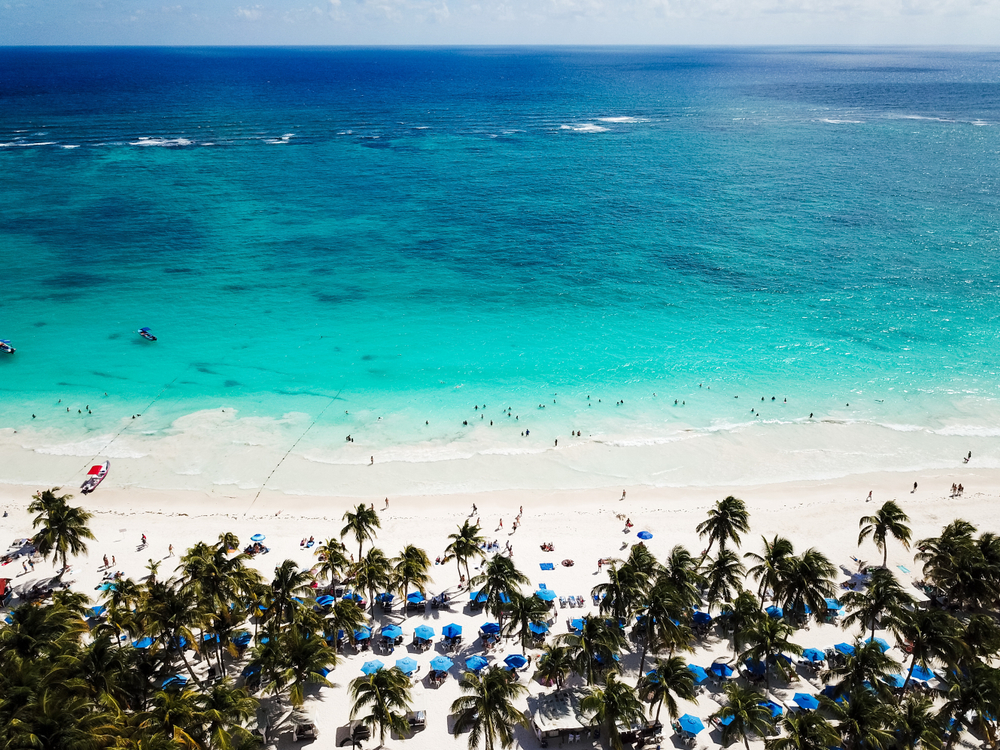 Playa Ruinas offers an experience like no other. Where else can you find stunning Mayan ruins next to crystal-clear surf? If you're visiting the Quintana Roo state, this is a beach you just can't ignore.
Is Tulum only one of the stops on your Mexico itinerary? Then, check out more of Bookaway's Mexican routes so you know where to go next.
Until then, we'll see you on the sand.
FAQ
What is the closest airport to Playa Ruinas?
Cancun International Airport (CUN). It's about 2 to 2.5 hours away by car. Alternatively, you can fly to Cozumel International Airport and spend a night on the island before hitting Playa Ruinas.
What is the closest town to Playa Ruinas?
Tulum
Is Playa Ruinas safe?
Yes, Playa Ruinas is a safe beach for relaxing and sightseeing. However, travelers should avoid exploring with valuables on them. Instead, leave them in a hotel safe to keep them secure.
Can you swim at Playa Ruinas?
Yes, this is a safe swimming spot. Just arrive early, as it can get busy after 12 pm.