Punta Sal Beach, Peru: Your Spot to Relax in Paradise
Ready to sit back and relax with the Pacific Ocean by your side? Punta Sal Beach, Peru, has to be on your radar. Get the full lowdown here.
A serene beach vacation can fix all problems. 
From sparking your creativity to allowing you to de-stress, spending time by the sea should be on your to-do list this year. And Punta Sal Beach, Peru, is here to show you the highlights of luxe coastal life. 
This famous Peruvian beach has been a national treasure for decades, and it will be your favorite, too. Scroll down and learn all you need to know about this tranquil spot.
The lowdown on Punta Sal Beach, Peru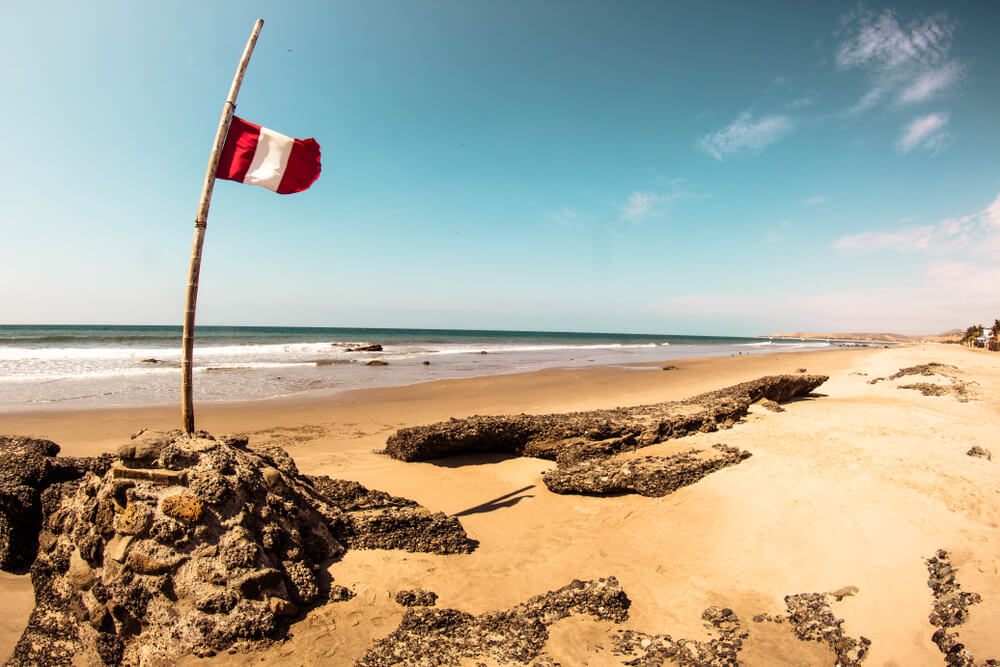 Located in the north of Peru and on the Pacific coastline, this beach attracts domestic and international tourists yearly.
But what makes Punta Sal Beach in Peru so special?
Beach bums love this spot because it has everything you need to chillax. Whether you want to lay in the golden sand or nourish yourself at a seafood restaurant, the focus of this beach is leisure.
Plus, there's a host of accommodation options ranging from exciting hostels to luxury hotels — you can enjoy your vacation your way.
If you're wondering, "Where is Punta Sal, Peru?" We get it. And we've got you.
You'll find this beach approximately 79 km (49 miles) south of Tumbes and 23 km (14 miles) north of Mancora. Good news: if you're traveling across the country, it is directly on the North Pan-American Highway. You won't forget this road trip spot.
This is a particularly trendy spot for Lima citizens, as many head north in January and February to make the most of the warmer weather. You know a location is good if the locals love it too!
Who visits Punta Sal Beach?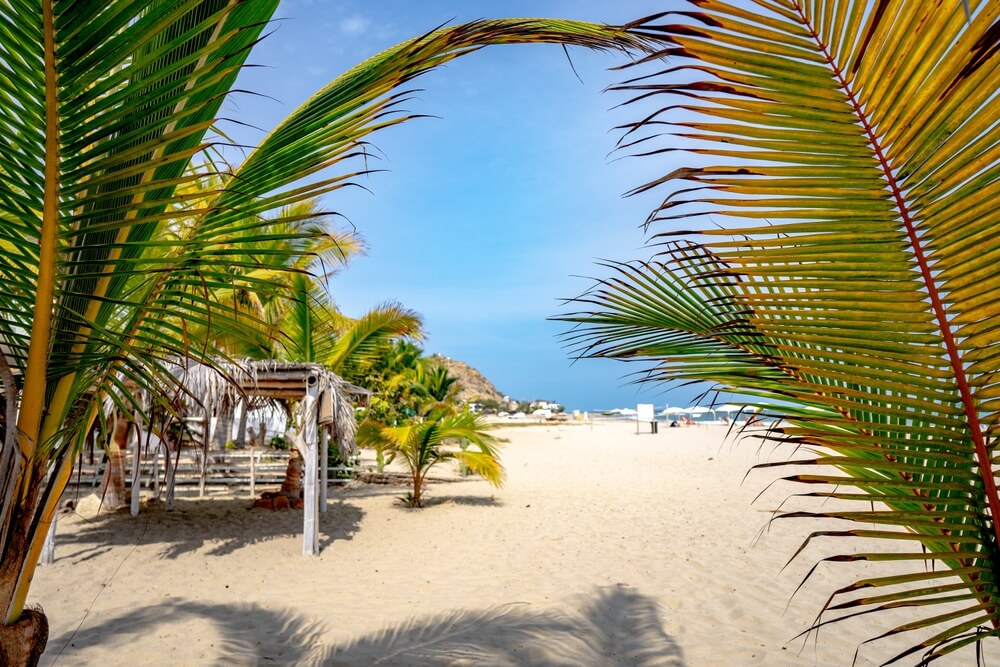 This beach town sees a range of guests. From wholesome family holidays to animated backpackers, there's something for everyone.
It's slowly becoming a popular post-hike location. Once you've completed the Inca Trail or Colca Canyon, head to this sandy stretch to rest your legs and recharge.
However, it's crucial to note that Punta Sal is a very chilled location. Aside from the beach, hotels and resorts, and a few restaurants, there's not a lot of nightlife or adventure activities.
Perfect for some, but not ideal for those who want to party all night.
What to do in Punta Sal
Not sold on Punta Sal yet? Keep reading. You will be.
Take a dip in the blue waters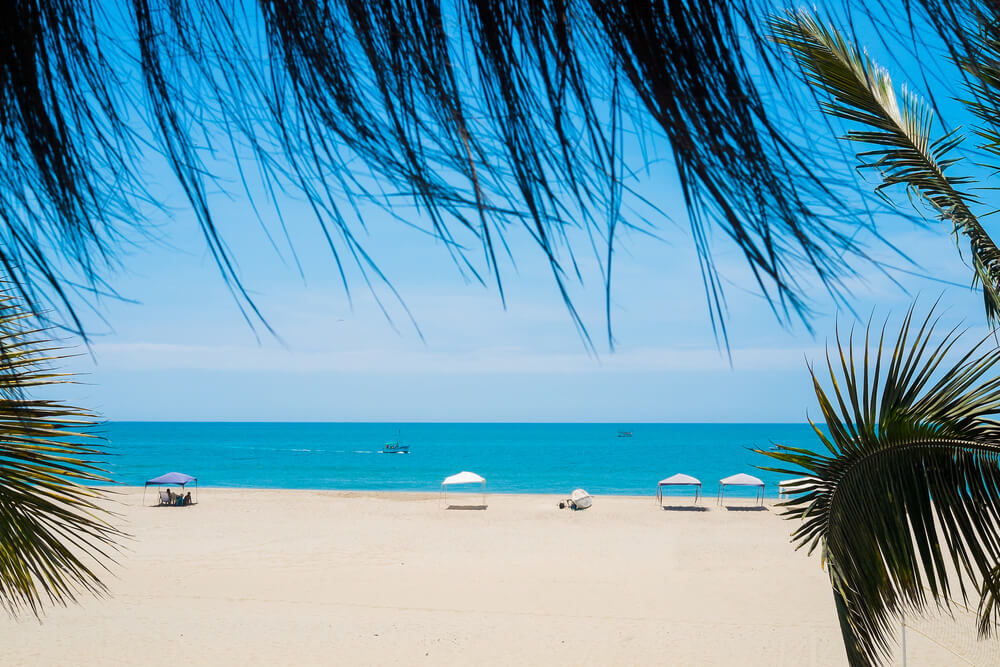 Alongside its golden sands, Punta Sal Beach in Peru is known for its deep azure waters. While they're marvelous to look at, they're even better to swim in. The waters are warm all year round thanks to the beach's equatorial position and El Nino current. No ice baths here!
Sunbathe to your heart's delight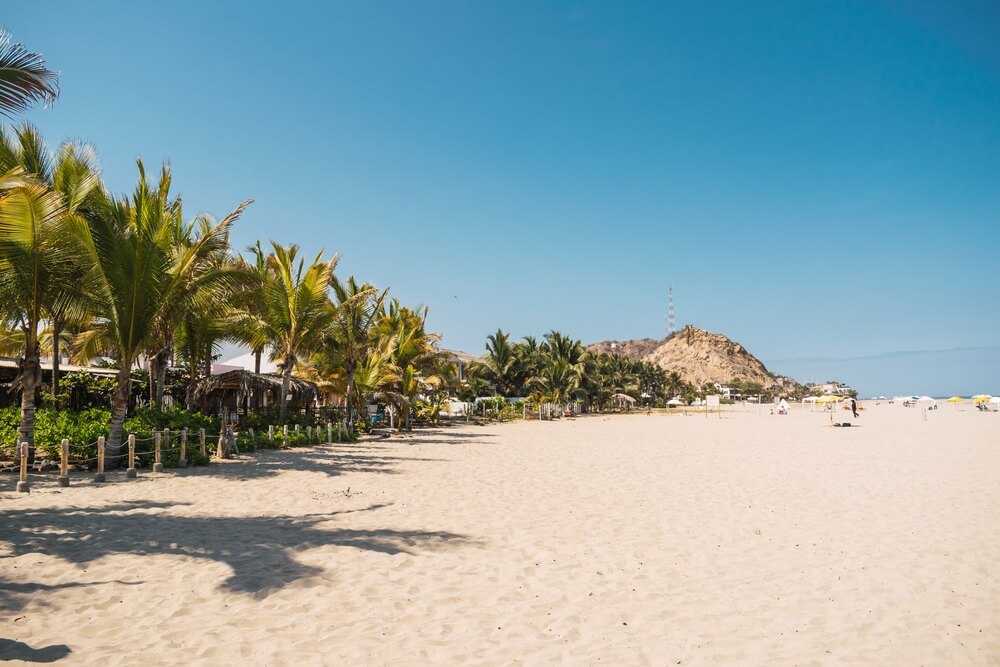 At 6.5km (4 miles) long, Punta Sal is the longest beach on Peru's Pacific coastline. This means you have endless room to spread out and avoid the crowds. You can't beat sunbathing without the background noise.
Just remember your SPF! You don't want to return to your accommodation sizzled.
Take a hike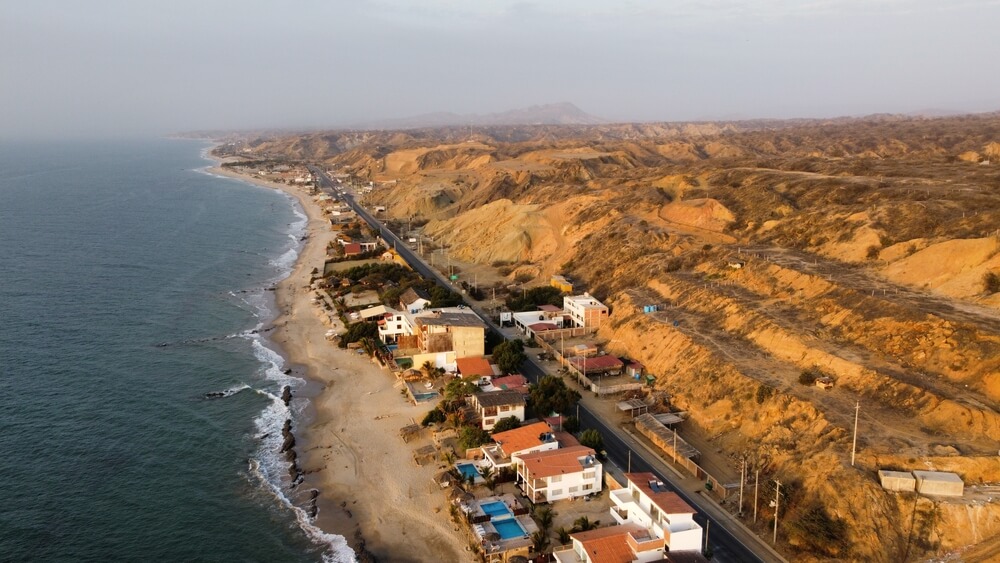 If you can't sit still, don't worry! This coastline is ideal for a leisurely walk. As the beach is so long, many enjoy strolling up and down while admiring the rugged backdrop and gorgeous views.
Don't forget comfortable shoes, though. Walking down the beach and back is best in comfortable footwear and with plenty of water.
Embrace the waves with water sports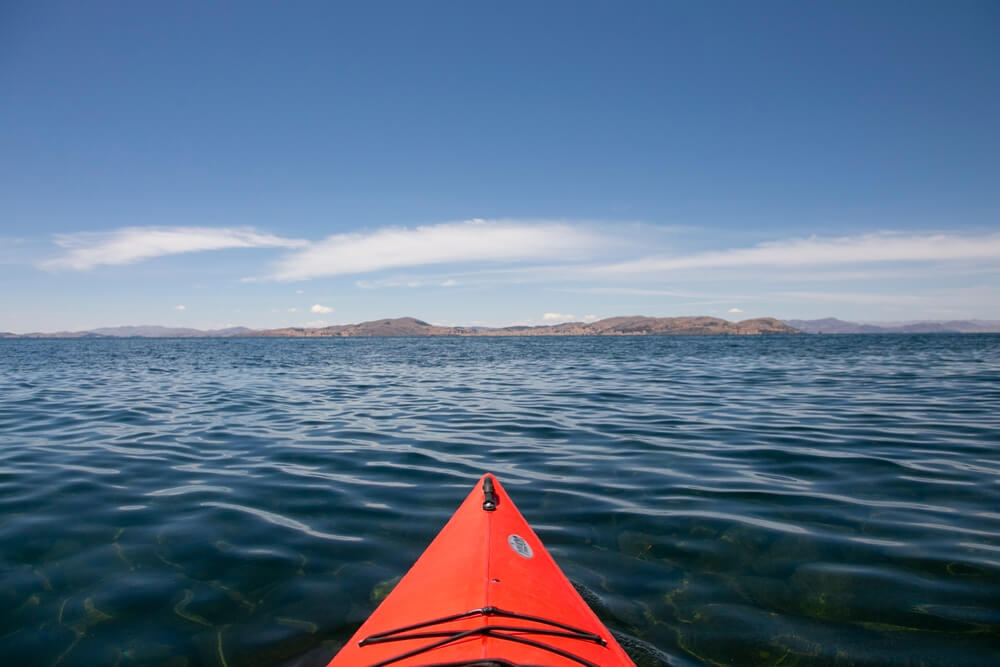 Swimming's great fun, but you can take it up a notch with some adrenaline-pumping water sports.
Kayaks and jet skis are available to rent from local hotels, allowing you to ride the waves in style. Nothing says beach vacation like the salty surf in your hair!
Conquer the dunes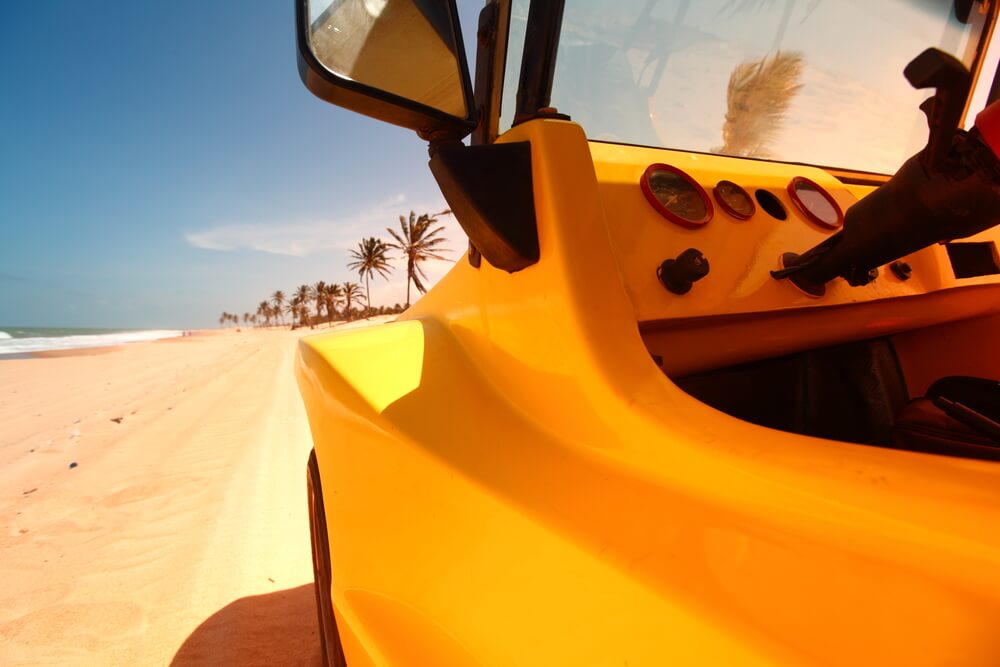 Calling all thrill seekers! You can rent dune buggies and take on the sand while enjoying water sports fun.
Dune buggy tours are usually coordinated by hotels and take place away from the main stretch of beach by Punta Sal town. Your guide will travel with you to the designated dune buggy beach areas. You'll need to dedicate a full day to this hair-raising activity.
Spend a day in Cancas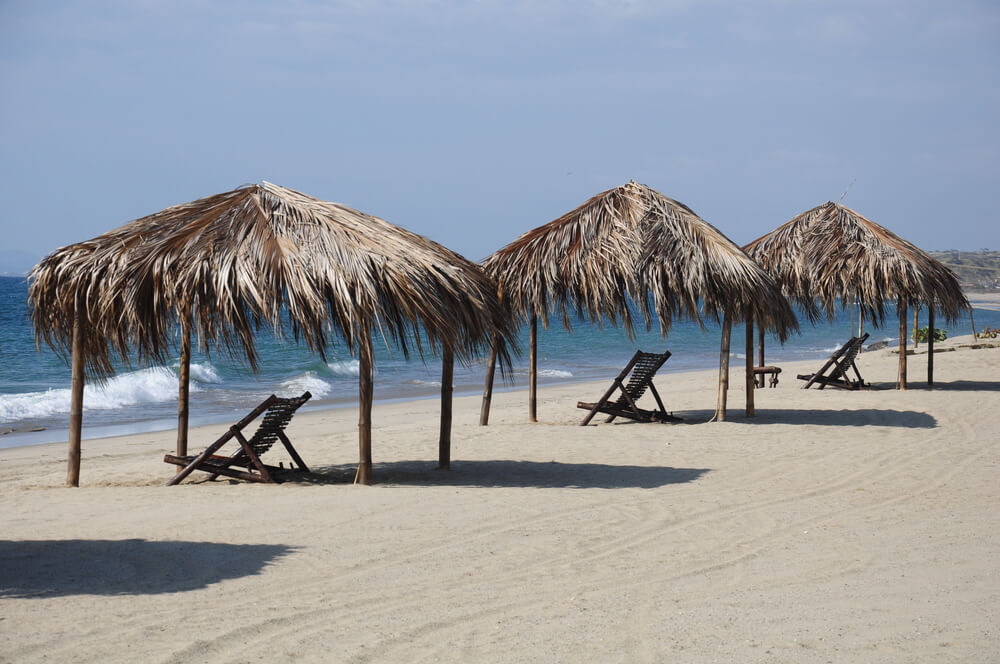 The northern part of Punta Sal Beach ends in Cancas, another small Pacific coastal town.
If you fancy a change of scenery, spend a few hours hiking up to this tiny village and enjoy the peaceful atmosphere.
Like Punta Sal, Cancas is a little municipality with a few resorts, hotels, and a restaurant or two. Ideal for enjoying the quiet but not great if you're searching for bright lights and intense nightlife.
Live it up in Mancora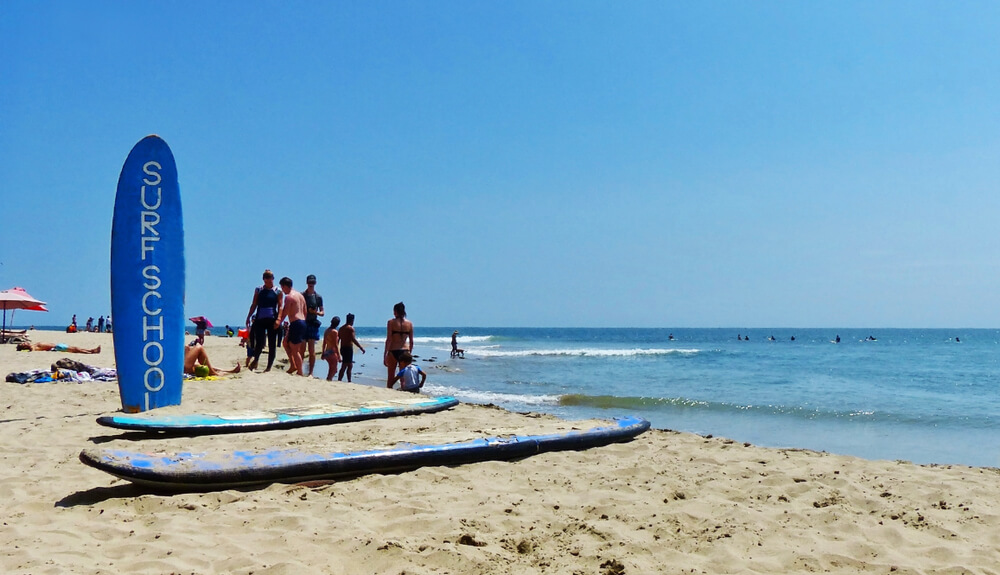 Want to spend your evenings sippin' on cocktails and dancing the night away? Ask, and you shall receive.
Punta Sal isn't known for its wild nightlife, but Mancora is. After a 20-minute taxi, you can access this slightly more southern beach town and its vibrant bars and restaurants.
Mancora is known as a beach/party town, and visitors flock here for fun. It's also a key Peruvian surfing spot, so consider an overnight stop if you want to take on the waves surfer-style.
This location can be a bit of a tourist trap, but that's the beauty of it. Lots of people, good energy, and a relaxed beach vibe.
Whale watching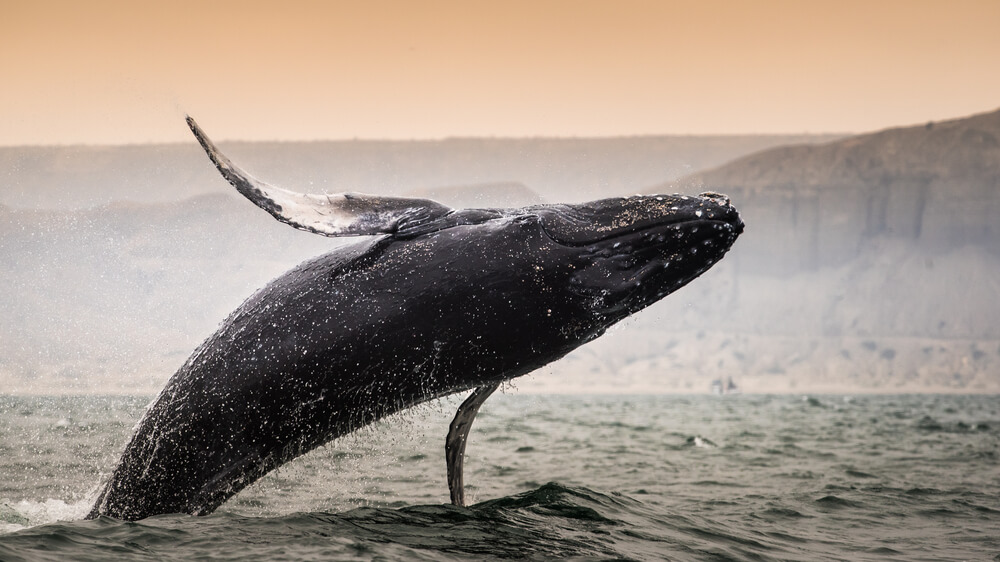 Have you ever seen a whale in the wild? If you stay in Punta Sal from June to October, you might be able to cross this goal off your list.
During this season, humpback whales are frequently spotted from the shore. This is because the whales are on a journey to reproduce and birth their babies before returning to chilly Antarctica for the remainder of the year.
Tours are available for whale watching and can be booked online or via hotel resorts.
Go fishing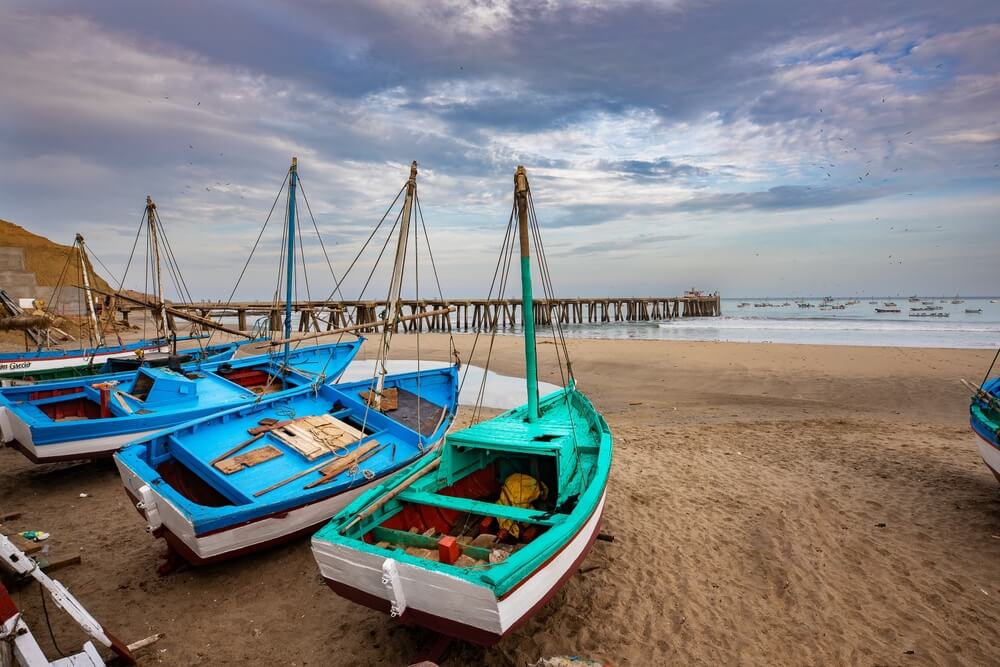 Fishing is a well-known relaxing pastime, so there's no surprise it's available in chilled-out Punta Sal.
You can book tours with local experts and spend the day catching local marine species. To book a tour, ask at your resort or hostel.
Fishing trips are also available from nearby Mancora.
Savor fresh ceviche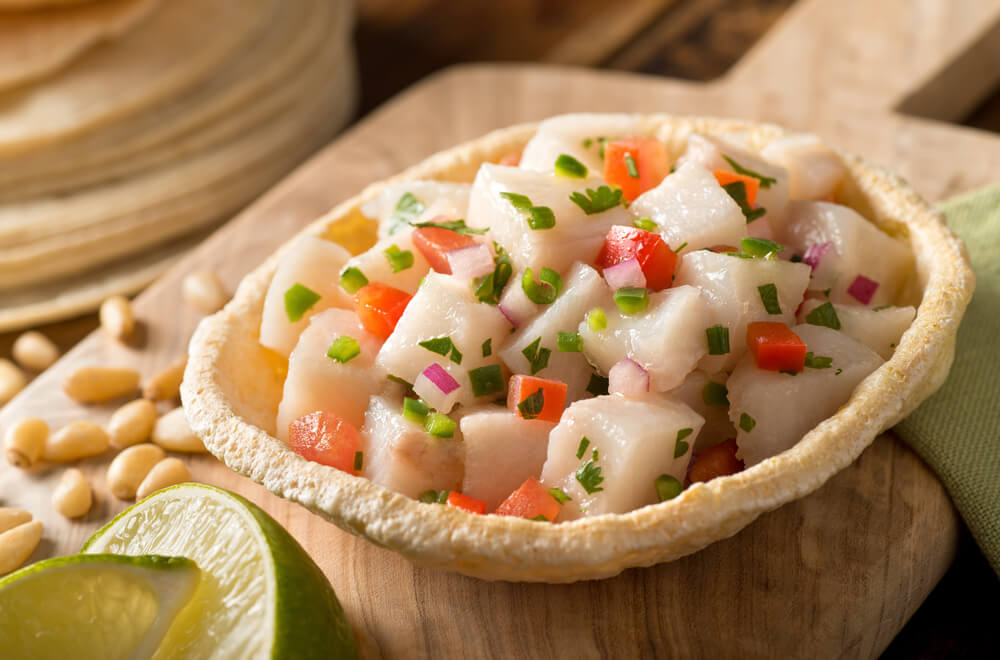 When in Peru, you have to try fresh ceviche. And where better to enjoy this culinary experience than by the sea?
Ceviche is available in Punta Sal's few restaurants, and you're often served up the catch of the day. Perfect for all seafood lovers and foodies in general.
Did you know? It's thought that ceviche originated from the coastal Moche civilization in northern Peru. Punta Sal really is the most authentic place to dig in!
Say hello to the sea creatures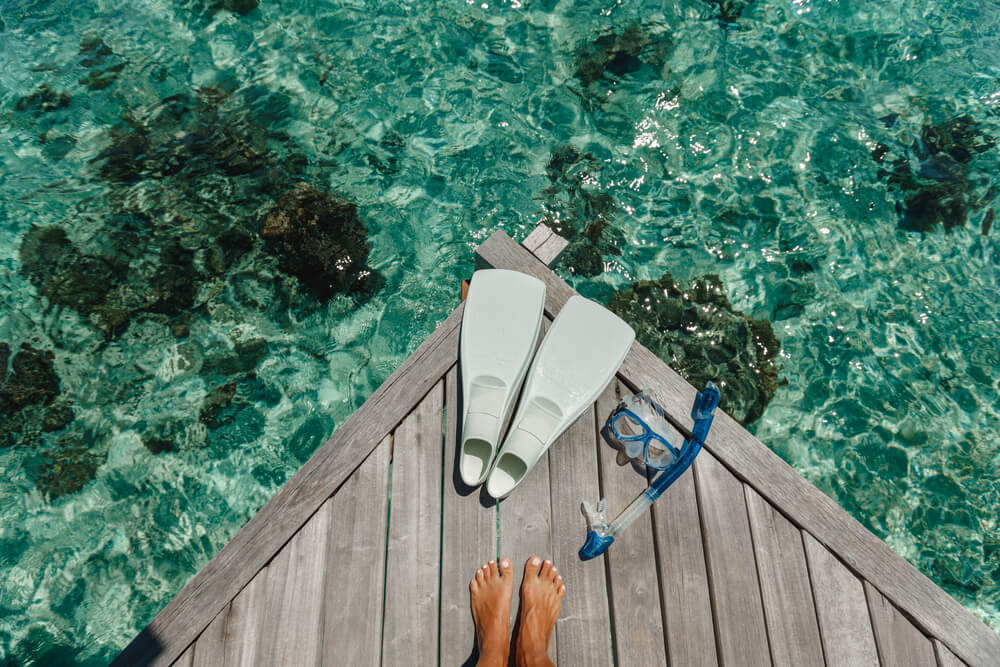 Have you ever had a conversation with a fish? Probably not. But with a pair of goggles and a snorkel, you can certainly try!
This beach is a popular spot for some low-key snorkeling. Bring your gear or purchase some at local shops and embrace the Pacific. While there's no coral reef here, you can see many fish and unique underwater life.
Pro tip: Bring a waterproof camera to capture your underwater adventures!
Experience some luxe living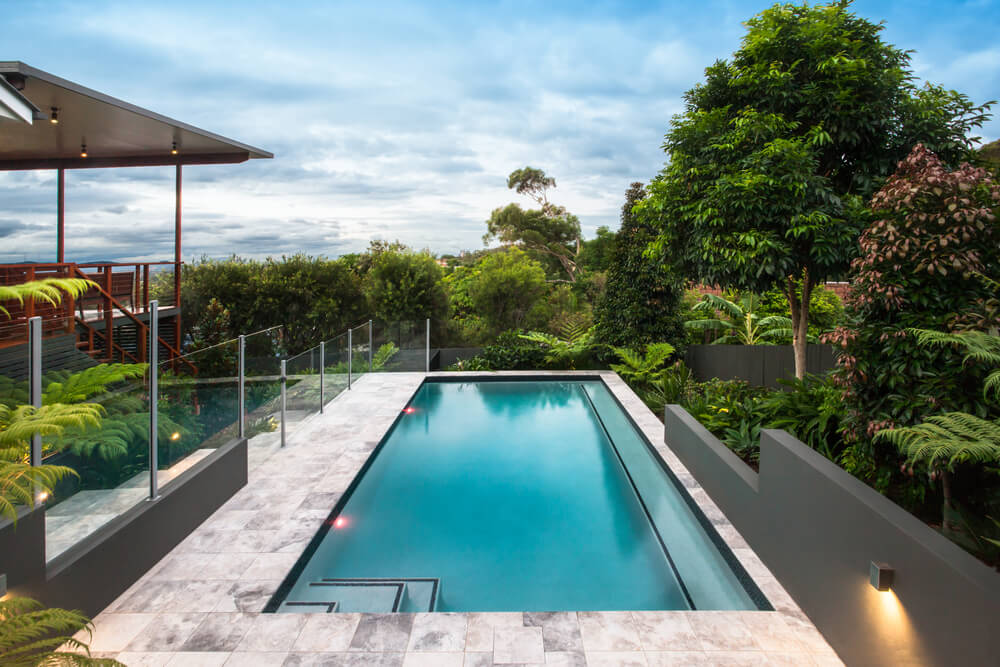 Punta Sal is home to some super-luxury resort complexes.
Why not treat yourself to the luxe life via a private resort experience?
Resorts and hotels offer private beaches, premium pools, water sports activities, massages, fine dining, and so much more.
But if you're not planning to throw down for luxury, you have options…
Where to stay in Punta Sal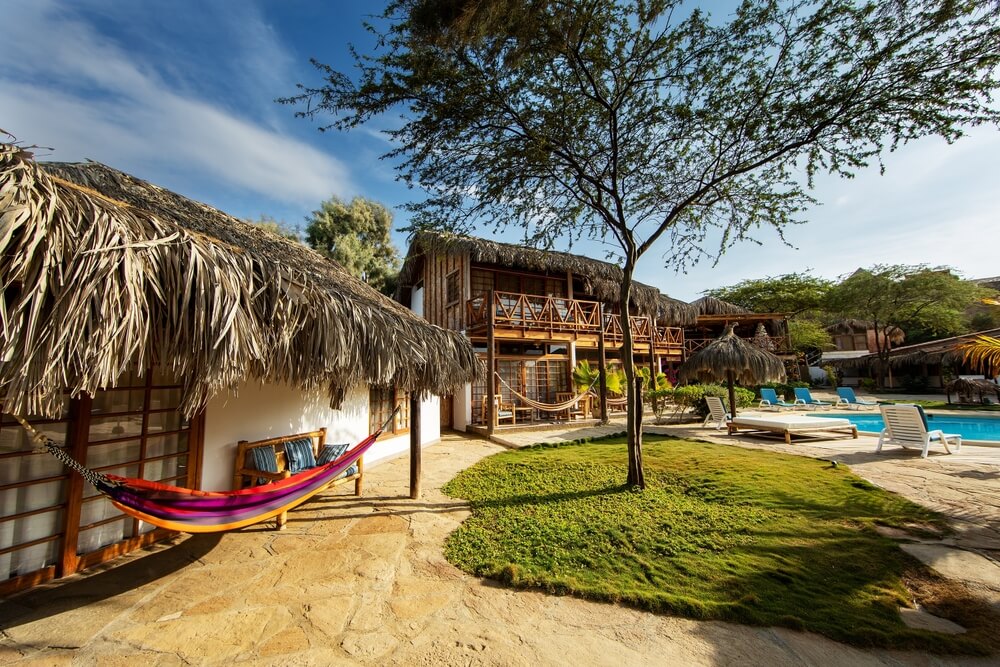 Don't scrimp on your beach time. Stay in Punta Sal to make the most of your seaside experience.
There are options for all tastes, budgets, and needs here. From luxe beach resorts with palm-lined pools to bungalows and hostels, you can pick and choose accommodation that ticks your boxes.
Pro tip: Book ahead! Don't turn up and assume there will be room. There might be. But it's best not to leave it to chance.
The weather in Punta Sal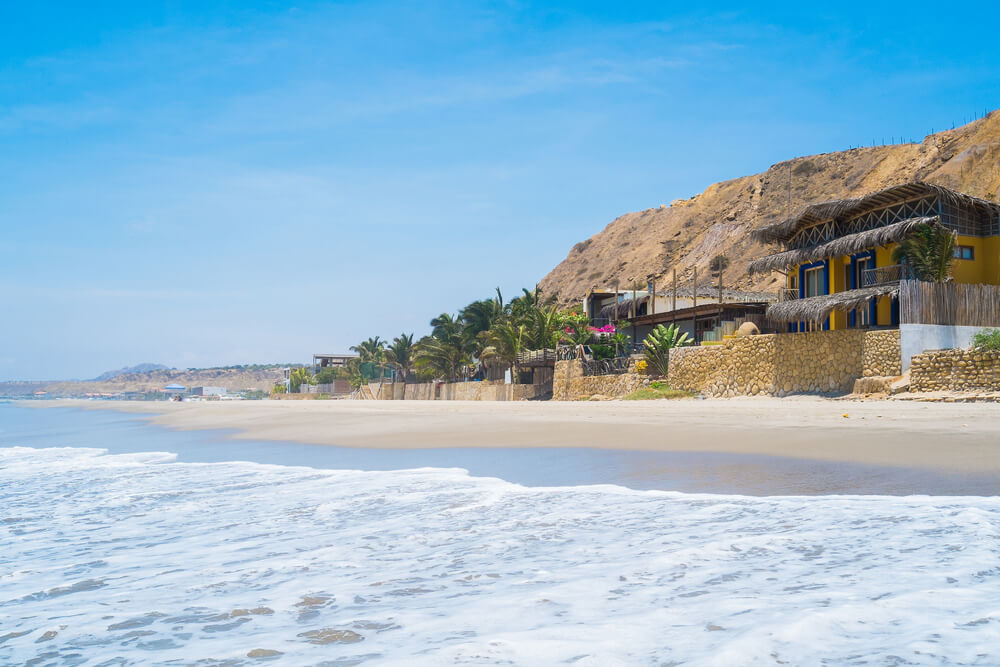 Punta Sal beach draws in visitors all throughout the year thanks to its steady, warm climate.
The weather rarely drops below 25°C (77°F), so no matter when you visit, you can expect gorgeous weather. The water temperature also stays consistently above 20°C (68°F), making it ideal for keen swimmers.
Book your trip from December to May if you want to aim for the warmest months. The temperature sits around 30°C (80°F) during this period.
Punta Sal experiences the most rain in February and March, and as much as 130 mm (5 inches) can fall monthly. However, precipitation quickly drops in April and remains non-existent until December (where you can expect approximately 40 mm).
All in all, you can expect glorious sunshine and lush waters regardless of when you book.
What to pack for Punta Sal Beach, Peru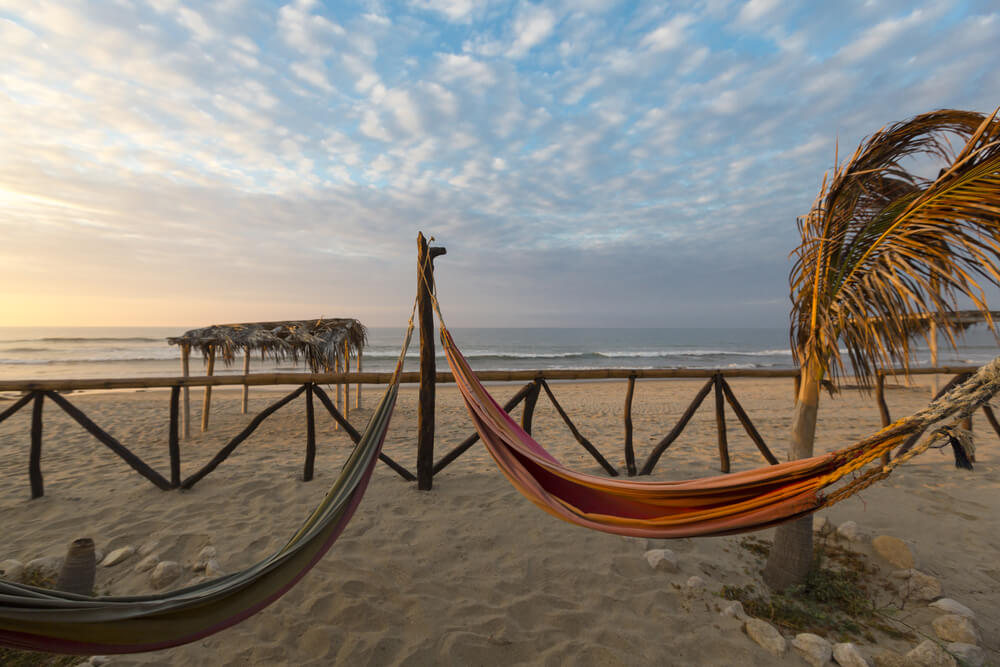 Don't get caught short while on your vacation. Use this packing list to stay cool in the Peruvian sun.
Sunscreen
UV protective sunglasses
Comfortable walking shoes
Flip-flops
Sun hat
Cash (You'll need Peruvian soles for this destination)
Map of Punta Sal Beach
Punta Sal might be small, but it's worth checking out this sweet spot and neighboring towns. This map will put it all into perspective.
How to get to Punta Sal Beach in Peru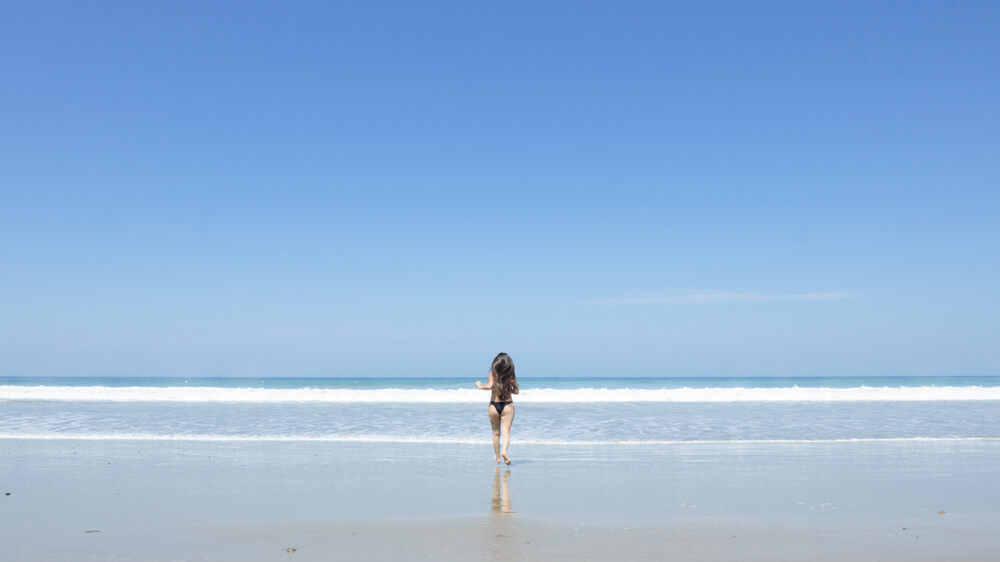 All journeys begin with one step. But the best ones start with a reliable transport link.
Punta Sal is just southwest of Tumbes, and many backpackers traveling down the country hop from this northwestern city to the tranquil beach. Tumbes to Punta Sal takes approximately 1 hour and 45 minutes via a standard minivan, and many providers will drop you straight to your hotel.
You can also reach Punta Sal from Mancora, a lively beach town just south of the area. If you want to hit up this nightlife spot first, travel from Tumbes to Mancora via a 1 hour and 45-minute bus. Once you've seen the sights and the bars, you can get to Punta Sal via a 20-minute taxi.
If you're traveling from a big city, you'll need to go to Tumbes or Mancora and then depart for the beach. From Lima to Tumbes, you can take a quick 1-hour and 55-minute flight with Latam Airlines. This way, you can enjoy a Punta Sal trip without spending hours on the bus.
You're welcome.
Pro tip: Since you're so close, why not cross into Ecuador from Peru – it's a pretty straightforward crossing.
The Punta Sal Beach, Peru, takeaway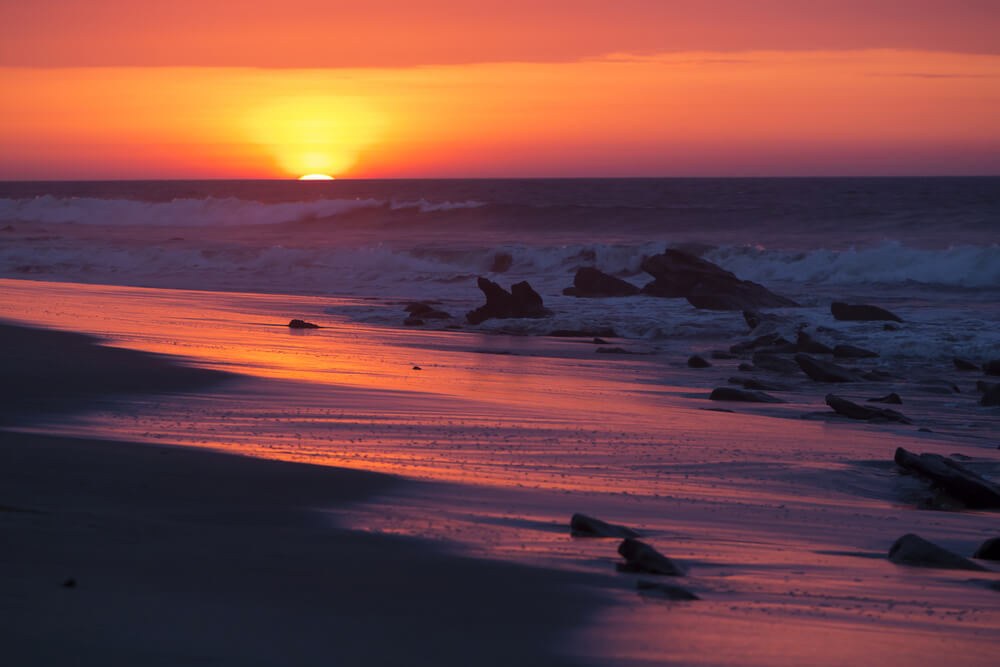 Punta Sal Beach is a hidden gem on the northern Peruvian coast. This off-the-beaten-path beach town provides quiet moments and a laid-back vibe — essential if you want to escape the constant buzz of modern life.
We'll see you on the lounge chairs!
FAQ
What is the closest airport to Punta Sal Beach, Peru?
Tumbes Airport (TBP) is the closest domestic airport with frequent flights. Lima Jorge Chavez Airport (LIM) is the nearest international airport. 
What is the closest town to Punta Sal Beach in Peru?
Punta Sal town is the closest. It's just off the coastline and provides many accommodations, restaurants, and shops. 
Is Punta Sal Beach safe?
Yes, this is a tourist-safe beach with many amenities despite being in the lesser-visited part of Peru. 
Can you swim at Punta Sal Beach?
Yes, this warm-watered Pacific beach is a great swimming spot.