8 Enchanting Black Sand Beaches in Santorini, Greece
Dying to find a mesmerizing beach for dramatic photos? Santorini's black sand beaches are exactly what you're looking for. Read on for details.
Mention the name Santorini, and you'll probably think of postcard views of the Aegean Sea, charming villages of whitewashed houses and unforgettable sunsets. It is understandably known for all of the above. But that list is nowhere near complete without including a Santorini black sand beach on your traveler's checklist.
Ringing the edge of the crescent-shaped island are several worthy destinations. Some are popular, and others are under the radar. But it's where you will find the best of the best black sand in Greece.
This article will run down some of the finest there are, but first, a little context.
What Makes Santorini's Black Sand Beaches Black?
The dark coloring of each black sand beach Santorini has is tied to the island's history. Some 3600 years ago, an enormous volcanic eruption thoroughly reshaped the island—destroying the ancient Minoan culture and altering the island's geography into its current shape.
In the aftermath, the remnant debris of pumice, ash and particle-sized bits of solidified lava were absorbed into the landscape, giving the black sand its onyx color.
The various shades of black are due to the different concentrations and combinations of these elements. Any way you look at it, this violent geological history has produced some of the best beaches on the island.
So, let's start at the northern end of the island and work our way clockwise around the circle for a closer look at eight of the best black sand beaches available.
Columbo Beach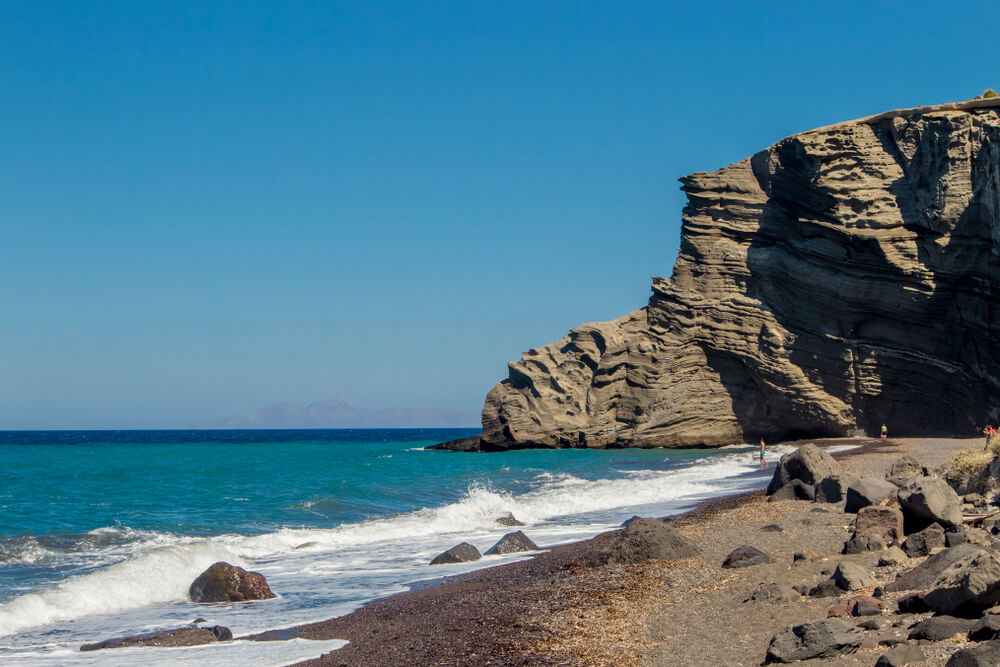 For a natural beach experience—in more ways than one—Columbo Beach is a great place to start.
Totally without development, this coastal hideaway, just 4 kilometers from the heavily touristed village of Oia, will not only make you feel like you're on another island—but another planet.
The beach is composed of black-gray sand and surrounded by cliffs and boulders—right out of a sci-fi novel.
You won't find any restrooms or loungers for rent—this is nature in the raw.
Not surprisingly, in such a completely natural environment, nude sunbathing is allowed, allowing you to go completely natural as well! Don't worry about being shy—you won't find crowds here—so if privacy and relaxation are essential to you, give this Santorini black beach a shot.
FYI, given its out-of-the-way nature, you will either need a rental car or taxi to get here, as there is no bus service.
And at the end of the day, don't leave without experiencing one of the postcard-perfect sunsets overlooking Oia village, made famous by travel brochures and Instagram feeds everywhere.
Just be sure to put your clothes back on first!
Pro tip: If your love for all that is natural extends below the waterline, Columbo Beach offers excellent snorkeling in an undersea cave and crater—a unique experience indeed!
Monolithos Beach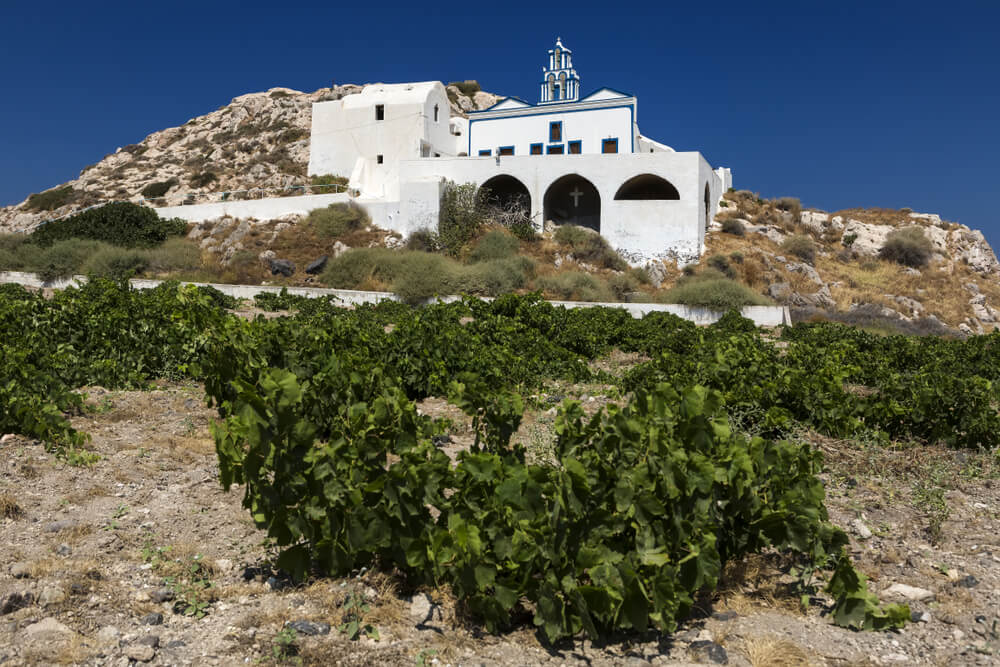 Winding to the southeast from Columbo Beach will bring you to another peaceful, uncrowded strand of black sand at Monolithos Beach. Though not as barebones as Columbo, there is still not a whole lot in the way of amenities—and that's what makes it one of the better beaches on Santorini.
There's a small beach bar where you can rent loungers or a sun bed under a thatched shade to go with a cold beer or cocktail. There's also a playground as well as a basketball and volleyball court.
But much of the beach is just blackish-gray sand, eroded rock formations and shallow turquoise water lapping the shore. The beach gets its name from the big rock (or monolith—get it?) the local church is built upon, and you'll see plenty of lesser stones in varying shapes as you stroll along its sizable length.
Monolithos Beach is conveniently located near Kratikos Aerolimenas (a.k.a. Santorini Airport; IATA code JTR) as well as just nine kilometers (5.6 miles) across the island from the capital town of Fira (Thera).
The beach is easily reachable by rental car or bus, and whatever it lacks in development can be found not too far away. This beach is a good alternative to avoid the cruise ship crowds while not completely giving up on all creature comforts.
Kamari Beach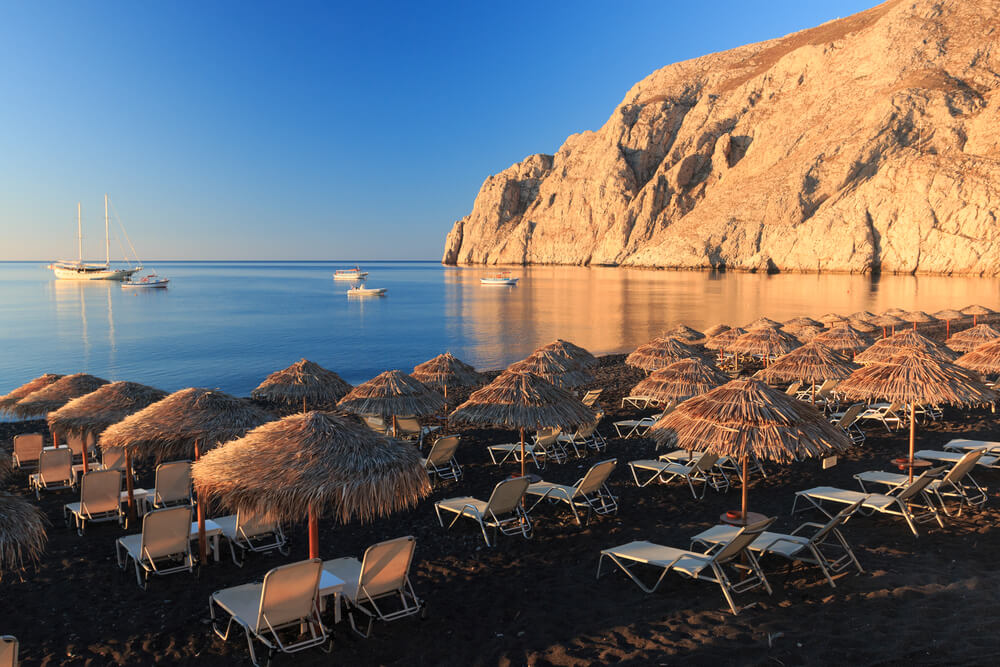 Just below the midway point along the eastern curve of the island, you'll come to one of the more popular beaches of Santorini—Kamari Beach. Its popularity is due to being one of the biggest beaches on the island, coupled with excellent amenities and accessibility from Fira.
This mesmerizing beach is considered a Blue Flag Beach—a designation that indicates its exceptionally high standards of sustainability and environmental responsibility–as well as its status as one of the best around.
This broad swathe of black sand is brimming with umbrellas, loungers, showers and even lifeguards. Just behind the beach are numerous restaurants and cafes along a promenade which can cater to your food and drink preferences. There are even some trees that provide a measure of shade.
It is also known for having lots of water activities from a variety of tour operators. You can rent all sorts of paddle boards, surfboards, and water bikes or go windsurfing and parasailing. The option to go scuba diving or snorkeling is available with a dive shop on the beach.
Though this is one of the liveliest in Santorini, Kamari Beach is not popular without reason and should be on your short list of beaches to visit.
Perissa Beach, Santorini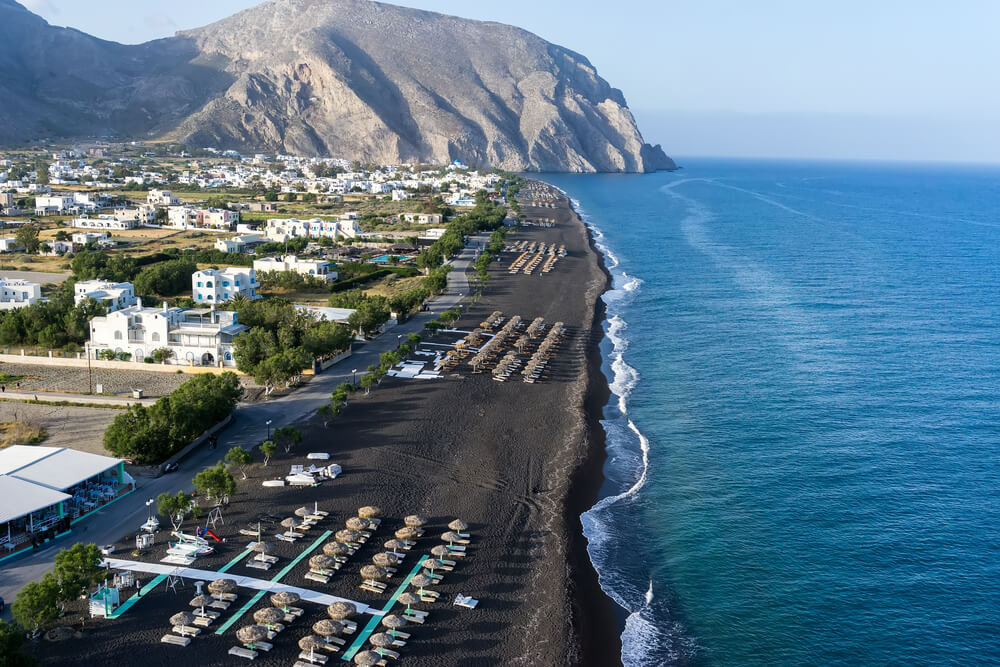 On the southern border of Kamari Beach, on the other side of the imposing Mesa Vouno Mountain, lies the famous Perissa Beach. While also holding the Blue Flag Beach title, it offers a luxury vibe.
Once again, you'll have a sea of sun beds and umbrellas to choose from, all spread along a particularly dark stretch of sand that contrasts beautifully with the sapphire blue of the water.
You'll find amenities such as lifeguards, showers and a playground. You can also spend some time at the onsite waterpark, complete with water slides.
There's no lack of water sports and activities on offer here as well. You can take a banana boat ride, go jet skiing, or try your hand at any number of other water-based adventures. The option to go snorkeling or diving is catered to by multiple dive shops, leaving you with plenty of choices both above and below the waterline.
Back on shore, many taverns and restaurants are standing by to serve you a meal or a snack. And after dark, Perissa's black sand comes alive with vibrant clubs and bars that draw a younger crowd looking to party.
Perivolos Beach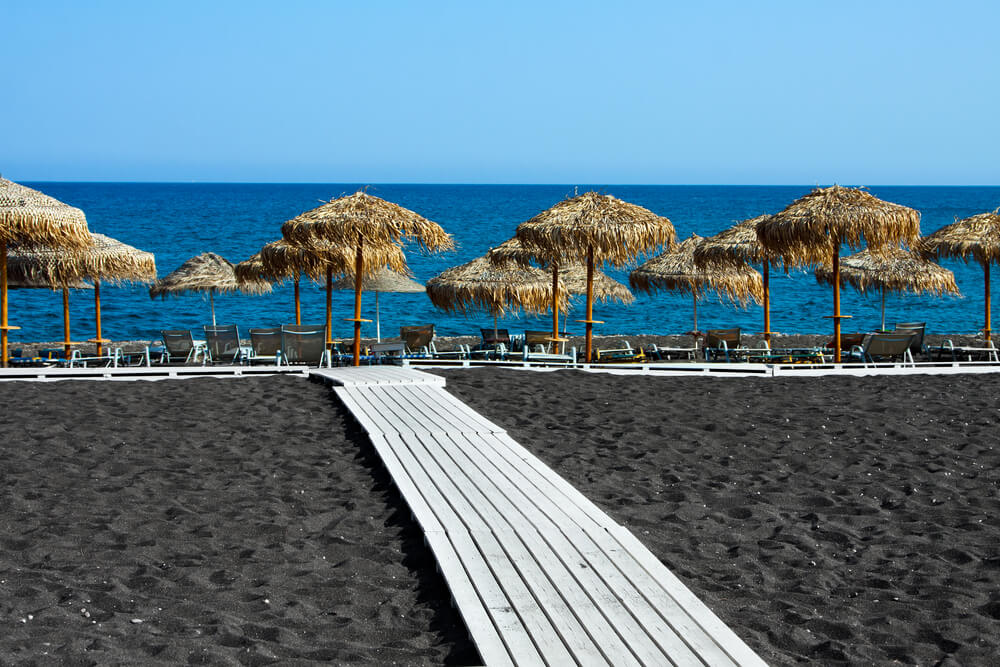 Though technically just a continuation of the shoreline south from Perissa Beach, Perivolos Beach is a destination in its own right. Its claim to fame is that it's one of the best beaches Santorini has for music and nightlife.
Like its closest neighbors to the north, it features a broad expanse of black sand with plenty of amenities to go with a cosmopolitan vibe. Even with the party seekers abound, this is still a fun and safe place for the whole family.
Here too, you can rent sun beds and umbrellas, use facilities such as showers and volleyball courts, and splash around in deep blue water. Plenty of water sports like jet skiing are at your disposal.
Restaurants and bars line the beach—some offer swimming pools for you to sip your drinks and overlook the water. Visiting DJs and special events fill the calendar in warmer months, providing music and dancing day and night. For a lively, youthful atmosphere, Perivolos is the most happening beach Santorini has to offer.
Vlychada Beach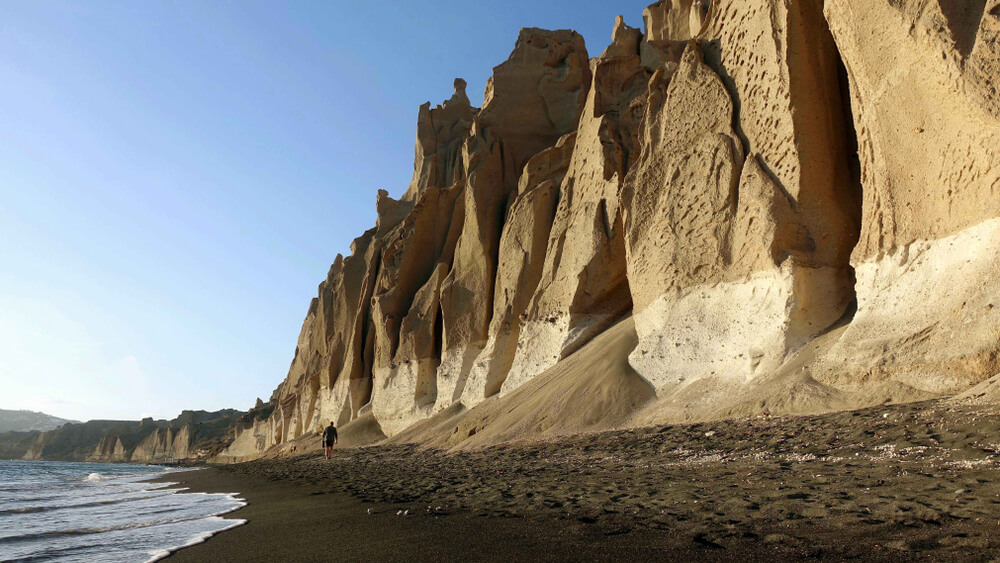 For a truly otherworldly experience, follow the curve around the island's southern tip to Vlychada Beach. This is perhaps the most unique beach in Santorini. The unquestionable stars of the show are the irregularly sculpted cliffs that line the shore—a testament to the island's volcanic composition and windswept topography.
Compared to its more active counterparts to the east, Vlychada Beach is quite a bit tamer and more relaxed.
But you can still find all the usual amenities like umbrellas and sun beds—only without the crowds found elsewhere. The real difference from those other beaches is that at Vlychada, you're left with the impression that you're vacationing on the moon rather than in Greece.
The beach isn't the usual black sand Santorini is known for, appearing more as a pencil gray than black. But your eyes will be drawn upward as you contemplate the surreal rock formations that form a backdrop right out of Star Trek.
Pro tip: Nearby is a small marina, popular with sailors and yachts, that offers amazing seafood and lots of Greek Island charm. Stop in for a bite and the views.
Kampia Beach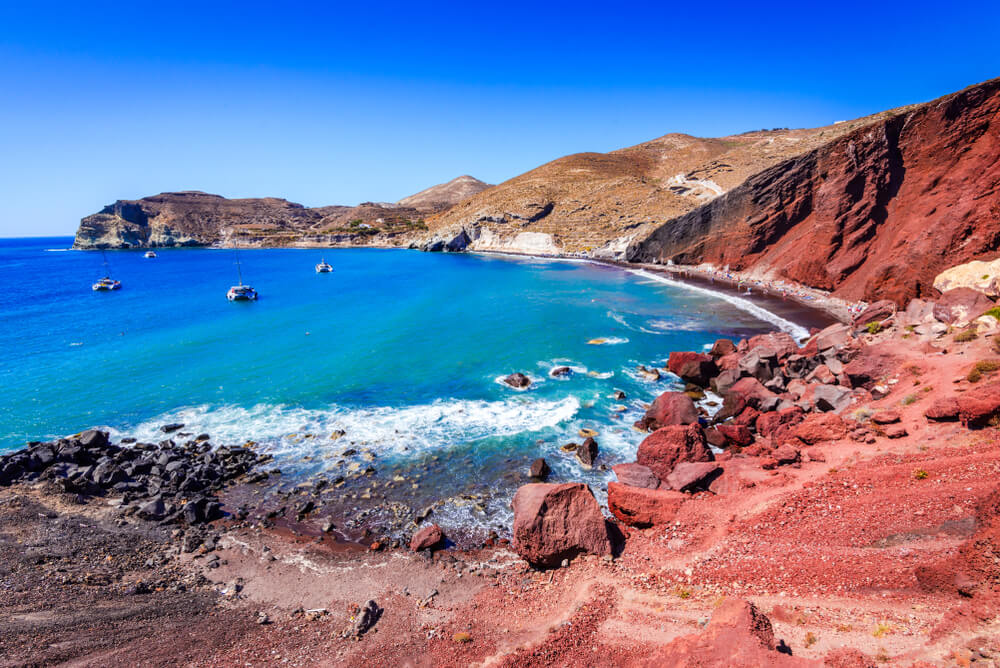 Rounding the curve to the southwestern quadrant of the island, you'll find—with a little help from Google Maps—the secluded strand of Kampia Beach. This is a tranquil and relaxing refuge without any of the crowds. There's a small cafe and not much else going on, which is precisely why people come here.
Besides the low-key vibe, Kampia is known for its red lava cliffs. It is also quite close to White Beach—one of the few Santorini white sand beaches—and Red Sand Beach, which is unique as it sounds.
Rent a kayak to explore more of this geological wonderland.
Mesa Pigadia Beach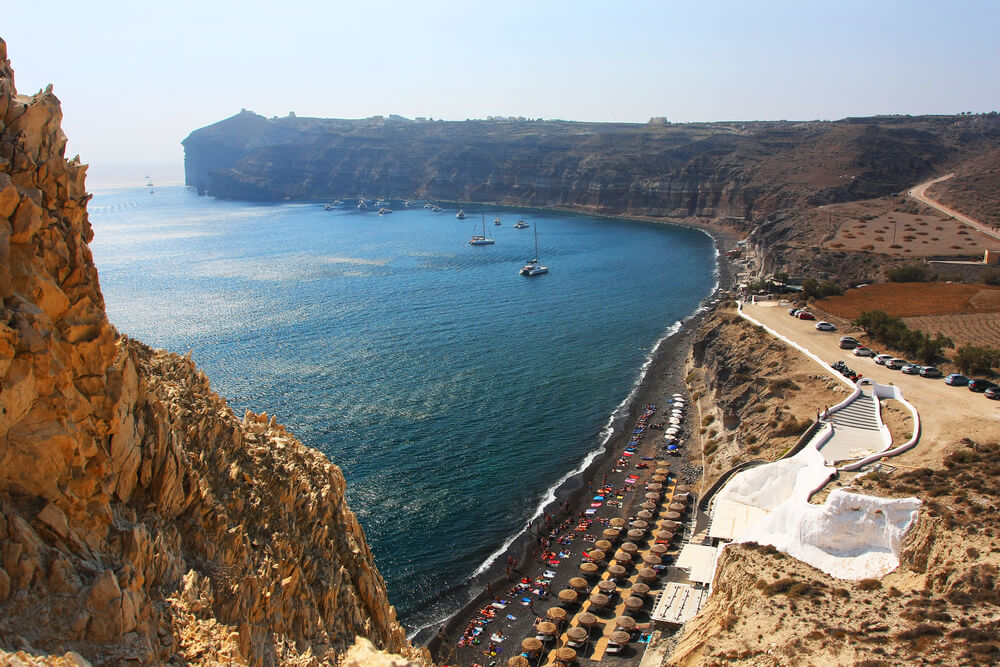 The final example of Santorini's black sand beach is the remote Mesa Pigadia Beach, at the island's far southwestern tip. If it's peace and solitude you're looking for, look no further.
Tucked along the curve of a natural cove, it boasts calm water and amazing views of the jagged, wonderfully eroded coastline. While you can still rent an umbrella or lounger, there are no hotels in this part of the island, which means it is blissfully free of crowds.
This is the place to go to get away from everything and soak in the natural, sun-scorched beauty that characterizes both the island and all beaches in Santorini, Greece.
Map of Santorini's Black Sand Beaches
Check out this map with the island's best black sand beaches to properly visualize the places mentioned. This is a great starting point for planning your itinerary.
Getting to Santorini, Greece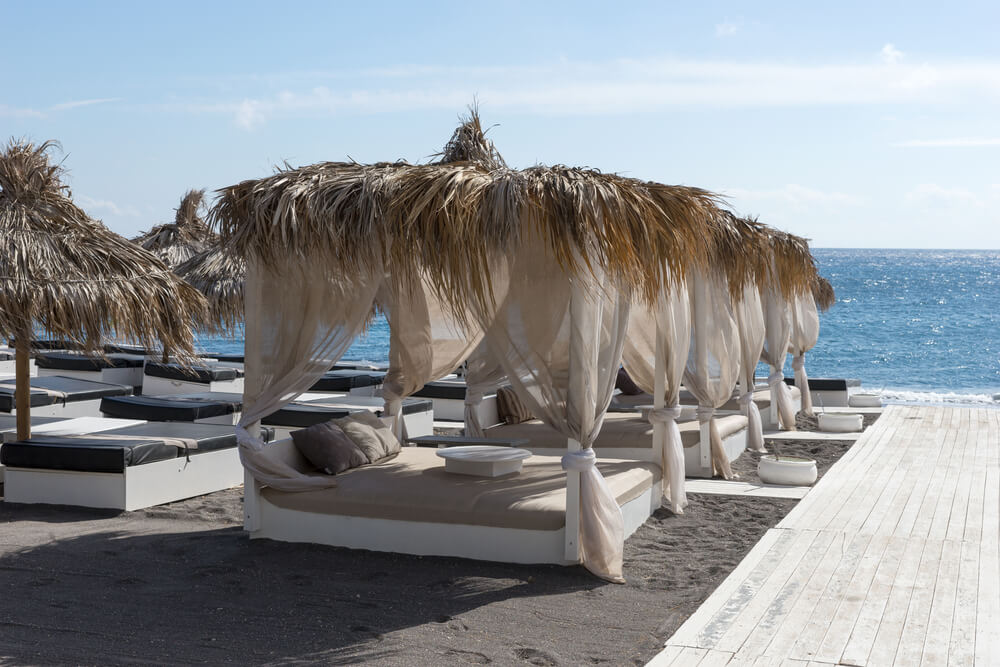 Getting to Santorini is surprisingly easy for an island smack in the middle of the Aegean Sea.
International and domestic flights bring large numbers of tourists looking for the quintessential Greek Island holiday.
If you're staying in Athens for a few days, thankfully, it's only a quick flight to Santorini.
The island is also frequently serviced by numerous ferries between the Cyclades (the island group Santorini is part of), making island-hopping a rather simple affair. In just a few hours (or less), you can get from Mykonos to Santorini and Ios to Santorini.
It is also a popular cruise ship port, with all the good and bad that brings with it.
Bus service on the island will get you to most beaches on this list. But to reach a few of the remote ones, and for the sake of convenience, a taxi or rental car is your best bet to set your own schedule.
A Thought Before You Go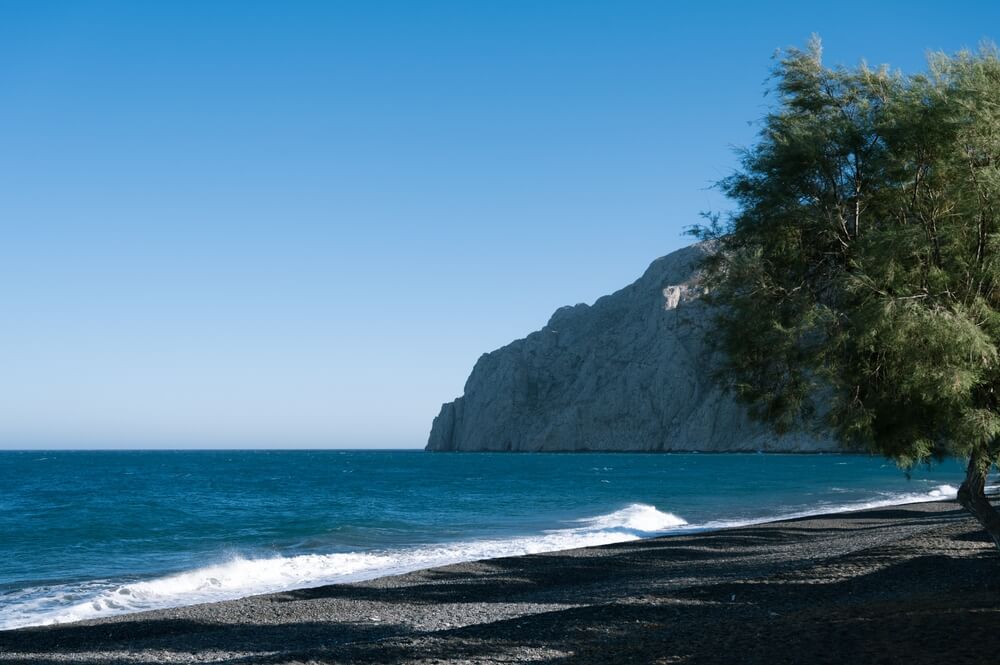 This island boasts lots of history and charm, making it a world-class destination. But while there, you're not going to want to miss out on visiting a Santorini black sand beach—or two or three—to round out your experience in Greece. As you can see, there are plenty to choose from, so have fun finding your favorite black sand beach.
FAQ
Are there black sand beaches in Santorini?
Absolutely there are! All along the outer edge of the island you'll find black sand beaches in varying hues with different levels of amenities.
How do you get to Santorini's black-sand beaches?
For many of the more popular beaches—Kamari, Perissa and Perivolos—there is ample bus service from the capital of Fira and elsewhere. For more remote black sand beaches, a rental car or taxi is a must.
Why is the sand in Santorini's beaches black?
Every black sandy beach Santorini has shares the same underlying characteristic—they are all the result of past volcanic activity, which trapped ash, pumice and lava in the soil. The shade of black will depend on the concentration of these various elements.
When is the best time to visit Santorini's black sand beaches?
The best time for sunny skies and warm temperatures is June through August. The shoulder season ranges from late April through May and all of September. The weather is usually still warm enough to swim with only a fraction of the crowds.