17 Of The Most Beautiful Southeast Asia Waterfalls
Prepare for an epic adventure as we uncover the most breathtaking and unique waterfalls in Southeast Asia! Read all the details below.
Chasing waterfalls can easily become a hobby in Southeast Asia.
The lush jungles, emerald pools and cascading waters come together to create some of our planet's most mesmerizing natural wonders.
Mindblowingly, every cascade is different from the next. Some are serene oases where floating on its turquoise waters feels pretty close to heaven. While others are hotspots for adventure and adrenaline – think repelling, sliding, and jumping into the pools.
In this guide, we'll share with you not just the most beautiful Southeast Asia waterfalls but the most unique, fun and powerful!
Best waterfalls in Thailand
Bua Tong Sticky Waterfalls, Chiang Mai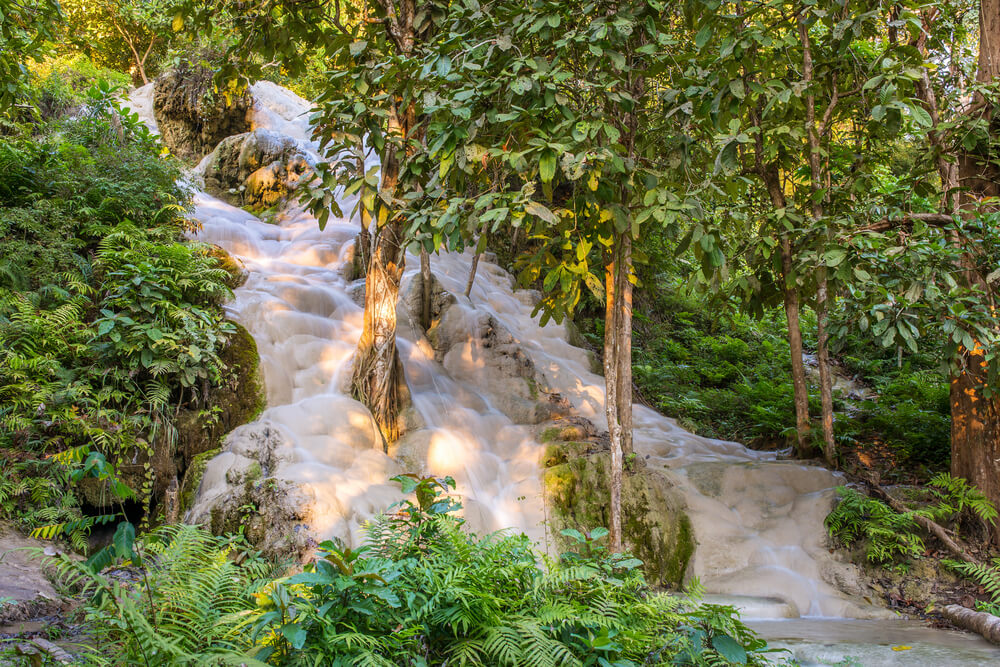 A sticky waterfall, how does that work?
Bua Tong Sticky Waterfalls are extremely unique as they are, yes, sticky!
The mineral deposits help your shoes to stick to the bulbous, sponge-like rocks. You kind of feel like Spiderman climbing up something that scientifically shouldn't be possible.
It feels like a giant kid's playground with the most stunning scenery. A must-visit if you're in Chiang Mai!
Erawan Waterfalls, Kanchanaburi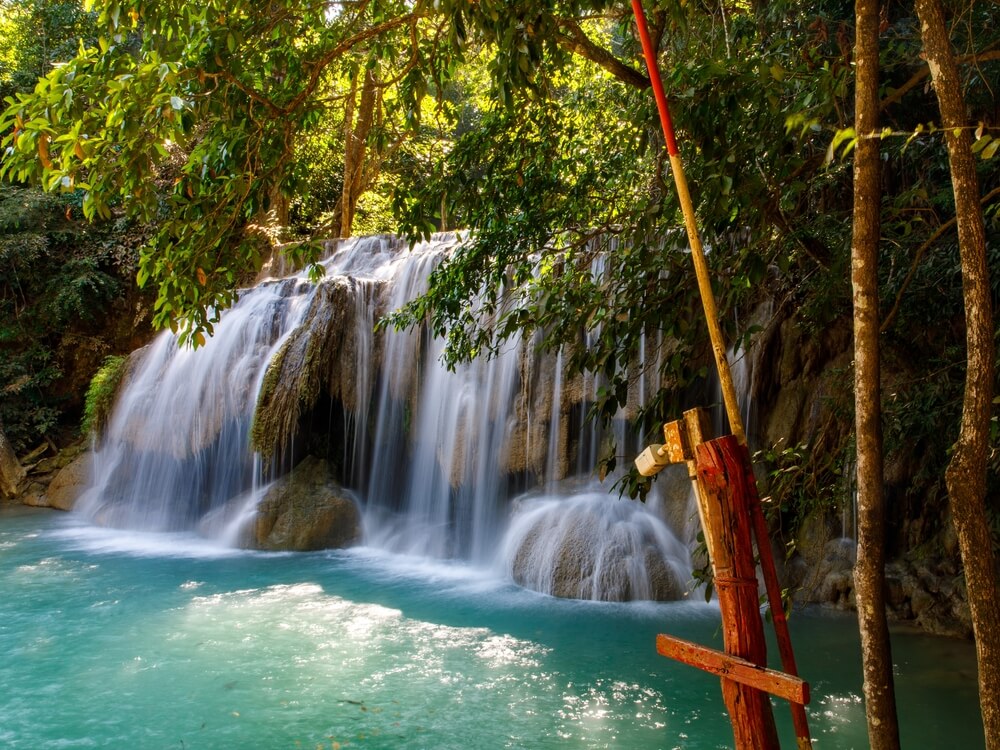 Erawan Falls in Kanchanaburi is known to be one of the most beautiful waterfalls in Thailand. This multi-tiered natural wonder boasts emerald-green plunge pools, hidden caves behind the falls and viewing platforms that help to really appreciate this natural wonder. 
Surrounded by the rich nature of Erawan National Park, you can explore the area and make it a whole day of adventure. Or you could spend all your time relaxing in the plunge pools. Who could blame you? 
There are many more waterfalls to visit in Kanchanaburi, so give yourself plenty of time.
Most beautiful waterfalls in Indonesia
Tibumana Waterfall, Bali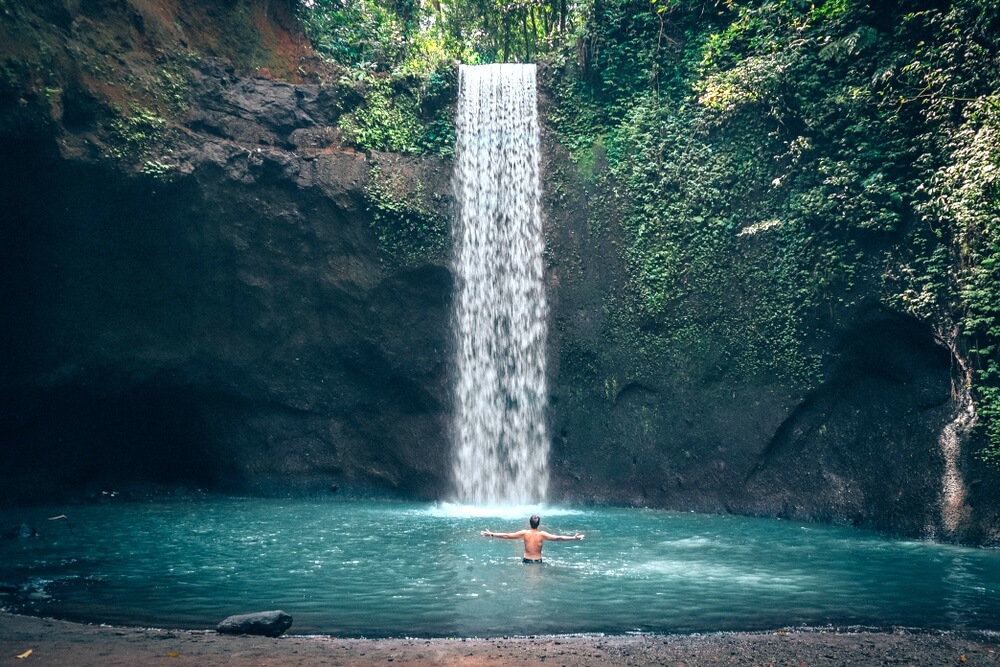 Tibumana may not be the biggest waterfall in Bali, but it's definitely up there as one of the most beautiful and the perfect day trip from Ubud. 
Standing just five meters (16 ft) high, it's more serene and peaceful than those powerful crashing falls.
And if you get to the cascade around 8 a.m., you'll likely have the whole place to yourself. Submerge yourself in the bright blue pool and listen to the sound of vibrant nature all around you.
Banyumala Twin Waterfalls, Bali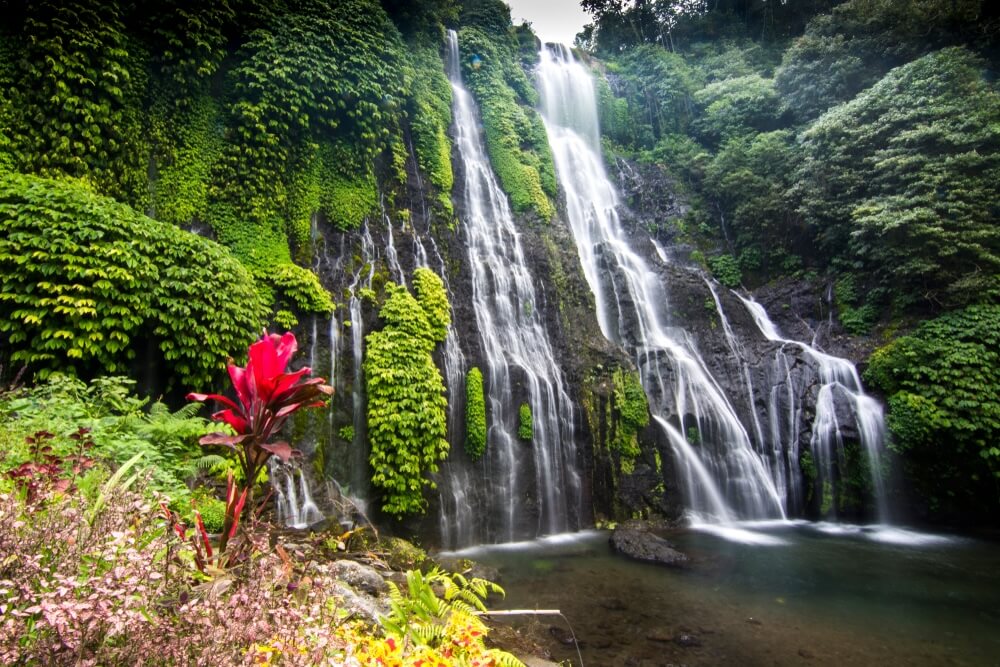 The name, Banyumala Twin Waterfall, doesn't accurately represent its magnificence. The two main falls split into hundreds of little streams rushing into the pool below.
Don't forget your swimsuit, as this pool is perfect for swimming and cooling down after the short 20-minute hike to get there.
Head to Lovina in the north of Bali to tick off one of the best waterfalls in the country. 
Tumpak Sewu Waterfall, East Java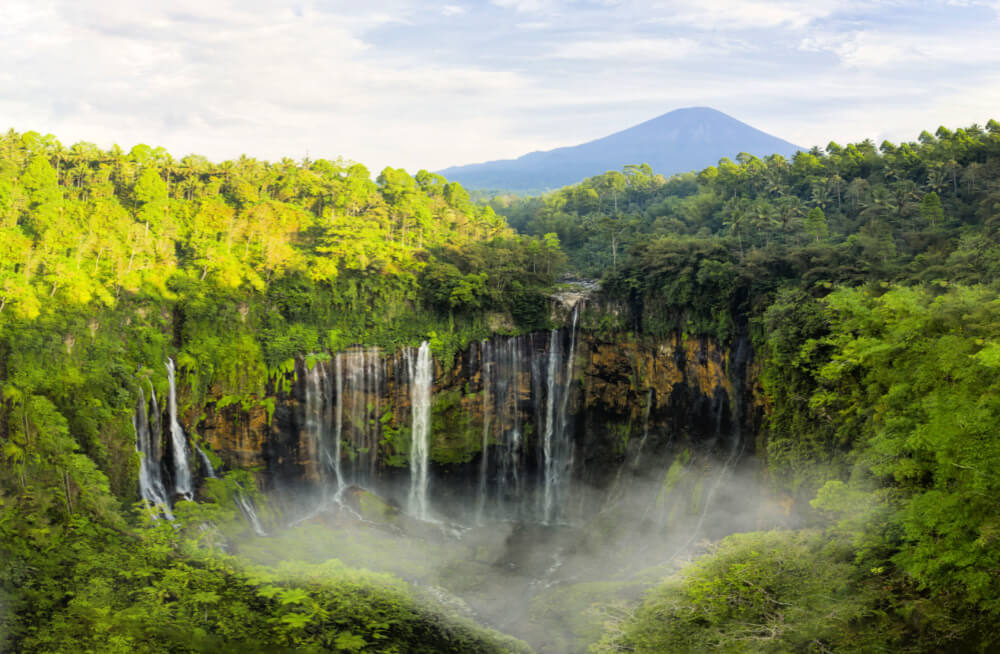 Hidden in East Java, Tumpak Sewu Waterfall isn't as busy as most other spots in Bali. Yet it's more spectacular than most of them!
It's a semi-circle wall of water that makes you feel like you've just walked into the belly of the waterfall.
The name translates to "1000 waterfalls," which is already rather impressive. Top it off with the 120-meter (394 ft) height, and this spot is downright magical.
Additionally, Semeru, an active volcano and the highest mountain in Java, sits watching over the falls. Unless you have a drone, you won't be able to see it from Tumpak Sewu, so consider visiting it afterward.
For the easiest jumping-off spot to visit the falls, head to the city of Malang in East Java.
Unmissable waterfalls in Laos
Kuang Si Waterfall, Luang Prabang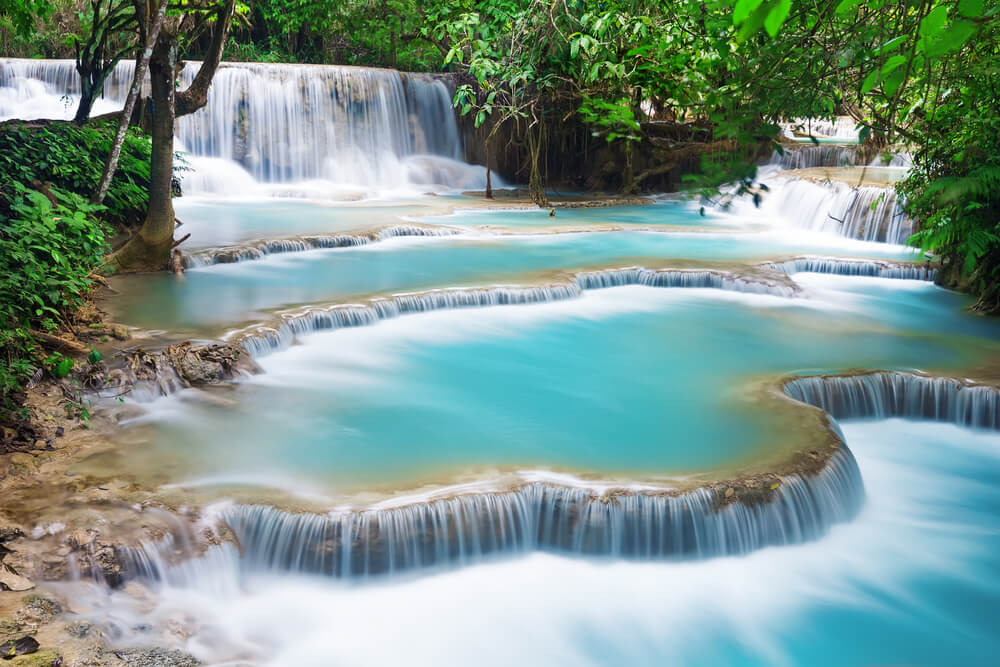 Many of the world's most beautiful waterfalls have already been discovered, and Kuang Si Waterfall is well on the radar of almost every tourist who visits Luang Prabang. It's one of Mother Nature's best creations, so it's worth putting up with other tourists for a few hours. 
Brilliant turquoise waters gently flow down this multi-tiered wall of water into its picturesque pools. This is where you can enjoy a refreshing splash in the mystical water. Spend a while relaxing here, and if you get hungry, there are plenty of stalls and small shops to satisfy your growling belly.
Before you leave, visit the nearby sun bear sanctuary, which focuses on wildlife conservation. And make sure to spend a few days in Luang Prabang – you'll love it there.
Tad Fane Waterfall, Pakse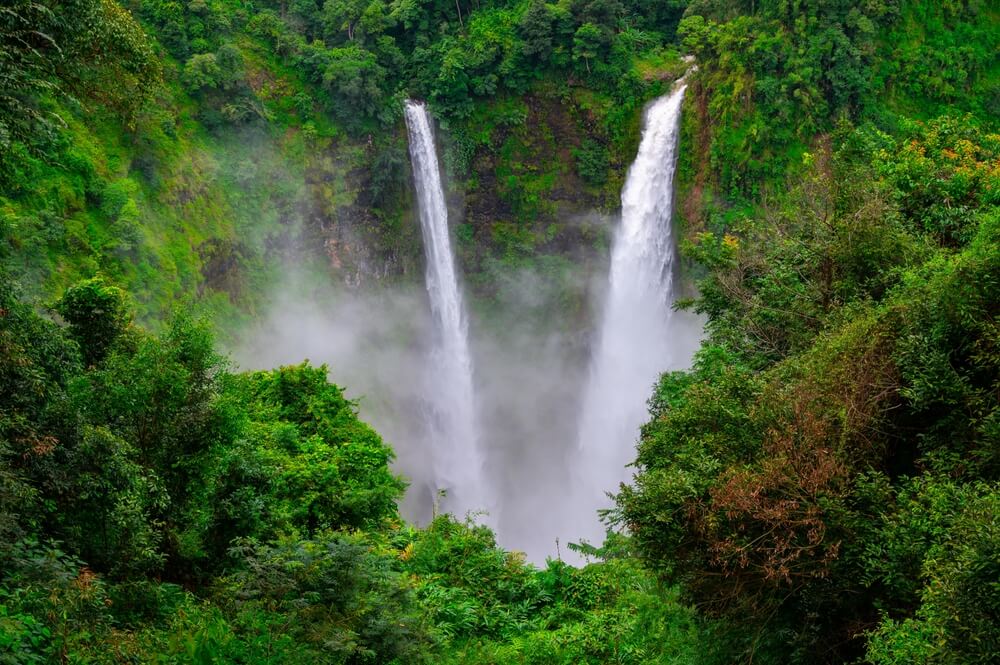 Get two for the price of one with Tad Fane Waterfall near Pakse.
This spectacular cascade divides, spilling over the 120-meter (394 ft) cliff face as two separate walls of water. If you're lucky, the mist might put on a show and create some brilliant rainbows in the spray.
A touch of adrenaline has been added to this visit with the 400-meter (1312 ft) zipline that soars through the sky above the water.
Ready to learn what it feels like to be a bird?
Li Phi Falls, Don Khon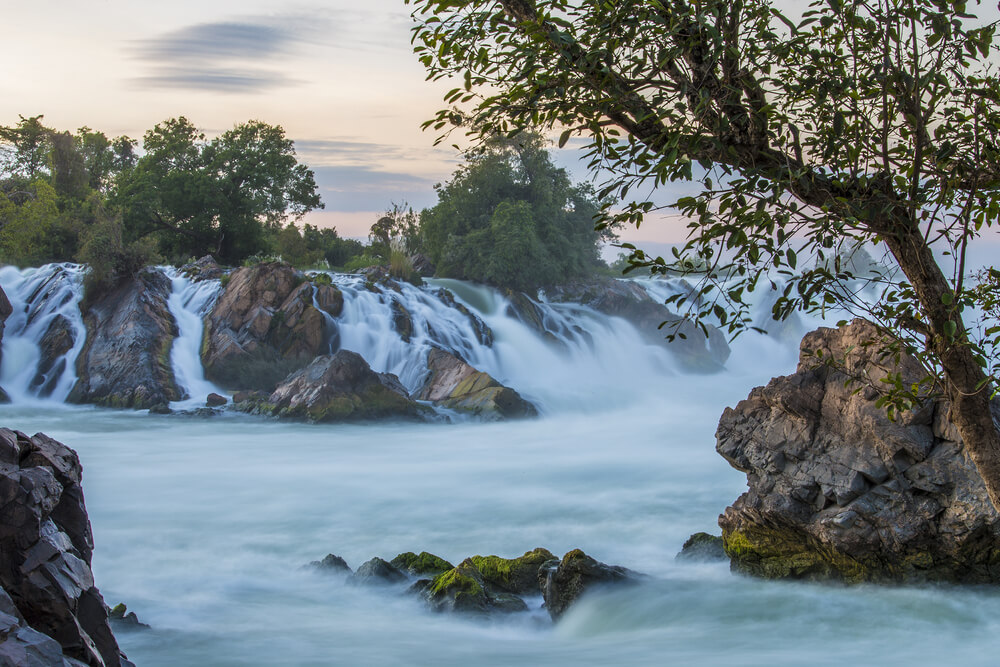 You can't help but be filled with a feeling of wonder as you witness the sheer power of the water at Li Phi Falls.
Also known as Somphamit Falls, this natural wonder can be found in southern Laos, near the 4,000 Islands region of the Mekong River. 
The falls can be explored by foot and by boat. Or, if you really want to appreciate its size, take to the skies on a zipline.
The tallest waterfall in Southeast Asia
Jelawang Waterfall, Dabong, Malaysia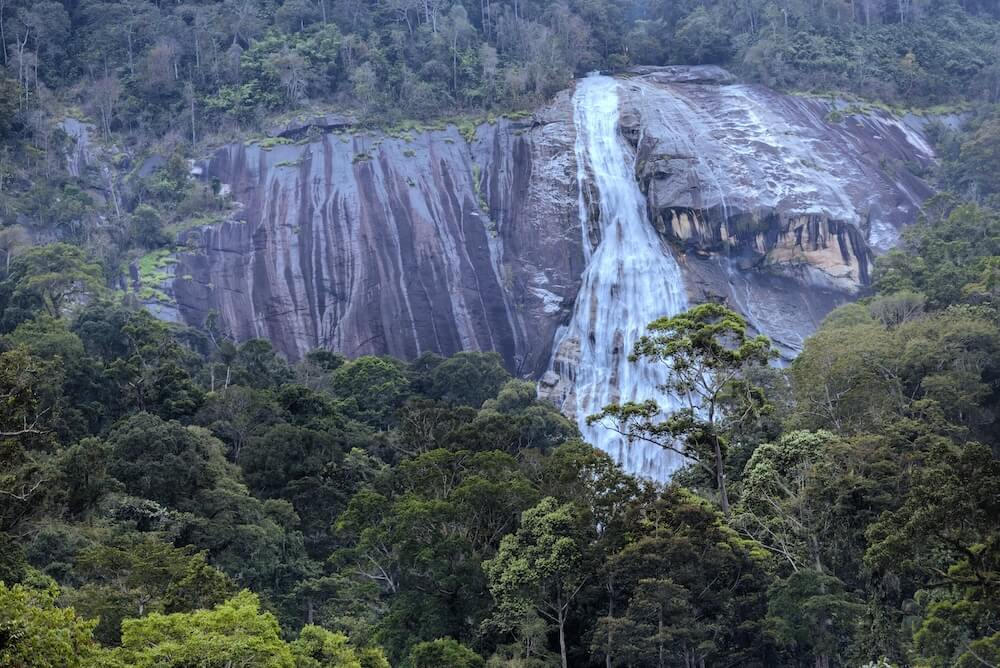 Jelawang is one of the highest waterfalls in Southeast Asia, standing at a whopping 305 meters (1000 ft) tall. You can find this beast in Gunung Stong State Park in Kelantan, along with seven other falls. But Jelawang is undoubtedly the highlight. 
A visit here isn't an admire and leave situation. You'll need to put a bit of effort in to get to the waterfall, hiking across suspension bridges and along jungle paths for around an hour.
Keep an eye out for wildlife – there have been Asian elephant and tapir sightings. Plus, there are over 130 species of birds to spot.
Hidden waterfalls in Myanmar
Haipa Waterfall, Shan State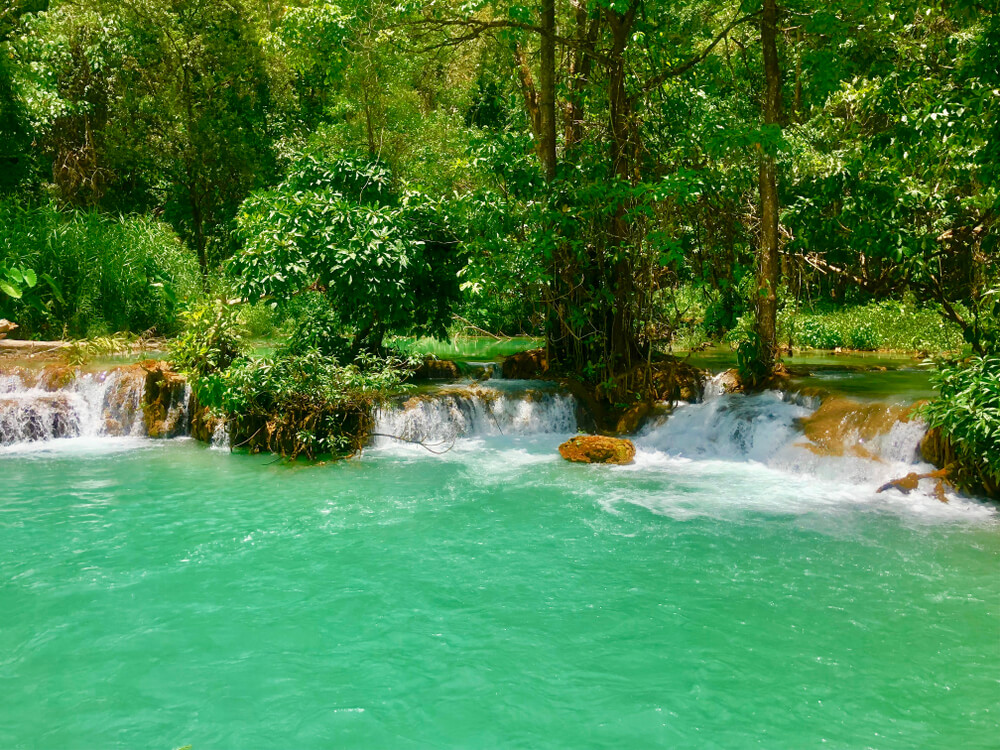 Myanmar's instability means that most people miss out on one of the best Southeast Asia waterfalls. Its remote location also adds to the adventure of uncovering this hidden gem….but it's worth it! Haipa Waterfall is phenomenal!
Surrounded by rice paddies and thick jungle, the contrast of the glistening turquoise water against the vibrant green is brilliant. The size of this place, with its lagoon-style pools and countless cascades, adds to the unforgettable experience.
Pro tip: Haipa Waterfall is closed for one month every year during the monsoon season. Check when this is to avoid disappointment.
Anisakan Falls, Mandalay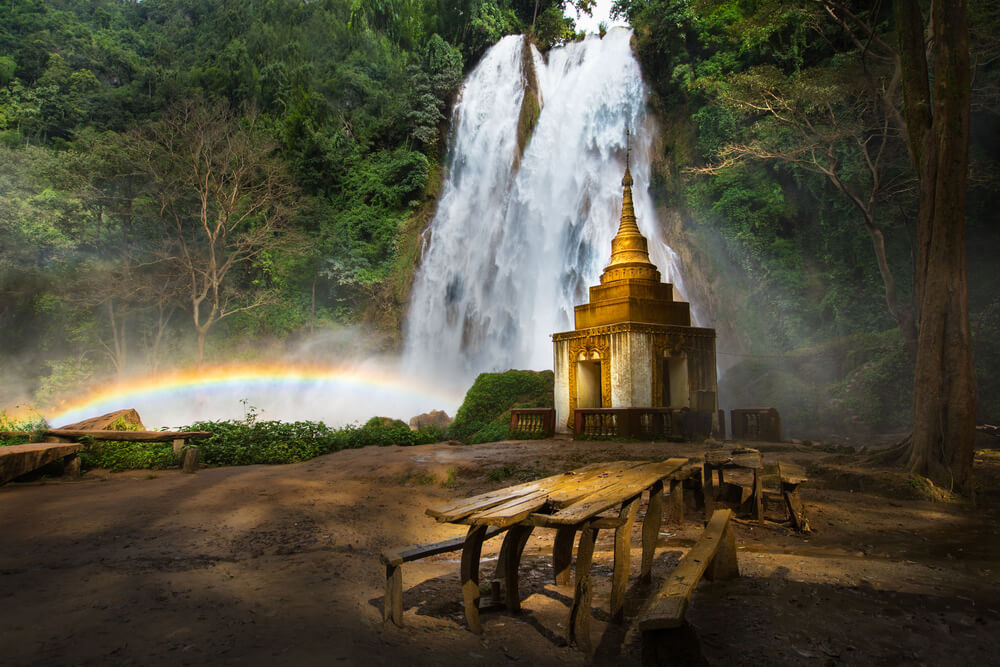 One that's a little bit easier to get to in Myanmar is Anisakan Falls.
Located just outside of Mandalay, the former royal capital of Myanmar, these falls are a must-visit. 
What sets them apart from other Southeast Asia waterfalls?
Meters from the falls, you'll find a white and golden pagoda that adds a serene and spiritual ambiance to the place.
You might need some peacefulness after the walk down to the waterfall. It's a 40-minute walk down a pretty steep and rocky trail. We won't even talk about the walk back up, but it's worth it!
Wonderful waterfalls in the Philippines
Kawasan Waterfall, Cebu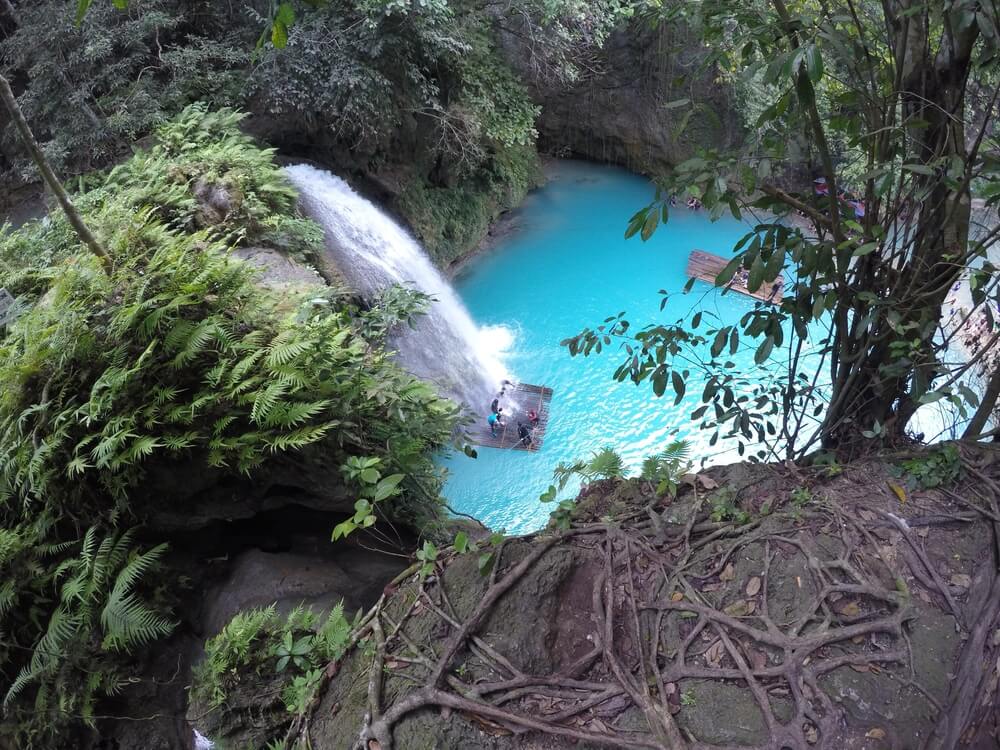 Located in Cebu, Kawasan Waterfall is one of the most popular waterfalls in the Philippines. This place feels like an enchanting pool, especially if you beat the crowds early in the morning. 
The multi-tiered cascade boasts bright turquoise pools ideal for cooling down. Or you can turn things up a notch… Kawasan is a hotspot for thrilling canyoneering adventures, rappelling down cliffs, and cliff jumps.
Mantayupan Waterfalls, Cebu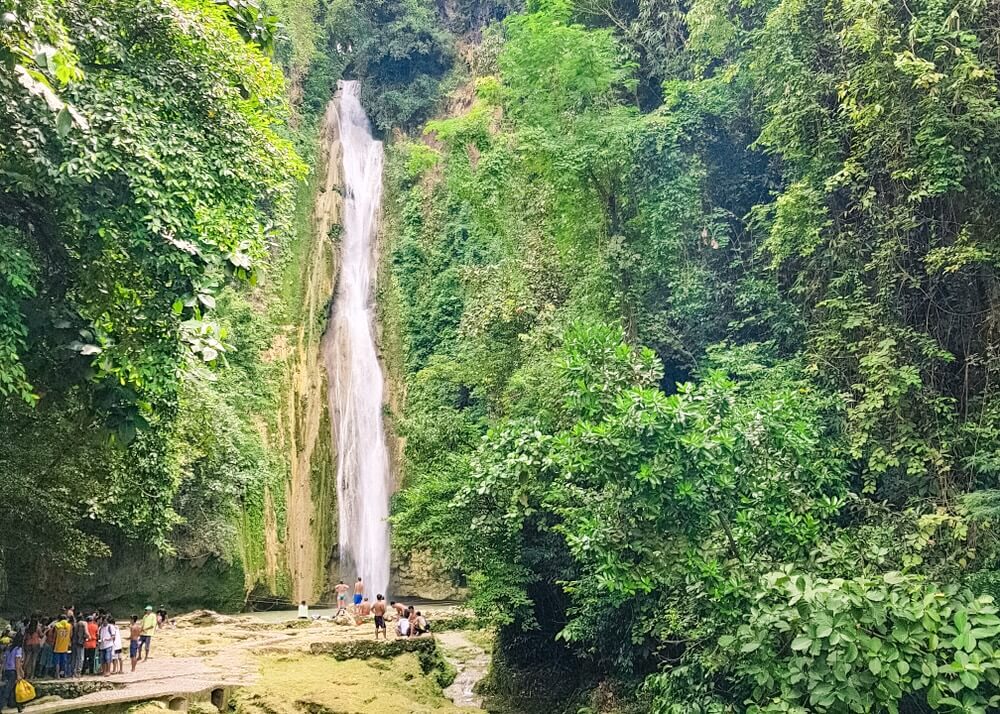 Standing an impressive 98 meters (322 ft), Mantayupan is the highest waterfall in Cebu. The force of the water makes you take a step back as it plummets into the glistening blue water below. 
Surrounded by dense greenery, it feels like you're standing in the middle of the jungle. Take some time swimming in the pool before heading up to the viewing platform that puts you face-to-face with the crashing wall of water.
The beaches of Cebu are world-renowned, so leave time to explore.
Asik-Asik Falls, North Cotabato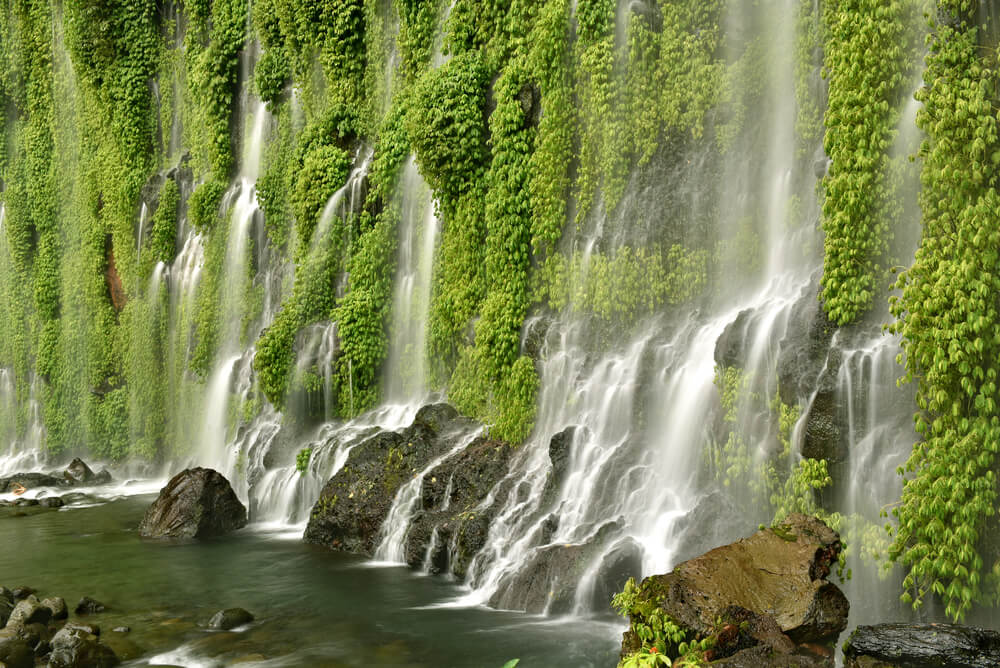 Not a fan of waking up early to avoid other waterfall lovers and photobombers?
Asik-Asik Falls, nestled in the dense forests of North Cotabato, is missed by the majority of travelers in the Philippines. And that's exactly why you should go!
As if a waterfall all to yourself isn't reason enough, these falls are remarkably unique. Like magic, the curtains of water emerge from moss-covered rock walls, creating something that looks too perfect to be natural. But we promise it is!
Unforgettable waterfalls in Vietnam
Pongour Waterfall, Dalat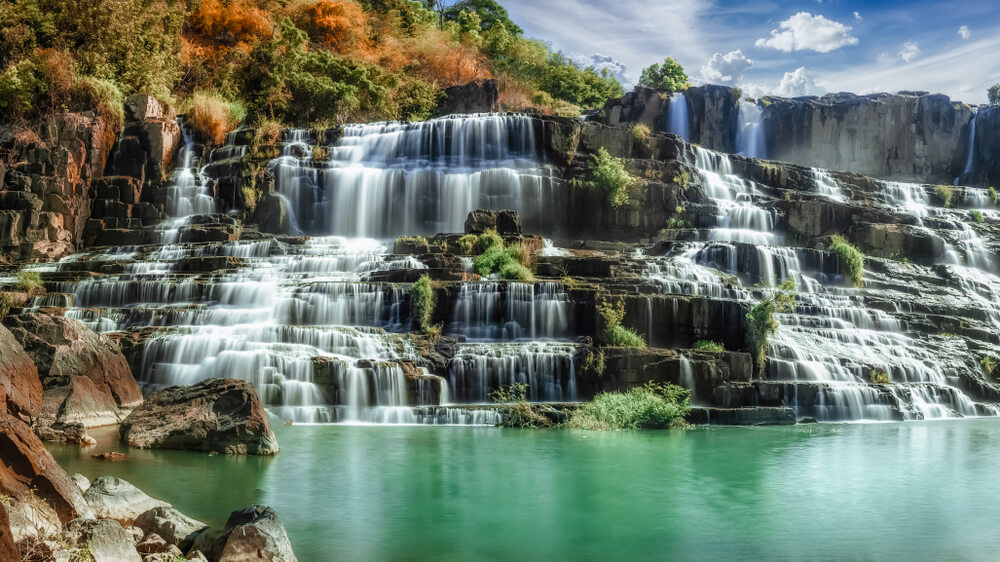 Unbeknownst to many, Vietnam has some of the best waterfalls in Southeast Asia, and Pongour Waterfall in Dalat has to be one of them. There's a mystical air around these falls, which have inspired poetry and several myths. 
The water seems to glide over the multiple terraces that make up the falls before collapsing into a large pool that can be blue or brown, depending on when you visit. You can get some awesome photos perched on the terraces. Just be careful; the moss can make it slippery.
Elephant Waterfall, Dalat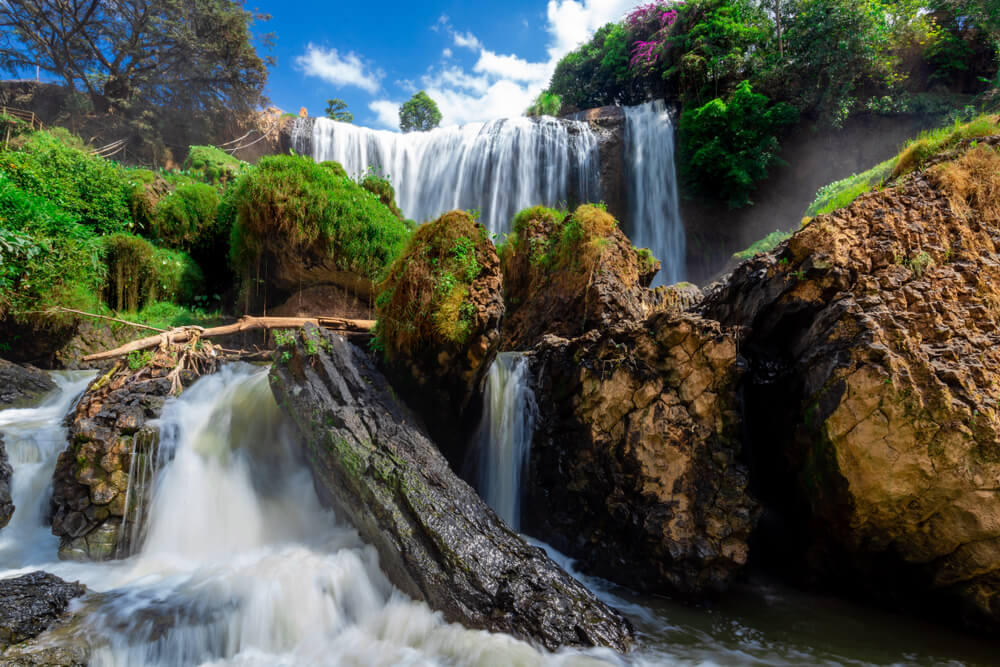 Unfortunately, you won't find any elephants at this waterfall — the name comes from a myth of how it was created. But you will find a white curtain of water that measures 30 meters (98 ft) high and 15 meters (49 ft) wide.
It's a big boy!
Once you've had your fair share of spray, head to the nearby Linh An Pagoda, an impressive Buddhist temple overlooking the falls.
Pro tip: Why not waterfall hop in Dalat? Go see Pangour and Elephant in one day.
Ban Gioc Waterfall, Cao Bang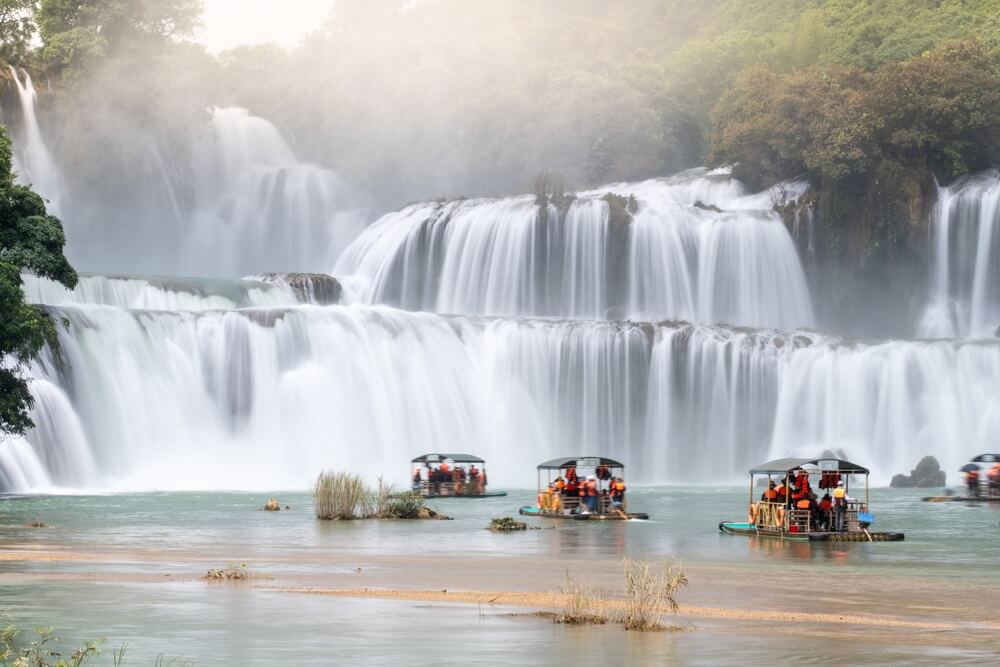 Ban Gioc Waterfall feels like something straight out of Avatar.
We're not sure whether it's the towering limestone mountains in the background or the thriving nature surrounding the walls of water that gives it this feel.
Or maybe it's the size. The falls measure a mindblowing 300 meters (984 ft) across, making it the widest waterfall in Vietnam.
The best things in life never come easy, right?
That's kind of the case with Ban Gioc. It sits on the border between Vietnam and China. You'll need to hop on a 5.5-hour (at least) bus from Hanoi. The journey scares most travelers off, meaning you'll mainly find Vietnamese and Chinese visitors admiring the incredible sight from bamboo rafts.
Weather in Southeast Asia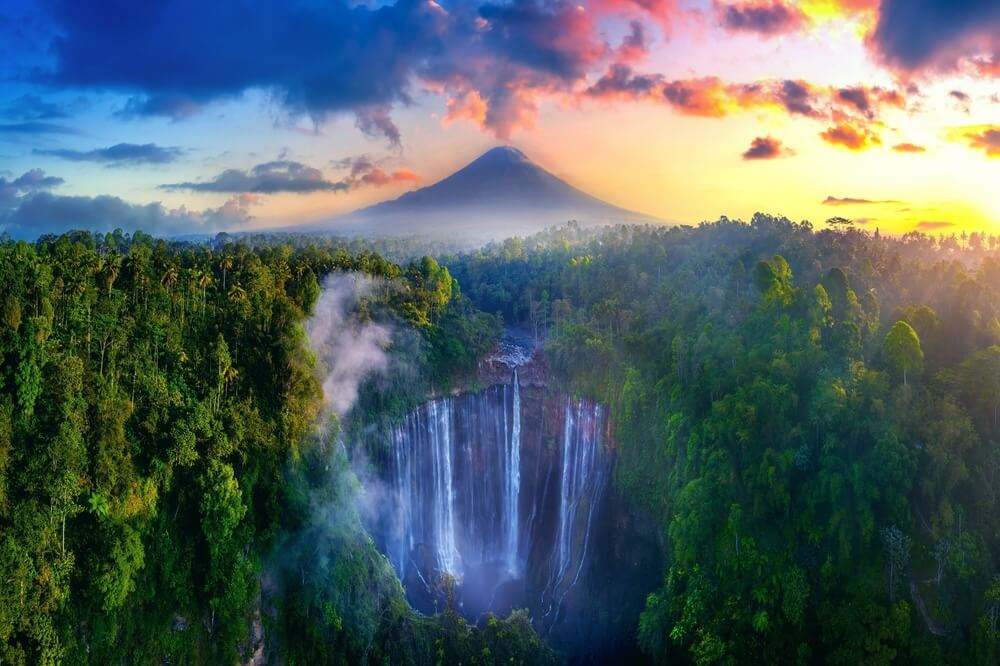 Southeast Asia is a huge region with many different climates, so there's always somewhere with good weather.
In general, the dry season runs from November to April. This is considered the best time to visit as there will be little rain and moderate temperatures. It's also the busiest period and often the most expensive.
Not all countries follow this rule, though. Indonesia and Borneo are drier from April to October, while Malaysia's coasts follow their own pattern.
But if we're talking about the best time to visit Southeast Asia's waterfalls, it's the rainy season. During the dry season, some falls might just be a trickle. Most countries experience a rainy season between May and October.
Packing list essentials for exploring Southeast Asia's Waterfalls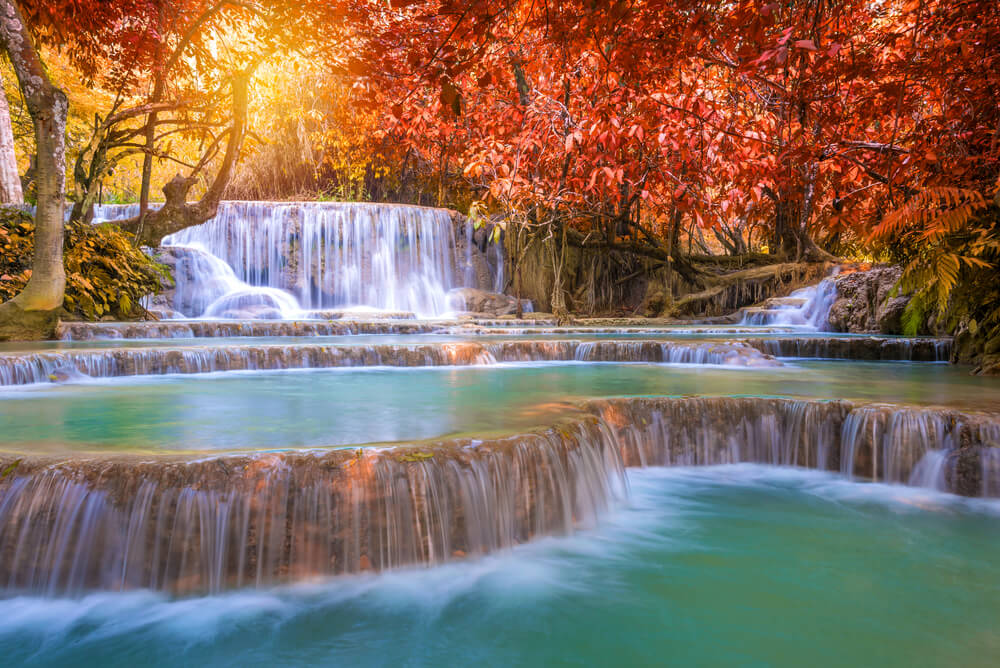 You'll need all the classic items on a Southeast Asian packing list. However, exploring waterfalls requires some things you don't want to forget. Here are some of the essentials:
Comfortable shoes: These can be hiking sandals, hiking boots or good trainers.
Raincoat or poncho: If you plan on getting close to the falls, you might want to bring something to keep you dry.
Swimsuit: Many spots have pools where you can cool off and go for a dip.
A towel: It's nice to have something to dry yourself with or sit on afterward.
GoPro: Thankfully, phones are mainly water resistant now, but if you want to get up close and personal with the waterfall to capture memories, then a GoPro would be better.
Snacks: Even if food is being sold, it's often overpriced and not good. Think about bringing your own lunch and snacks.
How to get to and around Southeast Asia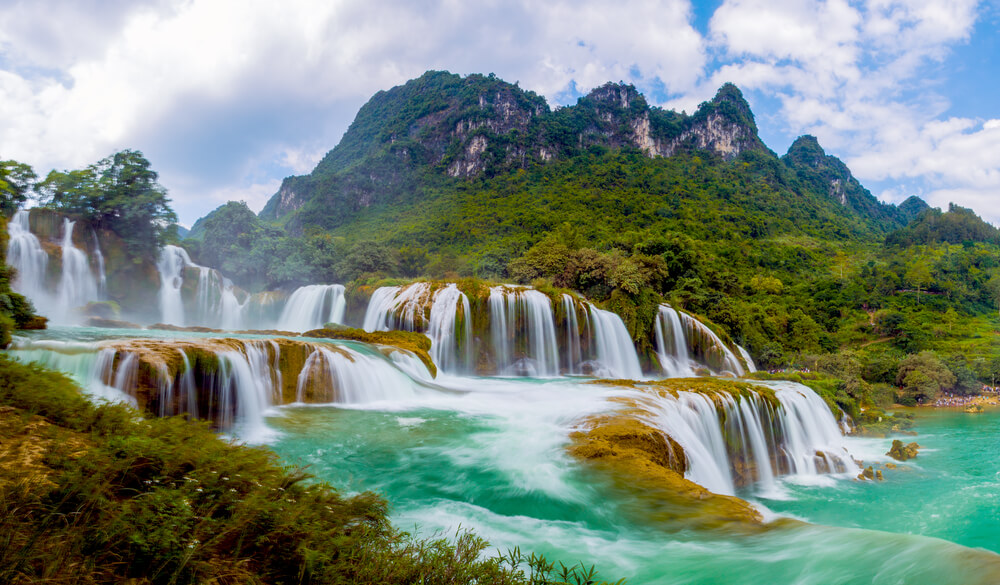 Southeast Asia is one of the most popular regions for travel, and the infrastructure in most countries is on par. This means there are plenty of international airports and transport tends to be quite good.
Most people will arrive by plane, and then the adventure begins. Through the streets, you'll see tuk-tuks whizzing about, taxis beeping their horns and colorful buses taking passengers to their destinations.
Buses are the most popular way to explore most of the countries. They're often affordable, reasonably comfortable and sometimes the only option. In Thailand and Vietnam, thankfully, the long journeys are covered by sleeper buses that allow you to lie down and actually get some sleep.
Trains can also be part of your adventure. And don't forget the boats, especially if you're island hopping in Thailand, the Philippines or Malaysia.
Map of Southeast Asia's Waterfalls
Every country in Southeast Asia is gifted with magnificent waterfalls. From Erawan Falls in Thailand to the adventure-filled Kawasan Waterfall in the Philippines. Don't miss out on uncovering the hidden gems, too.
It's time to find the best Southeast Asia waterfalls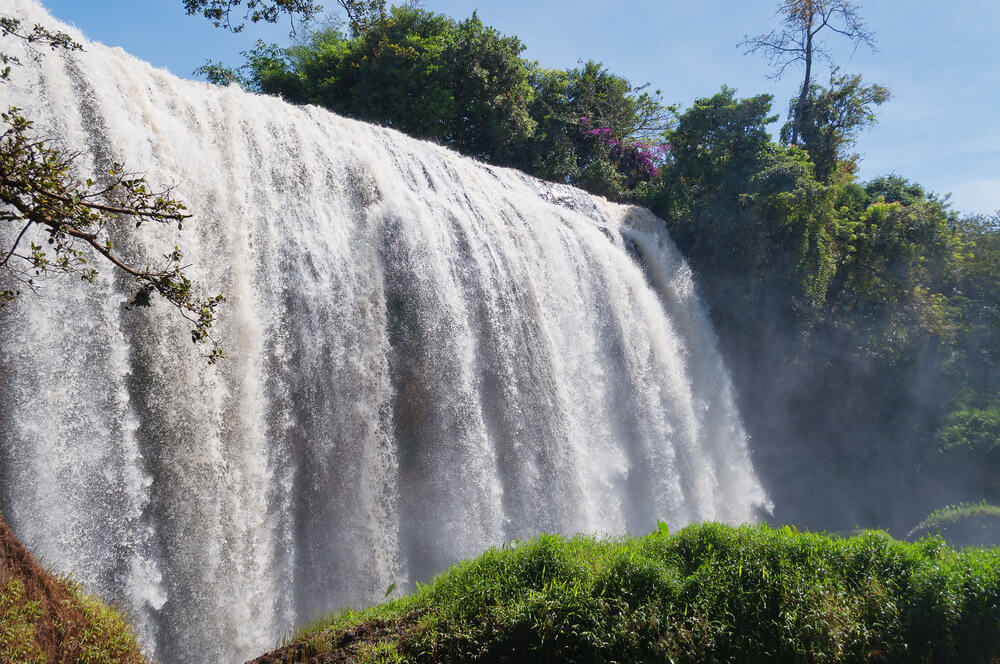 Scouting out Southeast Asian waterfalls is one of the top things to do in the region. And the best part is that no matter where you are, you'll never be too far from one of these miraculous natural wonders.
Get your adventure shoes on, prepare to get wet, and let the unforgettable experiences begin!
FAQ
What is the most beautiful waterfall in Southeast Asia? 
Isn't beauty in the eye of the beholder? Everyone has their favorites, but Kuang Si Waterfall has to be up there with the best. 
What is the tallest waterfall in Southeast Asia?
Jelawang in Malaysia is one of the highest waterfalls in Southeast Asia, standing at a whopping 305 meters (1000 ft) tall.
What is the most famous waterfall in Thailand?
Erawan Waterfall steals a lot of people's hearts.