Street Food in Italy: The 26 Best Bites
When you think of street food in Italy, pizza comes to mind. But there's much more. From panelle to arancini, let's plan your next food tour.
Street food in Italy is hard not to love. Street Food in Italy: The 26 Best Bites
Picture yourself wandering through charming cobblestone alleys, enticed by the mouthwatering scents of sizzling arancini and panzarotti, irresistibly simple yet oh-so-tasty!
Below, we look at 26 of the best local foods in Italy by region. You should grab a napkin because this is going to be drool-worthy.
Italian street foods by region
Veneto: Northeastern Italy
Cicchetti in Venice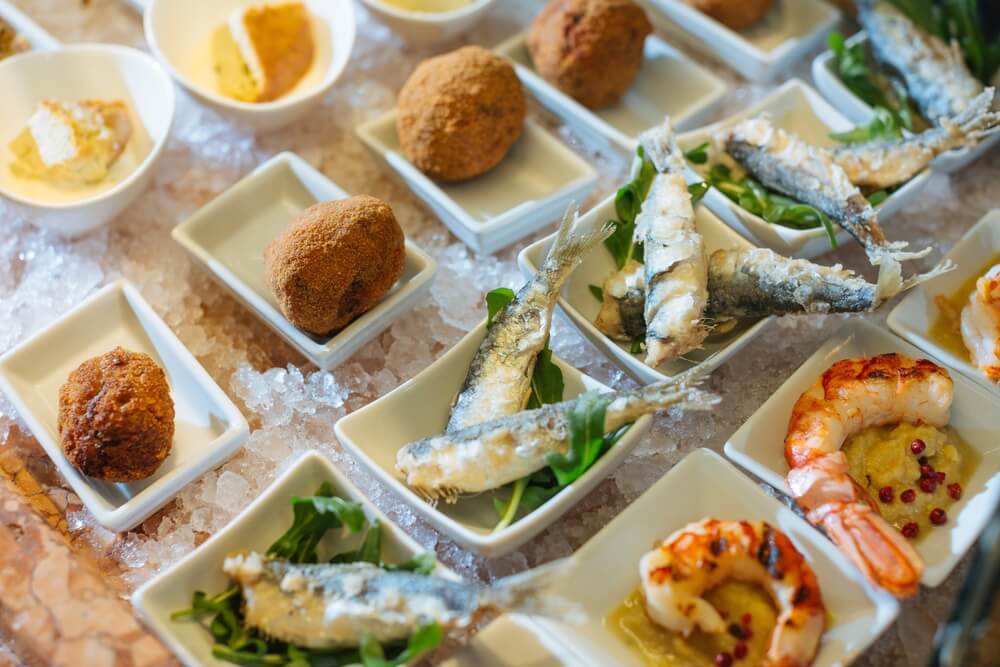 Cicchetti boasts an array of small bread pieces topped with cured hams, cheese, seafood, fish or vegetables.
The freshness of ingredients and diverse flavors cater to all palates, including vegetarians and vegans.
This street food in Venice, Italy, is typically paired with wine in a traditional bacari, a dimly lit Venetian wine bar — a must-do while you are traveling through Venice.
Fun fact: Cicchetti was traditionally eaten as a celebratory dish after merchants made successful transactions.
Emilia-Romagna Region: North Italy
Piadina in Bologna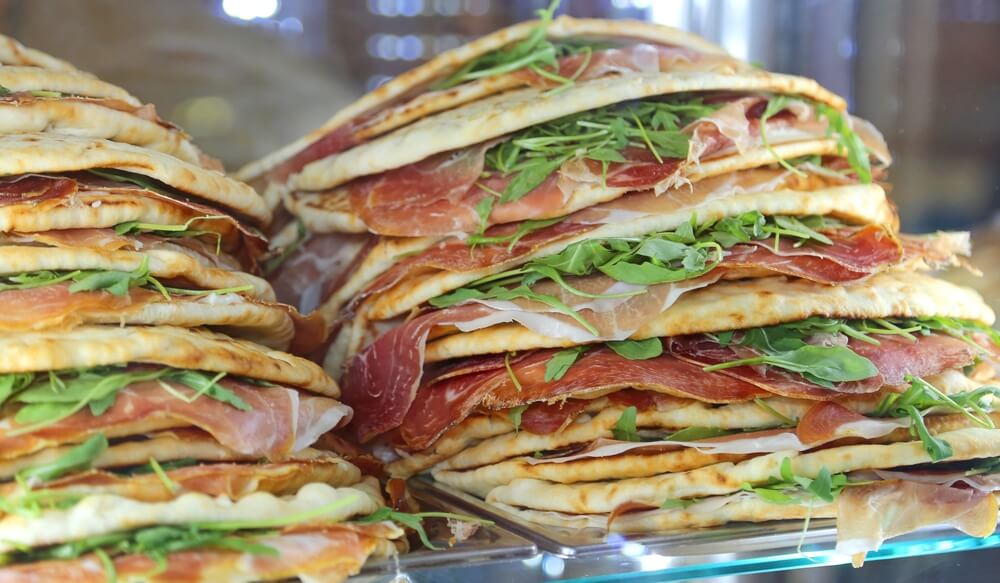 Even though only a few ingredients are used to make a piadina, only the Italians can perfect it.
Flour, olive oil, salt and water create a slightly crumbly round flatbread thicker than a tortilla but thinner than pita bread.
Inside, you will find a variety of fillings, including soft Italian cheeses, prosciutto and salami. Or, for those who have a sweet tooth, try a piadina with jam or Nutella. Better yet, try one of each — you can choose your preferred fillings.
Where can you buy one? In a delicatessen.
Gnocco Fritto in Bologna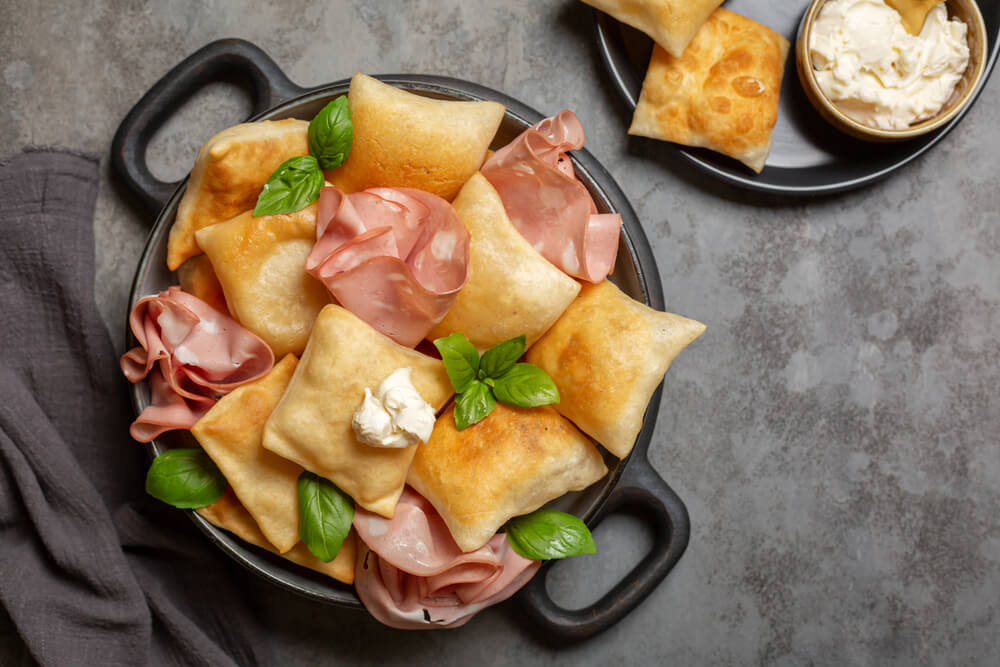 Picture soft, doughy pillows fried to perfection to create a hollow center filled with cured meat, cheese or candied fruit. How does that sound?
One of the best street foods in Italy is also known by the name crescentina or pizza fritta.
Enjoy it alongside a cappuccino for breakfast.
Piadina Romagnola in Rimini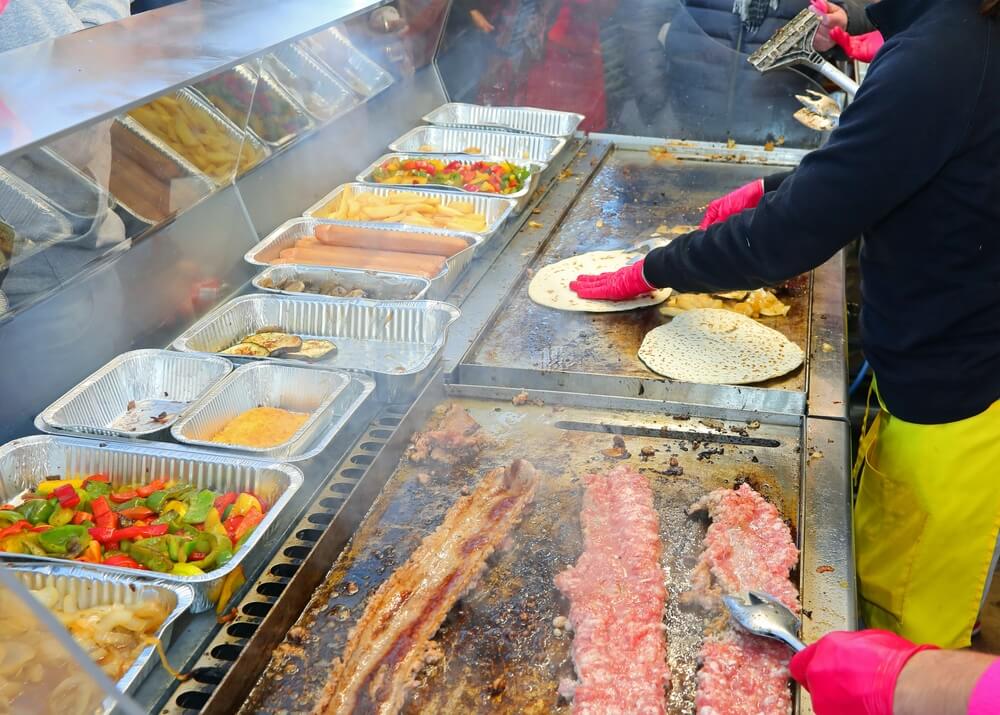 If you are looking for a simple but delicious lunch, why not try a piadina romagnola, an Italian flatbread traditionally cooked in a frying pan?
Typically, you'll find this street food of Italy filled with cheese, tomatoes, and arugula.
Fun fact: This was a staple street food for the less affluent, but now you can find it at several local kiosks. And oftentimes, it's cooked on a flat-top grill.
Abruzzo: Central Italy
Arrosticini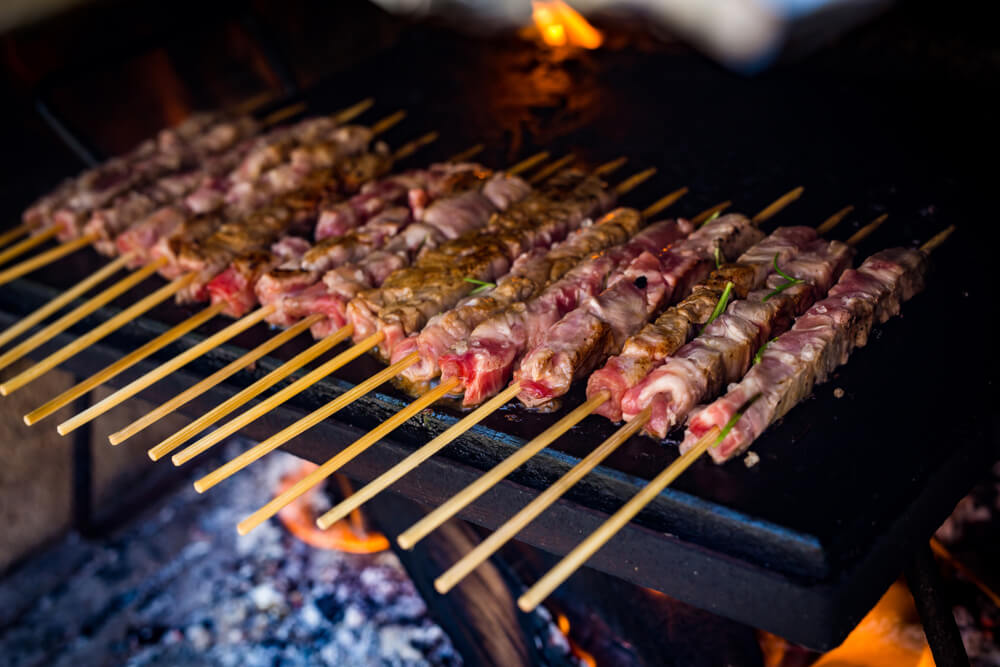 Found throughout the region, arrosticini originated as a staple for shepherds who would grill the meat of sheep on a charcoal fire.
Today, you can try the skewers with various types of meat: sheep, lamb, or goat. They are cooked with big chunks of fat to make them even more succulent.
Lazio: Central Italy
Gelato in Rome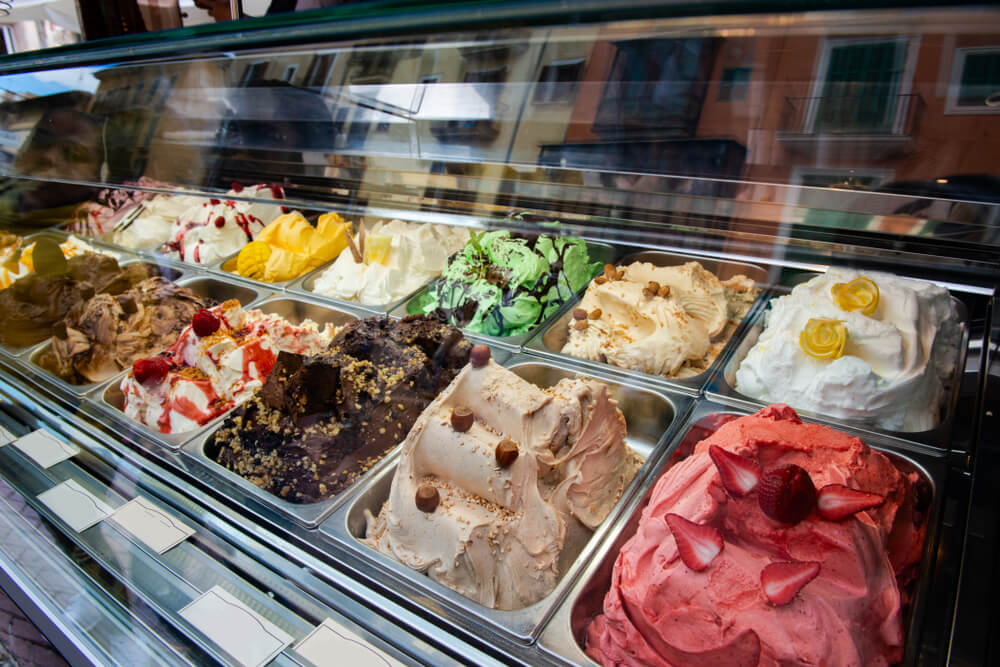 It's nearly impossible to visit Italy without a stopover in Rome.
When visiting during the summer, you'll want sweet, cooling relief from the sun. Trust us. And thank goodness for gelato. There is an abundance of gelato stores in Rome, one of the most famous being Giolitti, where the numerous flavors to choose from are on display.
Pro tip: If you have to line up for a gelato, it's a good sign.
Pizza al Taglio in Rome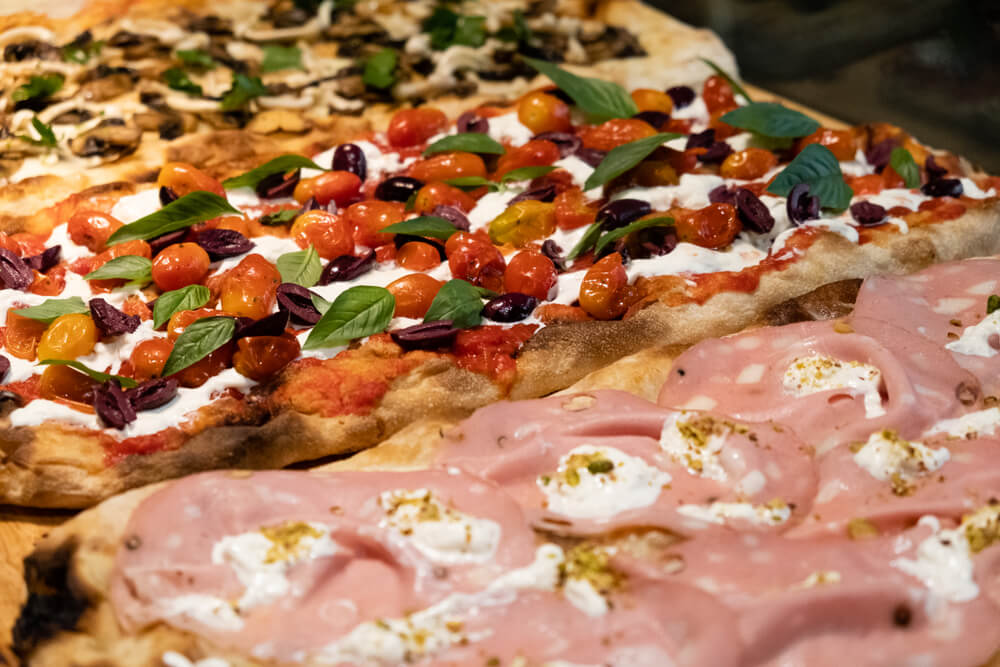 For one of the best street foods in Rome, Italy, you must try pizza al taglio, made from thick, airy dough.
Toppings vary, but you can be guaranteed they will always include seasonal ingredients.
One of the best is Antico Forno Roscioli, which offers this Italian street food with roasted tomatoes, basil and burrata.
Trapizzino in Rome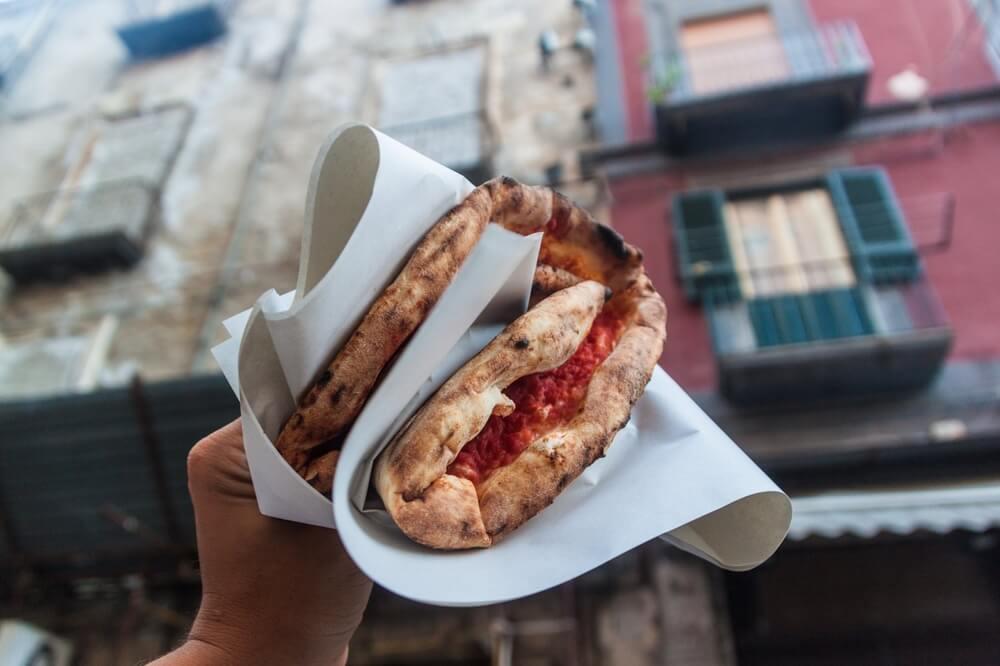 If you are a pizza fan, you will love this one.
Essentially, trapizzino is a pizza pocket made by filling a triangle of pizza crust with yummy flavors. Some popular options are eggplant parmigiana, meatball sauce, burrata cheese and zucchini.
Two great places to try this street food in Rome are Piazza Trilussa 46 and Via Giovanni Branca 88.
Fun fact: Trapizzino is now a popular street food in Florence, Italy, as well.
Panino con la Porchetta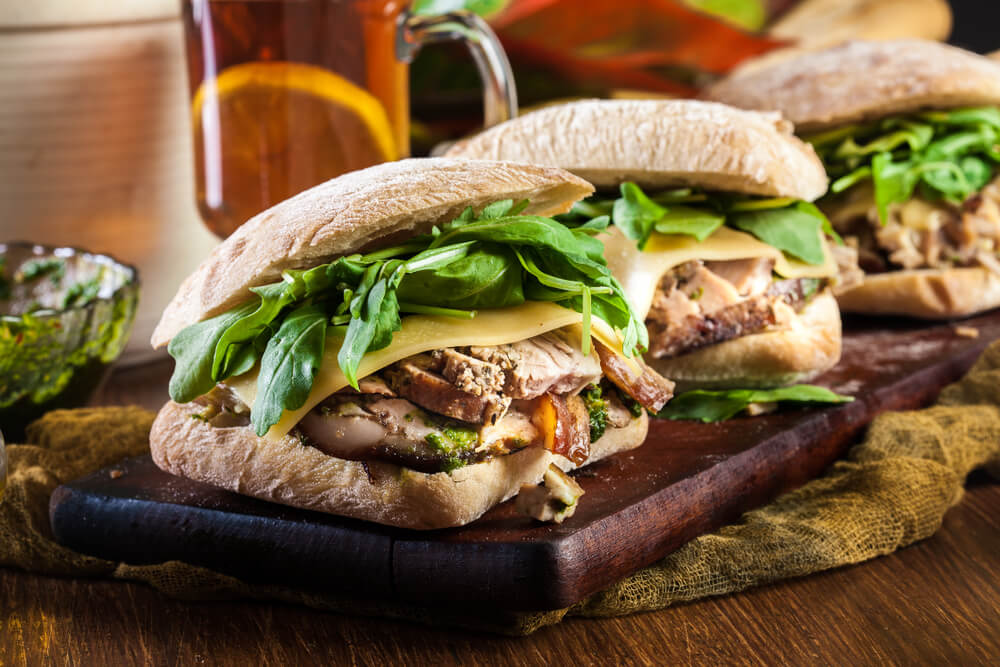 What do you get when you stuff thinly sliced pork roast with garlic, black pepper, and rosemary and stuff it all into a crusty loaf of bread? Well, besides a slice of heaven, panino con la porchetta.
While this street food of Italy can be found throughout the country, it originated from Ariccia near Rome.
Pizza e Mortazza in Rome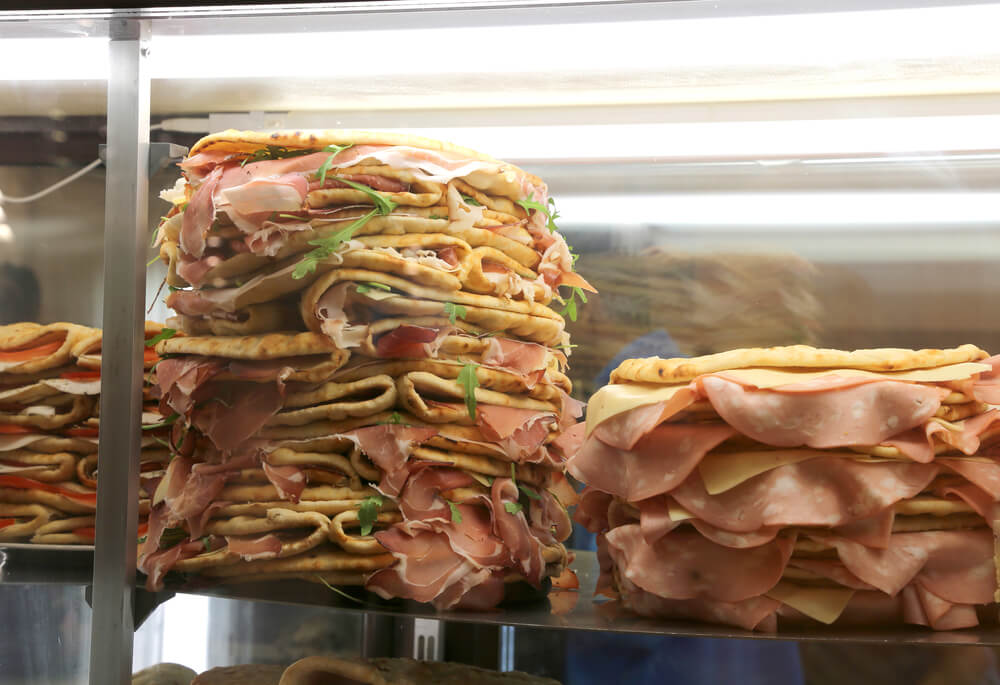 Are you a fan of mortadella? How about it stuffed inside a focaccia? Then you must try this popular street food from Rome.
It's the perfect lunch to grab while you are on the go.
Suppli in Rome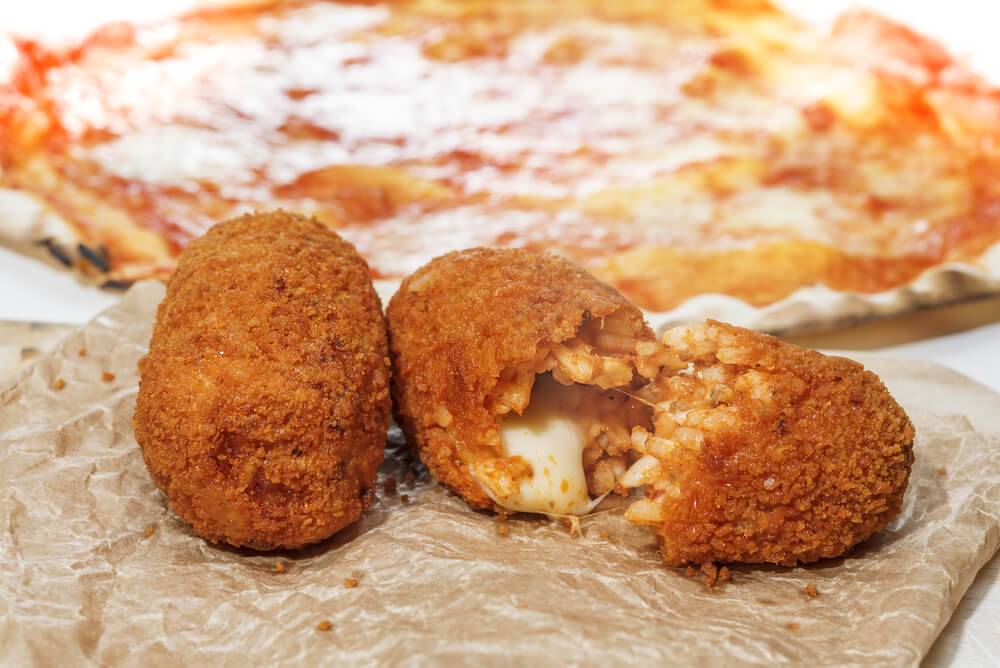 Suppli is similar to Sicily's arancini — a deep-fried breadcrumb-covered rice ball. The difference, however, is the shape, which is cylindrical rather than round.
Inside, you will find tomato-sauce-infused rice with a gooey center of melted mozzarella cheese.
Fun fact: Over the years, suppli has been called "suppli al telefono" due to the mozzarella stretch, which resembles the shape of an old-fashioned telephone.
Campania: Southwestern Italy
Zeppole in Naples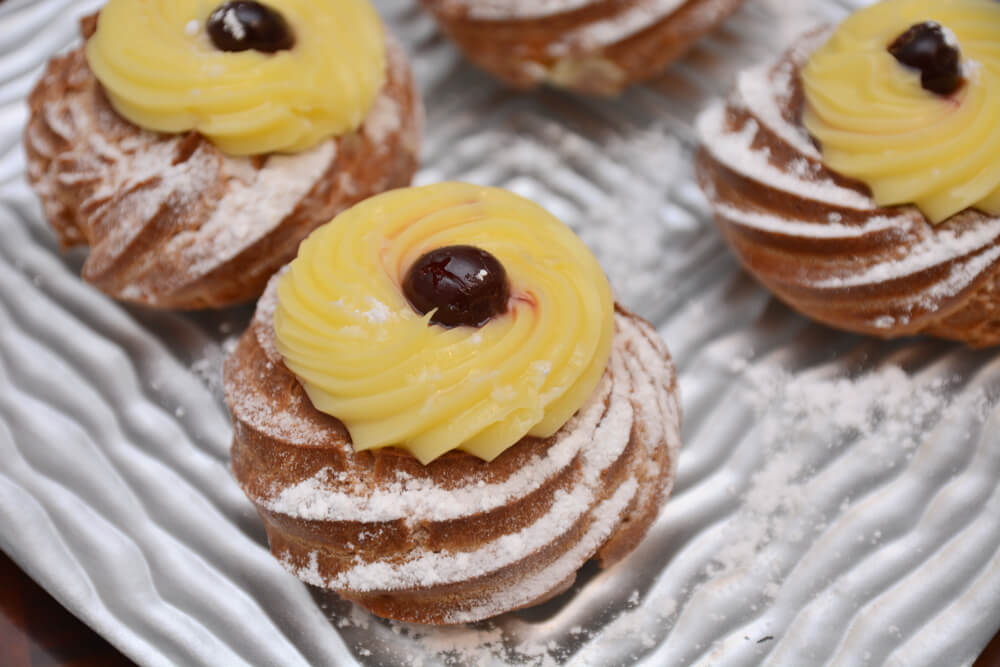 Now it's time for a delicious sweet.
You can find these deep-fried dough balls in Italian bakeries and at street festivals.
The hardest part is choosing which zeppole you want from custard, jelly, cream or chocolate. Told you!
Pro tip: The most traditional zeppole is served without any filling — straight from the fryer with sugar dusting on top.
Sfogliatelle in Naples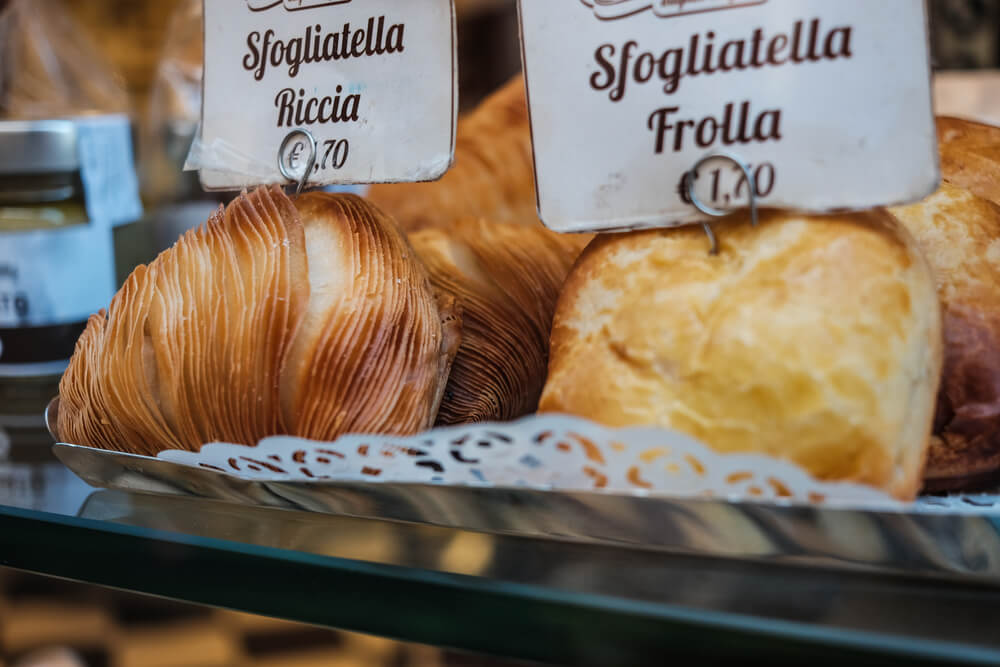 Any idea what a sfogliatelle is? It is a thinly layered Neapolitan pastry shaped like a shell. You will notice how delightful and crunchy it is on that first bite.
Inside, you will find a creamy ricotta filling flavored with orange and almond paste.
Calzone in Naples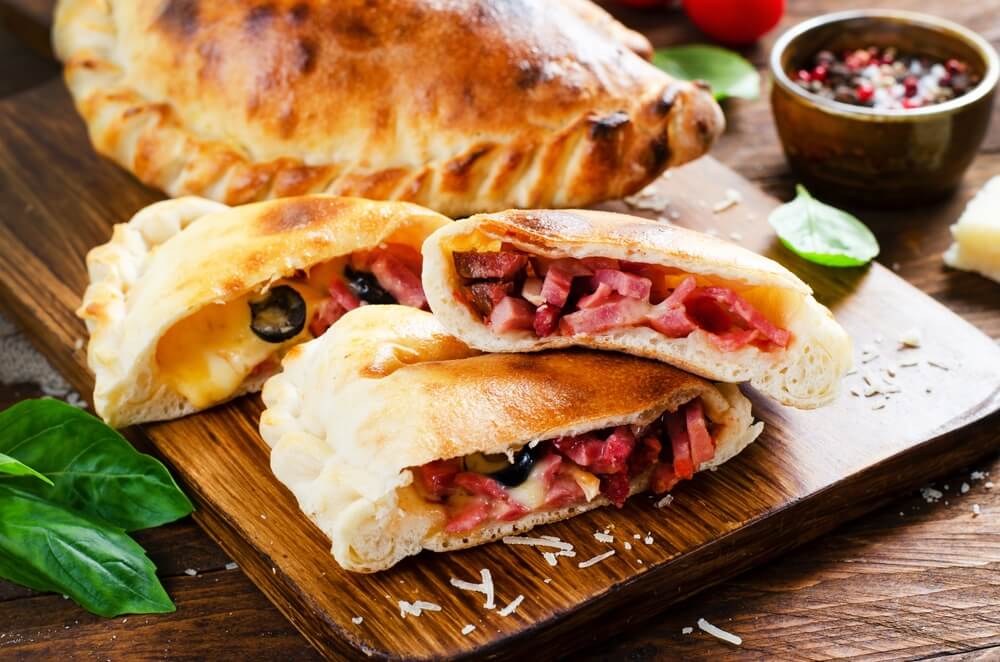 Of the street food in Naples, Italy, this one is a crowd-pleaser.
This folded pizza contains fillings like ham, cheese, vegetables or ricotta.
You can find them throughout Italy, but the most authentic calzones are in Naples.
Neapolitan Pizza in Naples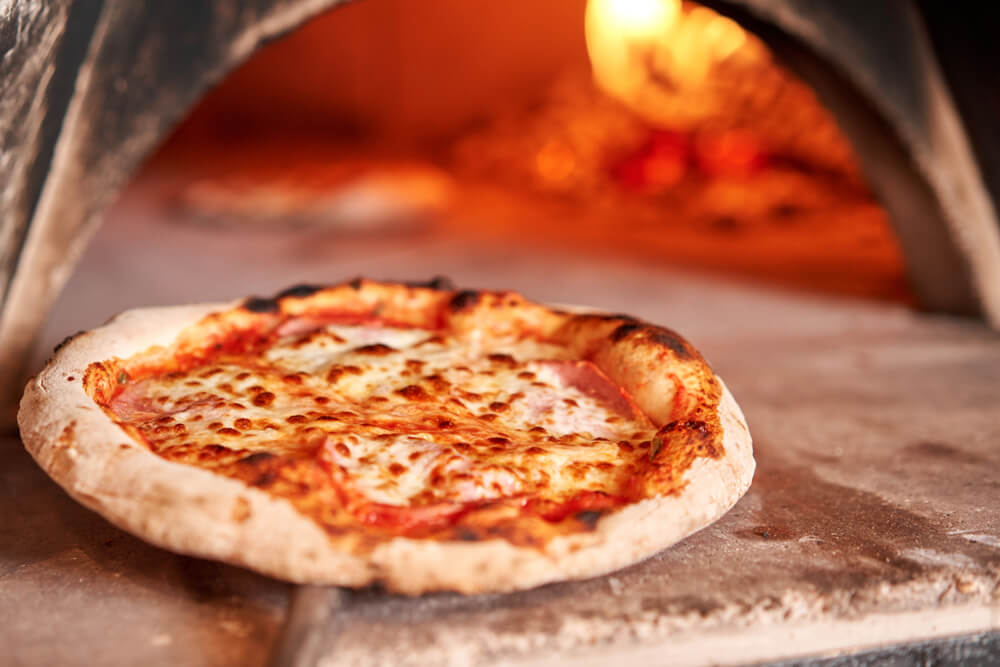 You can't visit Italy without trying a pizza. They are indeed the best in the world! And Naples is the birthplace.
This thin, crispy crust is topped with fresh tomatoes, basil and olive oil.
If you prefer cheese pizza, look no further than a Margherita, which is essentially the same but with mozzarella on top.
Pro tip: In the historical center, you can find some of the most famous pizzerias in Naples on Via Tribunali.
Lemon Ice Cream in Amalfi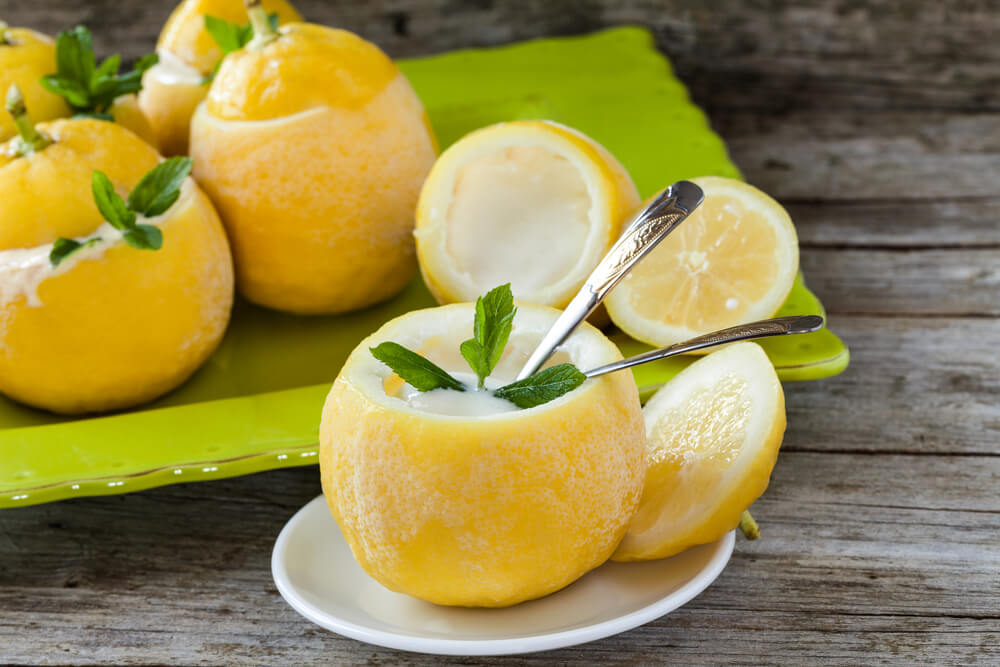 You may have tried lemon ice cream before, but have you tried one made from fresh lemons that come directly from the Amalfi Coast?
This sweet treat is made from the rinds and juice of lemons, eggs, sugar, and cream and is perfect to savor during an Italian summer.
Apulia: South-Eastern Italy
Panzarotti in Puglia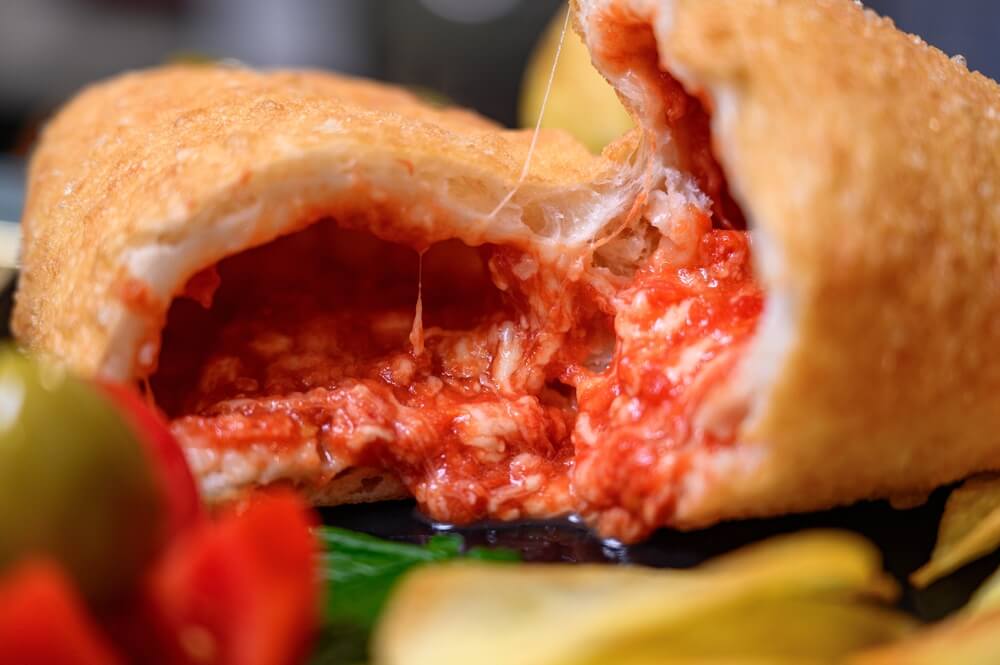 Above, you read about the calzone from Naples. Well, the panzarotti from Puglia is essentially a smaller fried version. It has mozzarella cheese and tomato filling, and, as with all things fried, it's extra delicious.
To try one, visit a pizzeria or local deli in Puglia.
Fun fact: The word panza means belly in Italian. When the dough is deep fried, it resembles a little full belly.
Focaccia Barese in Puglia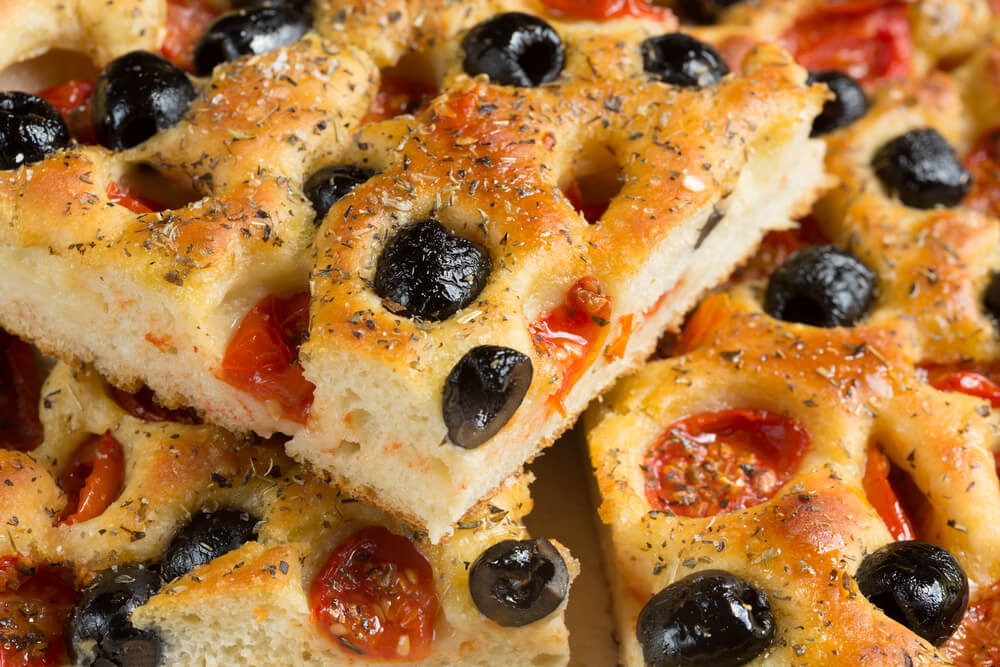 A great experience during your time in Italy is taking part in a cooking class. You will most likely learn to make focaccia barese, a fluffy bread topped with tomatoes and olives.
The secret to perfecting a focaccia barese (besides being Italian) is all about adding mashed potatoes to the wheat flour.
Any bakery you visit will be selling this local street food.
Sicily: Southern Italy
Cannoli Siciliani in Palermo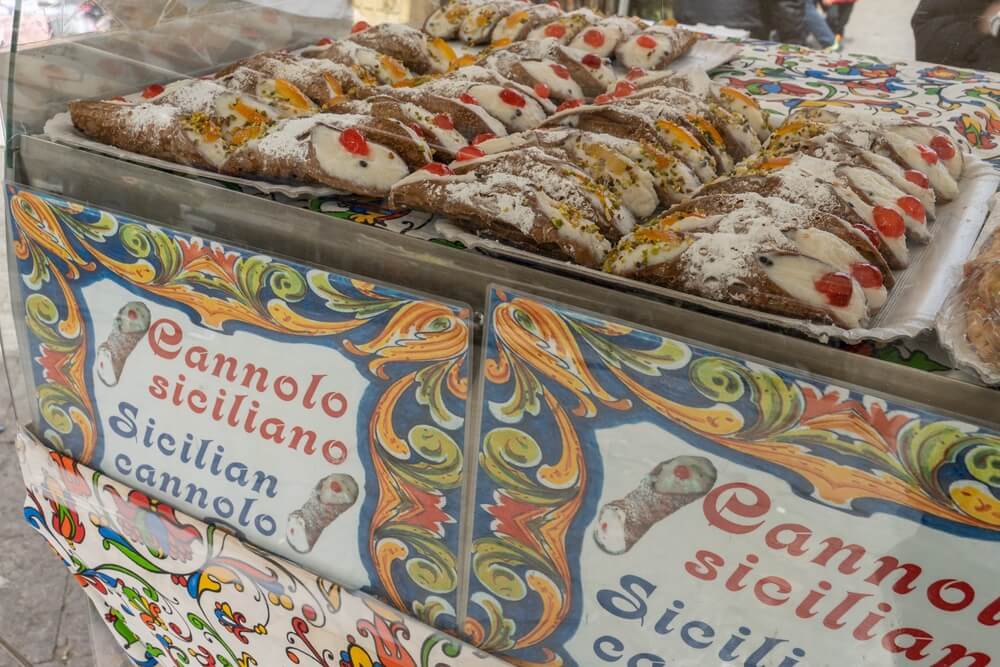 Unsurprisingly, you can find cannoli all over the country — they are too good to resist.
Originating in Palermo, these treats traditionally featured crisp pastry cylinders filled with smooth, whipped ricotta.
Today, you'll most commonly find chocolate or pistachio.
Pro tip: The best cannoli to purchase are filled on the spot. It means the outside is extra crispy!
Panelle in Palermo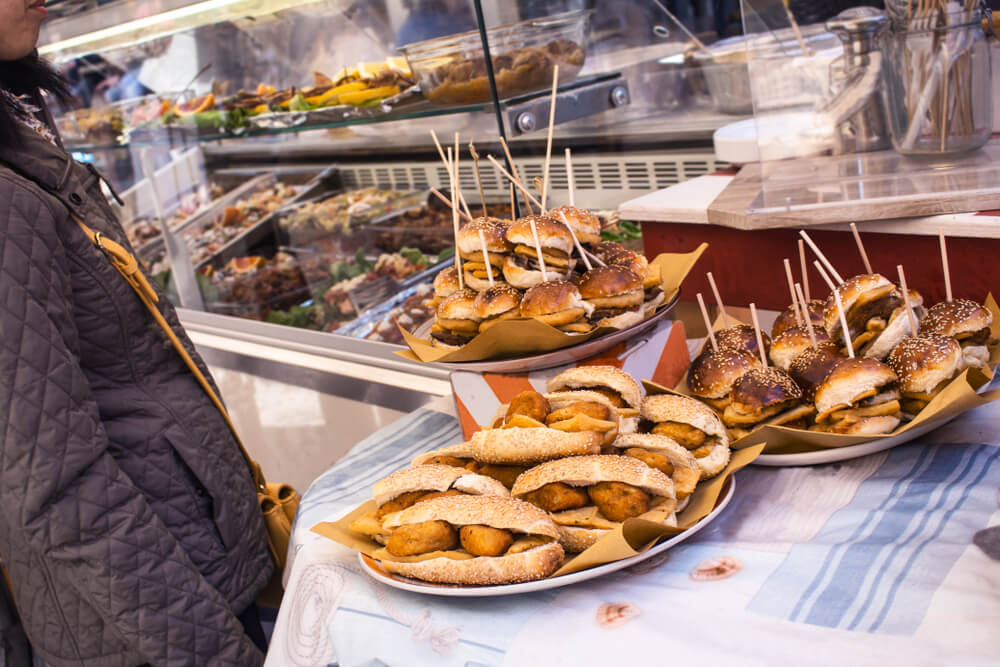 This Italian street food is one you may not have heard of before.
Influenced by the ruling Arabs in the 10th century, panelle are chickpea fritters served in a sandwich or at least alongside bread.
Made from chickpea flour, water, salt, pepper and parsley, they are deep-fried and eaten hot.
Granita in Sicily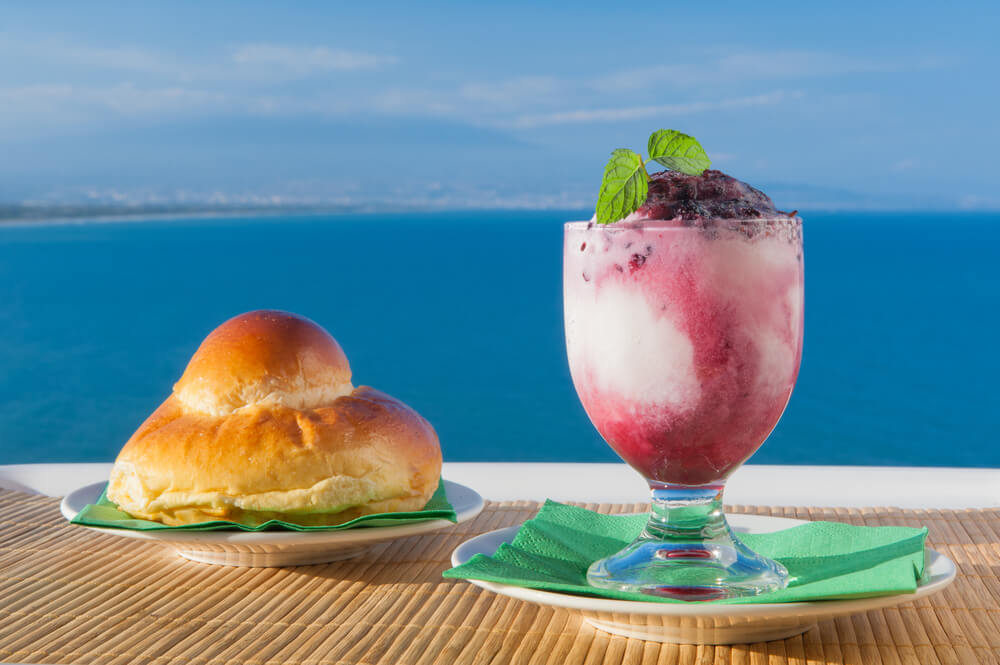 If you visit Sicily during the summer, you will want to order a granita daily.
Made from ice and fruit flavoring, this street food is similar to a gelato but more refreshing.
To have the whole experience, order a brioche on the side. You can then dip it into the granita for an explosion of flavors.
Arancini in Sicily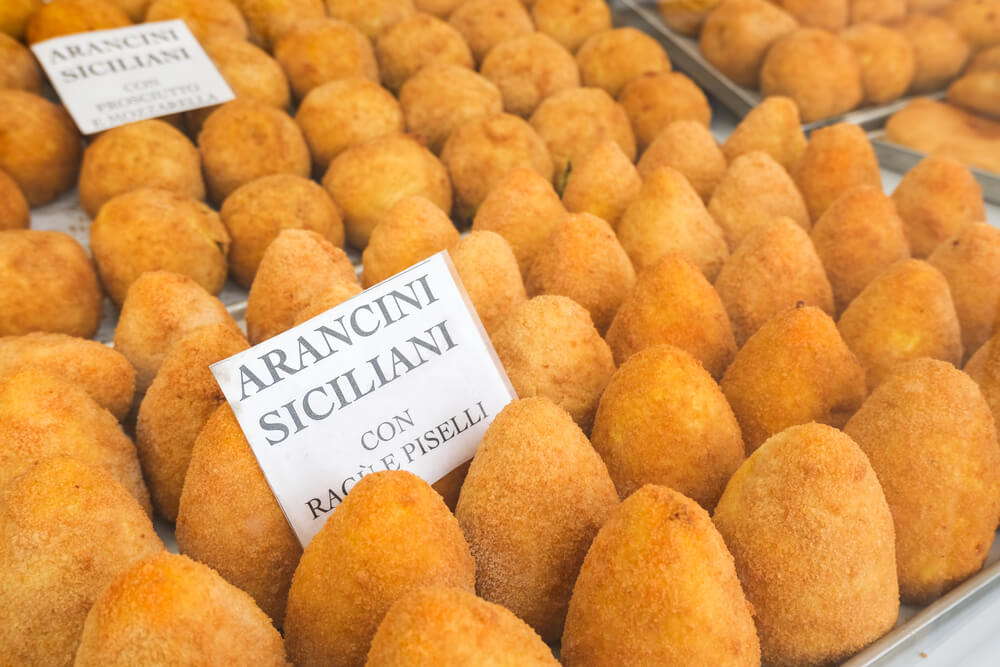 Similar to suppli from Rome, arancini are deep-fried rice balls, usually with mozzarella, peas and ragu in the center.
The best arancini to try are those made from risotto rice. You won't have any issue finding them. They are found in local restaurants, as well as markets.
Pani ca Meusa in Sicily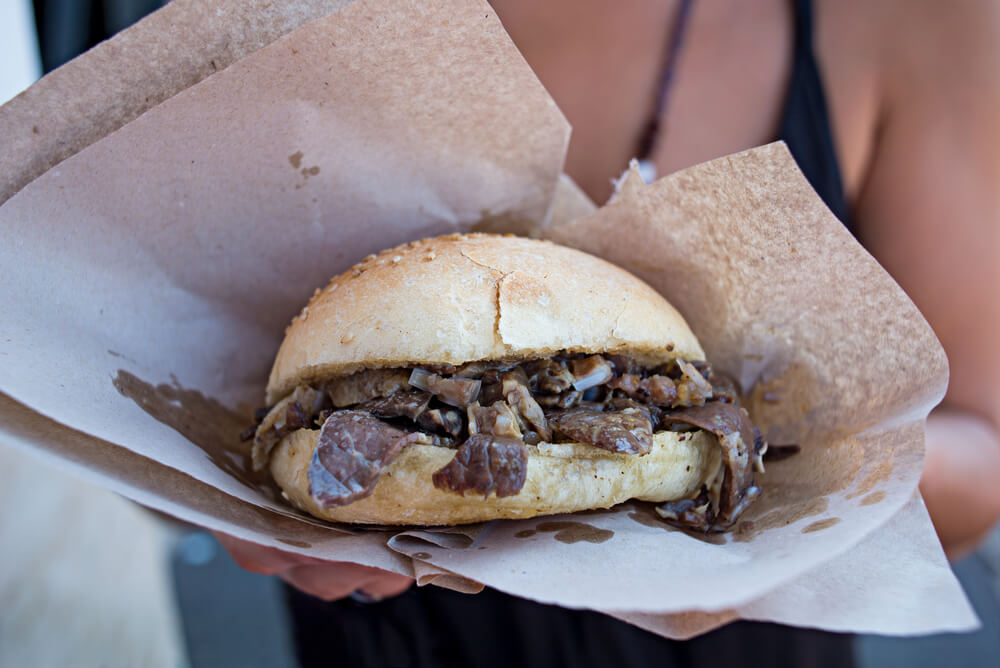 This is one of the region's most celebrated street food dishes. But it is not for the fainthearted.
Inside a fluffy sesame roll, you will find fried slices of cow spleen and lung paired with cheese.
In Palermo, you can visit PortaCarbone, a sandwich store serving up pani ca meusa.
Scaccia in Ragusa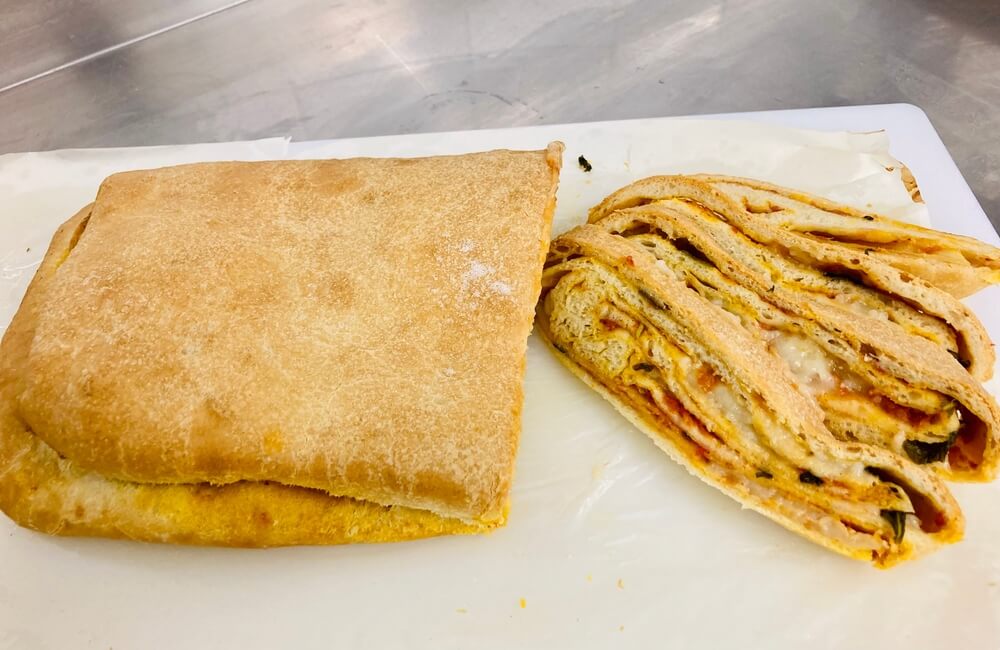 This flatbread, similar to a wrap, is filled with ricotta, tomato, onion, sausage or vegetables.
It's folded on itself three or four times to resemble a strudel. When you cut into it, you can see all the delicious ingredients inside.
Stigghiola in Palermo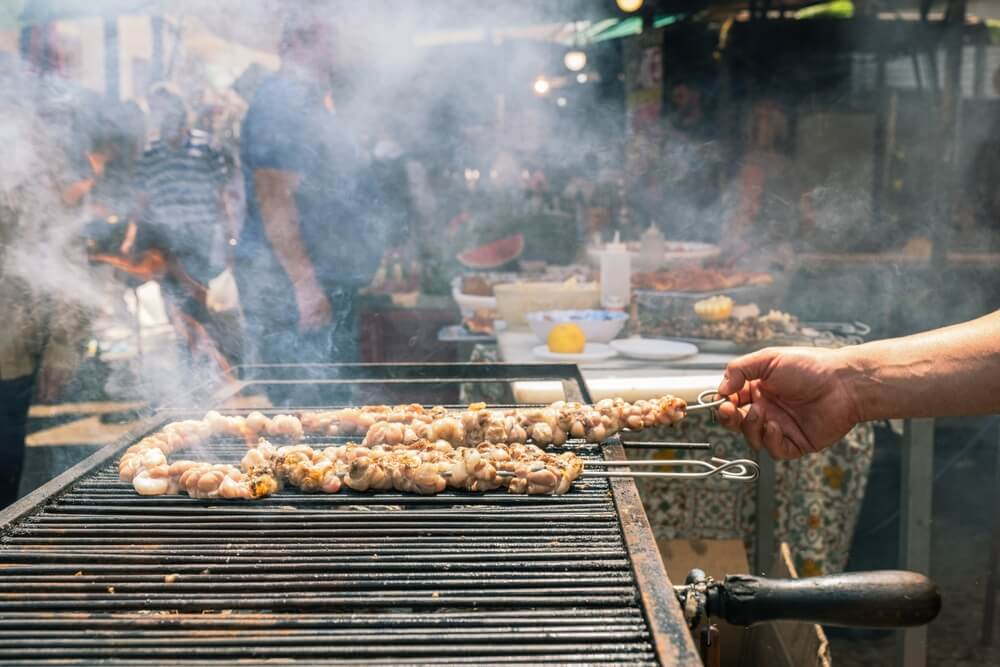 When you're visiting the markets in Sicily, try stigghiola.
It's a delicacy of skewered lamb or veal intestines, grilled and served in small bite-sized pieces. On the side, you will find some lemon to squeeze over the meat.
Sardinia: Western Italy
Focaccia in Sardinia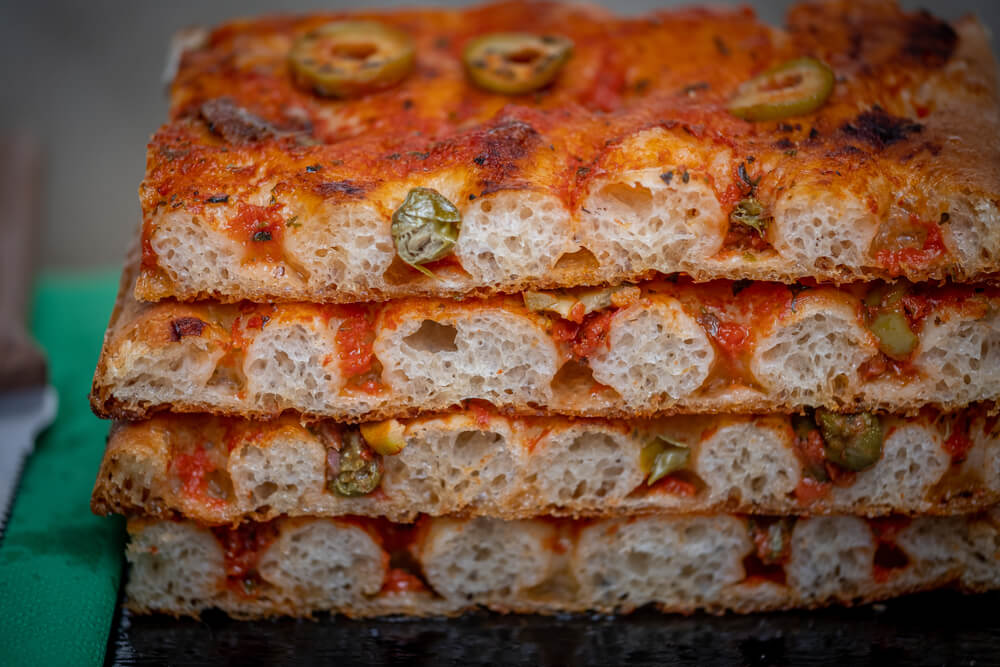 It's tough to resist fluffy bread straight out of the oven at a local Italian bakery.
Focaccia in Sardinia is made from flour, water, salt, yeast and a lot of olive oil. You can eat it plain or find variations with rosemary or cherry tomatoes.
Bar Focacceria Milese is a great place to devour focaccia on the island of Sardinia.
The last bite of street food in Italy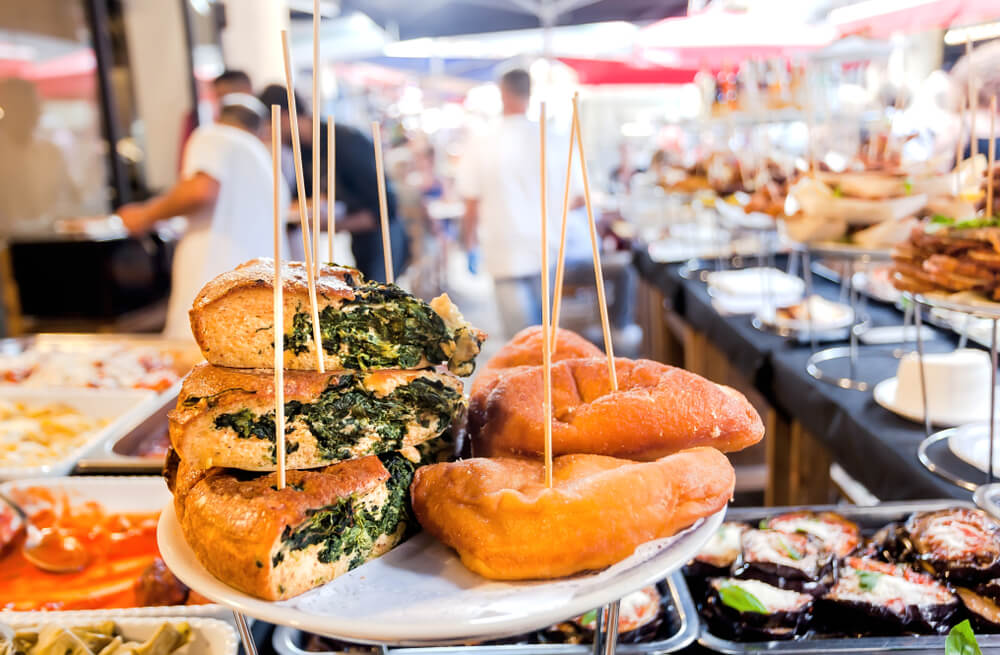 So, did that napkin come in handy for all those mouthwatering street foods in Italy? There is so much good food there. Narrowing it down to these 26 bites was hard, but we had to do it.
Now, onto the not-as-tasty but equally important planning phase of your trip.
Weather in Italy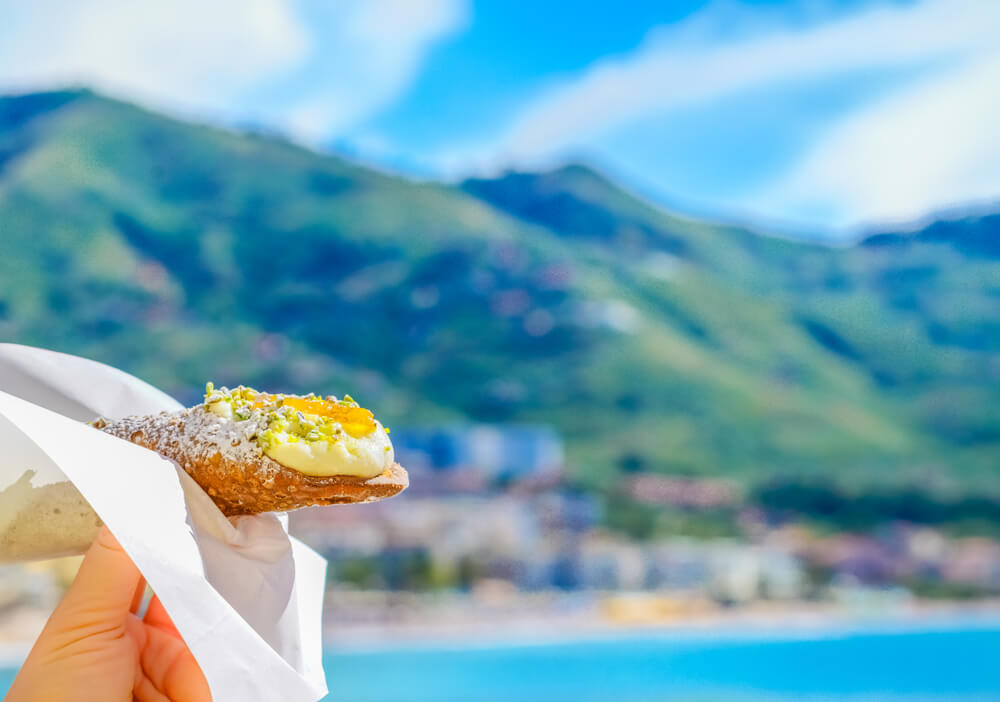 Italy experiences a Mediterranean climate with distinct seasons.
Spring, from March to May, brings mild temperatures, blooming flowers and pleasant weather, ideal for exploring historic cities and countryside.
Summer, from June to August, is hot and sunny, especially in the southern regions of Sicily and Campania. It is a great time to head to the beach.
Autumn, from September to November, offers cooler temperatures with picturesque landscapes as the foliage changes colors.
Winter, from December to February, is cold in the north, but the southern regions remain mild.
Average temperatures vary by region, with northern areas experiencing cooler winters and milder summers compared to the hot and dry climate of the south.
Packing list essentials in Italy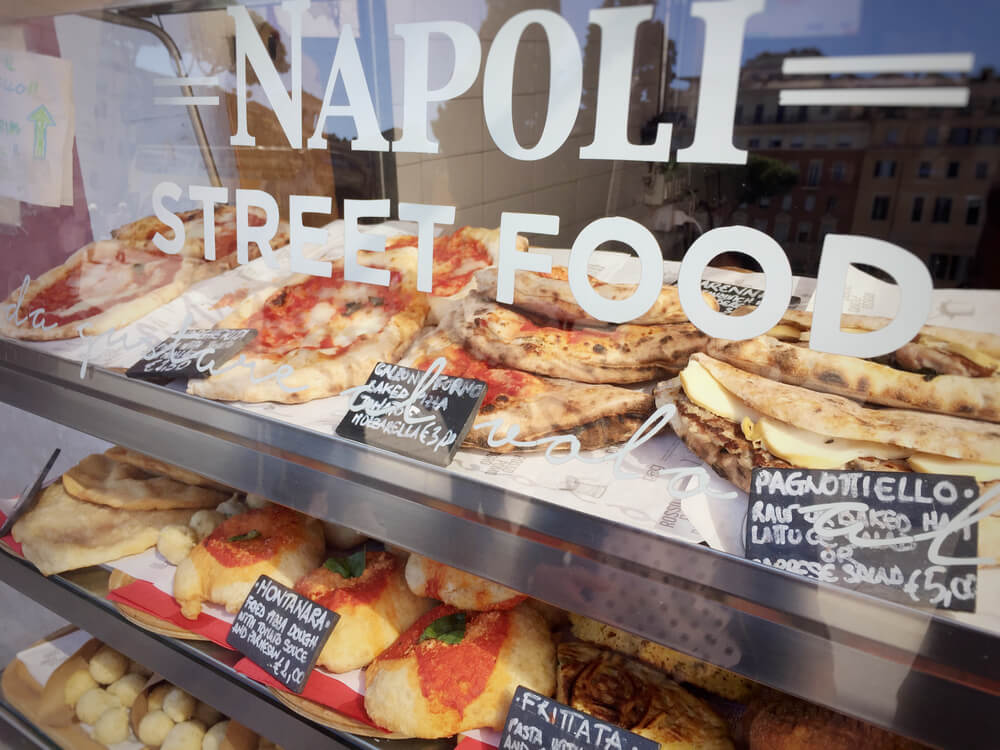 What you take in your suitcase will depend on the time of year you are traveling and the activities you plan.
Below are a few useful items to pack, no matter when you visit.
International adapters: This is easy to forget, but nothing is worse than arriving at a hotel and realizing you can't charge your phone or laptop. Purchase the correct adapter before arriving in Italy.
A backpack with zips: No matter whether you visit the coast, mountains or historic cities, the most comfortable bag to take on daily outings is a backpack. It's best to have one that you can completely close up.
A printed copy of your passport, travel insurance, and credit cards: Hopefully, you won't need this, but if you have something stolen, it's always best to carry a copy of your most important documents.
Headphones: Traveling Italy by train is a reliable and cost-effective method. Having a set of headphones means watching your favorite shows or listening to music while on the go.
Comfortable walking shoes: A pair of these always comes in handy whether exploring a city like Rome or walking up the stairs in Positano.
Map of where to go for the best street food in Italy
If you let your stomach lead the way for your travels, check out this map to plan accordingly. You don't want to miss out on one single cannoli.
How to get to Italy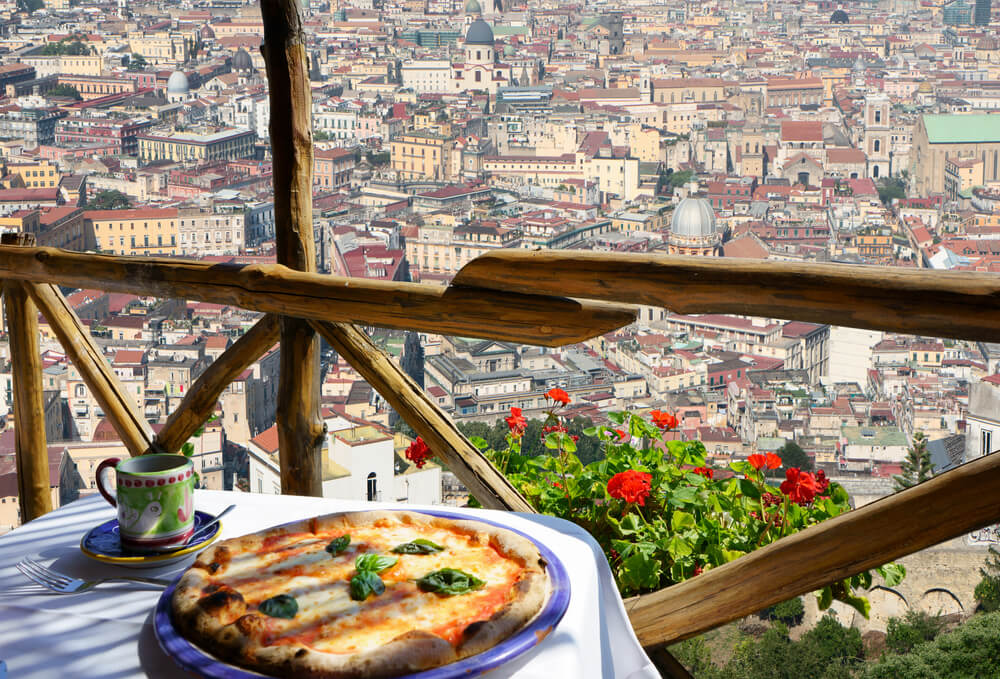 Italy is well connected to the rest of the world. Depending on your origin, you may arrive in several cities, including Rome, Milan, Bologna or Bari.
No matter where you arrive, traveling around the country is easy. From Rome to Bari it will take you five hours in a car or five hours and 45 minutes in a bus.
Or from Milan to Florence it will only take two hours by train, or 4.5 hours by bus.
If you are slow traveling and want to head to Sicily, you can get from Rome to Palermo by bus, which will take 13 hours and 20 minutes.
What's next?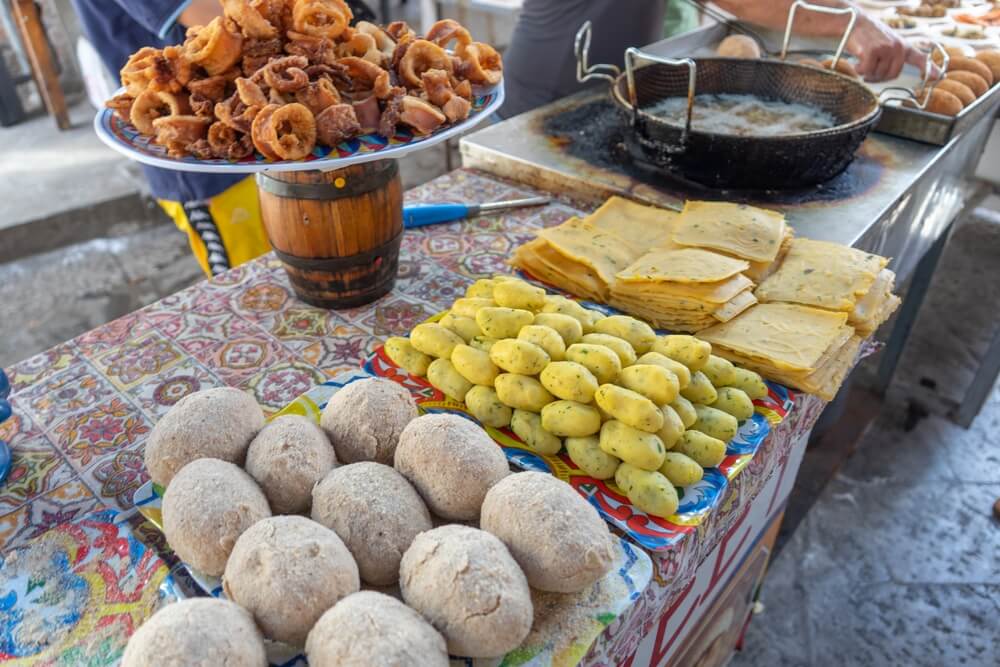 Now is the perfect time to plan your street food in Italy trip. Based on all the delicious bites you need to try, it's looking like you may need a few weeks… happy travels!
FAQ
Is Italian street food safe?
Yes, it is very safe to eat Italian street food. When buying from local markets, it's best to check that the store looks hygienic first. 
What is the most popular food in Italy?
There are a number of popular foods, including pizza, pasta, arancini, focaccia and gelato. 
What is a popular comfort food in Italy?
Lasagna has to be the ultimate comfort food.