Sunworshiper's Guide to Karon Beach, Phuket, Thailand
An all-encompassing guide to your trip to Karon Beach in Phuket, Thailand. Get hot tips for the ultimate time in the Land of Smiles.
If you are traveling to Thailand, Karon Beach in Phuket should be at the top of your list of places to visit.
Nestled between Patong Beach to the north and Kata to the south, this 3.5 km (2 miles) stretch of brilliant, white sand is one of the most picturesque places in the entire country. The pristine, turquoise sea is sheltered by giant coconut trees and is far less crowded than its neighbors. No wonder locals and tourists in the know flock to this tropical paradise.
Hat Karon, as it is known in Thai, is one of the longest beaches in the country and is almost twice as wide as neighboring beaches in Patong. You'll never feel like you're battling crowds for a patch of sand.
Even better, though, is that there aren't clusters of beach bars or large resorts blocking your stunning sea view. All the resorts, cafés, and restaurants are located one road away from the beach, creating a relaxed and laid-back vibe.
Wondering what to do at Karon Beach, Thailand? No matter what kind of traveler you are, there is something for you to do. Check out a few suggestions for the best activities and attractions below.
Best things to do in (and near) Karon Beach
Spend a day relaxing at the beach.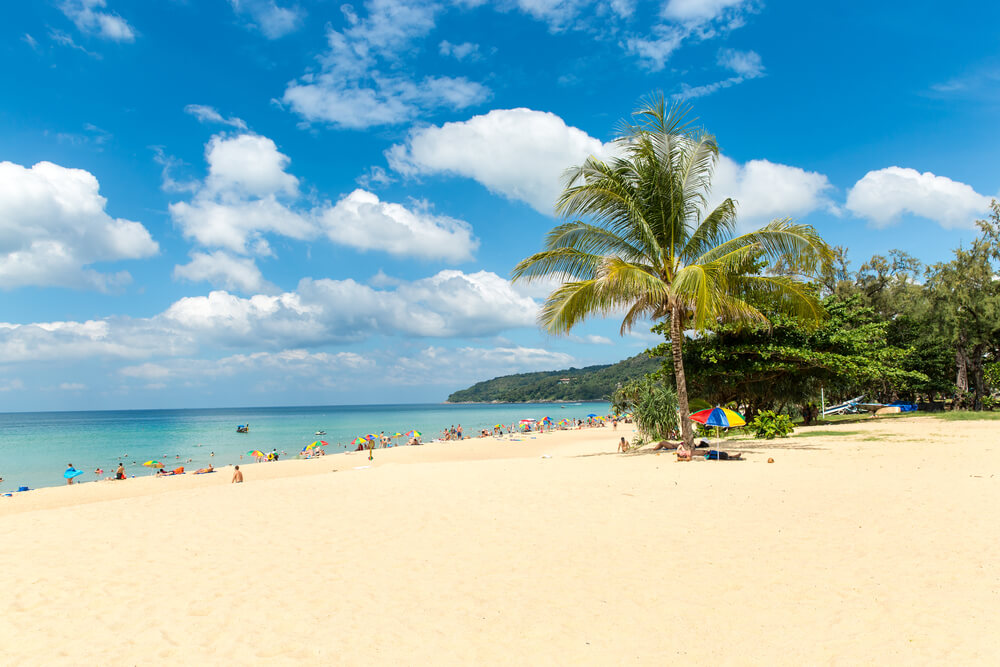 Of course, the number one thing to do in Karon Beach is to spend time by the ocean. The sparkling white sand and turquoise waters are calm and refreshing for most of the year. Bring a towel and a book and relax in the sun for the afternoon.
If you truly are a sun worshipper, you'll want to check out some other beaches nearby.
Southern Karon is home to the best waves in the area. This is the place to surf during the low season (April to October). If you are visiting during peak season, you can rent sunbeds and an umbrella for a very reasonable fee.
From there, you are only a 15-minute walk to Kata Beach. Why not stroll along the sand and see yet another one of Thailand's stunning beaches?
The northern part of Karon is about 6 km (3.7 miles) from Patong.
So, is Karon better than Patong?
Take a leisurely stroll and find out. If an hour-long walk isn't appealing, you can get there in about 10 minutes by taxi.
Check out a beach club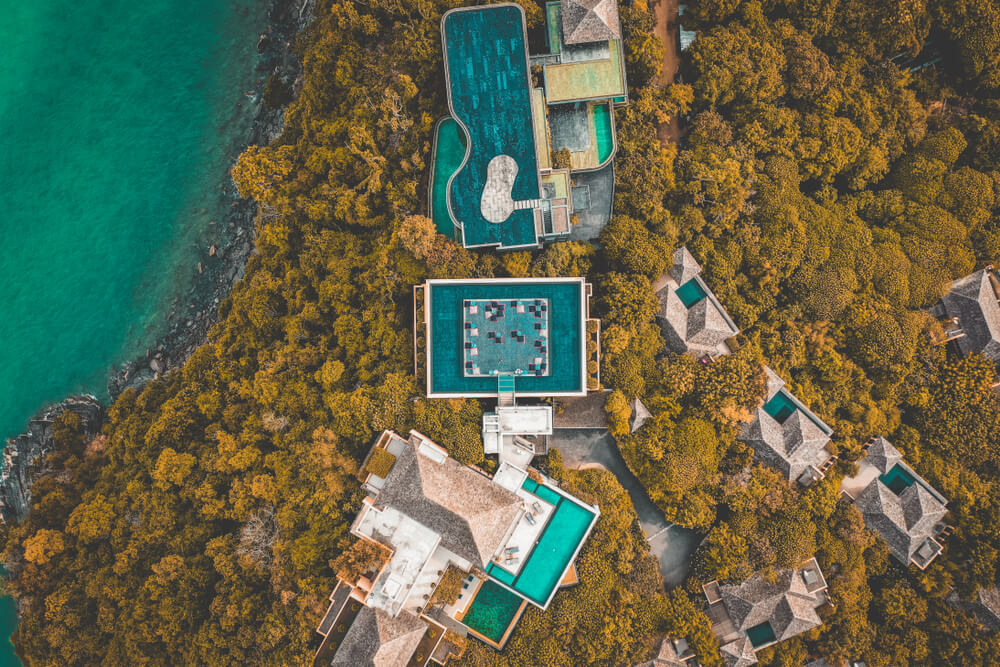 If you are feeling bougie, head to any of Karon's famous beach clubs for a day of relaxation and pampering. Le Meridien Phuket Beach Resort, Centara Grand Beach Resort, and Tann Terrace are great options for access to a pool, fresh towels, and premium service.
Hat Karon Noi Beach is a private beach connected to Le Meridien Phuket Beach Resort in the north. It is a fabulous spot if you have the cash to splurge on a day in the sun. If you pay the beach club entrance fee, you can use the beach, umbrellas, sun loungers, and even the incredible pool for the entire day.
All beach resorts charge a fee to enter if you are not staying at the property, but access to all fabulous amenities comes with the price tag. It is totally worth it if you have the budget to splurge a little bit.
Watch the sunset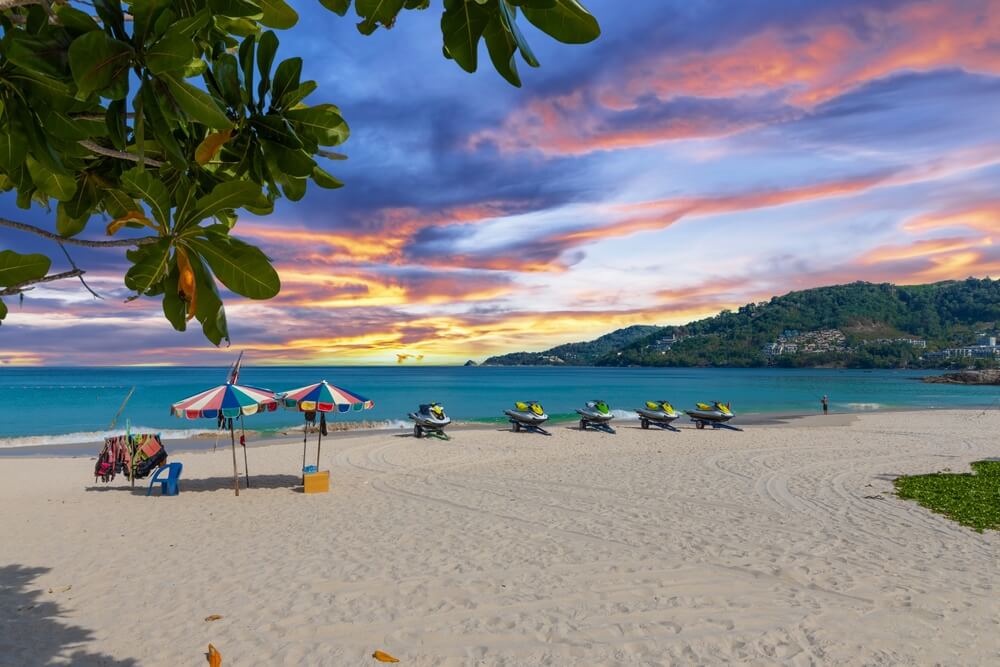 Because Karon Beach sits on the western side of Phuket, it is home to some absolutely stunning sunsets. There are no bars or restaurants directly on the beach, so the best way to enjoy the sunset is to bring a towel and relax as the sun dips below the horizon.
Pro tip: It is illegal to bring food and drinks onto the beach here, so you'll have to grab your sundowner across the street.
There are usually plenty of people out between 5-6 p.m., ready to watch the sky light up in brilliant oranges, pinks, and purples. But don't worry. Even if it is a bit crowded, Karon Beach never feels overwhelming—there is plenty of sand to go around.
Unlike Patong and Kata, this beach is big enough to support lots of people without losing its laid-back charm.
Go surfing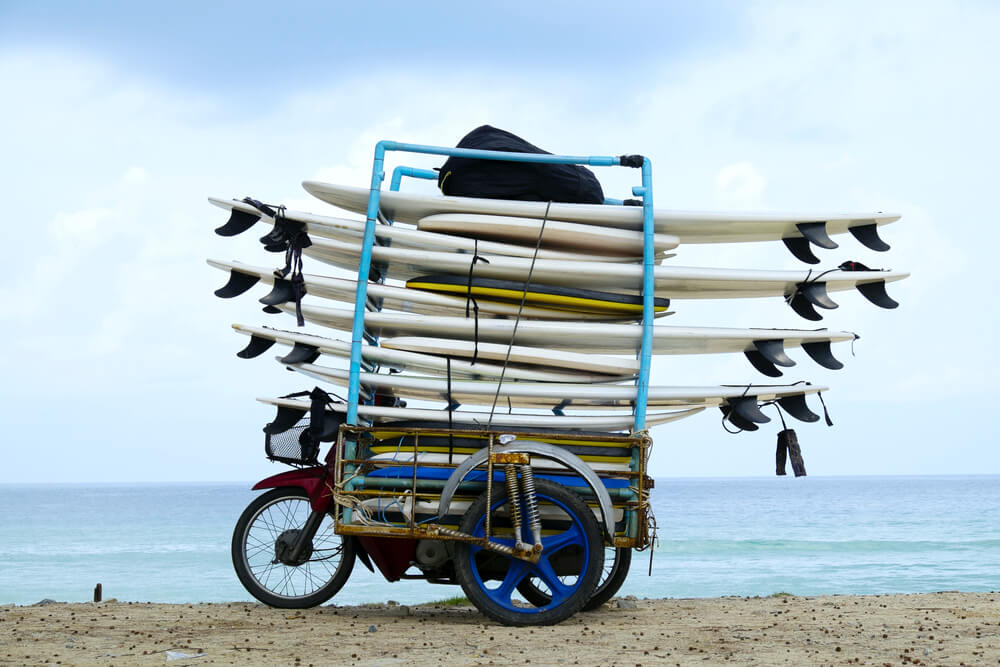 Surfing is really popular during the monsoon season when the waves are bigger, and the current is stronger. April through October is the best time to visit Karon Beach if you plan to surf.
You don't even need to bring your own board. Plenty of places along the beach have hourly board rentals, and many provide lessons to new surfers as well. You can also rent a boogie board to play in the waves if you aren't ready for a longboard.
Be mindful of the ocean conditions if you opt to try surfing during monsoon season. With stronger currents come rip tides, so only enter the water if you are a strong swimmer and conditions aren't too rough.
Go snorkeling/diving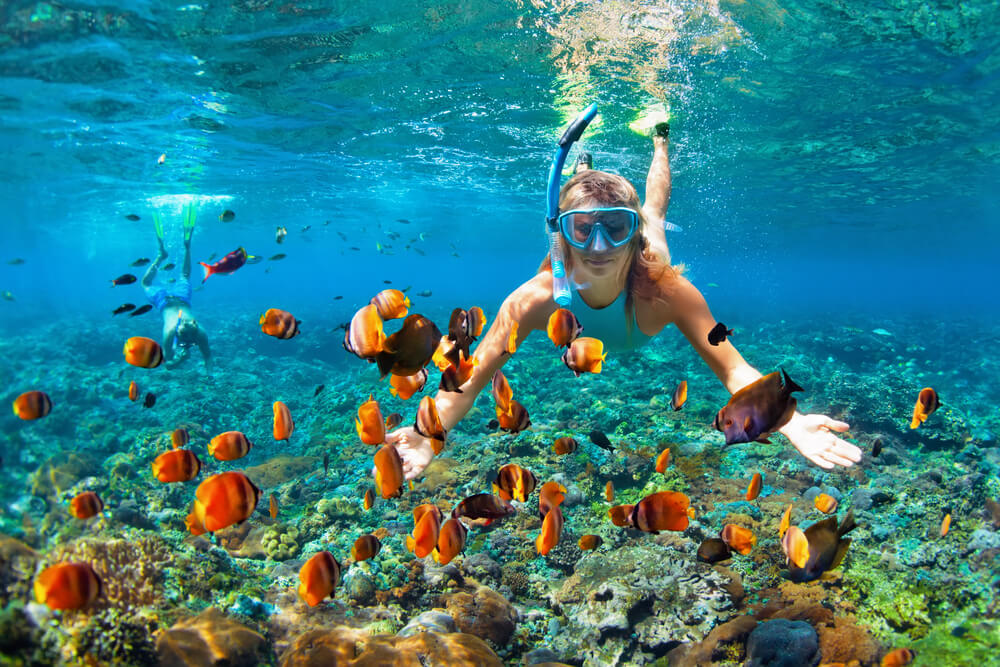 One of the best Karon Beach activities is exploring the local marine life.
Because of the area's crystal clear water and abundance of tropical fish, there are plenty of tour operators to choose from.
There are day trips for snorkeling, or you can bring your own gear and snorkel right off the beach.
Rather go diving?
There are tours to fit any budget, from single dives all the way to luxury, multi-day liveaboards. You can make Karon Beach your base and travel to the Similan Islands or Koh Phi Phi.
It is also possible to do your PADI dive course here if you are brand new to diving.
Enjoy an afternoon of water sports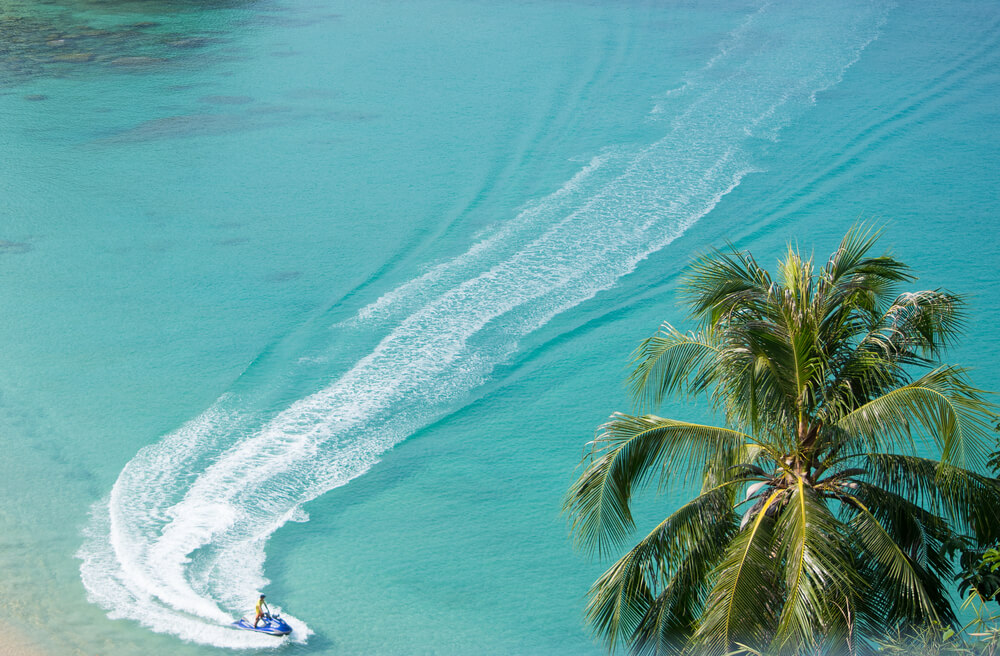 Jet skiing, paddle boarding, and parasailing are fan favorites at Karon Beach. Rent jet skis and paddle boards directly on the beach and pay an hourly fee to use them as long as you like.
If you are keen on trying parasailing, ensure the guides have safety equipment and excellent reviews. You should also go with a company with insurance.
Take a boat tour to Koh Phi Phi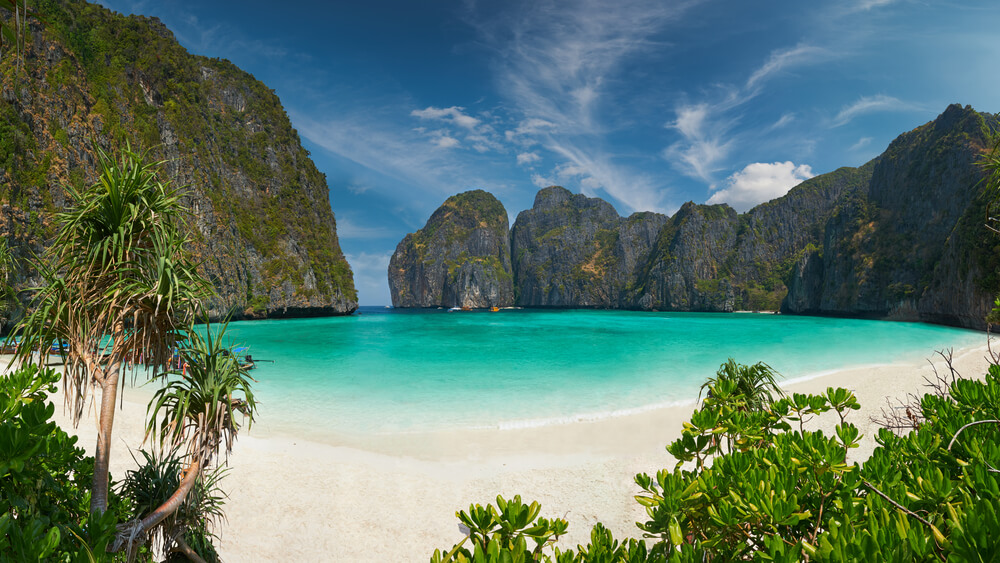 Koh Phi Phi is a stunning group of islands not far from Karon Beach. The only way to reach these islands is by boat. Because they are so popular with tourists, several companies offer island hopping day trips.
Speed boat tours are the way to go, as they will drop you at different locations to snorkel and relax on the beach.
Hike the Karon viewpoint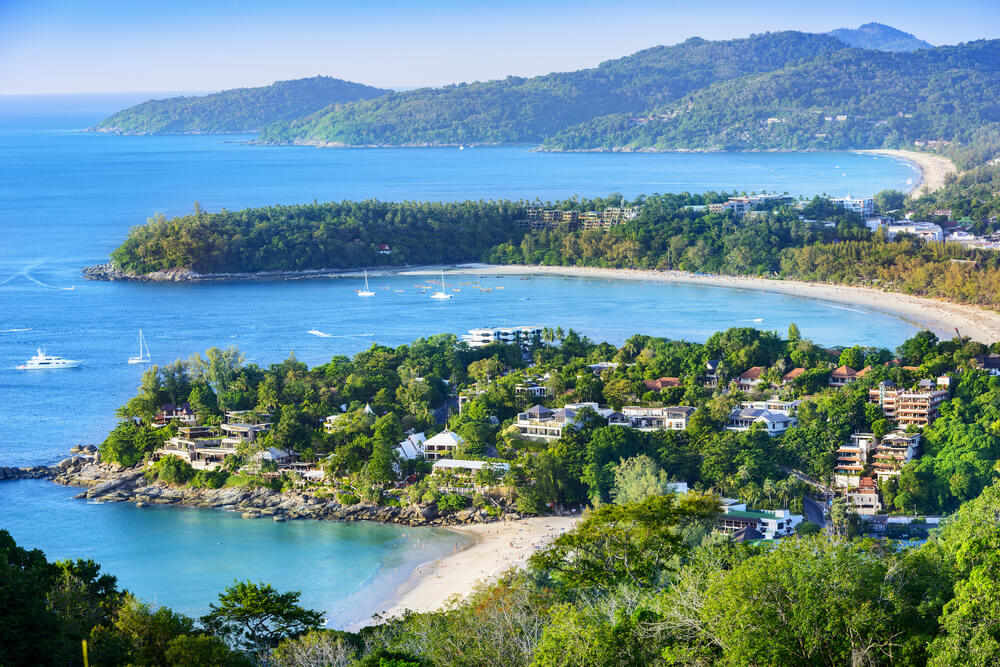 If you are looking for breathtaking vistas, look no further than the Karon viewpoint.
Known as Khao Saam Haad, or Hill of Three Beaches in Thai, this is the perfect spot to snap a photo of the Andaman Sea.
The viewpoint is also the best spot to get a panoramic shot of Karon, Kata Noi, and Kata Yai beaches. You'll see stunning turquoise waters, curved white sand beaches, and a lush tropical backdrop all in one view.
Every photo you take will look like a postcard!
You can reach the viewpoint by hiking 6 km (3.7 miles) from Karon Beach.
At the top, you'll find a lovely gazebo that provides shade and a few small stalls to buy water and snacks.
If hiking isn't your jam, a 10-minute drive will get you there. It is open all day, every day. So, you can plan a trip in the morning before it gets too hot or around sunset when the light is perfect, and the temps are starting to dip again.
Marvel at the Phuket Big Buddha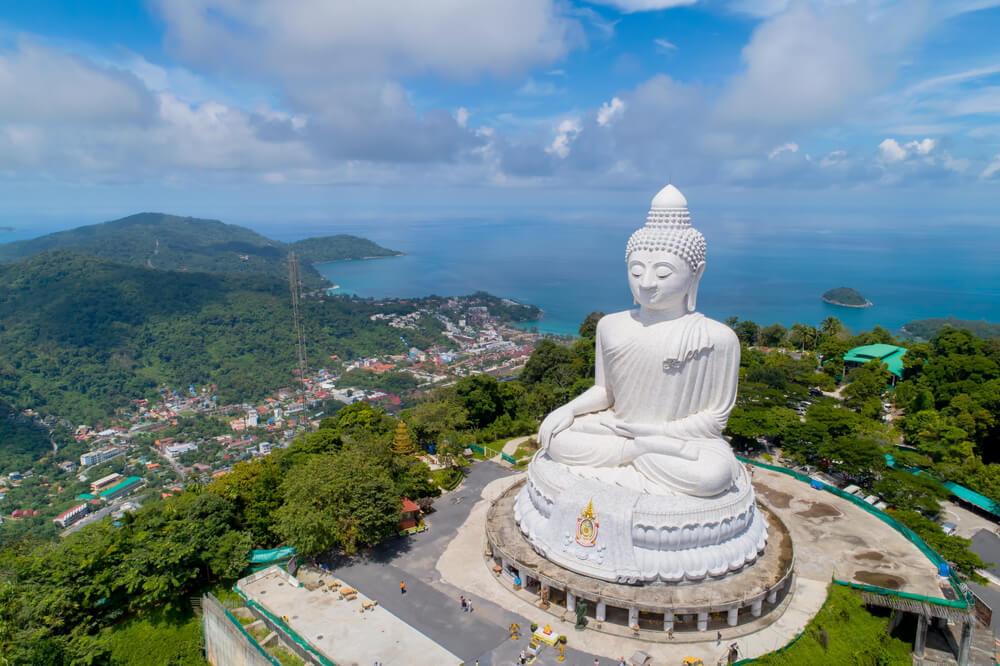 One of the major sights you have to see is the Big Buddha. This massive statue overlooks the entire island of Phuket and is a photographer's dream.
You can hike to the Big Buddha from Karon Beach or take a 10-minute taxi ride. Once you arrive, walk around and snap photos.
Pro tip: If you opt to go inside the temple, be sure to dress respectfully. Cover your shoulders and your knees, as local customs require. Sarongs are available to rent if you do not have the appropriate clothes.
Visit Phuket Town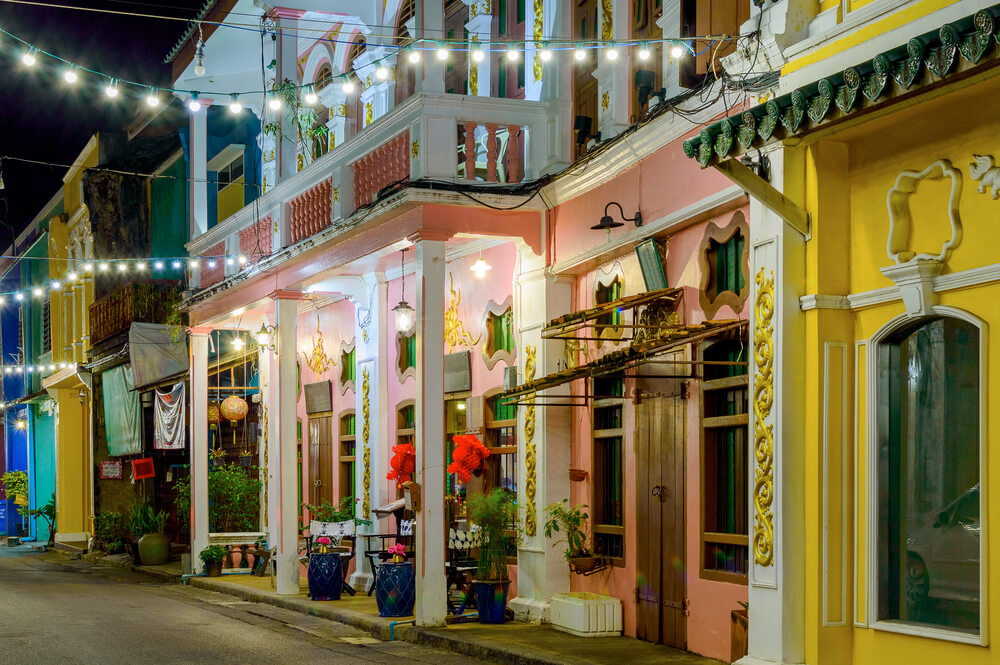 If you want to change it up for a day, head to Phuket Town.
Located about 40 minutes away, you'll discover plenty of temples, markets, and cafés. It also offers a glimpse into authentic Thai life, as many locals live here.
Photograph Karon Temple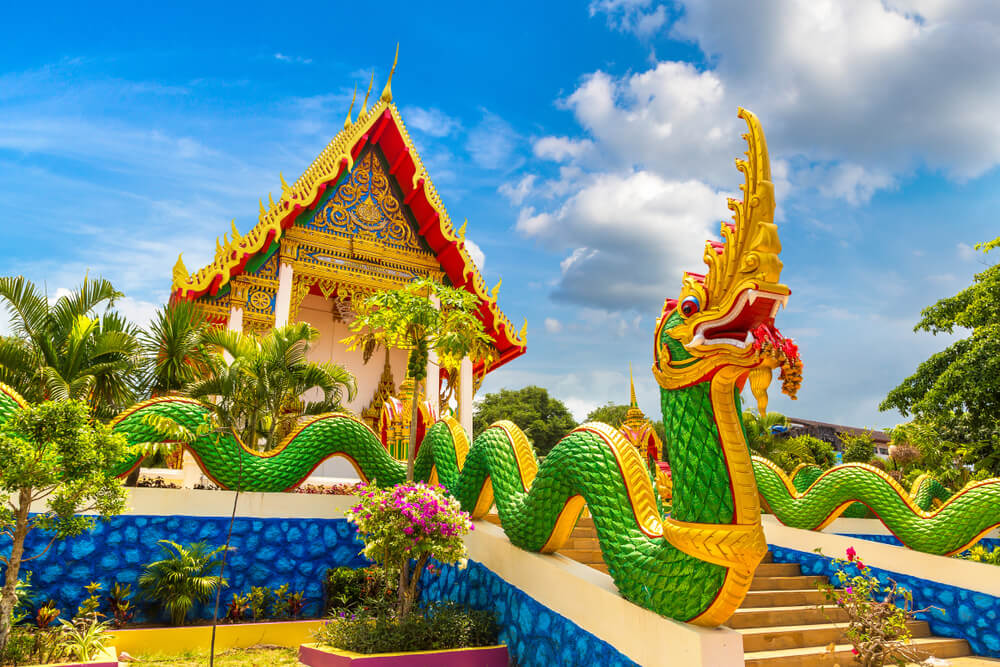 Karon Temple, or Wat Suwan Khiri Khet, is a colorful temple in the heart of Karon.
You've got to visit this well-maintained Buddhist landmark to take in the beautiful carvings and amazing details. The vibrant drawings that mark the entrance to the temple and the shimmering gold doors make for beautiful photos. Plus, you can walk around and learn a little about Thai culture at the same time.
Eat your way through the Karon Temple night market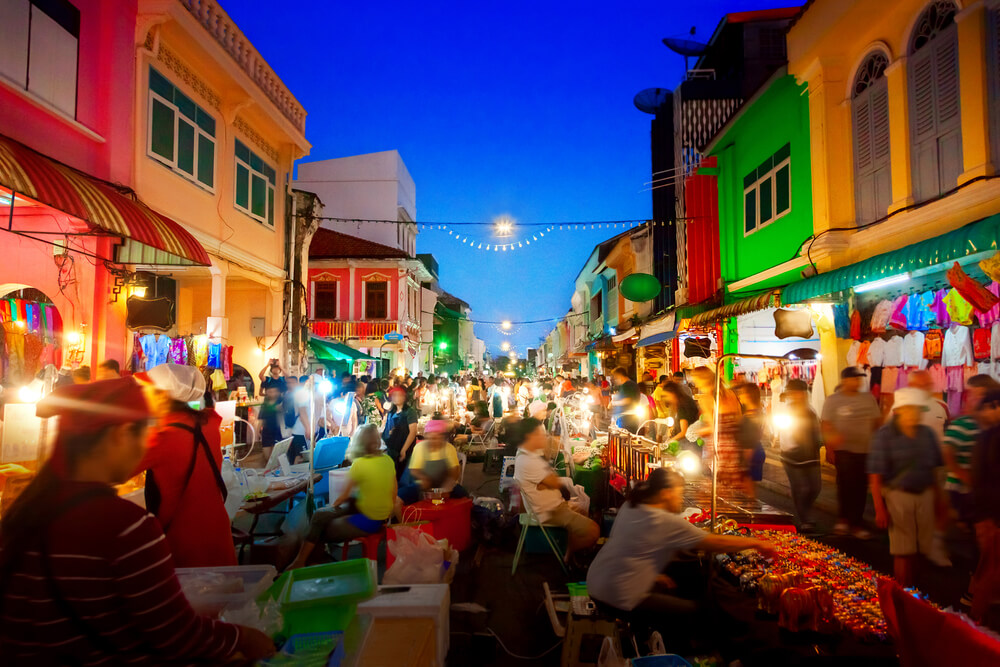 Karon Temple is also home to the famous night market. Every Tuesday and Friday from 16:00-22:00, the area around the temple transforms into a lively market. It is a great place to meet locals and embrace the art of gathering.
You can play games, shop for souvenirs, and try tasty authentic street food. It's also super cheap, so you can taste everything your heart desires. From fresh fruit shakes and mango sticky rice to perfectly seasoned meat skewers, the night market has it all.
Don't miss it!
Try a mojito at the Chalong Bay Rum Distillery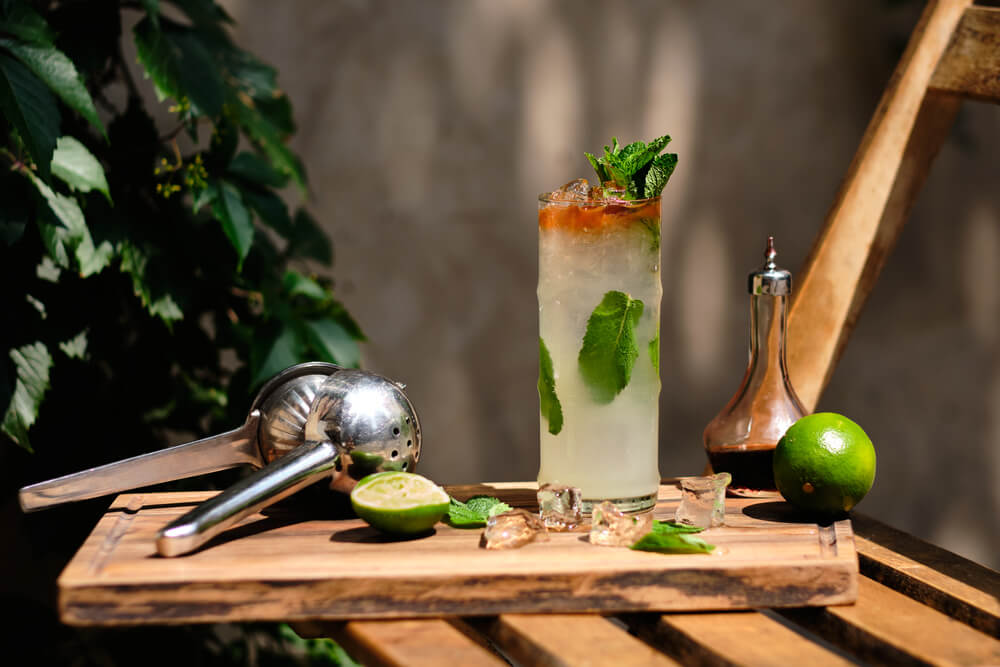 Phuket's first and only rum distillery is about 9.5 km (6 miles) from Karon Beach.
Head here for an afternoon of rum tasting and a tour of the grounds. Try some of the unique cocktails made from their rum.
It's an excellent way to spend an afternoon out of the sun.
Go shopping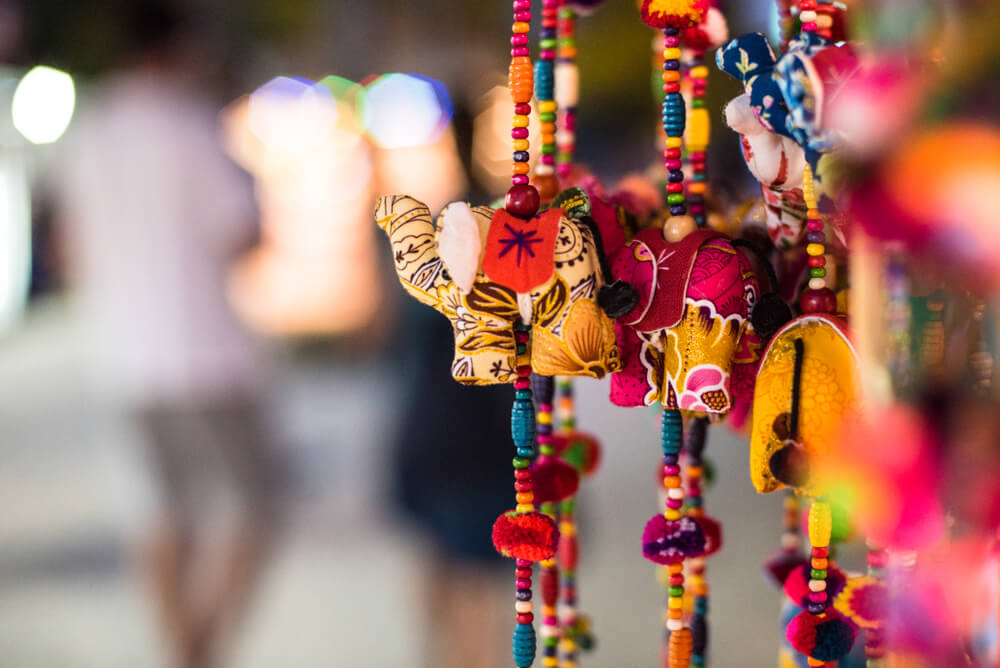 While Karon Beach doesn't have a large mall, there are still plenty of places to go shopping. You can pick up souvenirs, cheap clothing, sunglasses, and shoes at many stalls around town.
Karon Avenue is a great place to start, home to many shops, massage parlors, pharmacies, and ATMs.
If you want more options, head into Patong, Kata, or Phuket Town for the day. They are bigger, have more options, and plenty to spend money on.
Indulge in the nightlife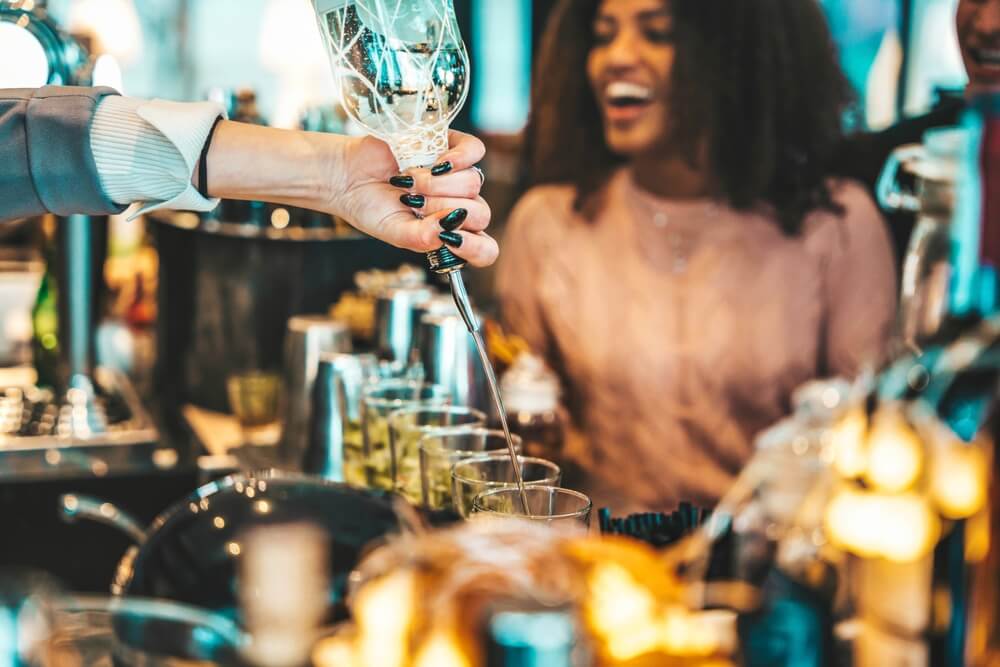 You can't end your trip without experiencing the nightlife Karon Beach, Thailand, has to offer. The vibe here is very different from the seediness of Patong, and there is plenty to do after the sun goes down.
Check out Coast Beach Club, one of the only nightclubs in the area. It's the best place to watch the sunset with a cocktail in hand and then dance the night away.
If you are looking for something a bit more casual, head to one of the many Irish bars or Bangla Plaza about 10 km (6 miles) north of Karon in Patong. Here, you'll find a very chilled atmosphere with an L-shaped pub street with plenty of old-fashioned beer bars to check out.
There are also plenty of clubs in Patong. So, if you're looking for a big night out, that's where to go.
Take a Thai cooking class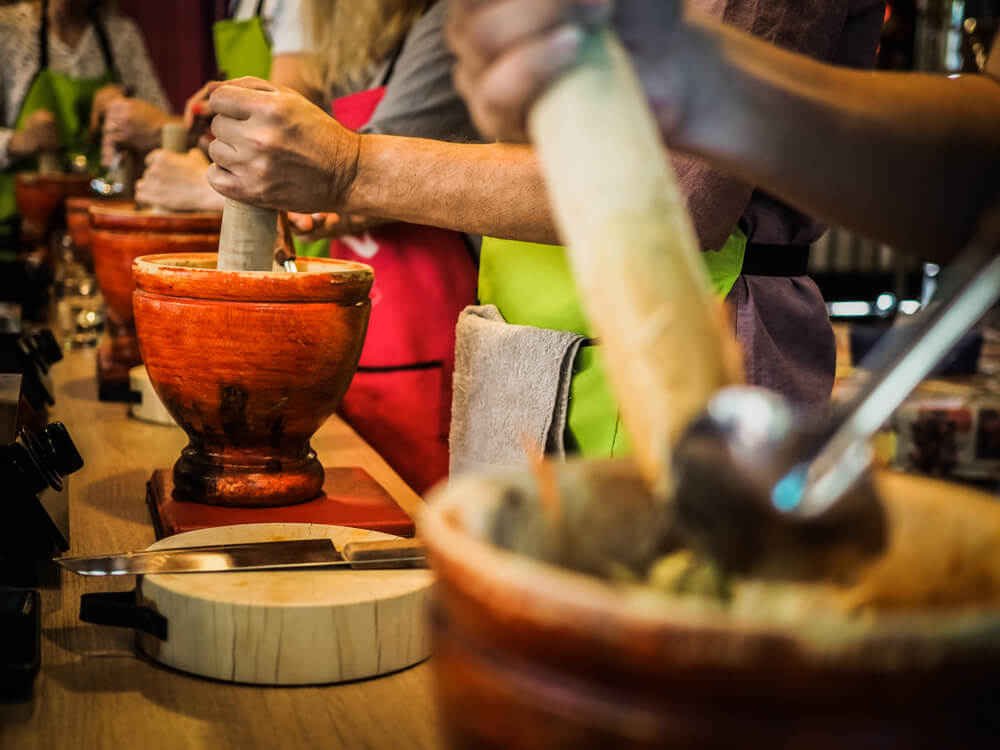 Everyone knows Thai food is delicious, so why not try your hand at a local cooking class? You'll learn to make pad Thai, delicious curries, tom yum, and papaya salad, some of Thailand's best staples.
Several large resorts host evening cooking classes, but you can also try to find a small, locally-owned course. Both options are perfect for learning a new skill and trying something delicious.
Go for a traditional Thai massage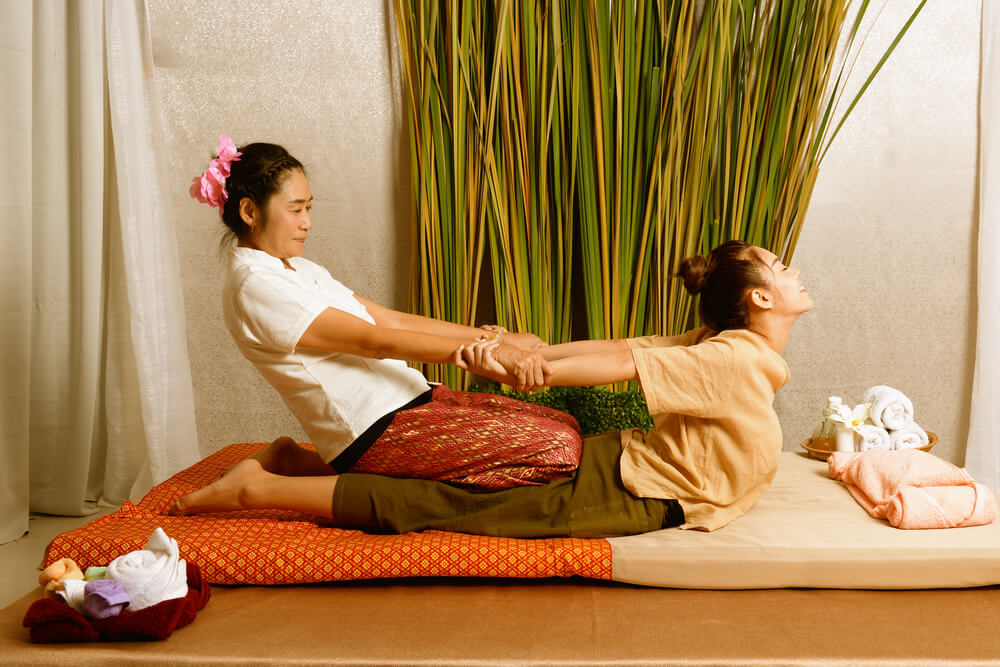 You cannot leave the country without trying a traditional Thai massage. Spend a day at a fancy spa, like the Mövenpick or Hilton resorts, and indulge in various treatments.
If you are watching your budget a little more closely, get a massage right along Karon Beach. They are just as relaxing and much more affordable than high-end spas.
Watch Muay Thai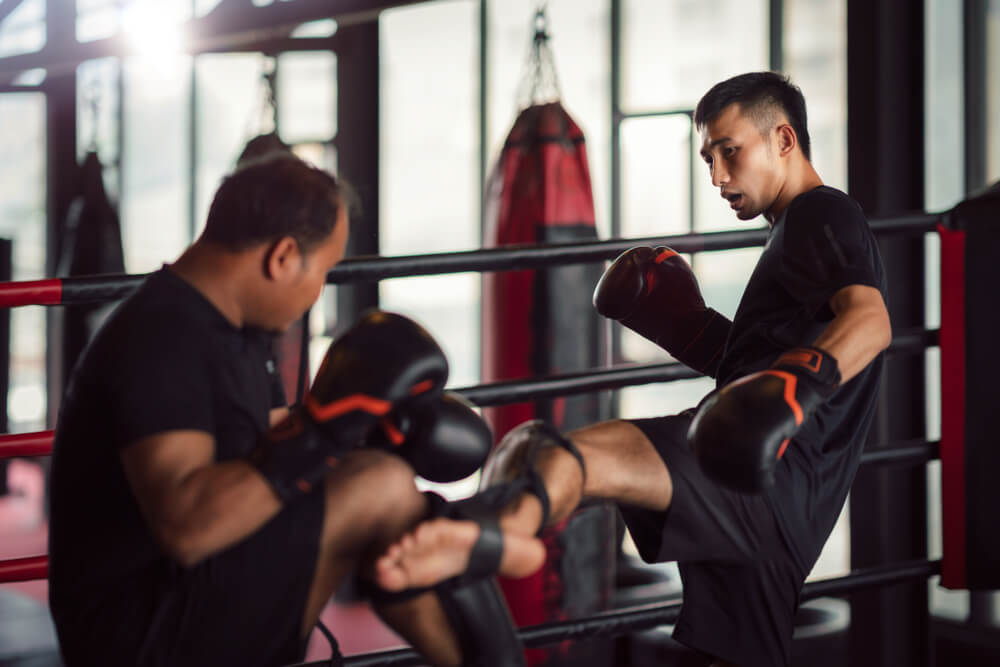 If you are looking for an evening of excitement, a Karon Beach Muay Thai match is an absolute must.
Several gyms offer Muay Thai classes, so you can learn how to fight in this traditional style. There are also shows in the evenings. You can make a night out of it with a few drinks as you root for your favorite fighter.
Visit Dino Park mini-golf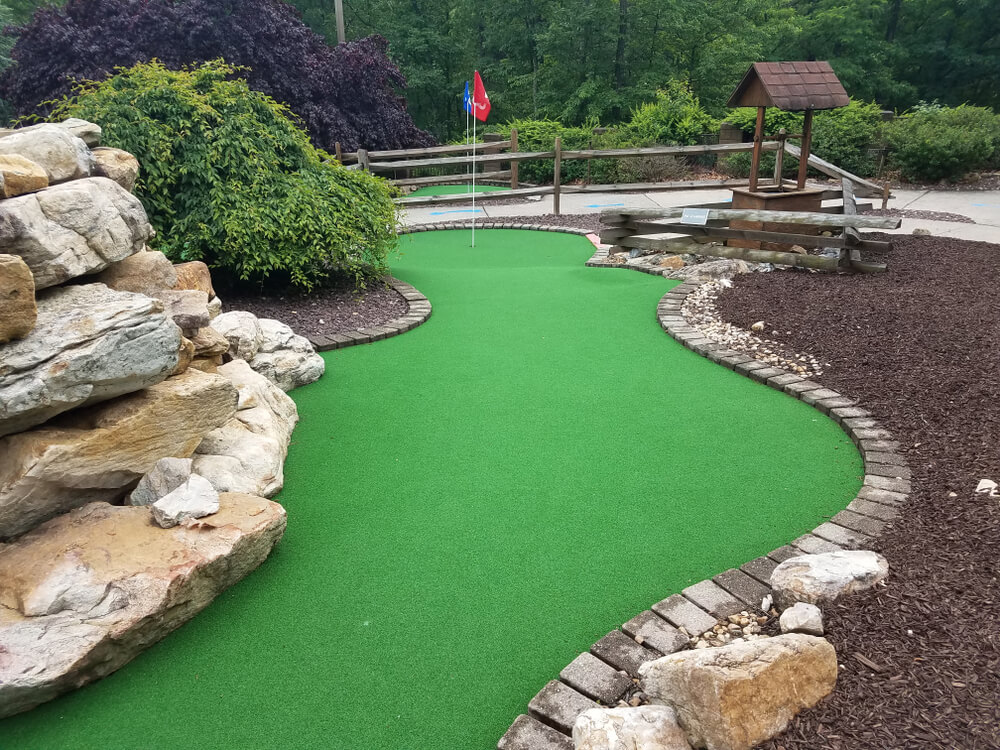 A surprising crowd favorite in Karon Beach is the Dino Park mini-golf course.
Set up to resemble Jurassic Park's lush jungle, complete with an artificial volcano. This putt-putt spot is ideal for a family night or a cute date night. But be ready for the occasional eruption.
There are 18 holes to play, plus a bar and a restaurant, so plan to spend a few hours here.
Dino Park is best during the afternoon once the sun starts to go down and it isn't as hot. However, it is open from 10 a.m. to 11 p.m. every day.
Explore Karon Park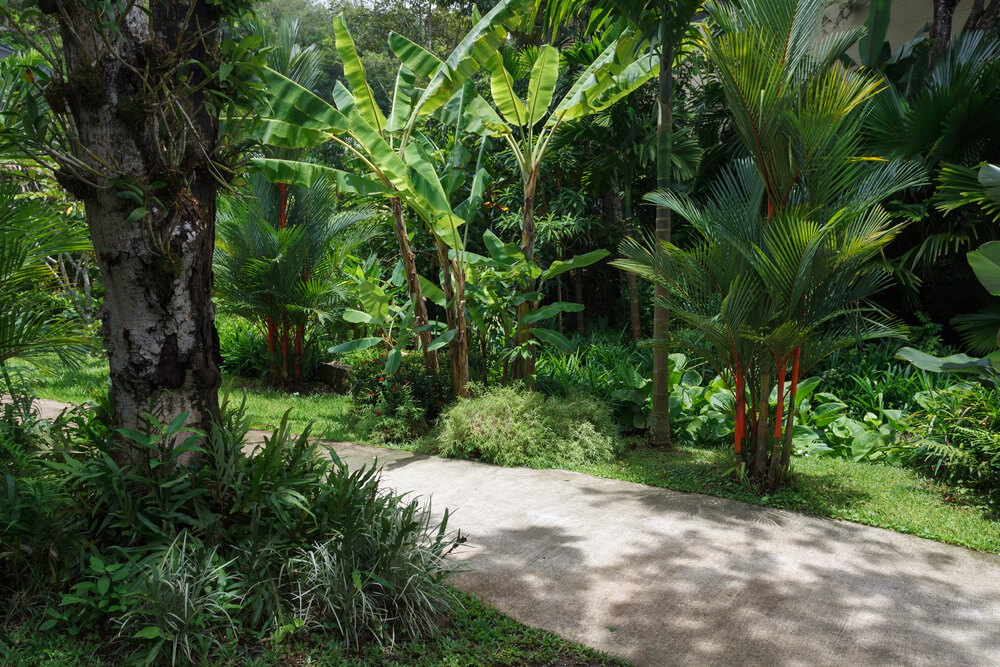 Karon Park is a charming little area with an artificial lake and stunning mountain views in the north of Karon Beach.
This is a great place to head if you want to get some exercise. There is a running track and a free gym with a few different machines.
Even if working out on vacation doesn't sound appealing, you can still visit the park to marvel at the mountainous vista and do some fantastic birdwatching. It's also a popular gathering spot during Thai festivals, so if you find yourself in town during Loy Krathong in November or Songkran in April, be sure to swing by and take in the lively atmosphere.
Play volleyball at Khlong Bangla Park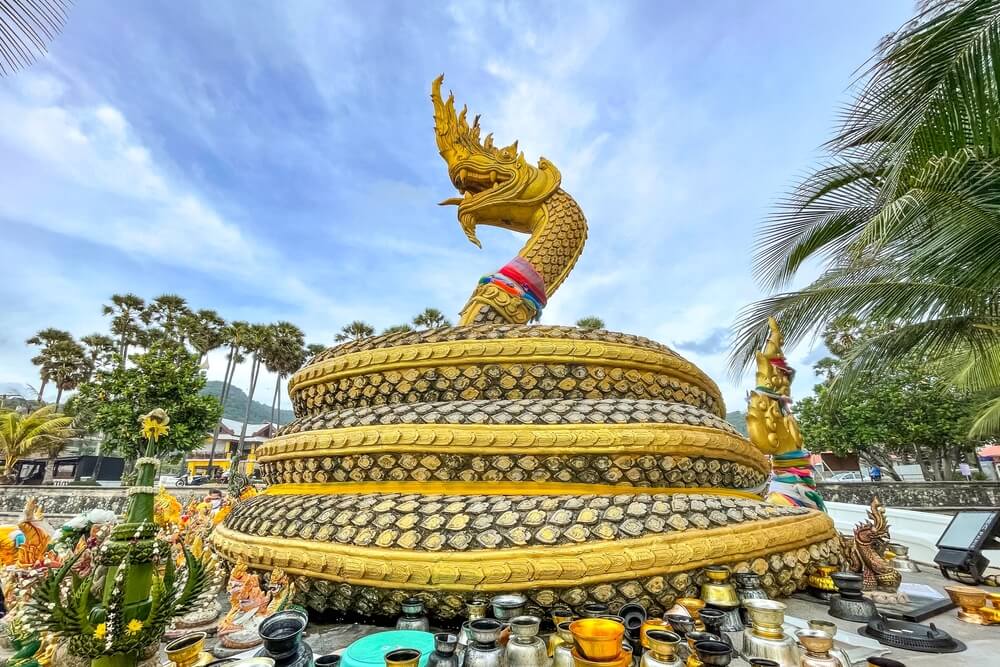 Another park to check out is Khlong Bangla. There are free volleyball courts that you can use. It is also home to the Naga statue, a shimmering gold half-snake, half-dragon work of art.
Some believe that the Naga is actually Hai Leng Ong, a mythical Chinese sea dragon responsible for forming the island of Phuket and is now in deep slumber.
Regardless of what you think it is, Khlong Bangla is a scenic place to snap a few photos and enjoy the outdoors.
Karon Beach weather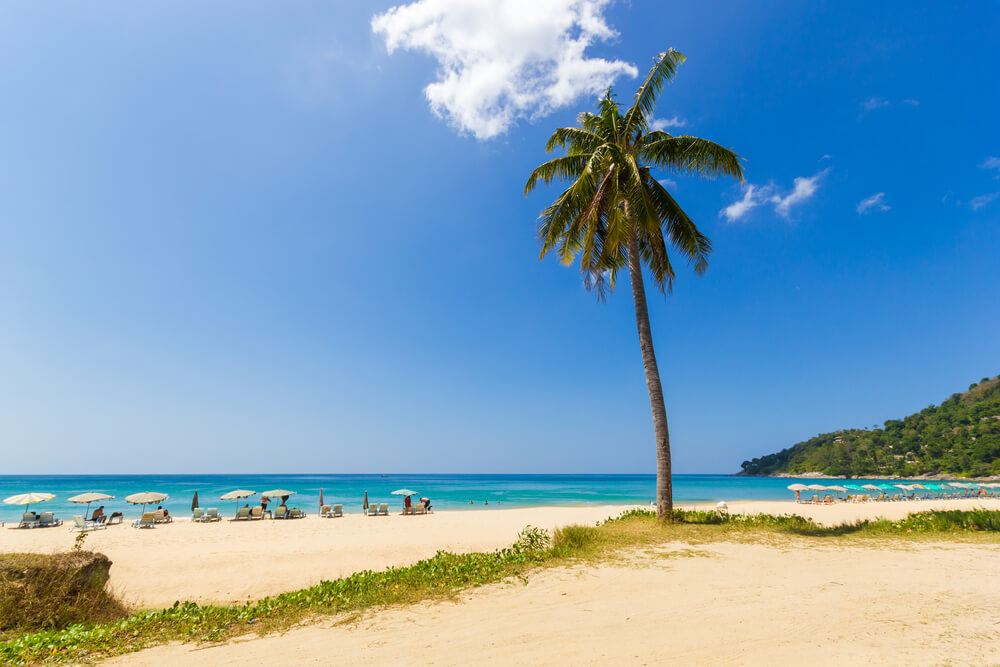 You can plan a trip to Karon Beach in Thailand pretty much any time of the year. It's always warm, perfect for a day at the beach. Temperatures average about 24℃ (75℉) in the evenings and 33℃ (91℉) during the day.
However, the best months to visit are between November and April when the humidity is only at 70% and the water is clear and calm. This is also the most crowded time, so book your accommodation early to avoid disappointment.
The monsoon season lasts from May through October. If you travel during this time, you can expect thunderstorms, heavy rain, and high humidity. However, this is an excellent time to surf because the weather creates some pretty impressive swells. Just be mindful that the currents get much stronger during this time, so only hit the beach if you are a confident swimmer.
Shoulder season, from mid-April through mid-May, is also a fantastic time to visit. Crowds are smaller, and price tags are a bit cheaper. Plus, you won't be in the middle of monsoon season, and the weather will still be pleasant. You may experience a thunderstorm or two, but there will most likely be days of sunshine.
No matter when you choose to go, Karon Beach is a fabulous addition to any Thai adventure.
Packing list essentials for Karon Beach, Phuket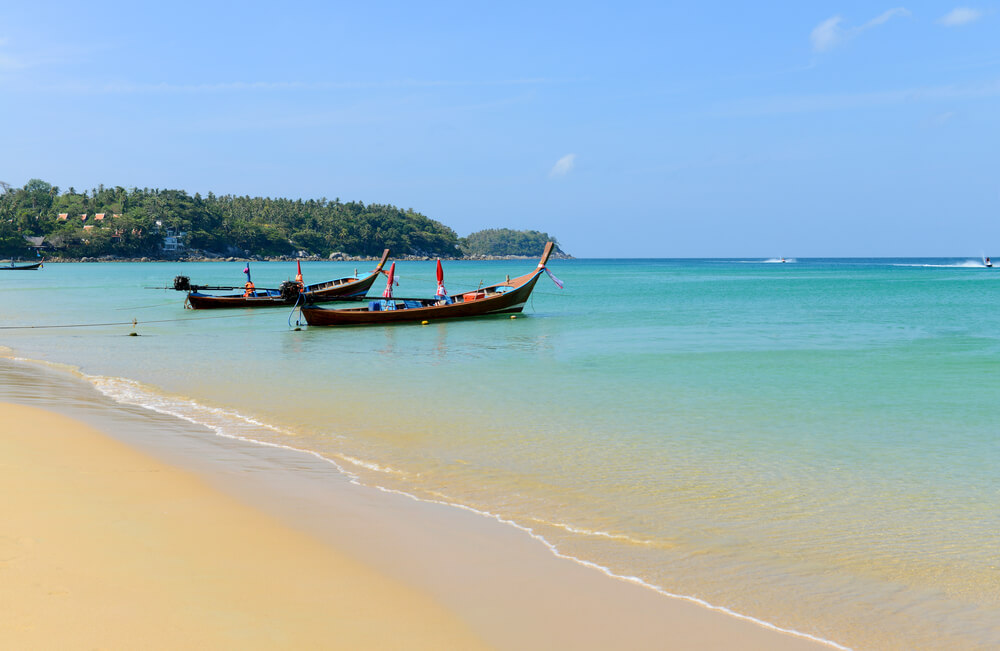 The best part about planning a beach trip in Thailand is that you really don't need much to be prepared. Here's what you'll need:
Bathing suits
Sand resistant towel
Waterproof camera like a GoPro
Snorkel gear
Dry bag
Sunscreen
Sun hat
A great book or podcast
Map of Karon Beach and surrounds
Now that you know all the cool things to do in the area, check out this map to help you plan your time wisely.
How to get to Karon Beach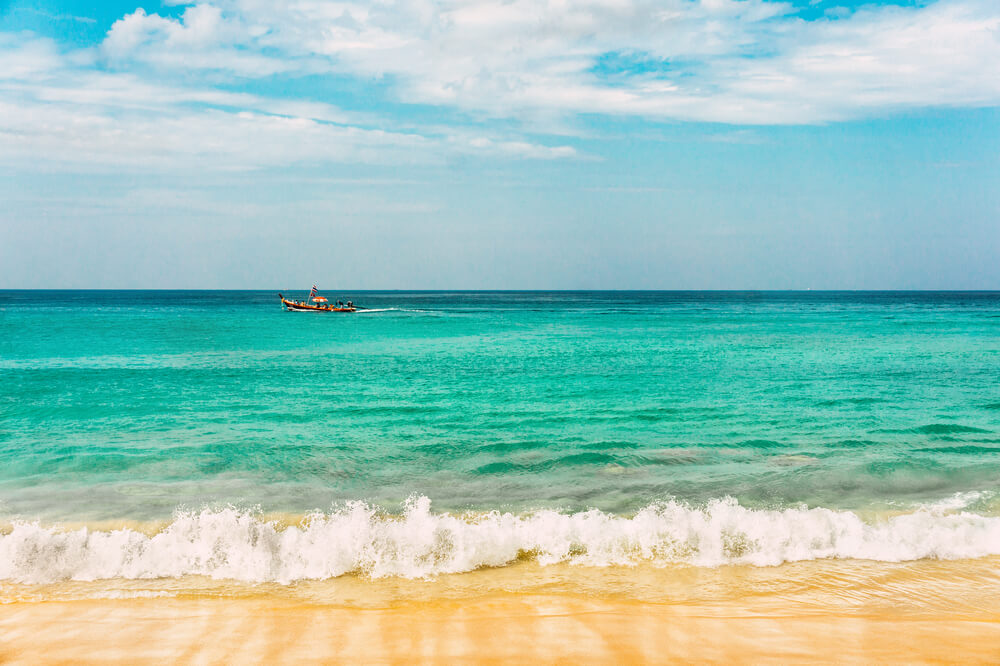 Karon Beach is about 45 km (28 miles) south of Phuket International Airport. You can easily take a taxi or a Grab (Thailand's version of Uber) from the airport directly to your accommodation in Karon. The ride will take you about an hour and twenty minutes.
If you are looking for a more affordable option, there is also a bus that travels from Phuket to Karon. Buses are comfortable and provide AC, which is needed in the Thai heat.
A ferry will bring you from Koh Phi Phi directly to Karon if you are starting your trip on the islands. Songserm Express ferries are an easy and affordable way to get around Thailand. They have been operating for several years and provide a safe, convenient service.
Of course, if you are coming from Bangkok, you can take a quick flight to Phuket and then taxi the rest of the way to your beach accommodation.
Luckily, Thailand has a well-paved tourist path. Karon Beach is firmly planted on it, so you won't have any trouble getting to your slice of paradise.
Final thoughts on Karon Beach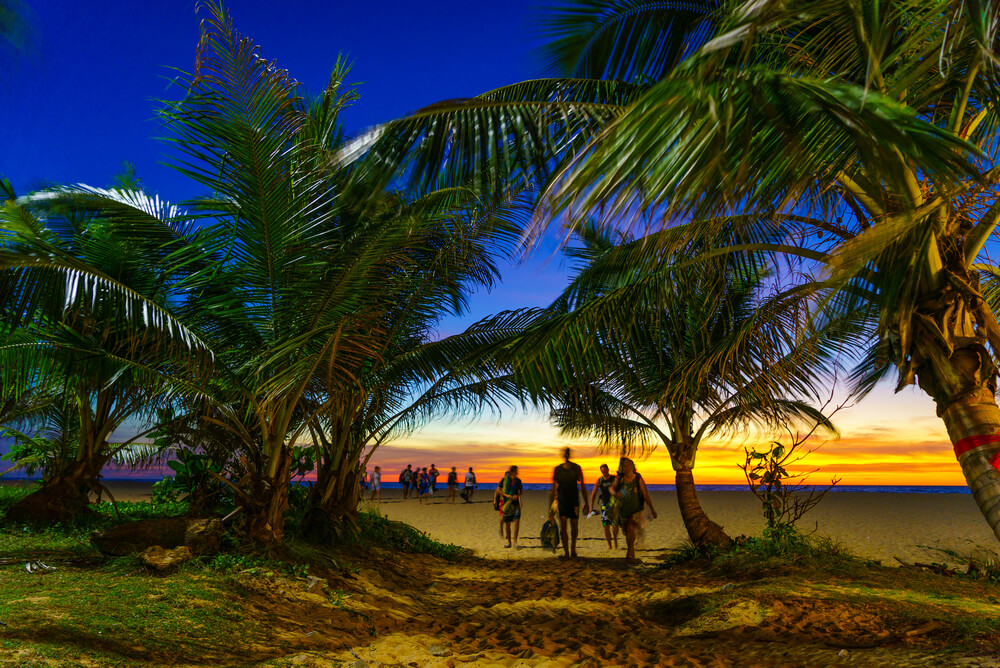 Karon Beach, Phuket, Thailand, is a genuine slice of heaven.
Whether you plan to lay out on the beach and soak up the sun, try surfing for the first time, or experience the area's nightlife, you really can't go wrong. No trip to the Land of Smiles would be complete without a few days at the beach, so why not make Hat Karon one of your stops?
Not sure where to go next? Check out this epic Thailand itinerary.
FAQ
What is the closest town to Karon Beach?
Patong is the closest town.
What is the closest airport to Karon Beach?
Phuket International Airport
Is Karon Beach safe?
Yes! It is a popular tourist destination, but you should also exercise caution and keep an eye on your valuables. As you would anywhere in the world. 
Can you swim at Karon Beach?
Yes, except during the monsoon season. Strong rip currents and massive swells are common between May and October, so check the ocean conditions before swimming.
Is Karon Beach a good place to stay?
Well, there is no shortage of great things to see and do in the area. Use it as a base to explore the entire island.