The Top 5 Lesser-known Philippine Islands to Explore
No trip to the Philippines is complete without exploring a few lesser-known islands. Read on for the top five to add to your itinerary.
With over 7,000 islands in the Philippines archipelago, surely it can't be hard to discover tropical paradises that are not overrun by tourists.
But who has the time or patience to scroll through endless articles about that many islands without getting overwhelmed? No one! So, we are here to help.
Below is everything you need to know about five of the Philippines' lesser-known islands, including how to get there and what you can expect.
Say goodbye to mainstream travel and hello to new adventures in undiscovered corners.
Philippines: Off-the-Beaten-Path-Islands
#1 Malapascua Island:
Known for its incredible scuba diving.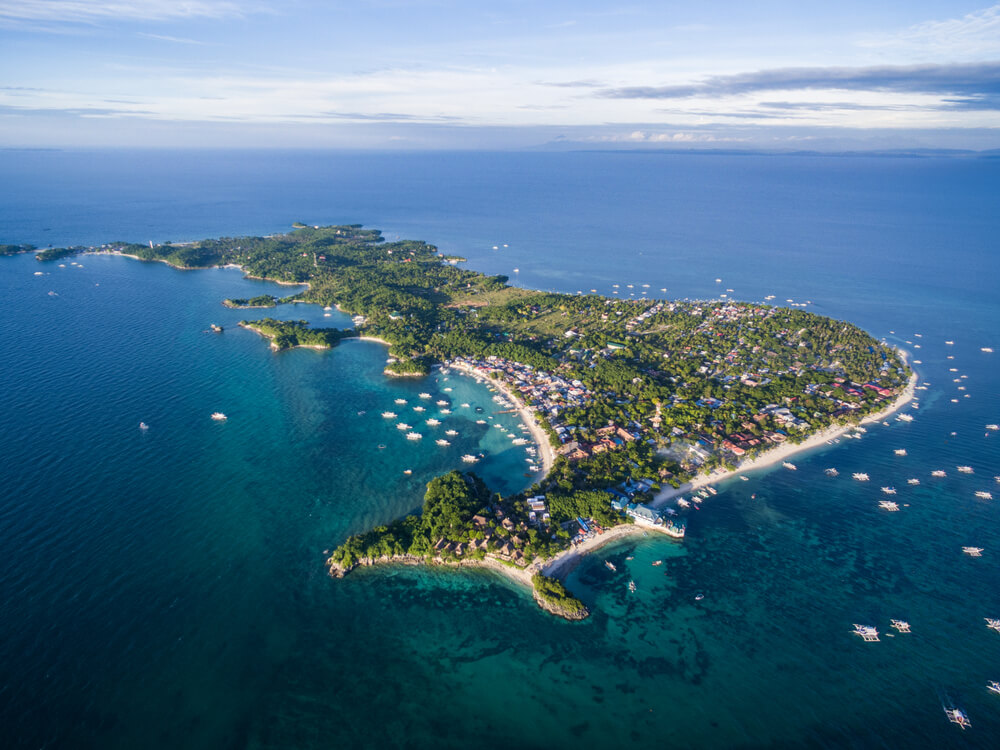 Location:
Situated 7 km (4.3 miles) northeast of Cebu in the Visayan Sea.
How to Get There:
The easiest way to get to Malapascua Island is by minivan, followed by a short boat ride.
You'll likely arrive by plane to Cebu City. Next, you'll hop a bus from Cebu City to Daanbantayan in the north of the island. That should take about four hours.
The final step is a quick 45-minute boat ride from New Maya Port to the island.
Pro tip: It's best to wear shorts for the sea crossing. The boat won't dock on Malapascua Island if it's low tide. You might have to jump in the water to get to the shore. Or another smaller boat may come out to transport you to land.
What to Expect: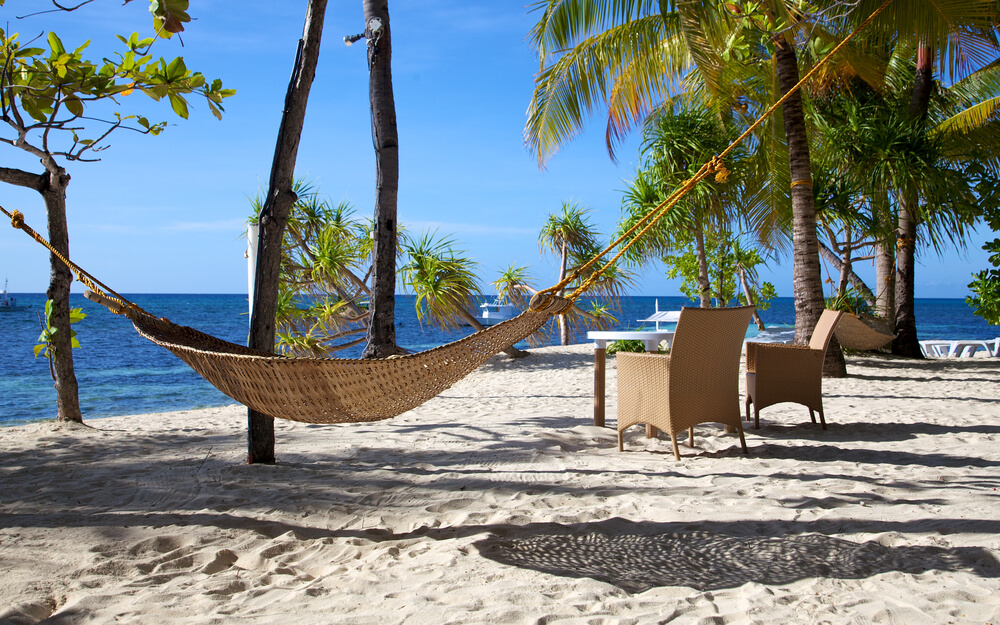 Most people who have discovered this remote island in the Philippines are scuba divers. Malapascua Island is the only place in the country where you can dive with Thresher Sharks. However, that adventure isn't for newbies—these animals hover around 30 meters below water level.
If you prefer staying above water, there are several beautiful beaches to explore.
Bounty Beach, the main beach on Malapascua Island, is known for its palm trees framing the shore, white sands, and sparkling turquoise waters. You'll find places to grab a bite to eat and hammocks to swing in.
Langob Beach (also known as North Beach) is a tranquil paradise for those who enjoy snorkeling. Be sure to keep your eyes peeled for the large sardine bait balls that frequent the shore.
Or, if you are an adrenaline seeker, head to Lapus Lapus Cliff, which has some thrilling cliff jumps. The 15-meter one is certainly not for the faint of heart.
Pro tip: Take advantage of the sunset happy hour at the local bars and restaurants. The views from places like Ocean Vida are breathtaking.
#2 Apo Island
Ideal for those looking for a small island with plenty of underwater activities.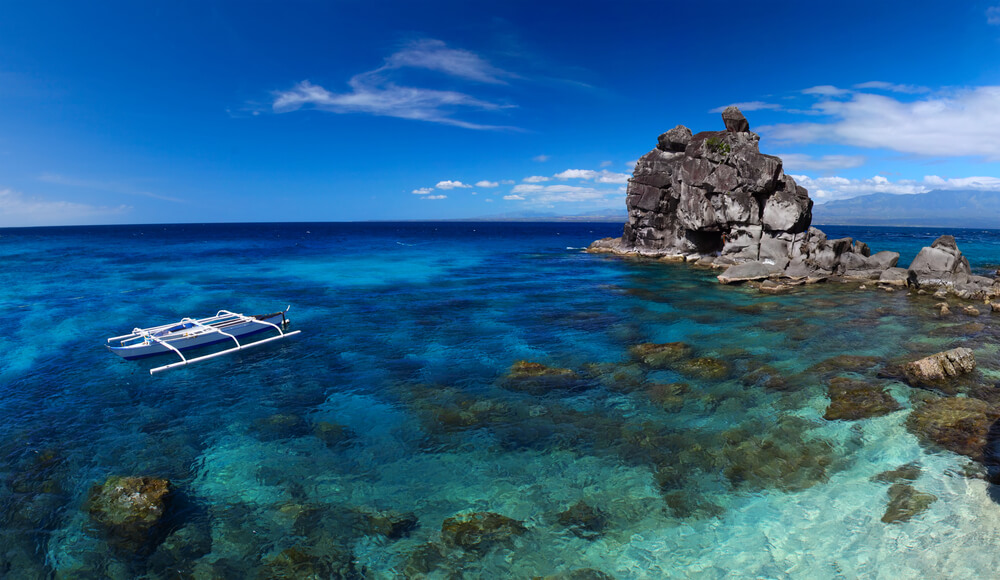 Location:
You'll find this volcanic island 30 km (20 miles) from Dumaguete City, which is situated on the southeastern shore of Negros Oriental Island.
How to Get There:
The first thing you will need to do is get yourself to Dumaguete. With Cebu Pacific, it is an easy 1-hour and 30-minute flight from Manila to Dumaguete. The airport is called Sibulan Airport.
From there, you can stay in Dumaguete and take an organized day trip to Apo Island.
Otherwise, to spend a few nights on this lesser-known island in the Philippines, you'll need to get to Malatapay Port, near the city of Dauin, an easy 30 minutes by car.
The boat ride will take you an additional 40 minutes to one hour.
What to Expect: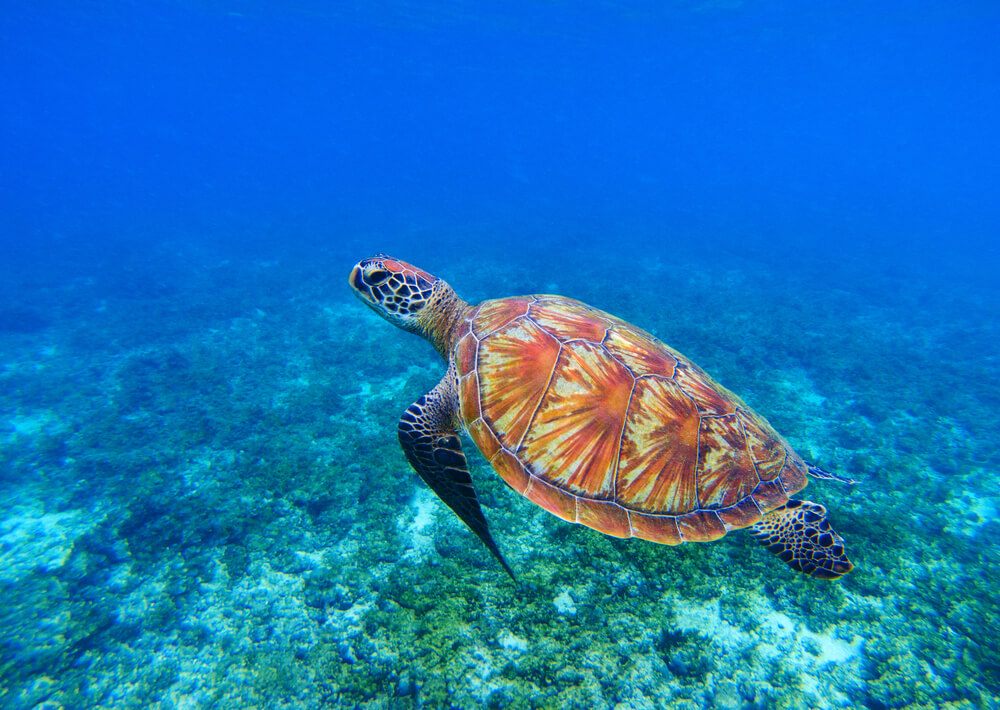 First up, it's important to note that Apo Island is tiny. So, don't come here expecting the luxuries of multiple restaurants, bars and hotels.
The appeal of this tropical paradise is the underwater world. The island is marine protected, so you can only imagine how beautiful the coral and sea life are.
If you want to scuba dive, you have a number of sites to choose from, including Rock Point East and Cogon Point. Look out for manta rays, reef sharks and plenty of fish species.
One of the best spots for turtle viewing is the aptly named Turtle Point.
Fun fact: Female turtles come to this island to feed on all the algae without any nearby predators. So, if seeing a turtle is on your bucket list, you've found the best spot.
If you stay on the island, you have two places to choose from – Liberty Lodge and Apo Island Beach Resort.
#3 Siquijor Island
Head inland to swim at incredible waterfalls.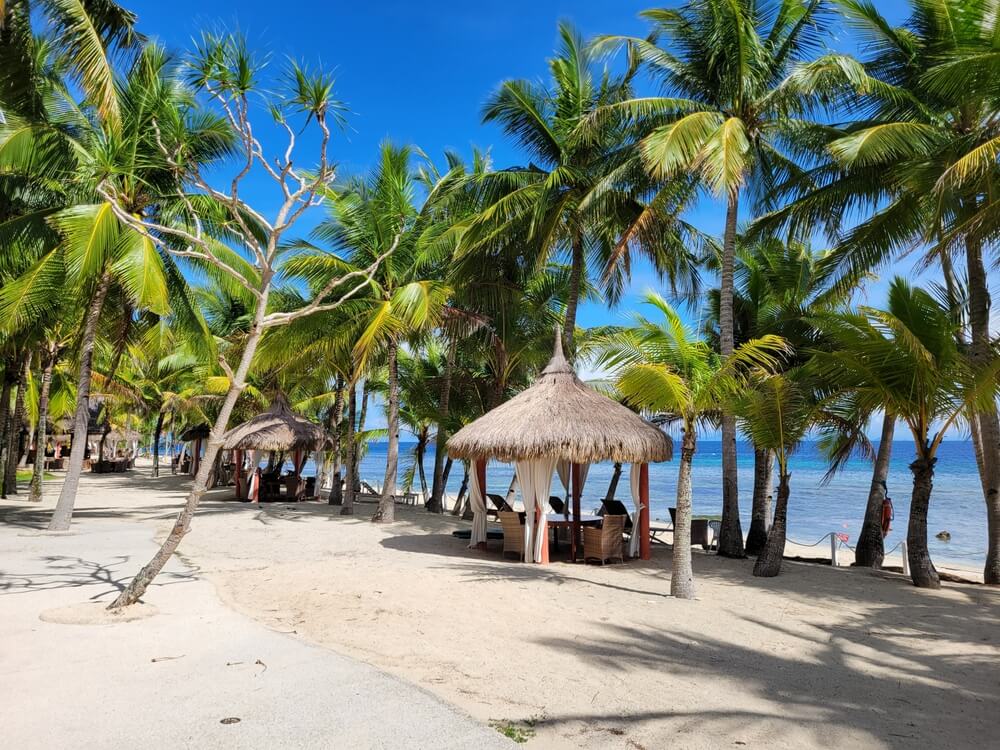 Location:
This island is found in the southernmost part of the Visayan Island Group. It is south of the islands of Cebu and Bohol; however, it is much smaller than both.
How to Get There:
Even though Siquijor is not as busy as other islands in the Philippines, the good news is that you have a few options to get there.
From Cebu to Siquijor, the easiest option is to take the tourist ferry operated by OceanJet. This will take you five hours and 20 minutes.
Or if you are traveling from Bohol to Siquijor, take a similar ferry by the same operator. This option takes two hours.
Another option is to travel from Dumaguete to Siquijor. The best part? This ferry is only a one-hour journey.
What to Expect: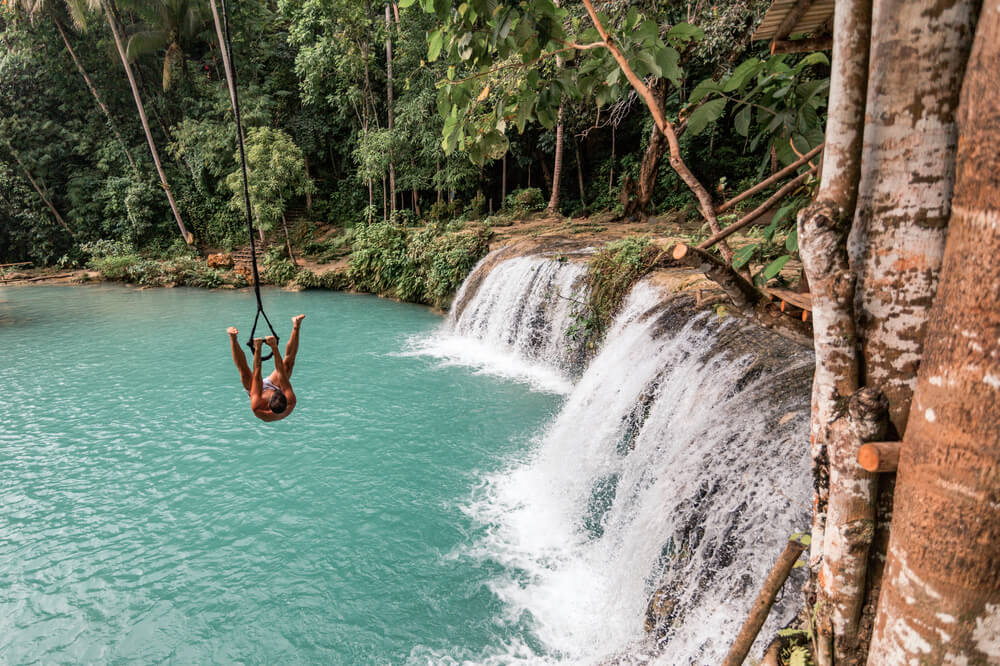 With white sandy beaches, sparkling clear water and epic jungle waterfalls, spending some days on this island is easy. And when you get tired of all the nature, the island is known for its shamans and healers.
The main area on the island is known as San Juan. This is an excellent place to base yourself.
Don't visit this island without heading to some of the waterfalls. At Cambugahay Waterfalls, there are three beautiful turquoise water pools to swim in. There are even swings and jump platforms to get your adrenaline rush on.
Another great place for waterfall chasing is at Lugnason Falls.
You can also plan a whole day of relaxation at Tubod Beach, a marine sanctuary. The sandy beach is pristine, but it's hard to resist swimming in the ocean, where you will be graced by colorful fish and a preserved coral reef.
For the best sunsets, head to Paliton Beach. You can even hang out on the rope swings.
Pro tip: The best way to get around the island is by scooter. Rent one at the ferry terminal. Otherwise, the second option for those uncomfortable on the back of a scooter is to hire a tricycle driver.
#4 Hundred Islands
A paradise close to Manila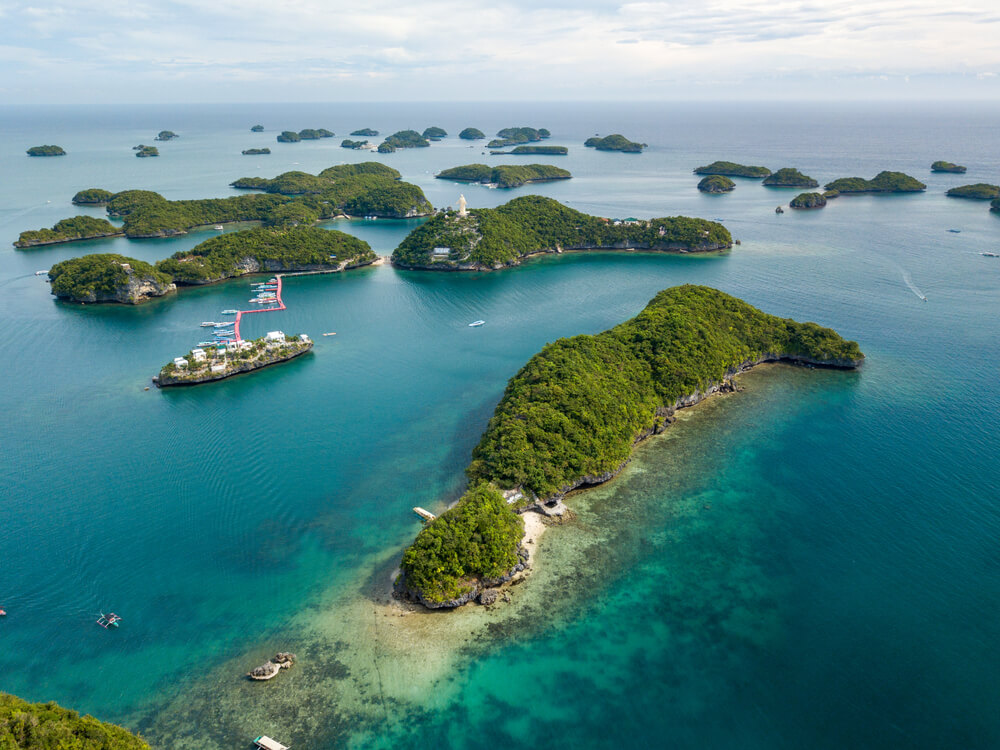 Location
Situated in the province of Pangasinan, Hundred Islands is a convenient place to visit for those who wish to stay close to Manila.
This protected area comprises 124 islands which are spread across the Lingayen Gulf.
How to Get There
The best route to take is Manila to Pangasinan—a seven-hour bus journey. There are several bus stops in the province, including one in Bolinao and San Fabian.
Once you arrive, you will need to transfer to nearby Lucap Wharf.
Whether you plan to spend a couple of nights on one of the islands or visit for the day, you must visit the Tourism Information Center to register and pay your entrance fee to the national park.
What to Expect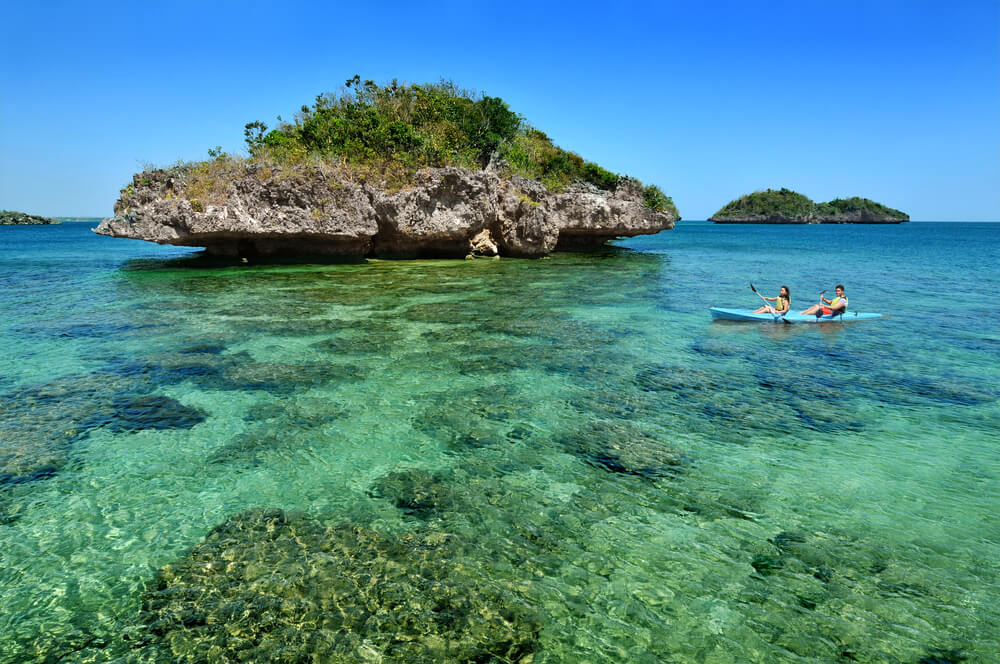 While there are 124 islands, only four are developed: Governor's Island, Quezon Island, Marcos Island and Children's Island.
The typical island hopping tour includes a visit to all four islands. But if you have the time to spend a few nights on one of these islands, you can also organize a trip to places such as Old Scout Island, Devil Island or Turtle Island.
Governor's Island is actually two islands connected by a plastic floating bridge, making it one of the largest islands in the archipelago. You can sunbathe, snorkel and kayak from the sandy beach with clear water.
Quezon Island is one of the busiest and most developed among the Hundred Islands. Take part in a variety of water sports as well as a zipline.
Marcos Island is home to an incredible beach with a natural swimming pool. It's a safe place to visit with children as the sparkling shoreline is very calm. You can also take a small uphill hike to view the island from above.
As the name suggests, Children's Island is also a fantastic place to visit with young children. They will love the powdery, soft white sand and calm, shallow waters. Be sure to rent a kayak to explore the rest of the island.
#5 Malcapuya Island
Spend a night in a hut on a gorgeous island.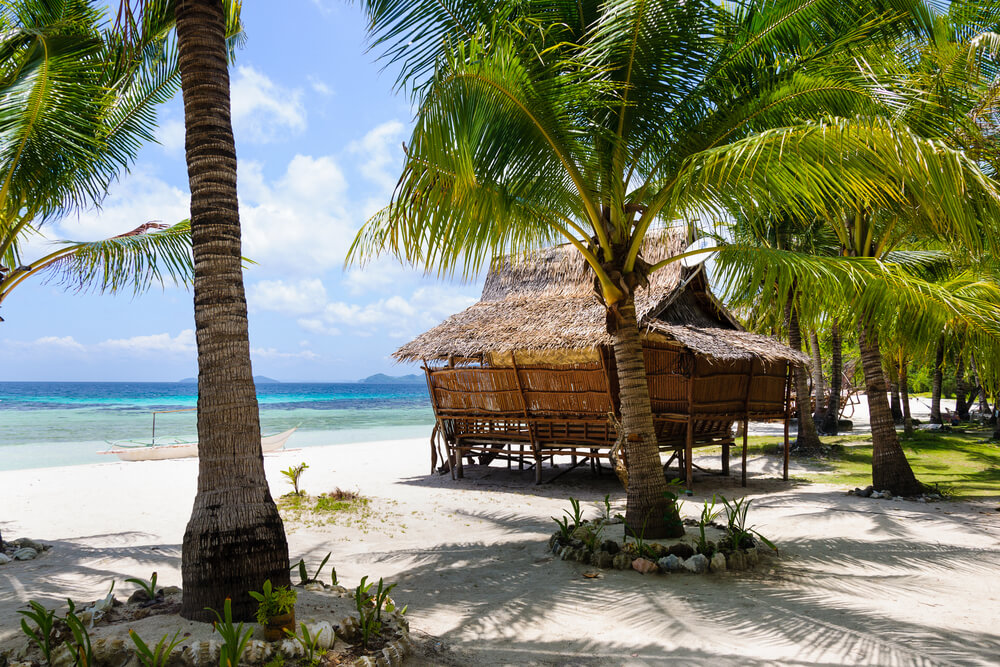 Location
You will find this idyllic island in Northern Palawan.
Even though Malcapuya Island is close to the popular tourist destination of Coron, few people know that you can spend a night or two there.
How to Get There
If you are traveling from the capital city of the Philippines, it's best to take a flight to Coron. From Manila to Coron, it will take one hour and 10 minutes.
You may, however, be coming from other areas of Palawan. From El Nido to Coron, the ferry will take five hours. If you are after complete convenience, there is a 40-minute flight available.
Once you have arrived in Coron, you need to take yourself to Coron Town, where tour operators can assist you with transportation to Malcapuya Island. It only takes about 1.5 hours by boat.
What to Expect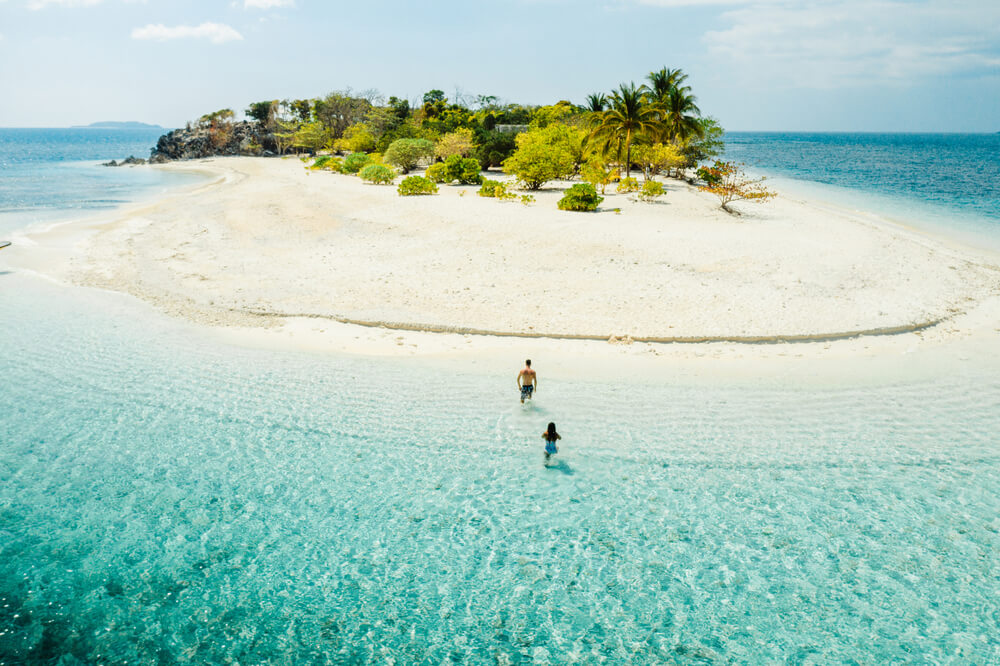 What makes this island special is how removed from the action you are. Besides a couple of families living there, the only sounds you hear will be from the ocean.
When you arrive at Malcapuya Island, you will instantly fall in love with the sparkling, white sandy beach. It's the perfect place to read a book and relax in the sun.
Beyond the main beach, there are private little beaches and coves hidden around the island.
The accommodation, consisting of huts on the beach, certainly isn't glamorous. Still, it's a fantastic opportunity to be surrounded by nature.
Pro tip: There is no electricity on the island, so make sure you have a power bank on hand.
Lesser Known Islands Philippines Map
After reading about some of the stunning remote islands in the Philippines, aren't you ready to plan your trip?
This map will help you lay it all out.
Weather in the Philippines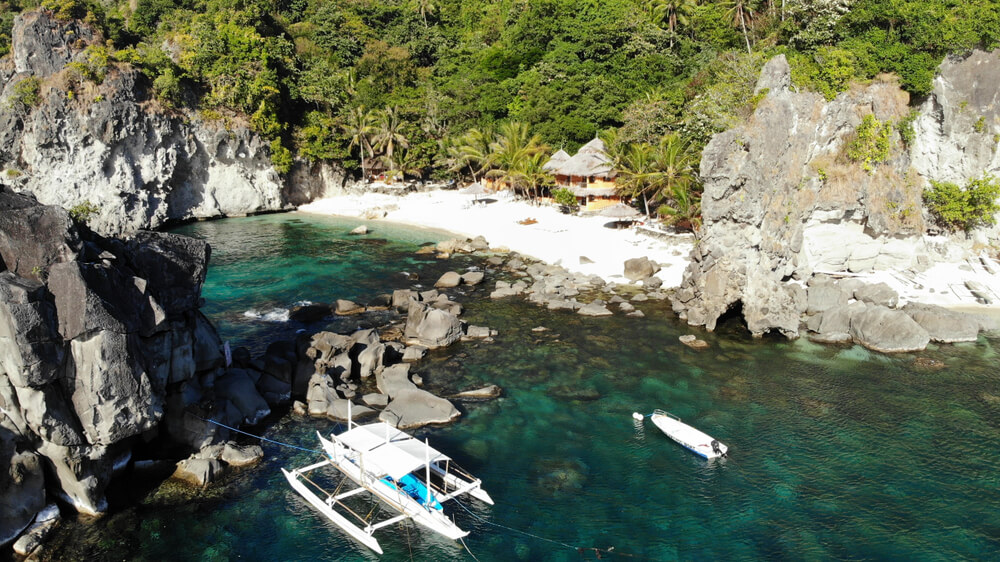 The most important thing to know about the weather in the Philippines is that there are two distinct seasons—the rainy and dry seasons.
The dry season runs from November to April, and the rainy season from May to October.
While the temperatures don't change dramatically throughout the year, generally speaking, it is slightly cooler from December to February and slightly warmer from March to May.
Between December and February, you can expect temperatures from 29°C-31°C (84°F-88°F). The water is still warm, so it's the ideal time to enjoy island hopping.
The rainy season is a magnificent time to visit as the vegetation is lush. Just be cautious visiting between August and October, as these are the months when the majority of typhoons occur.
Temperatures average 31°C-36°C (88°F-97°F) during these months.
Packing List Essentials for the Philippines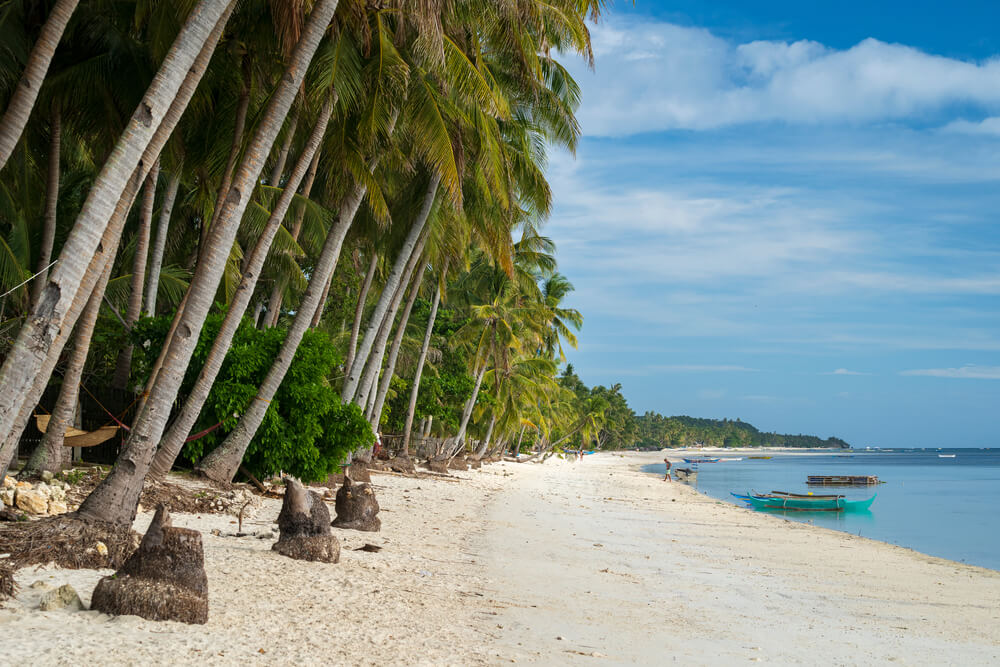 When it comes to packing for a trip to the Philippines, the number one rule is don't overthink it.
No one gets dressed up. You'll live in your swimsuits a majority of the time, and light, breathable clothing is advised.
Below are a few essential items that may not initially come to mind:
Basic first-aid kit: Some areas of the Philippines are quite remote, so access to items such as Imodium for stomach problems is not always easy to find. Pack a few band-aids, a packet of paracetamol, gauze tape and disinfectant cream.
Snorkel and mask: You can hire these items, but if you have your own, it's always a good idea to bring them. They will likely fit you better so you can enjoy the underwater scenery without getting water in your goggles.
Dry bag: You're going to the islands. You're going to get wet. Keep your valuables dry and safe in a dry bag.
International adapter: There is nothing worse than arriving in a country only to realize you won't be able to charge your phone or laptop.
GoPro: Snorkeling and scuba diving are some of the best activities in the Philippines. Not only is the GoPro a small device to help you capture the underwater scenery, but the photo quality is incredible.
How to Get to the Philippines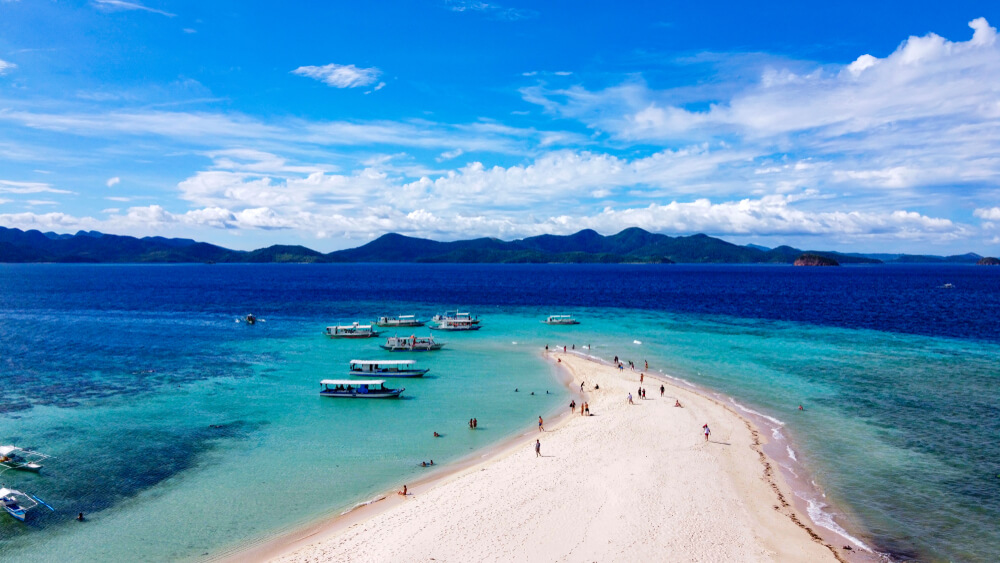 The main airport you will likely arrive at is in the Philippines' capital city, Manila.
From here, you can catch a ferry or fly to many of the incredible islands in the country. Just keep in mind that flights can be limited to one a day, so you may be required to spend a night in the capital city.
A flight from Manila to Cebu will only take one hour and 20 minutes. From there, you can transfer to places such as Malapascua Island or Bohol, one of the most visited islands in the country.
From Cebu to Bohol, it will take 2 hours on a tourist ferry operated by OceanJet.
It's also simple to reach the destinations of Coron and El Nido from Manila.
From Manila to Coron, it will take one hour and 20 minutes by air or 17 hours on a tourist ferry.
From Manila to El Nido, it will also take 1 hour and 20 minutes by plane with Air Swift.
Not sure where else to go? Take a look at all of Bookaway's Philippine routes.
FAQ
How many islands are there in the Philippines? 
There are approximately 7,640 islands in the country. 
What is the best way to island hop in the Philippines?
Getting around the Philippines requires some planning. There are a significant number of ferry and plane routes, which are the best modes of transportation. However, they can be expensive and book out in advance, so you'll need to plan ahead. 
Is it expensive to island hop in the Philippines?
If island hopping is offered at a particular location, there are usually a number of vendors offering day trips. It's best to ask around first, but in general, the prices are reasonable and include a full day of island hopping, lunch and snorkel equipment.