Additional useful info
Luggage policy
1 bag per passenger. Passengers with large suitcases or more than 1 bag will be required to pay extra luggage and handling fees directly to the driver.
Stops
the bus makes toilet and rest stops, however, there are no additional pick-ups on the way
About this ride
This is a MINIVAN + BUS + FERRY (Songserm) service between Koh Phangan and Koh Lanta. Returns journey are available.
Koh Phangan Koh Lanta
No schedule provided
* Departure and arrival times are in local time
Cancellation policy
Up to 7 days before departure

-

free
Changes policy
Up to 72 hours before departure

-

free
About the operator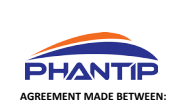 Phantip Travel is the first transportation operator in Suratthani Province since the early 1970s. Phantip Travel has grown to be a leading operator in the South of Thailand. Phantip Travel is known for putting safety and comfort first, enhancing the customer experience.