Additional useful info
Luggage policy
20 kg bag and 7 kg hand luggage
Stops
This is a direct bus and ferry service with no stops on the way
Please note
For passengers traveling from Koh Samui- please check-in at Phantip office in order to exchange your voucher to a valid ticket. From there, it's a short walk to the pier.


About this ride
This is a BUS + FERRY service between Koh Samui and Koh Lanta. Return journeys are available.



Koh Samui Koh Lanta
No schedule provided
* Departure and arrival times are in local time
Cancellation policy
Up to 7 days before departure

-

free
Changes policy
Up to 72 hours before departure

-

free
Pick up / drop off info
HOTEL PICK UP/ DROP OFF is available in for an extra $7 per person. Please wait in your hotel lobby at least 30-45 before scheduled departure time and don't forget to add your hotel details during check out.



*Please arrive at the pickup point at least 30 minutes before the scheduled departure time
About the operator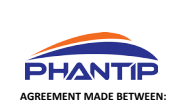 Phantip Travel is the first transportation operator in Suratthani Province since the early 1970s. Phantip Travel has grown to be a leading operator in the South of Thailand. Phantip Travel is known for putting safety and comfort first, enhancing the customer experience.