Additional useful info
About this ride
This is a one-way STANDARD MINIVAN service between Pak Bara and Hat Yai Airport.

Pak Bara Hat Yai
11:30
13:30
2h
US$10.17
Book your trip
13:30
15:30
2h
US$10.17
Book your trip
Instant approval for these trips
* Departure and arrival times are in local time
Cancellation and changes policy
Cancellation and changes are
not possible
after the tickets have been issued.
About the operator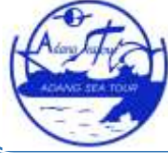 Adang Sea Tour has a good selection of ferries and minivans to travel between Koh Lipe and Pak Bara, a small coastal village in the province of Satun. The operator also offers services to Hat Yai, a large city in the south of the country, close to the border with Malaysia.