Additional useful info
Luggage policy
1 bag per passenger. Passengers with large suitcases or more than 1 bag will be required to pay extra luggage and handling fees directly to the driver.
Stops
This is a direct service with no additional pick ups on the way
About this ride
This is a one-way MINIVAN + FERRY service from Suratthani to Koh Lanta.

Suratthani Koh Lanta
No schedule provided
* Departure and arrival times are in local time
Cancellation policy
Up to 7 days before departure

-

free
Changes policy
Up to 72 hours before departure

-

free
Pick up / drop off info
HOTEL PICK UP is available in Surrathani Town ONLY for an extra $3. 



*Please arrive at the pickup point at least 30 minutes before the scheduled departure time
About the operator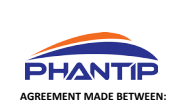 Phantip Travel is the first transportation operator in Suratthani Province since the early 1970s. Phantip Travel has grown to be a leading operator in the South of Thailand. Phantip Travel is known for putting safety and comfort first, enhancing the customer experience.