A Hungry Traveler's Guide to Street Food in Mexico
Ready to eat your way through the best street food Mexico has to offer? Read on to learn more for a tasty experience on your next visit.
Almost every Mexican vacation will contain a trip to a gorgeous beach, a charming colonial town or the ruins of an ancient empire. But if you haven't planned on sampling the best street food in Mexico, your itinerary is not yet complete.
Along with all the beaches, jungles, cities and ruins, Mexico is one of the best places on earth to experience authentic street food.
When faced with such a varied array of items, choosing what and where to eat may at first seem daunting. But in this appetite-stimulating guide, we'll cover the best and most common menu items to help you savor the flavor of this vibrant culture.
You might risk gaining a few pounds—but as you'll see, it will be so very worth it!
Mexican Street Food—An Overview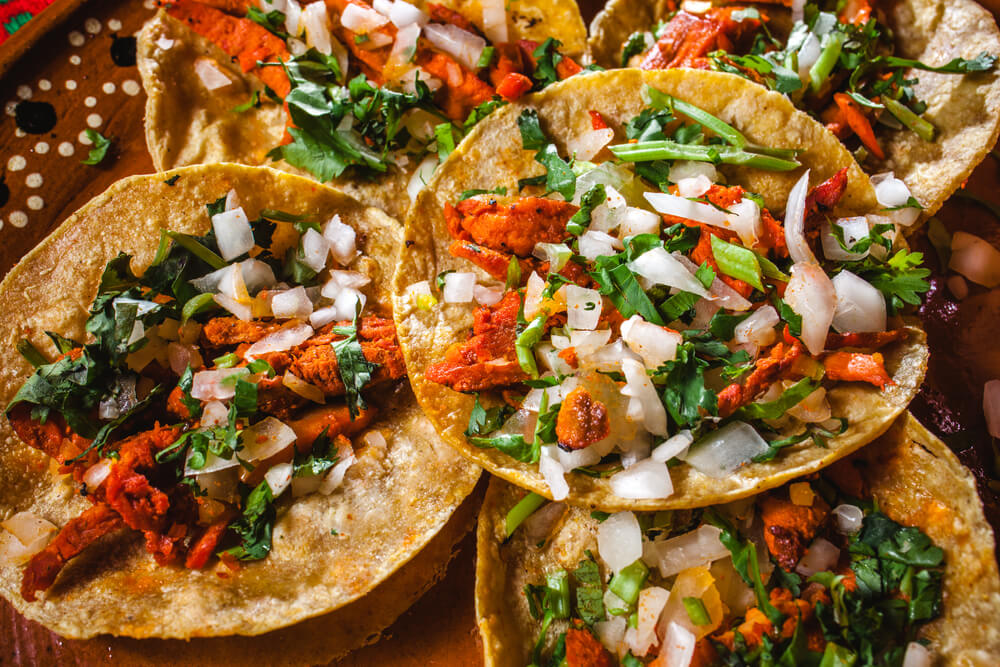 To truly appreciate the joy of Mexican street food, a little cultural context is necessary.
In many cities—particularly the capital, Mexico City—enjoying street food is a regular occurrence for the locals. Carts, food trucks, stalls, and bicycles selling foodstuffs abound—the question is not if you'll find one, but which one should you choose first? Spoiler alert: As many as possible.
The options on offer will, at times, depend on which part of the country you're visiting. Like many other cultures, each region has its own take on a particular dish. Talk about local flavor!
Your eating and drinking options will generally change as the day progresses. This means what you find early in the morning will likely differ from what's being prepared late at night. So it's always the perfect time to try something new, with plenty of reasons to return for more.
To make it easy, we broke the street food options down chronologically by meal times. So, let's start our virtual Mexico street food tour with breakfast.
Mexico Street Food in the Morning
Ready to start your day of touring and exploring? Fuel up with one of the many street food options available from early in the day until around noon.
Juices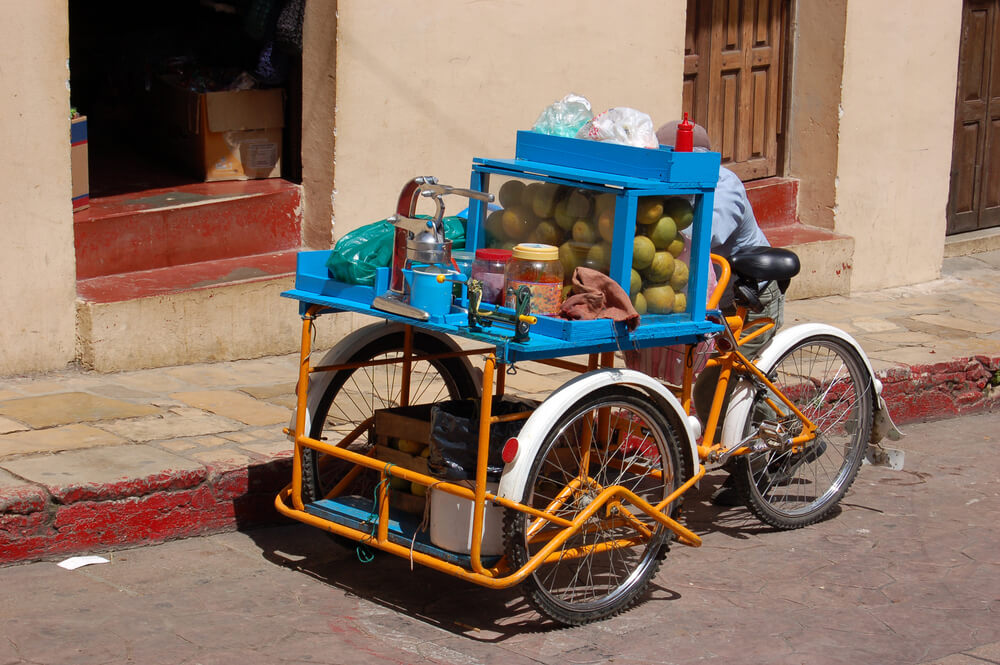 You won't have trouble finding street vendors offering fresh juices in the morning. The most common flavors are grapefruit or orange. However, you may come across hawkers selling carrot juice or combinados—a mixture of carrot and orange juices. These usually sell for less than 20 pesos, so you can start your day healthy without breaking the bank.
Fruit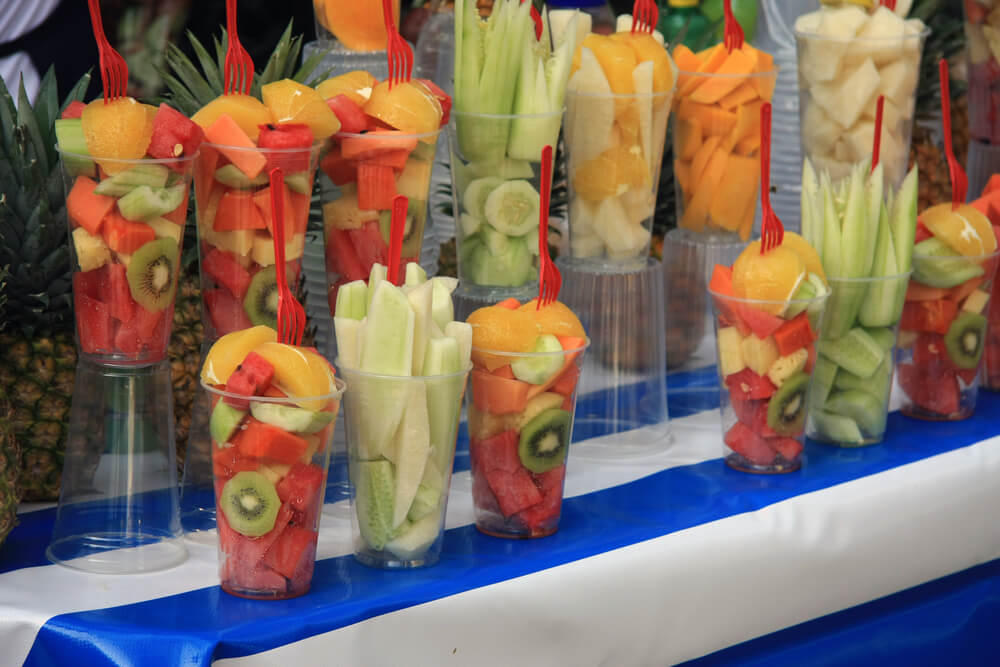 You can also get your fruit juices in solid form from one of the many fruit vendors stationed throughout the main cities. Typical menu items are papaya, strawberries and even watermelon. Often, you can have them topped with a dollop of whipped cream, a drizzling of honey, or chamoy—a condiment made from dried fruit and spices blended into a concoction that covers the entire range of the palate—sweet, salty, spicy and sour.
Tamales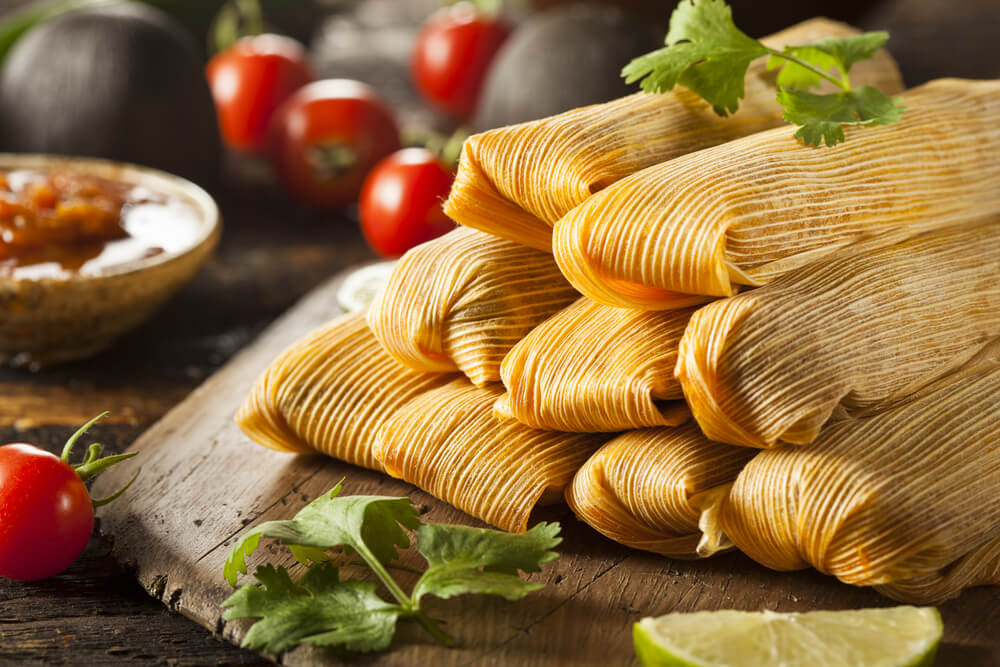 These tasty wraps of meat and cornmeal are an absolute staple of Mexican breakfasts regardless of where in the country you may travel. Each region has its own flavor, depending on the local ingredients available. Here are some of the more popular versions:
Corn tamale: Made from cornmeal and corn grains, this tamale comes wrapped in a corn leaf and is usually served with sour cream and cheese.
Dry corn tamale: These tamales are served as either sweet or spicy. The sweet version comes with either a pineapple or strawberry filling. The spicy option boasts chili pepper, mole, tomato sauce or green salsa in its center. These are among some of the best street food Mexico City has to offer.
Oaxaqueño: Originating from the city of Oaxaca, this version of a tamale is a little sweeter and heavier than the traditional tamale. It's recognizable from the use of banana leaf wrapping instead of corn.
Deep-fried tamales: These are usually unsold from the day before, then deep-fried and stuffed into a roll of bread as a breakfast sandwich. Like anything else deep-fried, they're hot, crispy and delicious.
Chilaquiles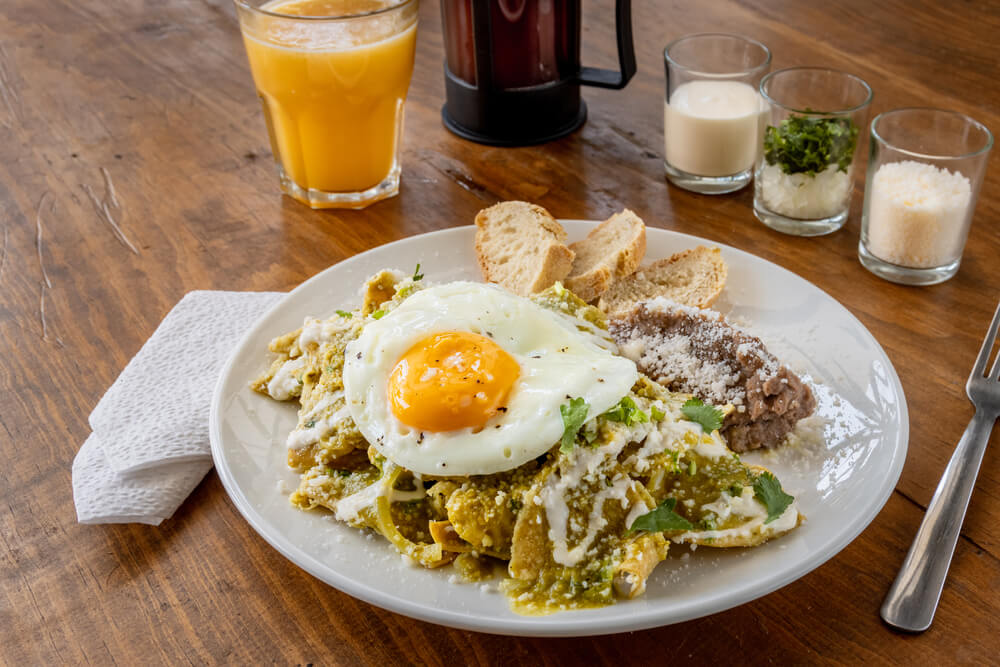 The basic version of this traditional breakfast food consists of fried tortilla chips bathed in red or green sauce and topped with onion, cheese and sour cream. The bonus version of chilaquiles will have grilled chicken, steak or eggs. By stuffing the aforementioned into a bolillo (fresh roll), you can have what's called a torta de chilaquiles.
Coffee and Pastries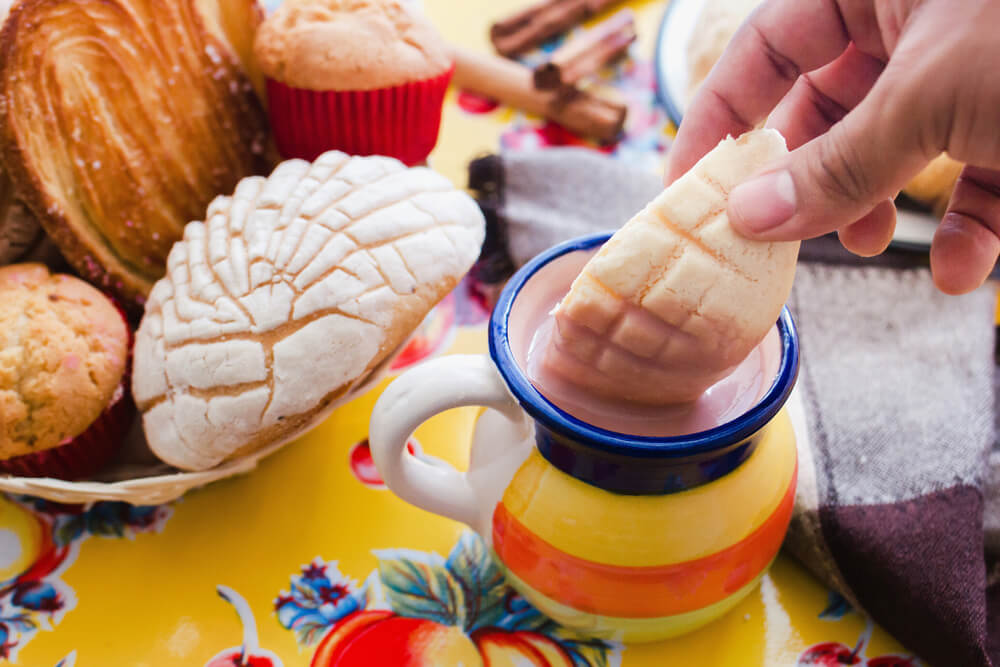 Mexicans love their coffee and pastries in the morning.
There are always numerous vendors pedaling along on a bicycle of dubious reliability with nothing more than a jug of coffee and a basket of pastries for sale.
The most popular pastry is the concha (or shell, due to its shape), which isn't too sweet and serves as an excellent choice for soaking into some freshly brewed coffee.
Mexico Street Food for Lunch, Dinner & a Snack
This next section is dedicated to food served from around noon until dusk. However, some items are also available until late into the night. There's no better way to complement your day's activities than a delicious taste of the following items.
Tacos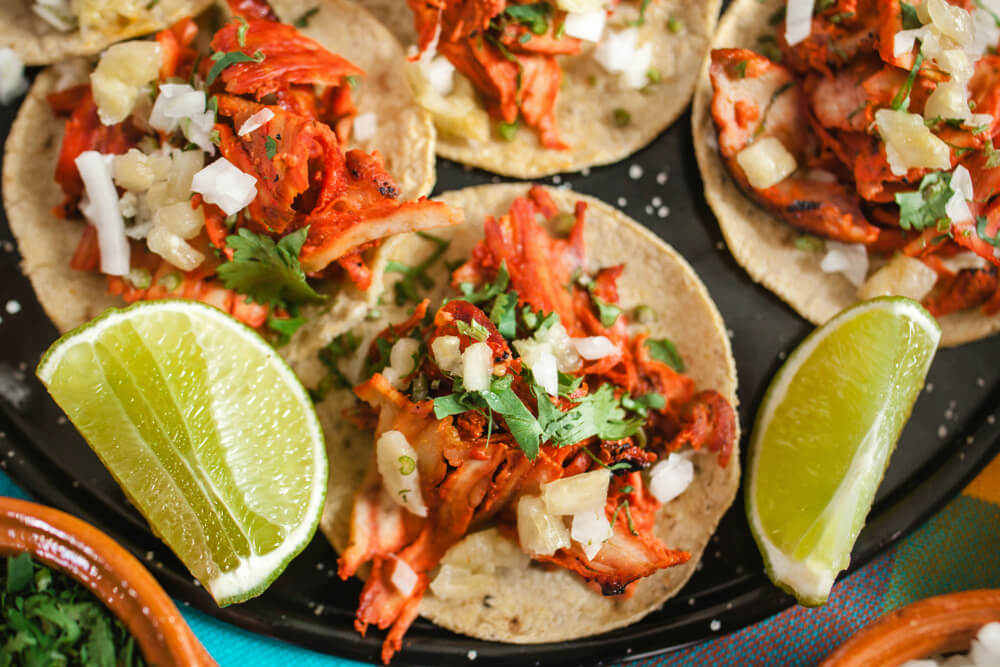 No other food is as synonymous with Mexico as tacos. In the event that you've been living in a cave your whole life and only now have ventured into the world, a taco has a tortilla base and is filled with any number of tasty ingredients, served with a choice of salsas. They can be messy, but they're heaven on the tastebuds regardless of the combination you choose.
When it comes to Mexico, street food tacos are the undisputed king. Here are some of the most popular iterations of this delicious treat that can be eaten for lunch, dinner or a between-meal snack.
Tacos al Pastor – A particularly tasty version of the taco served in a warm corn tortilla filled with marinated pork and a hunk of pineapple. The meat is grilled on a giant spit—similar to gyro or shawarma in a nod to its Middle Eastern roots. Topped with onions and cilantro, you absolutely must try some tacos al pastor on your trip to Mexico.
Tacos Guisado – The term guisado simply means stewed. And that's what you get in this popular taco. Stewed meat (often spicy pork or chicken mole) is served in a tasty sauce with rice and beans stuffed into a tortilla. Messy? Yes. Delicious? Of course!
Tacos de Barbacoa – With a slow-cooking method that dates back to pre-Colombian times, barbacoa is braised sheep, lamb or goat that is soft, tender and addictively delicious. You can also get them deep-fried and topped with cheese and sour cream. They're most often available on the weekends.
Tacos a la Plancha – Most commonly known as carne asada, these tacos feature chopped portions of grilled steak or chicken topped with avocado and red salsa—another must-try street food taco!
Tacos de Cabeza – Even if you only have rudimentary Spanish language skills, it won't take long to figure out that Cabeza means head. The real giveaway is the slow-cooked cow's head from which the street vendor will carve your meat. If you can handle the visual impact of the delivery, adventurous travelers will find the meal and the story to be worth it.
Tortas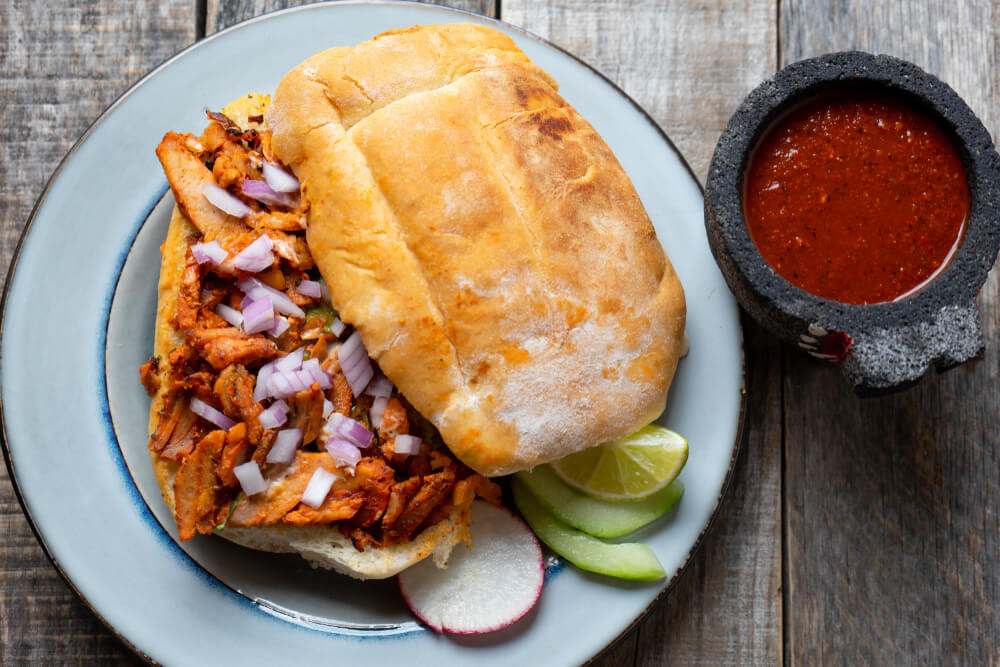 Essentially oversized sandwiches served on buttered bread stuffed with meat, avocado, cheese and your choice of several other ingredients. They come served hot or cold and are an excellent option for a cheap lunch or dinner.
Tostadas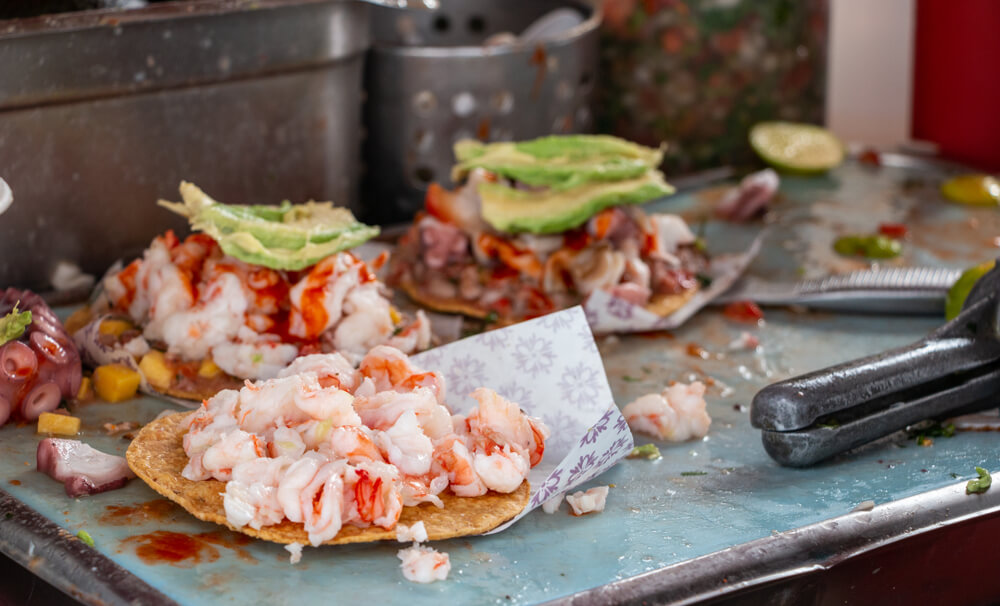 Served on a light, crispy, open tortilla base and topped in various ways. Try beans, meat, seafood, cheese, lettuce, salsa or any combination thereof. They're a great snack or light lunch option.
Quesadillas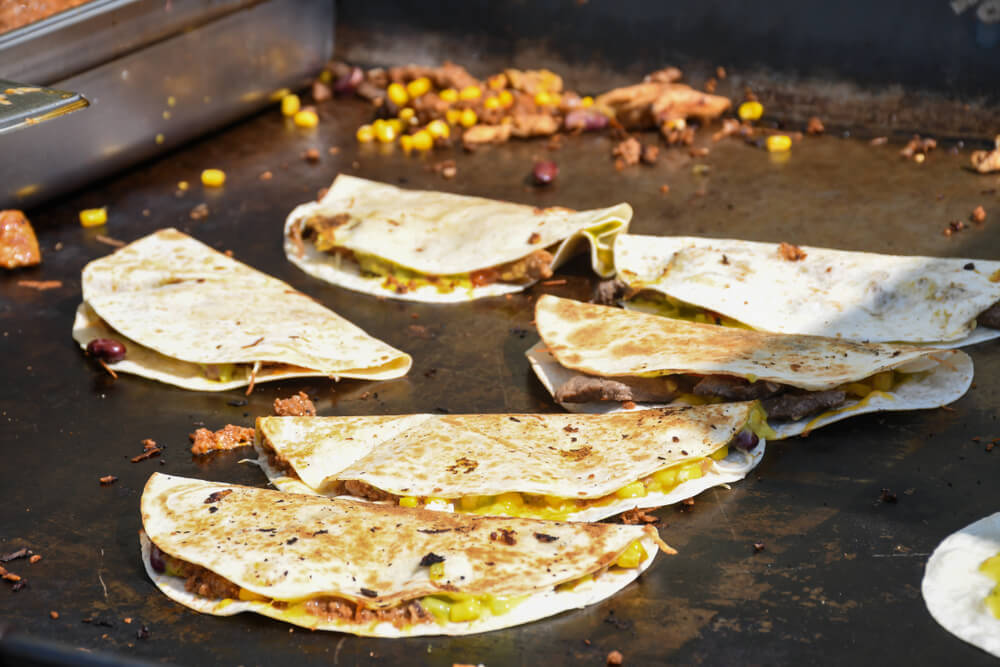 Despite the name, they aren't always just filled with cheese. These are large tortillas that are filled and folded, not unlike a taco. You can get them deep-fried or grilled, but either way, this is a delicious mess you'll want to sample.
Chicharrones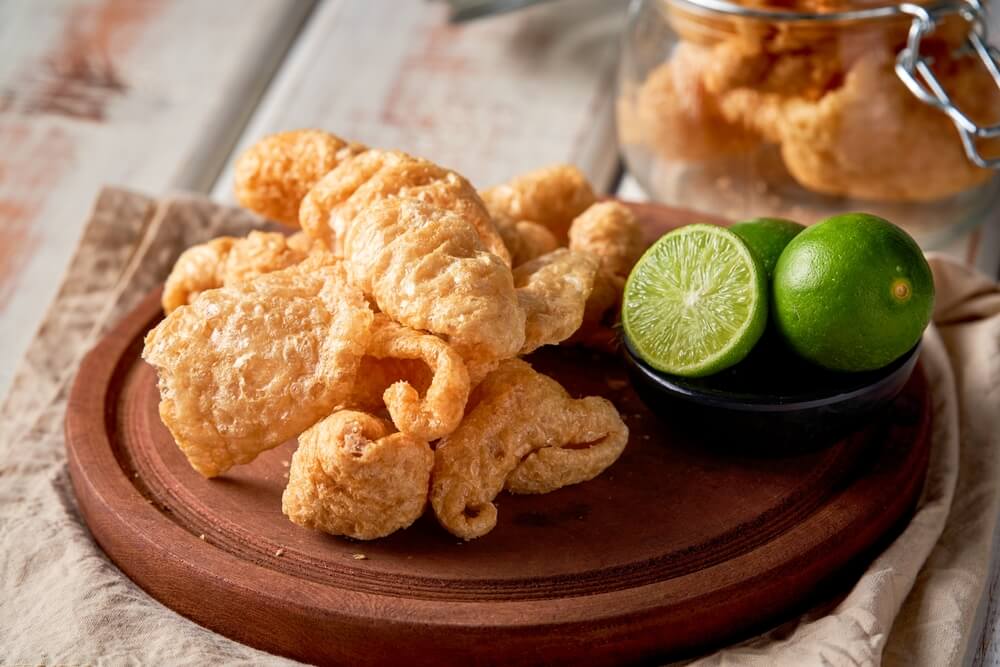 All hail the crispy pork rind!
Served in various sizes—often in street carts with glass sides to showcase the options—chicharrones are a popular snack in Mexico City and beyond. They're eaten like potato chips, usually slathered in hot sauce. Just be sure that what you're buying is pork, as at times, vendors will sell "chicharrones" made from flour or corn.
Chips and Dorilocos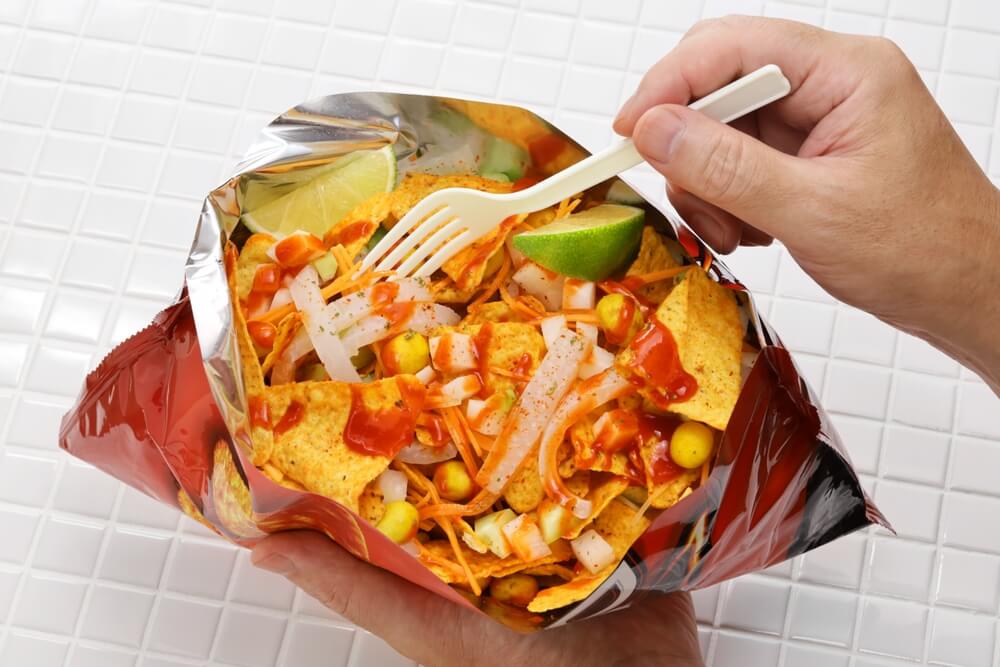 In many parks and plazas, vendors sell salty chips with salsa and lime on the side. For an over-the-top experience, try the unique Mexico Doritos street food called Dorilocos or Crazy Doritos.
As the name suggests, Doritos form the base of a strange mash-up that includes vegetables, fried peanuts, hot sauce, chamoy, lime juice, and, believe it or not, gummies.
Mexican Street Food After Dark
While you should have no problem finding tacos or tortas from the afternoon onward, two particular dishes only come out at night. One taste may just be the highlight of your night on the town.
Elotes and Esquites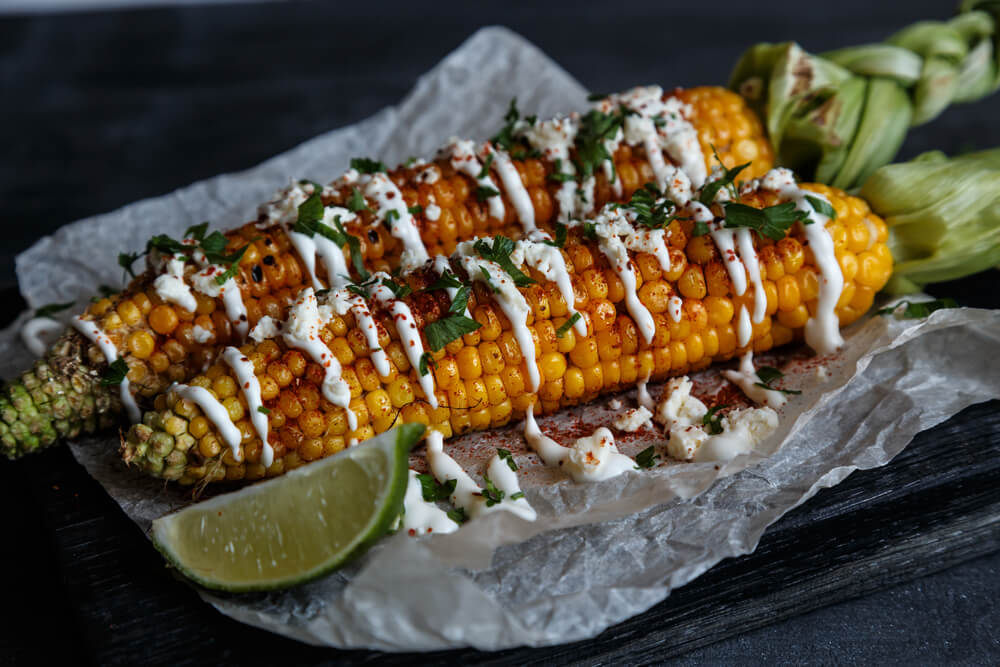 Elotes are full ears of corn grilled on a skewer and served slathered with cheese, chili powder and mayonnaise. Esquites are similar. But the kernels are removed and put into a cup with all the toppings. Either way, they're an authentic and tasty late-night treat.
Churros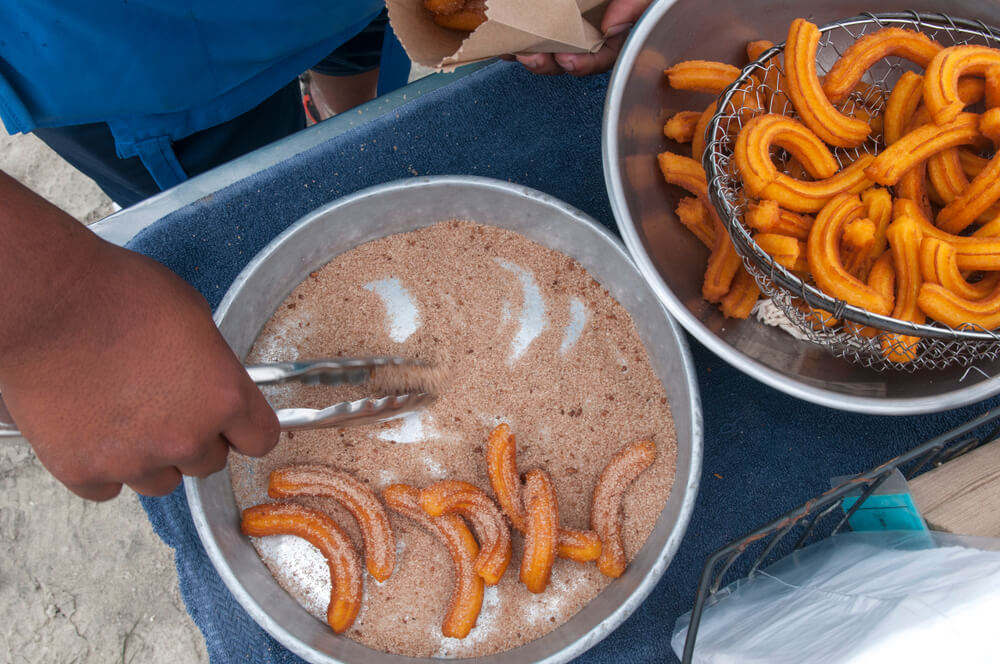 These cylindrical servings of fried dough dusted with cinnamon and sugar come in a variety of flavors and make for a delicious sweet snack. Your best street churros will be from vendors that offer several fillings, like vanilla, chocolate, and the ever-popular dulce de leche.
Pro tip: Eating Mexican street food with your hands is wholly expected. If you want to advertise you're a foreigner, feel free to use utensils.
Final Thoughts on Mexican Street Food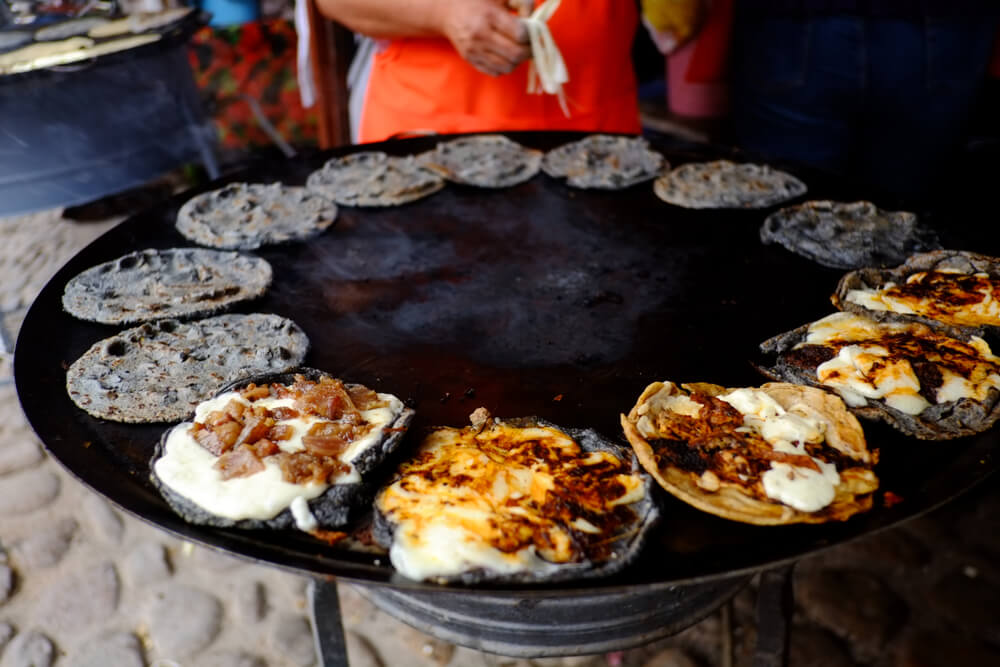 If your mouth isn't watering after reading the above, perhaps you should check for a pulse.
No matter where you find yourself in the country, whether you're searching for the best street food in La Paz, the capital city, or one of the many beach resort towns, chances are you won't have to go far to experience the delicious and rewarding joys of eating like a local.
FAQ
Is Mexican street food safe to eat?
In the majority of cases, yes. As always, be alert to vendors with food and equipment that is visibly unclean, but generally speaking, most people can sample Mexican street food without serious gastrointestinal repercussions. In fact, tasting street food is one of the best Mexican travel experiences out there. If there's a line in front of the vendor, chances are you stumbled across something good. And if they say the salsa isn't that spicy, try a dab before dousing your food. Your lips, esophagus, and colon will thank you.
What is the most popular food in Mexico?
It's nearly impossible to pinpoint one food item as most popular from a richly complex and varied cuisine. But almost everyone will agree that the beloved taco is an iconic Mexican dish. Served with a choice of corn or flour tortilla and filled with nearly everything imaginable in endless combinations, this is the essence of Mexican street food. If you spend any time in Mexico and don't try one, you are absolutely loco!
What is a popular comfort food in Mexico?
Besides the taco, the simple tamale is an authentic taste of home throughout Mexico. Have one for breakfast, and you'll see why.