Best Offbeat Places to Visit in Mexico
Mexico is rife with natural beauty and a rich cultural heritage. Historically significant and full of popular destinations ranging from UNESCO Global Heritage Sites to rolling hills and gorgeous coasts, and not to forget excellent Mexican food, Mexico has truly got it all! 
You must have heard of the usual places like Cancun, Tulum, and Chichen Itza, where you will always find flocks of people. That being said, there are tons of offbeat places in Mexico that are definitely worth a visit and worth exploring. It is also super easy to travel to these places, which are well within your reach and budget! Here is a list of the best offbeat places to visit in Mexico.
Grutas Tolantongo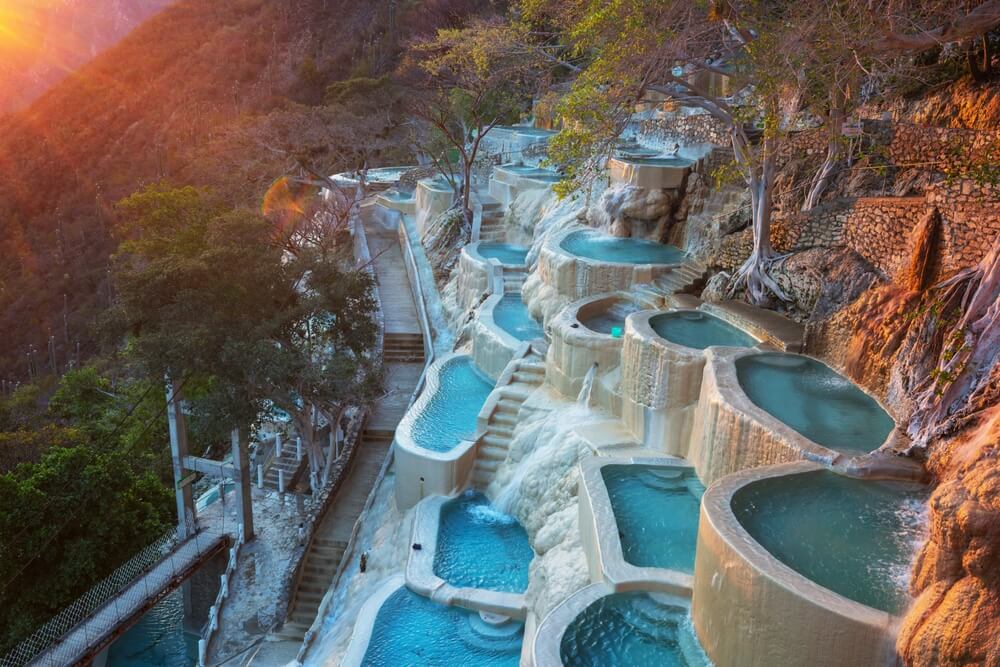 Mexico's remote mountains are home to Grutas Tolantongo, in the north of Mexico City, in the state of Hidalgo. The hot springs resort is a perfect vacation destination for those in Mexico and is truly a photographer's paradise! With hot spring pools powered by geothermal energy tucked away in lush trees and mysterious caves with great rock formations and underground rivers, Grutas Tolantongo is truly a sight to behold. You will find opportunities for hiking, birdwatching, and exploring the caves in the area of Grutas Tolantongo. You can drive down or take the bus to Grutas Tolantongo.
Hierve El Agua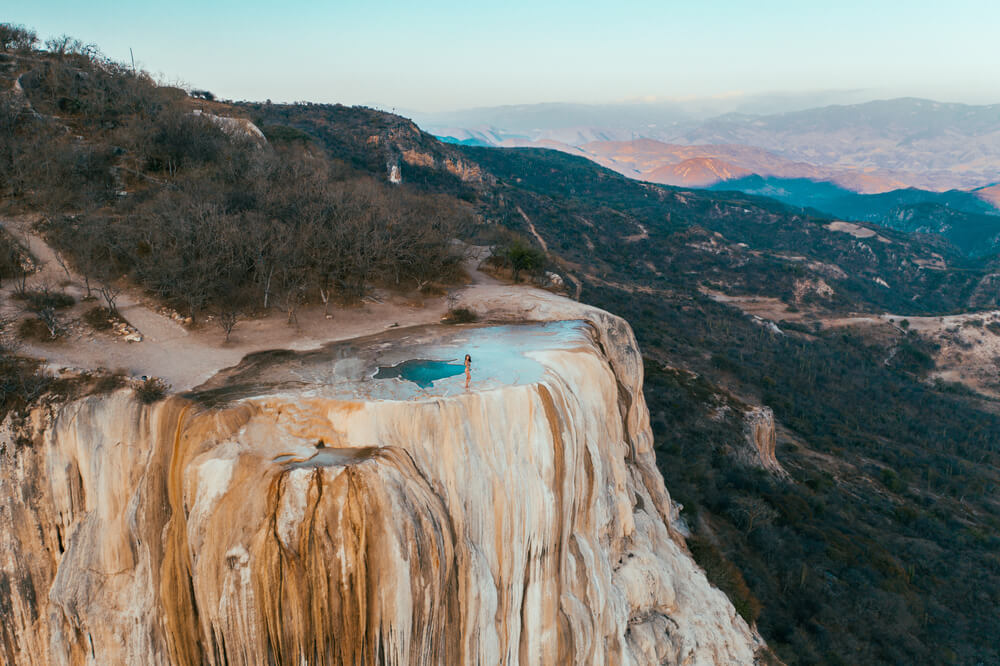 Hierve El Agua is located in Oaxaca and is known for its mineral formations resembling waterfalls and turquoise-colored pools. Hierve el Agua is a petrified waterfall formed over thousands of years by the accumulation of mineral-rich water that cascades over the cliffs. The water that feeds the Hierve el Agua pool is also rich in minerals, giving it a unique sparkling quality. Visitors to Hierve el Agua can enjoy a pool surrounded by stunning views of the Oaxacan Mountains. There are also hiking trails that lead to lookouts with spectacular views.
In addition to its natural beauty, Hierve el Agua is also known for its cultural importance. The area has been used by indigenous peoples for spiritual and healing purposes for thousands of years, and many traditional practices and rituals still take place today. You can take the bus to Hierve El Agua, from where you will board a truck that takes you to the top of the mountains.
Suytun Cenote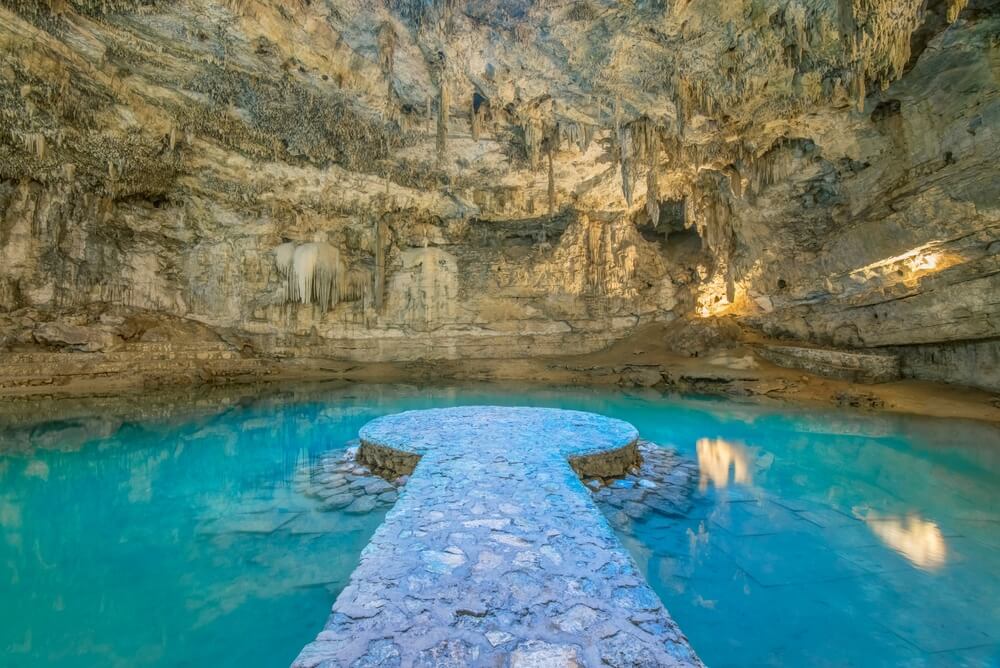 Suytun Cenote is an offbeat place located in the town of Valladolid in the Yucatan Peninsula of Mexico. Suytun Cenote is a natural sinkhole formed by the collapse of limestone bedrock, exposing the groundwater underneath. Sunyun Cenote is known for its crystal clear water and unique rock formations. What's interesting is that you can even swim in the cenote in the cave-like surroundings.
One unique feature of the Cenote is the sunlight that hits through a hole and illuminates the water below, making for a great photo. The Sunyun Cenote is of historical importance as it was used by the ancient Mayan civilization for ceremonial and ritualistic purposes. You can still find remnants of their presence, like offerings. The best way to reach Suytun Cenote is to go on an organized bus tour.
Edward James Surrealist Garden 'Las Pozas'
Edward James Surrealist Garden 'Las Pozas' is located in Xilitla, in the town of San Luis Potosi, Mexico. Also known as the Garden of Eden, Las Pozas is known to be one of the best surrealist gardens in the world. Created by a British poet, Edward James, who commissioned architects to create a series of sculptures like towering pillars and winding staircases, inspired by the surrealist movement. The 80-acre garden has numerous waterfalls, lagoons, and pools with lush vegetation. The garden has been saved as a cultural heritage site that continues to inspire artists and surrealist visionaries. You can drive down to Las Pozas or take the bus.
The Island of Dolls / La Isla des Munecas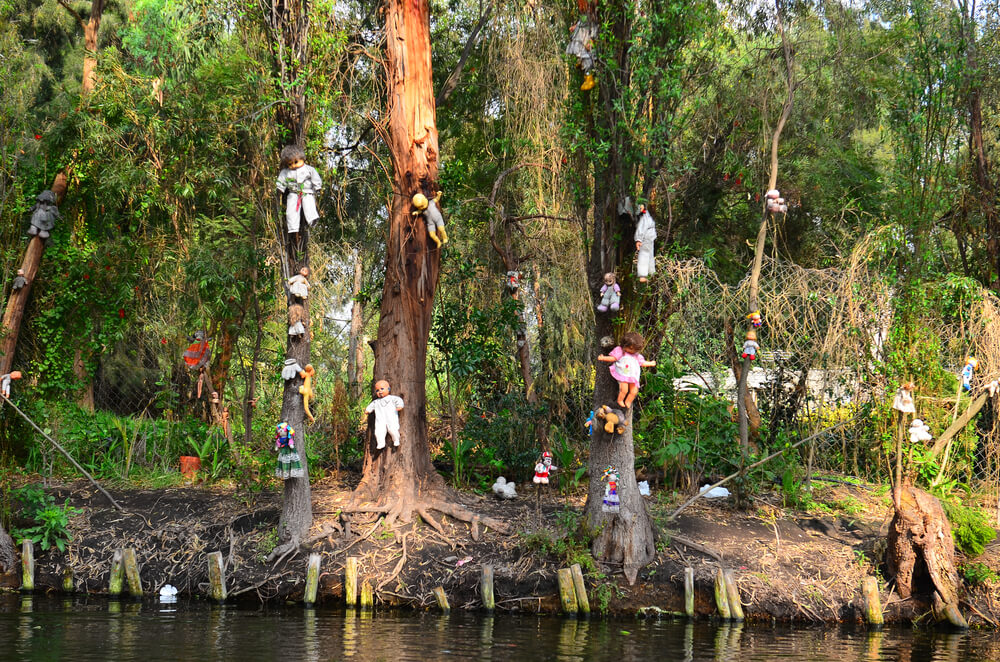 Probably one of the strangest places you will visit in Mexico and the complete opposite of all the aforementioned places, La Isla de Munecas is a small island located in the Xochimilco canals south of Mexico City, in Mexico. The island is known for its eerie collection of dolls hanging on trees. Legend has it that the previous owner of the island, Don Julian Santana, found the body of a drowned girl in a canal and was haunted by her ghost. To appease them, he began collecting and hanging dolls all over the island. Over the years, the collection has grown to include hundreds of dolls, many of which are now damaged in various states.
After Santana's death in 2001, the island became a tourist attraction, attracting tourists from all over the world to see the spooky dolls. Despite its dark history and shaky appearance, many travelers find it an intriguing and unique destination. The only way to reach the island is via trajinera, or boats that take you directly to the island.
Amber and you- AmberStudent is an online student accommodation that helps you secure a home of your choice on your study abroad journey. Having served 80 million students (and counting), AmberStudent is your one-stop shop for all your accommodation needs, with great choices for international student housing. Amber helps with assistance, booking, and price match guarantees! Check out their Facebook and Instagram and stay connected!