Best Islands Near Athens, Greece, to Visit Right Now
What's a visit to Greece without visiting the best islands near Athens? Read this complete guide so you can plan the perfect Greek itinerary.
What's a visit to Greece without visiting the best islands near Athens?
Greece is home to impressive history, beautiful views, and mouth-watering food. To experience as much as possible, embracing the capital city and its many islands should be on your itinerary. Plus, some of the islands are still hidden gems. Be the first to get there now!
In this blog, we highlight the best islands close to Athens to help you plan your dream Greece trip.
Forget buying a battered tourist handbook. This blog is all you'll need. Let's go!
Ports in Athens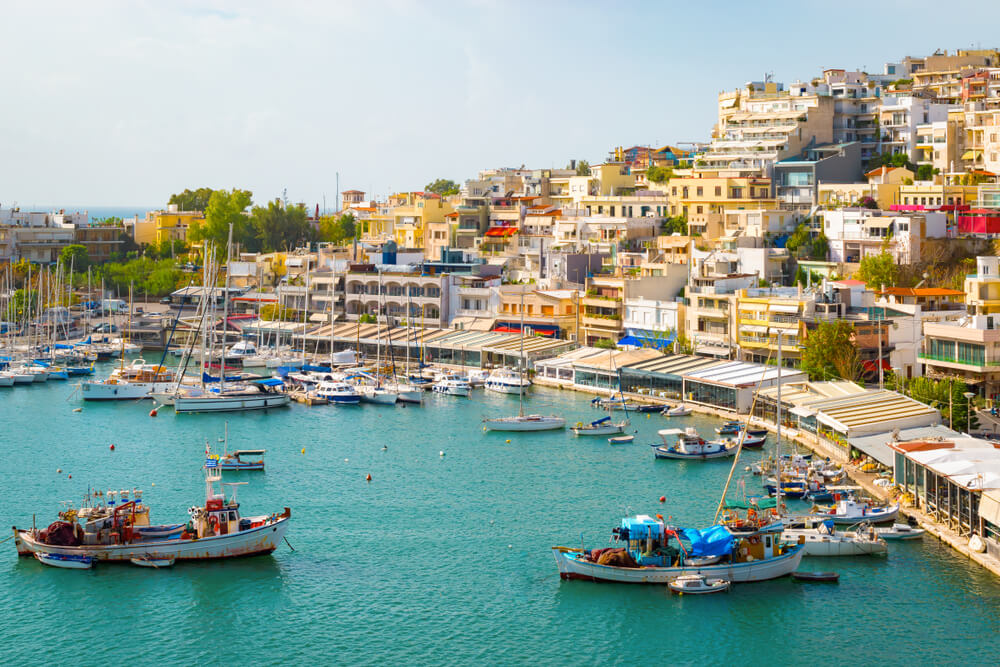 Going from Athens to the islands doesn't happen instantaneously (though we wish it did). You'll have to take a ferry to start your Greek journey.
Athens is home to three ports: Piraeus, Rafina, and Lavrio.
Piraeus is the most used port and the easiest to access from the city, with a 25-minute drive. This is situated on the western side.
Rafina port is 45 minutes by car from the city center, and this port is on the east.
Lavrio is southeast of Athens, but it takes an hour and 10 minutes by car to access this port.
Travel times in the guide above are all from Piraeus unless described otherwise.
Pro Tip: Always check the port your ferry departs from. Checking twice might save you a re-booking fee!
Lost your sea legs? Flights are available to most islands, especially those further afield.
Now that we've explained your port options let's go island-hopping.
The Best Islands Near Athens: A Complete Countdown
We're leaving no stone unturned, from famous Hydra to historic Aegina. Which beaches close to Athens will be your favorite?
Poros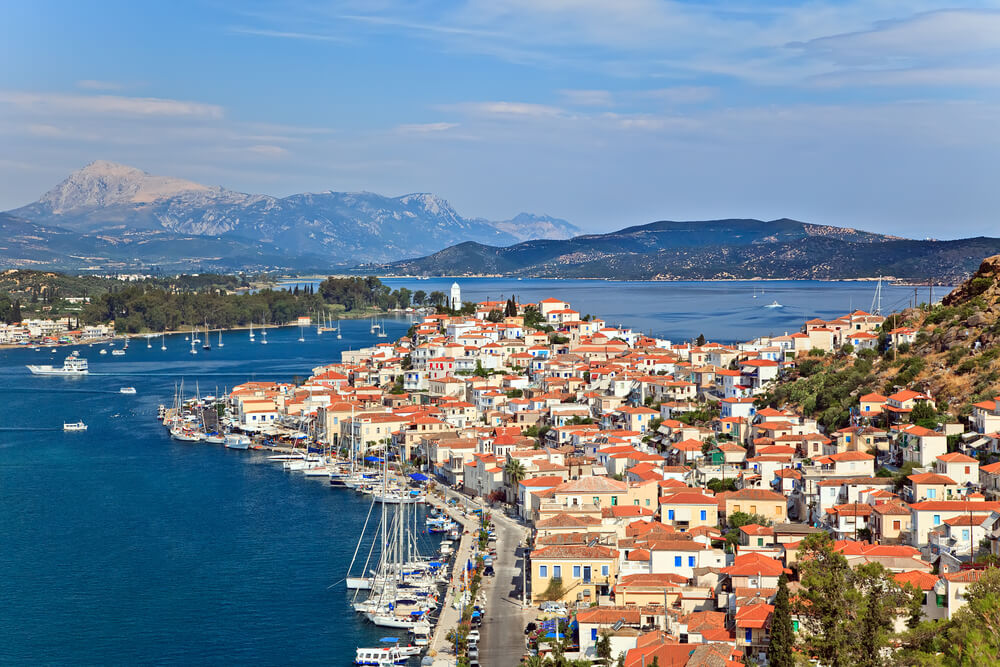 Ready to chillax on a pristine beach?
Poros could be the island trip for you. This family-friendly location offers Askeli one of the best Greek beaches near Athens.
You can also hop down to Love Bay, a picture-perfect spot that overlooks azure waters.
Alongside soaking up the sun, you can check out the historic Monastery of Zoodochos Pigi or walk to the Clocktower viewpoint.
How Far Is It? Piraeus to Poros is two hours and 30 minutes by boat or one hour by speedboat.
Spetses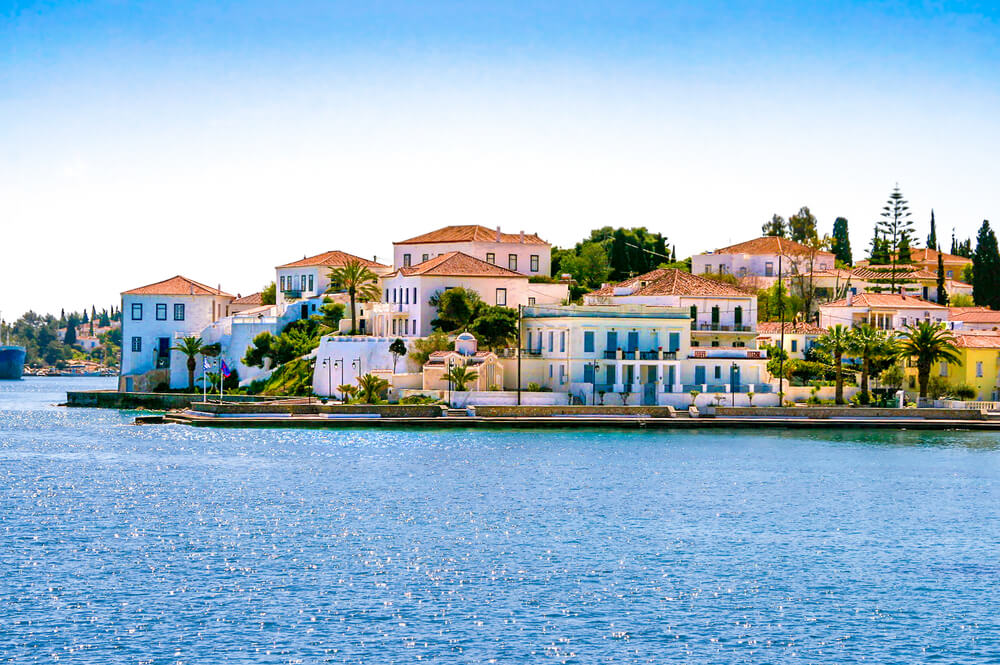 Known as one of the Saronic Islands, Spetses is a popular destination if you want a bit of luxe in your life. Uh-huh, this affluent island provides la dolce vita every time.
Top activities here include admiring mansions, exploring the Old Harbour, perusing museums, and admiring the sea towards the Peloponnese. If you're a keen photographer, this is a gorgeous photo spot you can't afford to miss.
How Far Is It? Piraeus to Spetses is approximately two and a half hours via ferry.
Aegina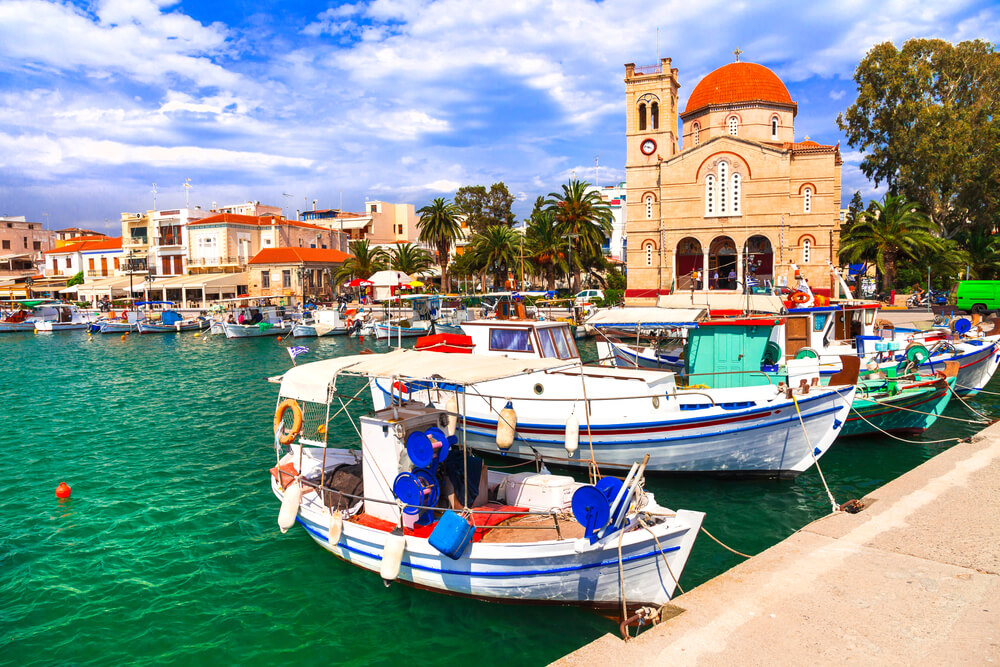 Looking for the closest island to Athens?
We have good news. Aegina is easily done on a day trip.
Here, you can saunter amongst neoclassical architecture, explore small seaside villages, stroll promenades, or enjoy the island's sandy beaches. You can also catch a glimpse of the Athena Aphaia, an ancient temple that'll transport you back in time.
Fun Fact: Aegina is known for its production of pistachios. Yum.
How Far Is It? Piraeus to Aegina takes one hour and 15 minutes via regular boat and 40 minutes via speedboat.
Hydra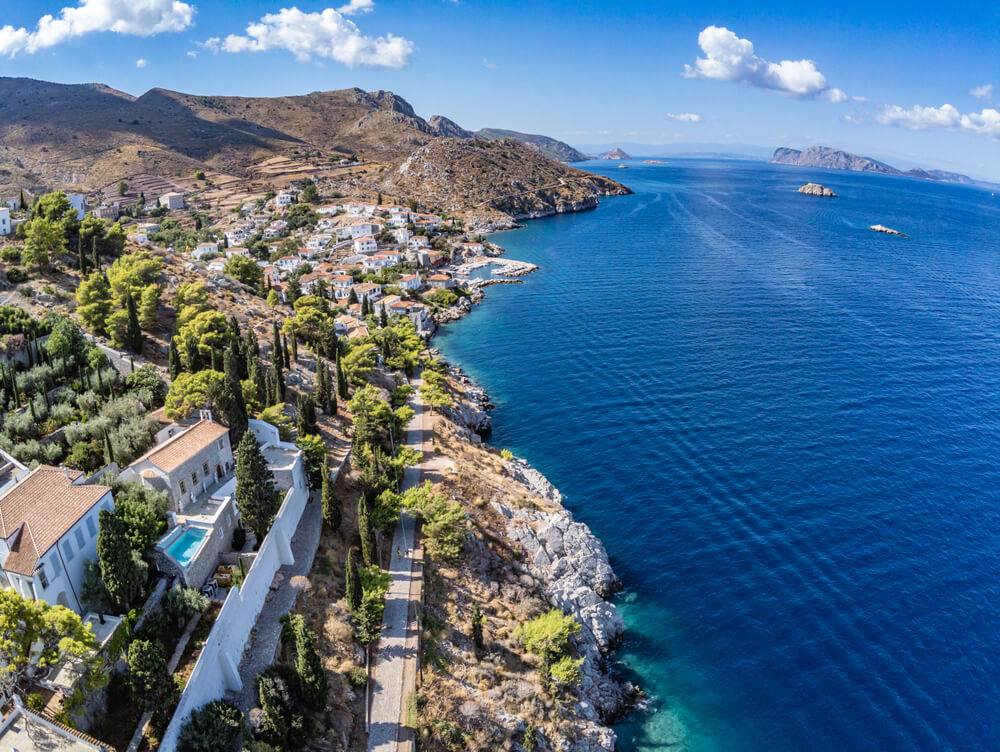 Get ready to immerse yourself in beauty in Hydra.
One of the closest islands to Athens, this spot has everything you need for a perfect vacation. From crystal clear waters to quaint fishing villages, it's easy to get lost exploring this island's charm.
Hydra doesn't allow automobiles, so all transport is done by foot, donkey, or boat. A unique adventure, for sure!
How Far Is It? Piraeus to Hydra is 1.5 hours by speedboat and approximately two hours by ferry.
Kythnos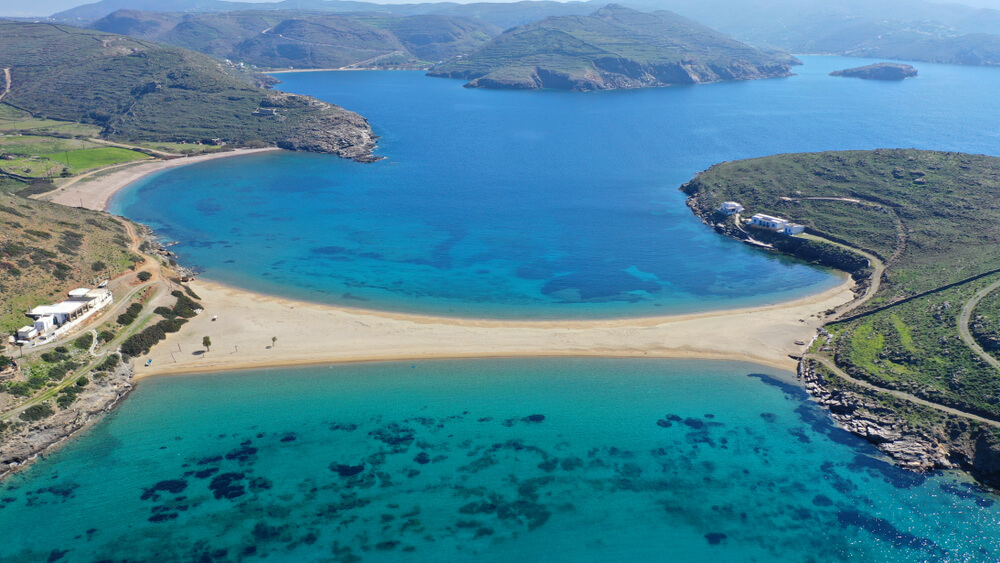 In the western Cyclades, Kythnos offers impressive natural landscapes, authentic villages, and relaxing beaches. It's a popular weekend getaway spot for Athenians.
Plan to spend at least one night here.
Compared to the other Greek islands from Athens, Kythnos isn't as touristy. Great if you want to be off-the-beaten-path, but not ideal if you want easily accessible amenities.
Thanks to the island's untampered landscapes, Kythnos is a paradise for hikers.
The best hiking seasons are spring and autumn when the temperatures aren't too hot. Hiking trails here aren't signposted well, so remember a map or a hiking app.
How Far Is It? Three hours via ferry from Piraeus. Alternatively, Lavrio to Kythnos takes 1 hour and 40 minutes.
Andros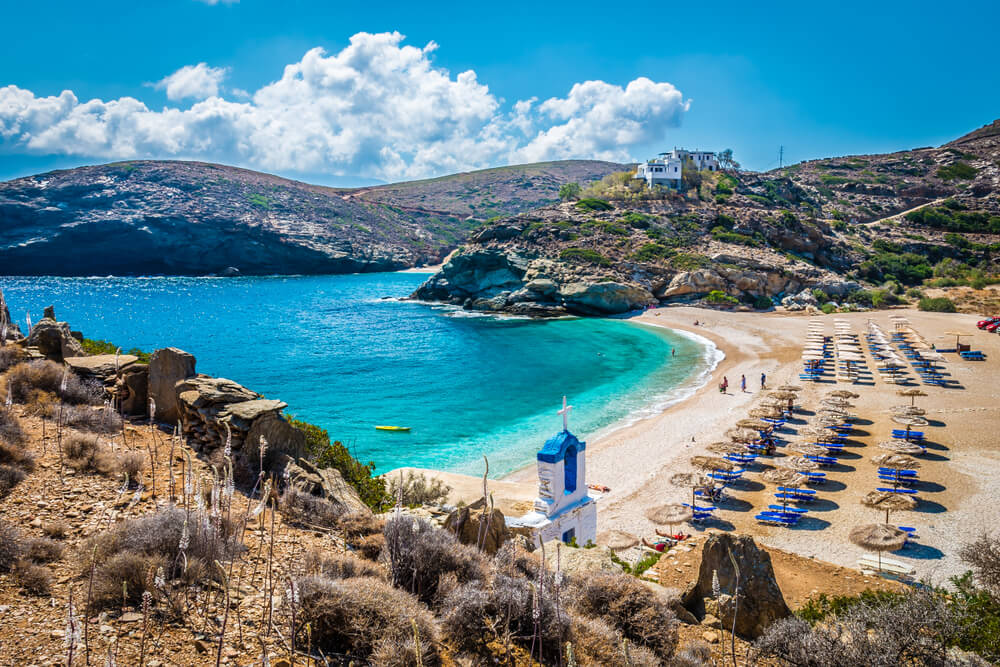 Explore the Cycladic Islands by starting your island-hopping adventure in Andros. This Greek island is home to arts, culture, and watersports opportunities.
Batsi is a tourist-friendly town with harbor views, fresh seafood, and a traditional charm.
Chora, Andros' capital, is another must-visit with arts, museums, and breathtaking mansions.
But don't forget Ormos—a beach known for windsurfing and unforgettable views.
How Far Is It? Most ferries to Andros depart from Athens' Rafina port. From Rafina to Andros, it takes one hour and 55 minutes. Ferries from Piraeus take five hours and 20 minutes.
Agistri/Angistri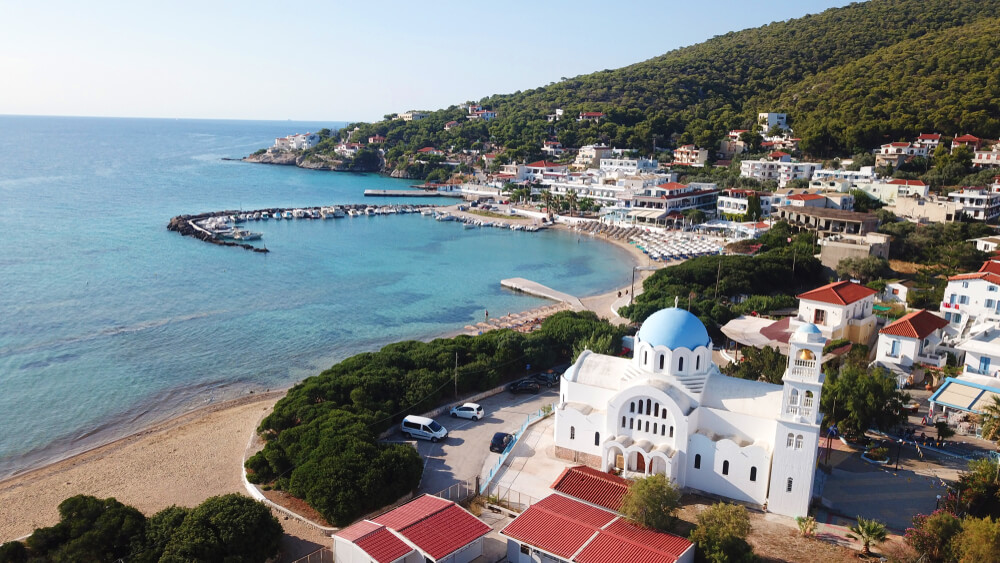 Looking for Greek islands close to Athens with countless activities? You've landed on the right page.
Introducing Agistri, a small island that neighbors Aegina. From hiking to cycling, it is an excellent place to get active. You can try your hand at kayaking, sailing, and horse riding against the stunning backdrop.
Don't want to break a sweat? Fear not. Agistri has countless independent restaurants, traditional coffee houses, and beaches to unwind in.
How Far Is It? From Piraeus to Agistri, expect 55 minutes via speedboat and 1 hour 30 minutes by ferry.
Kea/Tzia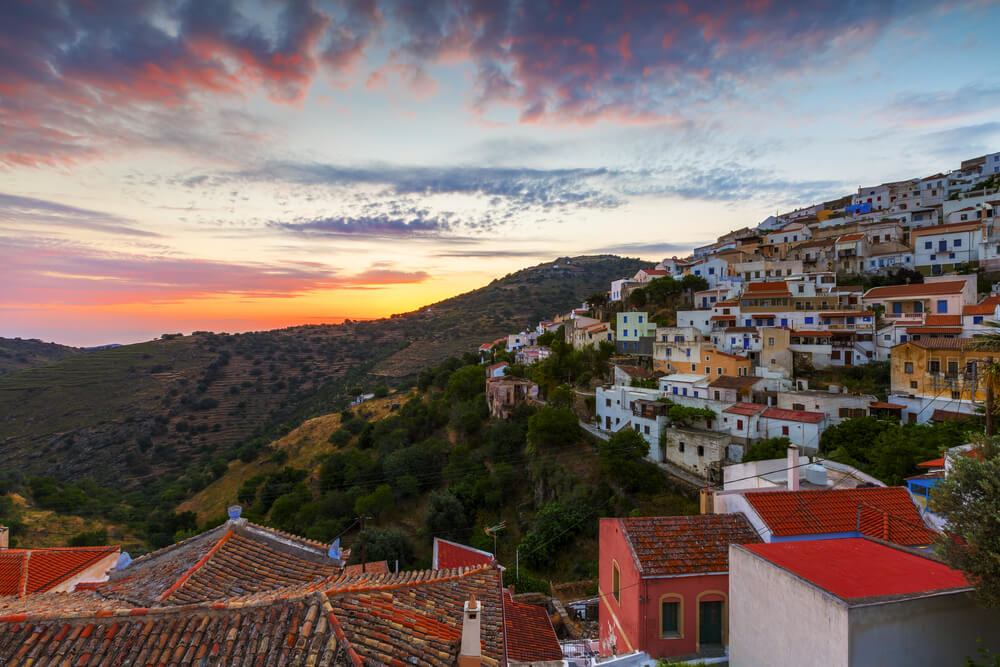 Kea (also known as Tzia) is super close to the capital, making it an easily accessible pick for day trips and overnight stays.
Every Greek island has something unique. Amongst beautiful beaches and glistening waters, the island is known for the Lion of Kea, an archaeological site that dates back to approximately 600 BC—cue I'm Still Standing by Elton John.
How Far Is It? Kea/Tzia is a one-hour ferry ride away from Piraeus.
Tinos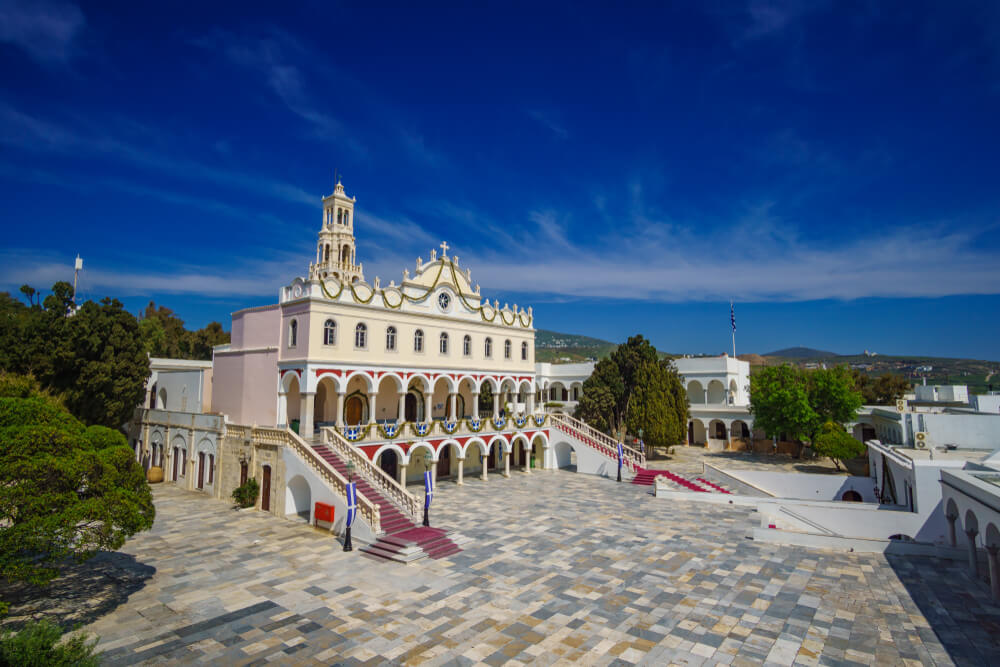 Tinos, another spectacular Cyclades Island, is a little bit further away but absolutely worth the extra traveling.
This gem of an island is known for its beautiful religious sites, such as the Lady of Tinos church (Church of Panagia Evangelistria). It's a common stop on Greek Orthodox pilgrimages, but all tourists can admire the history and culture.
Alongside marveling at Tino's spiritual heritage, you can rent a car and tour local villages, relax on quiet beaches, and enjoy fine food at independent tavernas.
Pro Tip: August 15th is the Greek Orthodox celebration of the Dormition of the Virgin Mary. The island is busiest on this day, and there are celebrations everywhere.
How Far Is It? Ferries from Piraeus to Tinos are approximately five hours long. Ferries from Rafina to Tinos are two hours long.
Milos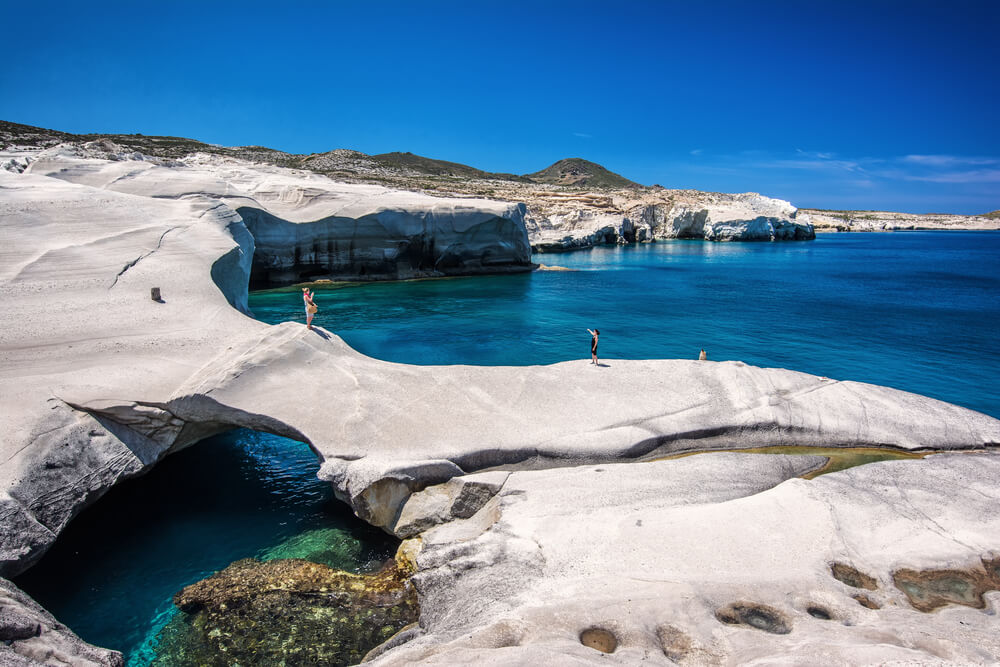 We're slightly cheating with this entry. But Milos is one of those must-visit locations. Milos might not be as close as the other islands on this list, but it is only a 40-minute flight from the capital.
Here's why you should consider swapping the ferry for a plane.
Milos is one of the southernmost Cyclades Islands with a unique volcanic makeup. This means you're treated to distinctive landscapes and hues, ideal for geography lovers and photographers.
There are over 40 beaches and infinite activities here (uh-huh!). From exploring the lunar landscapes of Sarakiniko Beach to kicking it like a local in Plaka village, it's easy to spend a few days here.
Other notable activities include:
Watching sunsets from the remnants of an old Venetian castle.
Enjoying fresh seafood.
Examining Roman ruins.
Delving into the catacombs of Milos.
There really is something for everyone.
How Far Is It? By air, 40 minutes. By ferry, Piraeus to Milos is three hours and 25 minutes.
Santorini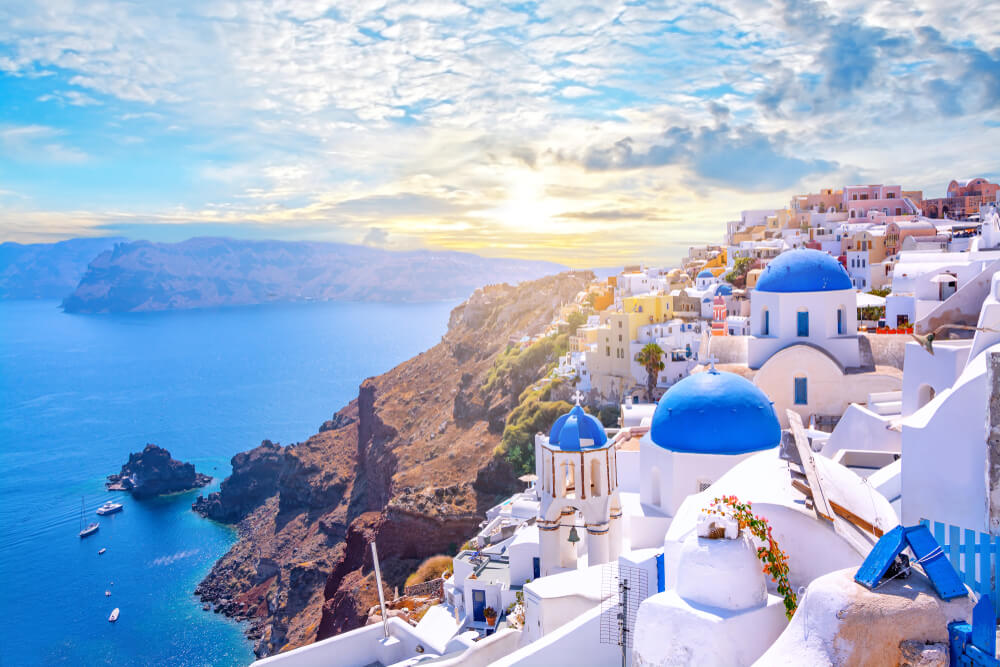 Of all the Greek islands, Santorini is one of the most famous—and for good reason. This Cyclades Island is downright gorgeous! Once you step onto this slice of heaven, you'll feel like you're in another world.
From exploring quaint villages to embracing Santorini's chic nightlife scene, your options are endless here. Top attractions include touring the island's wineries, visiting red and black sand beaches, exploring history at the Akrotiri archeological site, and climbing a volcano. Wicked.
Pro Tip: Santorini isn't the closest island to Athens. Make sure you book a few nights to truly enjoy the island.
How Far Is It? Ferries from Piraeus to Santorini can take anywhere from four hours 45 minutes to a whopping 7.5 hours. Flights from Athens to Santorini take 55 minutes.
Mykonos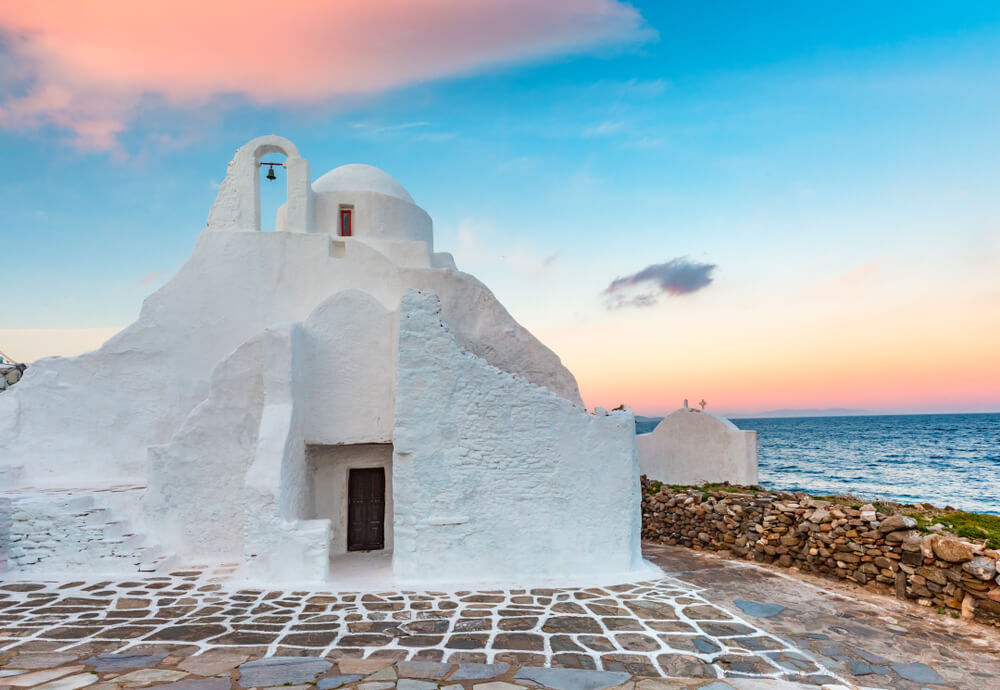 Finally, we're ending our tour of the Greek Islands with another renowned stop—Mykonos.
Known for beautiful white buildings, serene beaches, and non-stop nightlife, this is the destination for your summer vaycay. Celebs love it, and you will, too!
Even if you don't recognize this island's name, you'll know what it looks like. Mykonos is home to stark white buildings, deep blue seas, and mazes of narrow streets. It's the poster child for Greek holidays, and we love it.
Alongside partying in sophisticated bars, you can spend your afternoons wandering around authentic towns and nibbling fine cuisine in tiny tavernas. There's also the option of kayaking, beach hopping, or visiting archaeological sites.
Whether on a family trip or solo, you'll find your feet in Mykonos.
How Far Is It? Ferries from Athens Rafina port to Mykonos take 2.5 hours. Flights from Athens to Mykonos are 50 minutes.
Weather in Athens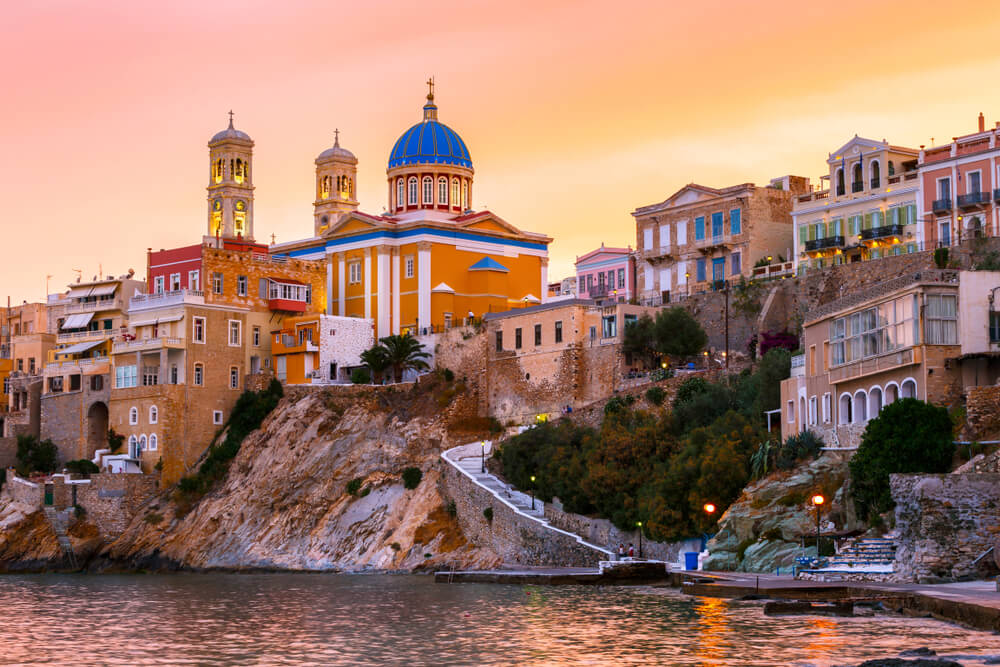 Before exploring the islands near Athens, note the local weather to avoid wardrobe disasters. Of course, the weather will change from island to island, but this general guide will keep you cool while in the capital.
The heat in Athens peaks in July and August, when temperatures reach an average of 28.7°C (84°F).
January sees the coldest weather, with an average temperature of 10°C (50°F).
If swimming is your goal, consider booking in August, as the average sea temperature sits around 25°C (77°F). Nothing beats a relaxing dip after a Greek salad!
Packing List for Athens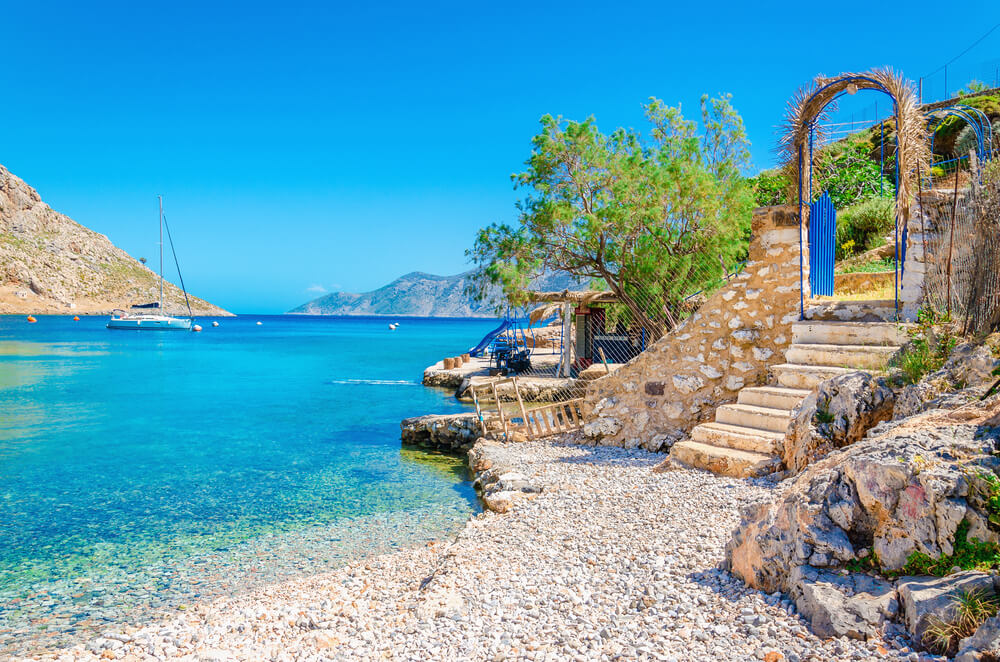 Whether visiting the capital or the best islands near Athens, you need to be prepared for heat, sea, and sand. Here's what you should consider packing for this iconic European destination.
Your ID, passport, and visa (if applicable)
Any necessary medications
Sunglasses and sunscreen
Anti-mosquito sprays
European plug adapters
Comfortable shoes
Swimming clothes
How to Get to Athens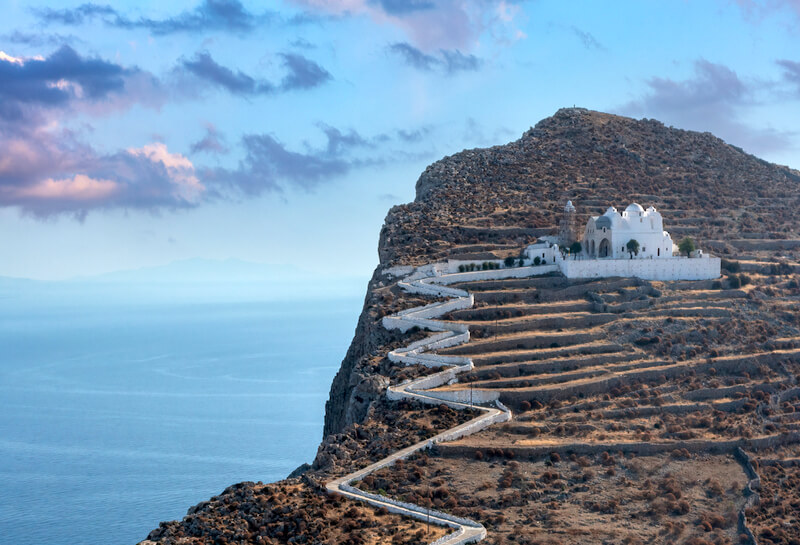 Before you enjoy Athens and the iconic Greek islands near Athens, you must get clear on your transport. Here are some top routes to the capital from other well-known destinations.
If you can, add Thessaloniki to your travel plans. This port city is known as the country's cultural capital and has a vibrant nightlife. You can also easily travel from Thessaloniki to Athens via an economy car or a luxury minivan. Both take approximately five hours and 20 minutes.
Nafplion to Athens is another favorite route, and it's much shorter than the last. You can book a luxury minivan that only takes two hours. Perfect if you're not keen on long car journeys.
Alternatively, flying directly to Athens Airport (ATH) brings you right into the action. This is an international base that receives flights from all over the world.
Best Islands Near Athens: The Takeaway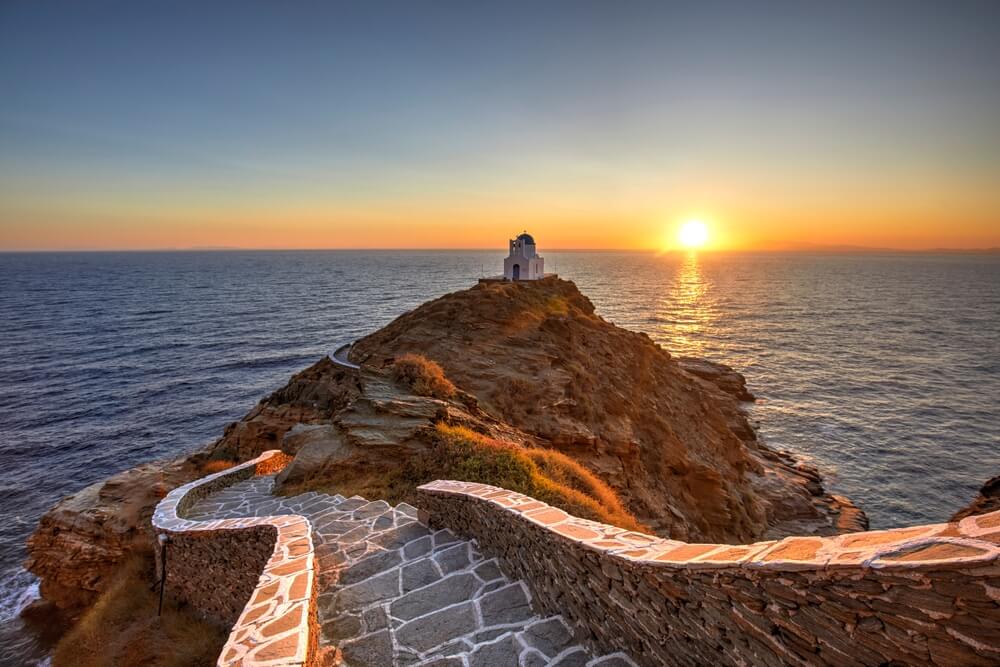 Experiencing the best island near Athens is a journey everyone should make. But don't assume you can wing it. Book your travel in advance to ensure your stint in the Aegean Sea is drama-free.
Get ahead of the game with Bookaway's Greece routes. We'll see you there.
FAQ
What islands can you visit from Athens? 
You can visit Poros, Spetses, Aegina, Hydra, Kynthos, Andros, Agistri, Kea/Tzia, Tinos, Milos, and more from Athens. 
What islands are close to Athens in Greece? 
Aegina, Kea, and Poros are the three closest Greek islands. 
Which is the best Island near Athens? 
Some say Aegina is the best island near Athens due to its proximity and activities. But the true answer depends on your taste!
What is the easiest Greek island to get to from Athens?
The quickest islands to visit include Kea/Tzia, Spetses, Aegina, Hydra, and Agistri. Each is a 1.5-hour ferry ride away (or less).