Railay Beach, Thailand: Island Life Minus The Island
A laid-back atmosphere, thrilling activities, and beautiful views. What more could you want? Learn all about Railay Beach, Thailand, now.
Are you dreaming of exchanging your work desk for turquoise waters and golden sands?
Railay Beach, Thailand, will make these daydreams a reality. Yup, no more zoning out at work. You'll be relaxing amongst the waves in no time.
So, get your suitcase ready. After this blog, you'll be raring to go.
Railay Beach: Know before you go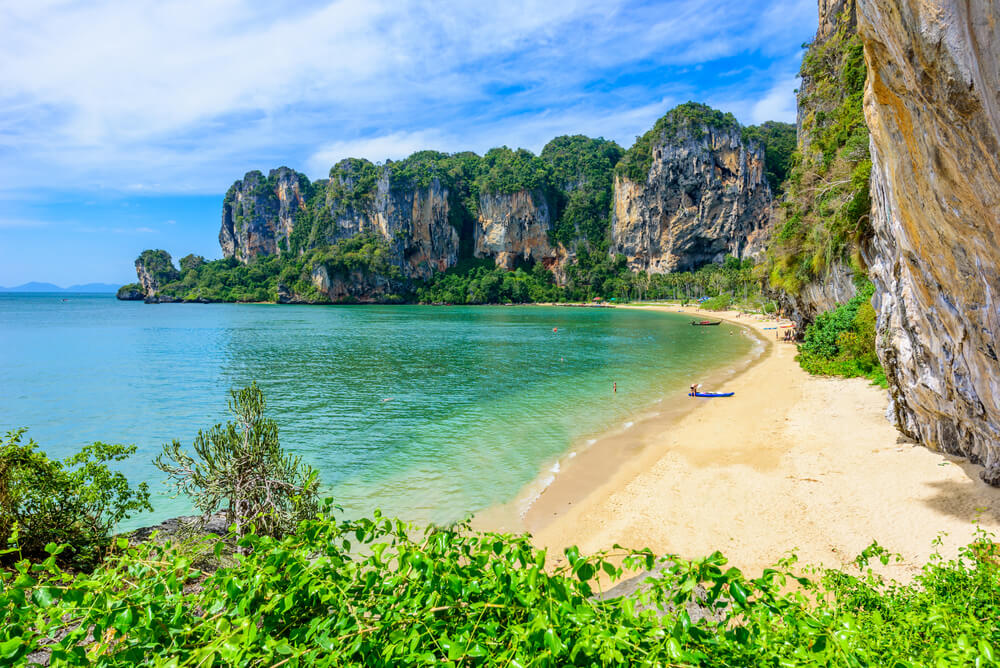 So, why visit Thailand's Railay Beach?
You're spoilt for choice when traveling in this country, as there are so many beautiful beaches. But this coastline's carefree vibe and isolated nature keep drawing tourists in, and many return again and again and again.
You instantly feel the relaxed atmosphere as soon as your boat arrives.
Despite being part of the mainland, this beach and the nearby town have an island feel. Most people come here to relax, but there are also countless outdoorsy activities to get stuck into.
This spot is also known for its Rastafarian population, so don't be surprised if you get Caribbean vibes. While here, you'll find reggae music and rasta bars, which perfectly fit the location's vibe. Rum, anyone?
Tourists haven't always been part of Railay Beach history.
However, this coastline became famous through its amazing limestone cliff rock climbing opportunities. Soon, backpackers, holidaymakers, and thrill seekers were all regular visitors to this beauty spot.
Railay Beach West vs. East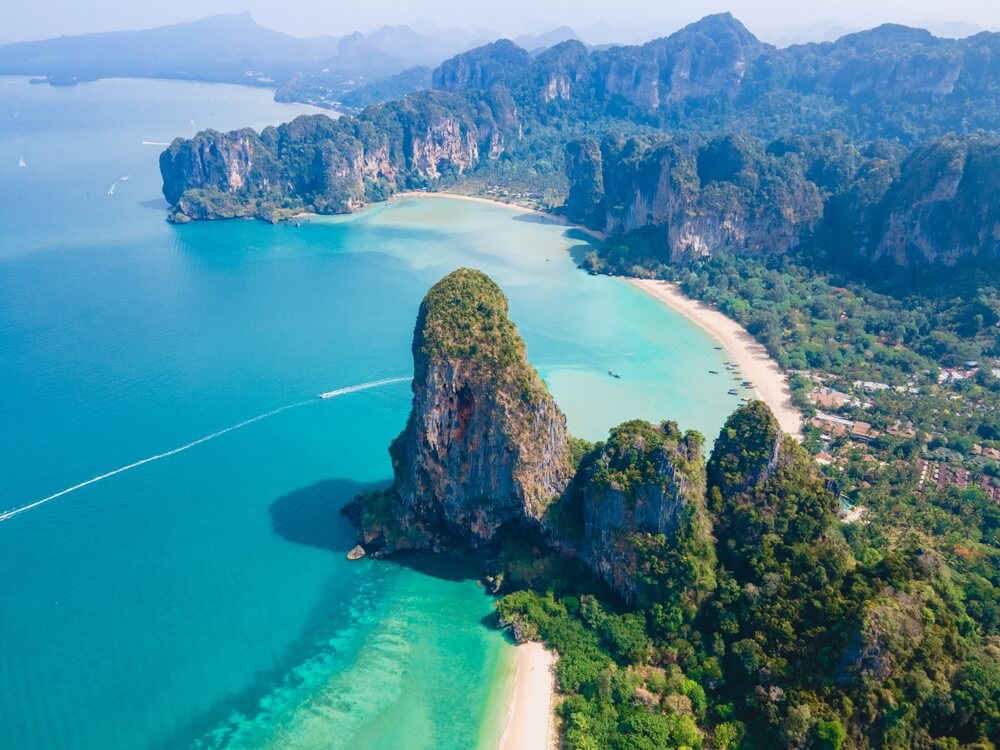 Once you start researching this beautiful location, it quickly becomes clear that Railay Beach has two distinct sides — west and east.
The peninsula's west side is the most popular, thanks to its sandy beach. It's what most tourists refer to as Railay Beach. You can also find beachfront bars, restaurants, and souvenir shops here. The west is also the nightlife hub — so note that party people.
On the east side of the peninsula, the coastline is nearly completely covered in gorgeous mangroves. It makes for stunning views, but swimming here is not as easy. The east is still a popular place to stay. We definitely recommend taking a short walk across the pedestrian trails to see this area and its floating pier.
Pro tip: Railay West Beach isn't the only sandy coastline in the area. Phra Nang Beach and Tonsai Beach are two additional seafronts to explore.
Where is Railay Beach in Thailand?
You'll find Railay Beach in Southern Thailand, the Krabi province, to be specific.
This isolated beach is attached to the mainland, but due to its unique geography, you'll feel like you're on another planet when visiting. The only way to access is via boat, as towering cliffs surround the coastline. You won't find cars here, just peaceful walkways and jungle trails.
Peace, quiet, and natural beauty.
Pro tip: Jungle trails are the primary way around this peninsula. So, alongside your beach flip-flops, bring hiking boots or sneakers.
Activities you need to try in Krabi and Railay Beach
From Railay Beach rock climbing to enjoying a cool drink, here's what you can't miss on your visit to Krabi.
Relax on Railay Beach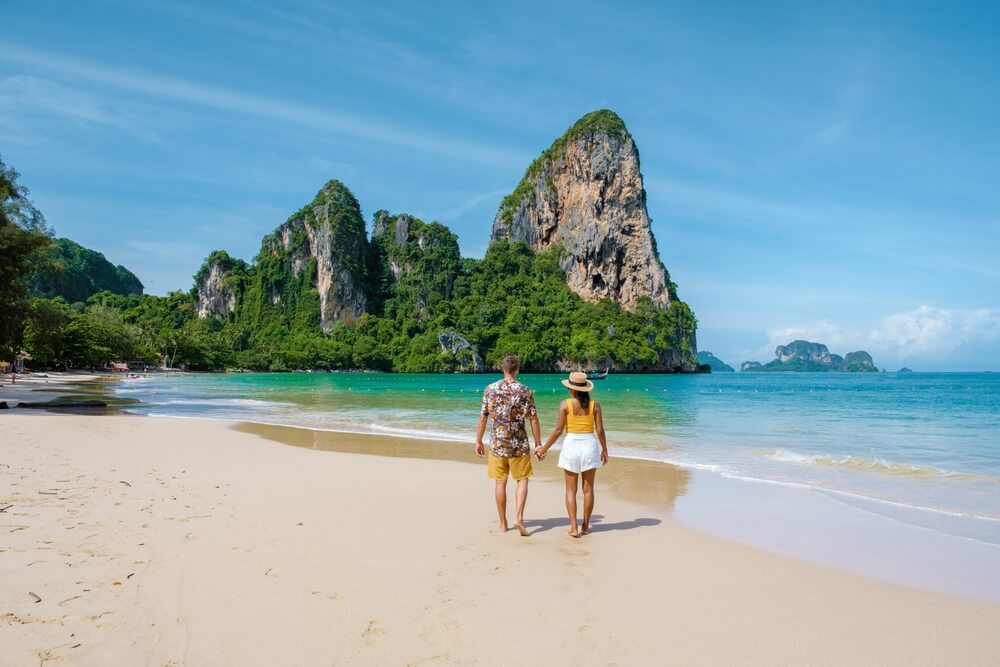 There are many things to do on this peninsula, but the first thing you should do on arrival is roll your beach towel out and take in the coast's beauty. Bonus points if you take a dip.
Pro tip: Watch the sunrise on the west beach and enjoy the sunset on the east. The beach looks best with a colorful skyline.
Go cave exploring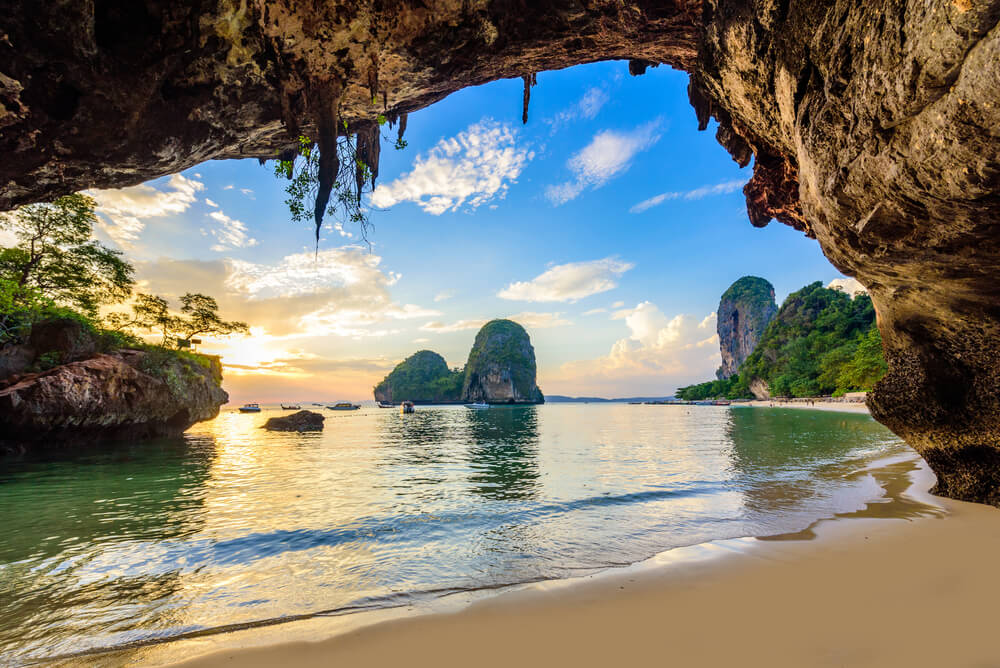 If you want to spend a little time out of the sun, try an afternoon of cave exploring.
Princess Cave, AKA Phra Nang Cave, is a unique spot you don't want to miss. This natural wonder is made from limestone rock formations and doubles as a fertility shrine. You can also stop and watch rock climbers do their thing on the rugged stone walls.
Diamond Cave is another popular option on the peninsula. Geography lovers should make time for both.
Rock climbing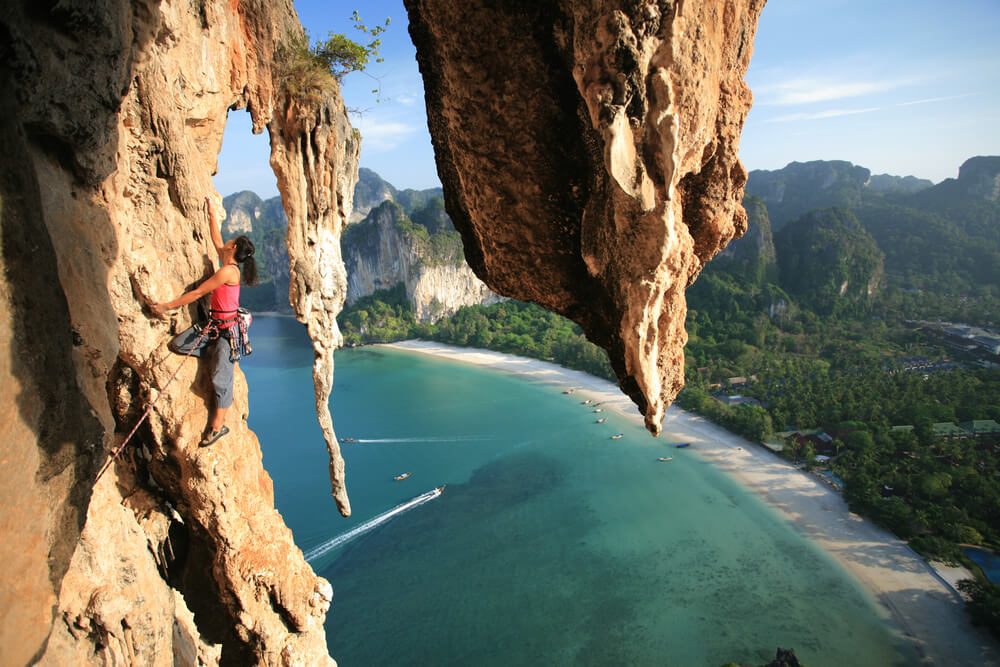 Railay is known for climbing, thanks to its impressive limestone cliff collection. Grab some climbing shoes, chalk, and confidence, and get stuck into some bouldering if you dare.
Advanced climbers should check out deep water soloing. It's just you, the holes, and the ocean. If you slip, you'll drop into the sea. Sweaty palms begone.
Nervous? There are multiple professional climbing schools here. Learn the ropes before climbing them.
Beach hop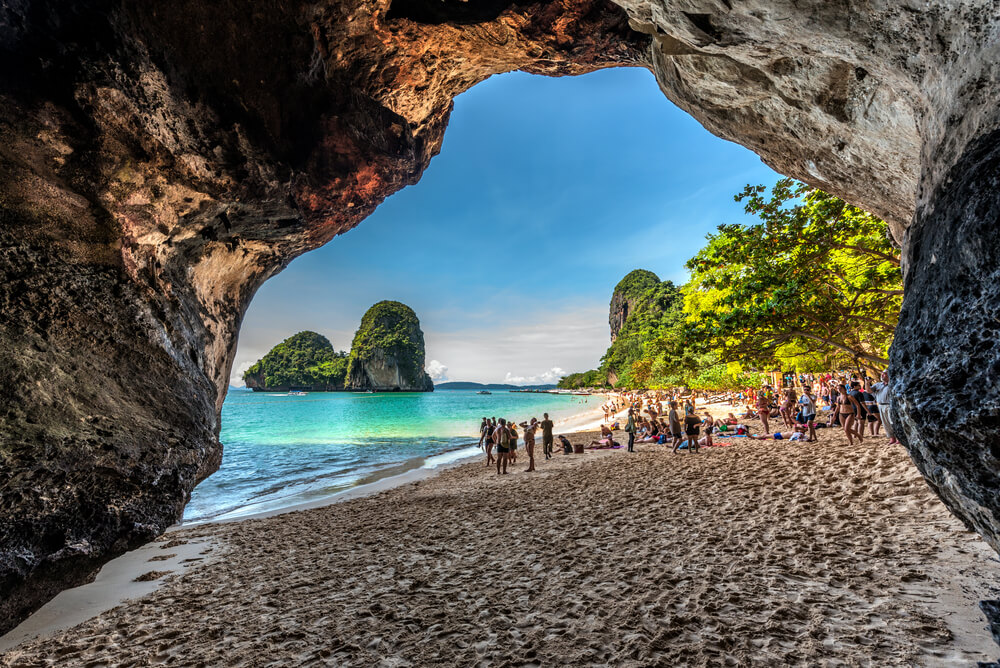 Can't sit still?
You don't have to.
Phra Nang Beach and Tonsai Beach are two famous coastlines offering a sandy spot to chill on. Think powder fine sands, postcard-ready views, and more spectacular limestone formations.
Plus, the more you explore the area, the more likely you are to see dusky-leaf monkeys!
Take a hike (or walk)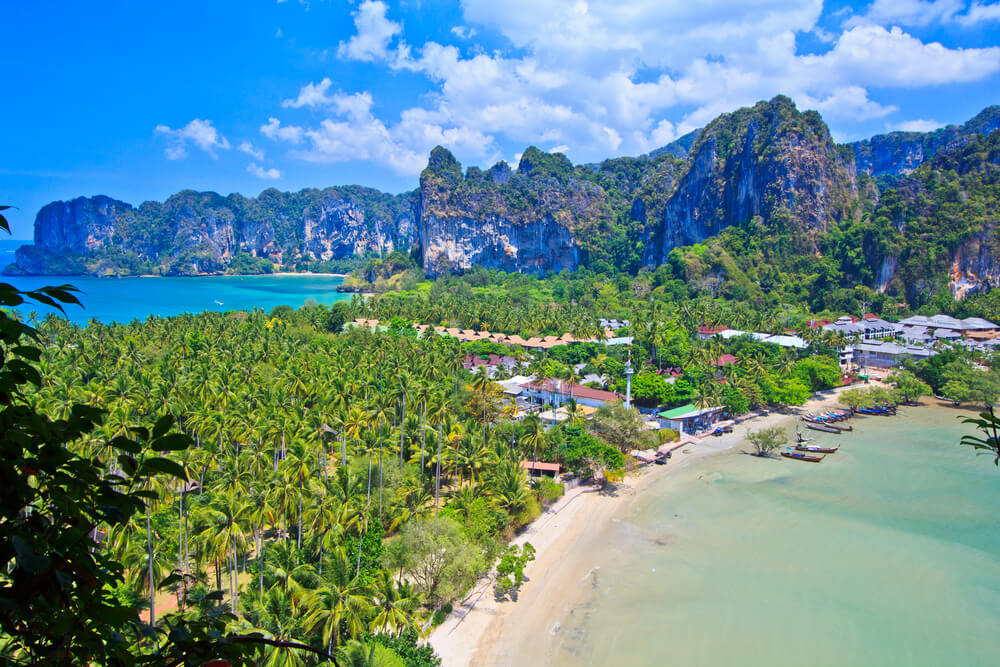 Interlocking hiking trails connect the whole of this area. Challenge yourself to a jungle hike (or peaceful walk) through the peninsula to get your heart rate up. Walking is always a great idea but bring your mosquito repellent. This is a jungle area home to lots of buzzy pals.
Pro tip: Railay Viewpoint is the best trail here. This 25-minute hike takes you to new heights. But be warned, it gets slippery, and you may have to pull yourself on ropes. This is one for the adventurers.
Kayaking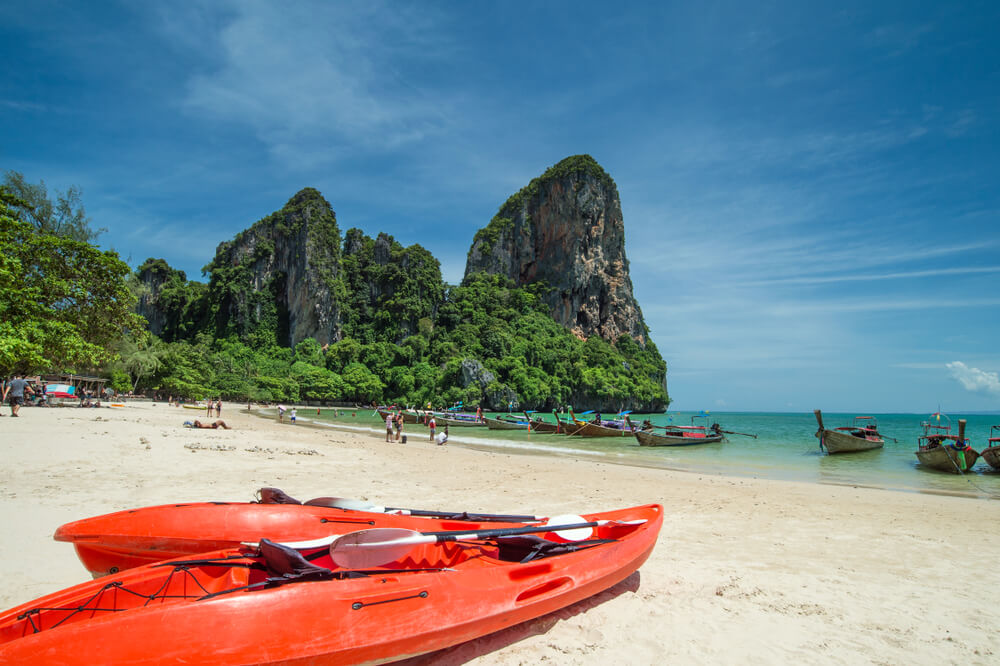 If you prefer to explore water rather than land, grab a kayak and take on the sea. These can easily be rented from the beach, and you can even paddle as far as Tonsai Beach. The approximate cost of kayaks is 200 baht per hour (just under $6.)
Island hop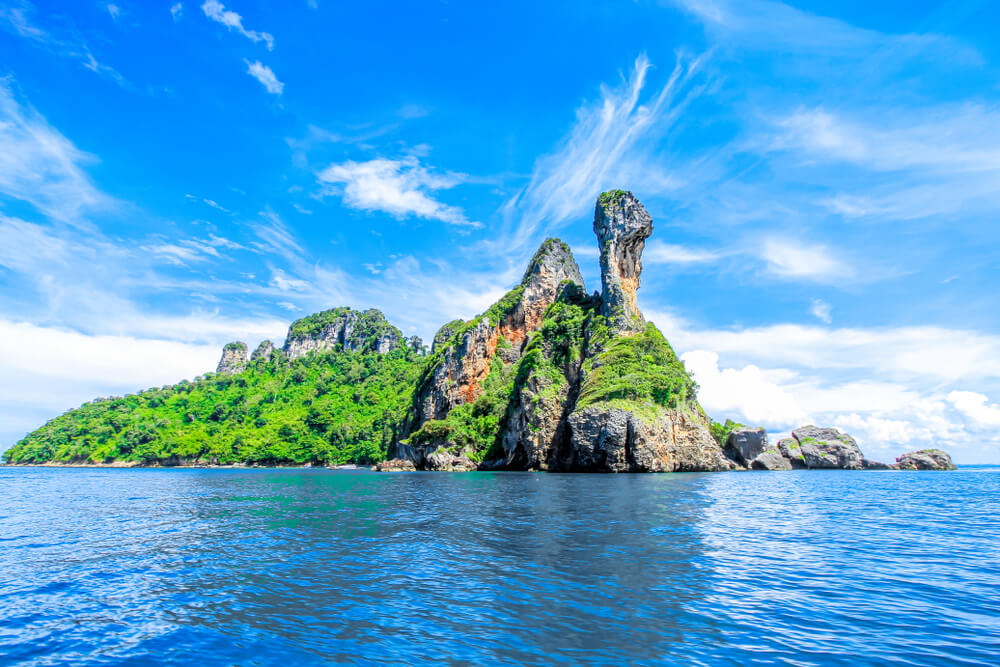 Railay provides an island vibe without needing to leave the mainland. However, if you want an authentic island experience, you can book day boat tours to the nearby islands. These tours usually include snorkeling stops, so don't miss out.
Islands on the usual route include:
Tub Island
Koh Mawr Island
Poda Island
Chicken Island
Tours can be booked from companies along the main beach stretch or online.
Try a cooking class
Railay is a hub for outdoor activities, but these aren't the only available activities. Cooking classes are also a popular pastime here.
Local chefs provide tourist and beginner-friendly cooking classes to show off their culinary culture and to unite strangers through food. From pad Thai dishes to fragrant curries, nothing's left off the menu here.
Cooking classes can be found online or via tourist information at your hotel.
How to get to Railay Beach, Thailand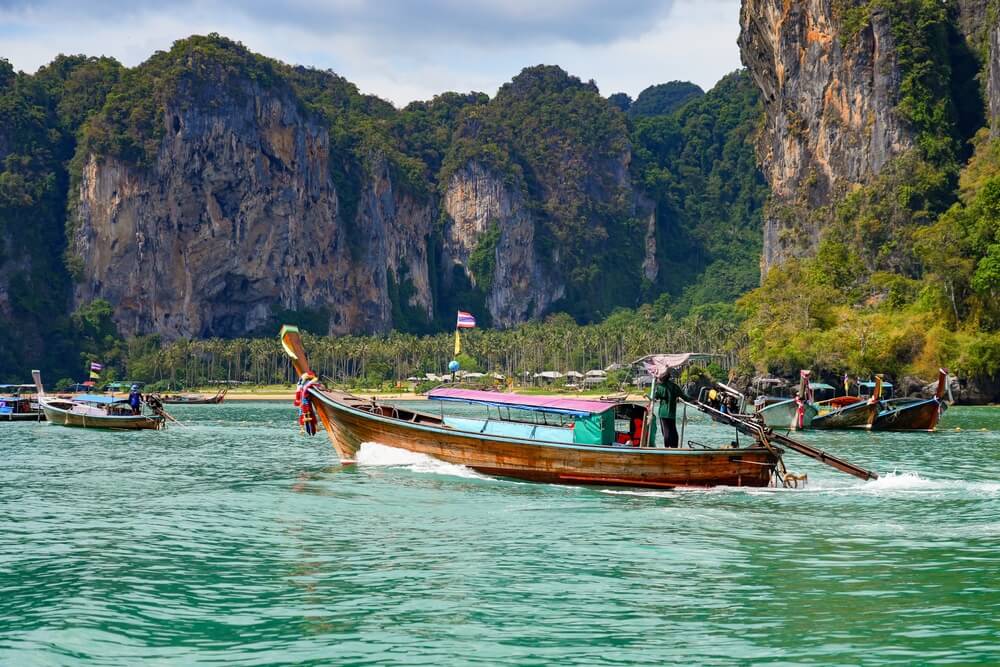 First things first, you'll need to get to Krabi.
Bangkok to Krabi takes 11 hours by express bus or 1 hour and 25 minutes by air.
If you take the bus, consider stopping at other unforgettable Thai destinations to break up the trip. Phuket to Krabi is a shorter 3-hour bus or minivan trip.
Once you're in Krabi, put your sea legs on.
Railay Beach is only accessible by boat. The easiest and most popular way to access it is from Ao Nang or Krabi Town. Both locations offer transfers around the limestone cliffs and thick jungle. These transfers only take 15 minutes, so don't worry if the sea makes you green. You'll be there in no time.
If you want to hop from Krabi Airport to Railay Beach, you can book an easy standard bus and ferry combination duo. This journey takes approximately 1.5 hours from the airport to the beach, allowing you to skip waiting for public transport.
You can also travel from Krabi Airport to Ao Nang via a 35-minute standard minibus. This way, you can get your bearings and enjoy the ambiance before jumping on a 15-minute boat from Ao Nang to the beach.
Weather in Railay Beach, Thailand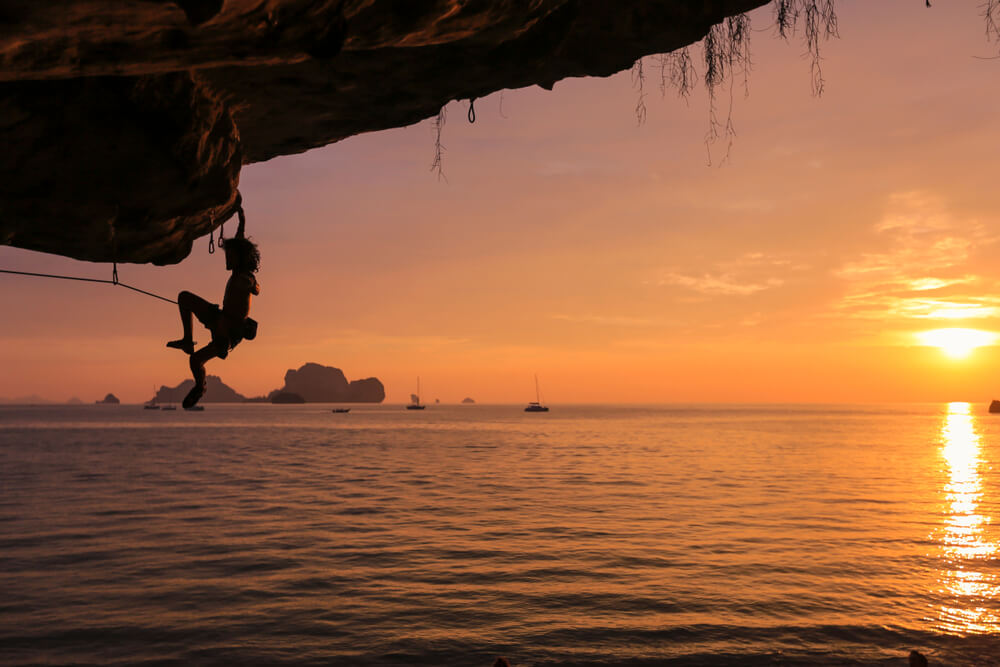 Before you arrive at Railay Beach in Thailand, you need to know the weather for your trip. Packing for the appropriate season can make or break a vacay. Don't estimate. Research before you arrive.
This coastal area has a tropical climate with lots of humidity.
The best time to visit is from December to March, particularly January and February. These months see the least rainfall and have an average temperature of 34°C/93°F. You should still expect one or two storms, though.
There's a six-month rainy season from April to November. However, this season is at its peak from August to October. During these months, the average temperature is 31°C/87°F. So, it's still very hot, but you'll need a rain jacket.
The Railay Beach, Thailand, weather stays warm throughout the year. You just need to decide whether the rainy season is for you.
Pro tip: The rainy season could be your happy place if you plan to budget travel. It brings out the flora and fauna, and it's cheaper. Think lush greenery, fewer tourists, and lower costs.
Railay Beach accommodation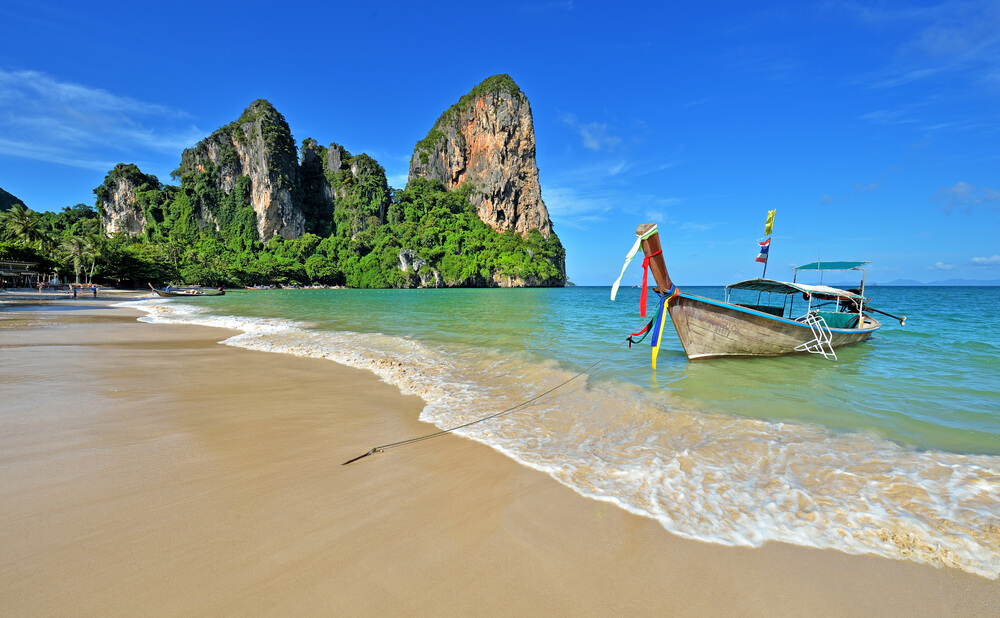 If you are visiting this gorgeous spot, try to stay for more than one day.
Accommodation here is varied, and there are options for all budgets. From beachfront hotels to affordable hostels, finding a room to match your traveling style is easy.
Packing list for Railay Beach in Krabi, Thailand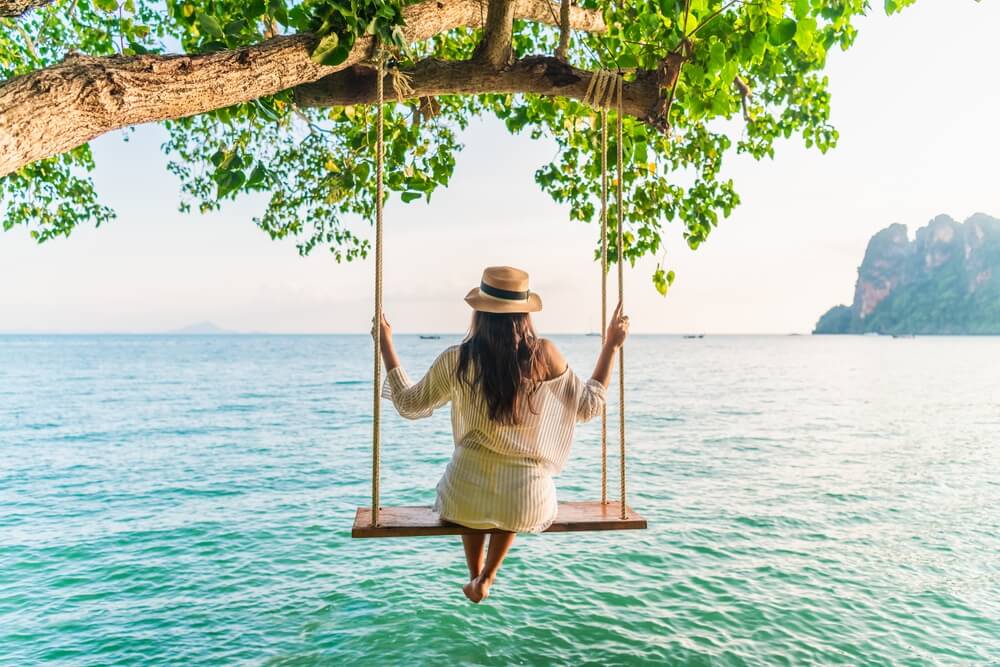 Not all coastlines are the same, so pack your beach bag accordingly. Here's what you'll need for the trip.
Light and comfortable clothes (psst, it's hot and humid here)
A dry bag or waterproof phone case
Cash
Microfiber towel
Sandals or water shoes
Mosquito repellent (preferably an eco-friendly one)
UV sun protection
Flashlight (the area lacks good public lighting in the evenings)
The lowdown on Railay Beach, Thailand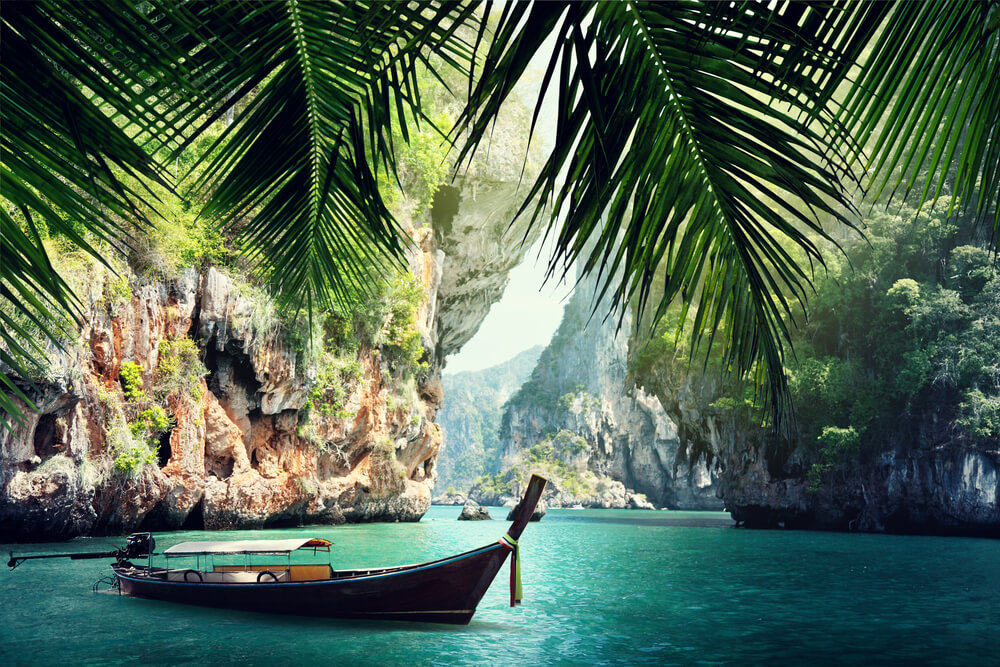 Railay Beach, Thailand, is a remote paradise that'll complete your vacation. From lazing on the fine sands to exploring thick jungle trails, this pretty peninsula is an essential stop for anyone planning a Thailand trip.
Getting ready to go? Make sure you know Bookaway's Thailand travel routes before you get on the plane.
FAQ
What is the closest airport to Railay Beach?
Krabi Airport (KBV)
What is the closest town to Railay Beach?
Railay East or West. But outside the peninsula, Krabi Town is 11km away by boat.
Is Railay Beach safe?
Yes, the area is safe. You should keep an eye on valuable belongings, a must when traveling anywhere.
Can you swim at Railay Beach?
Yes, swimming is safe and popular here.