Street Food in Indonesia: 27 Dishes You Need to Taste
When it comes to food and travel, preparation is the key to success. Discover the best street food in Indonesia before you go. Keep scrolling.
When it comes to street food, Indonesia has thousands of tastes and sensations for you to sample. From ancient recipes to modern taste innovations, the culinary scene buzzes with non-stop excitement.
But with so many options, where should you start?
We've narrowed it down to 27, yes 27, of the top dishes you need to try on your adventures.
Scroll now to unlock a new world of flavor.
27 Must-Try Street Foods in Indonesia
We hope you're hungry. Here are some of the top local dishes and street food information you need while traveling throughout Indonesia.
All IDR costs are approximations.
Nasi Goreng (Fried Rice)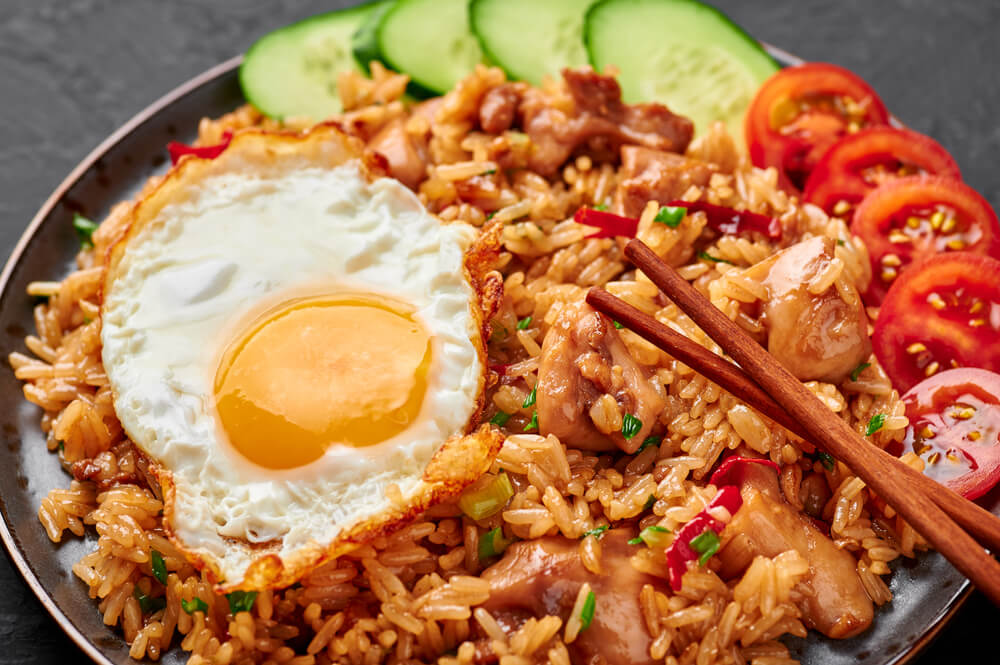 Perhaps one of the most well-known Indonesian dishes, nasi goreng, is a hit with locals and tourists alike.
This plate contains flavorful spices, veggies, prawns, meat, shallots, and a shredded omelet. It's typically eaten as a breakfast food, but you can chow down on a serving at any time of day.
Fun Fact: Some Indonesians consider nasi goreng the country's national dish.
Average Price: IDR 26,000 ($1.73)
Arem Arem (Rice Cakes)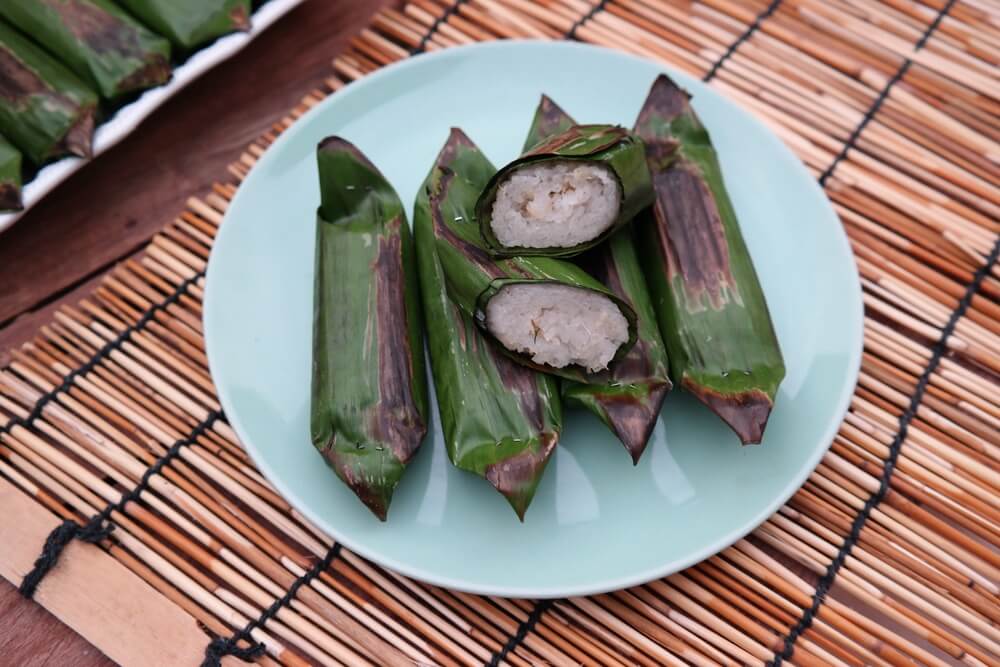 If you're looking for a local food Indonesia is known for, arem arem should be on your radar.
Arem arem is a type of rice cake that's wrapped in green banana leaves. They're usually soft and creamy and can be filled with minced meat, tempeh, vegetables, oncom, or tofu. Perfect if you're looking for a vegetarian snack!
It's most popular in the Java area. Enjoy a few of these rice cakes if you're visiting this volcanic island.
Average Price: IDR 22,000 ($1.47)
Nasi Campur (Mixed Rice)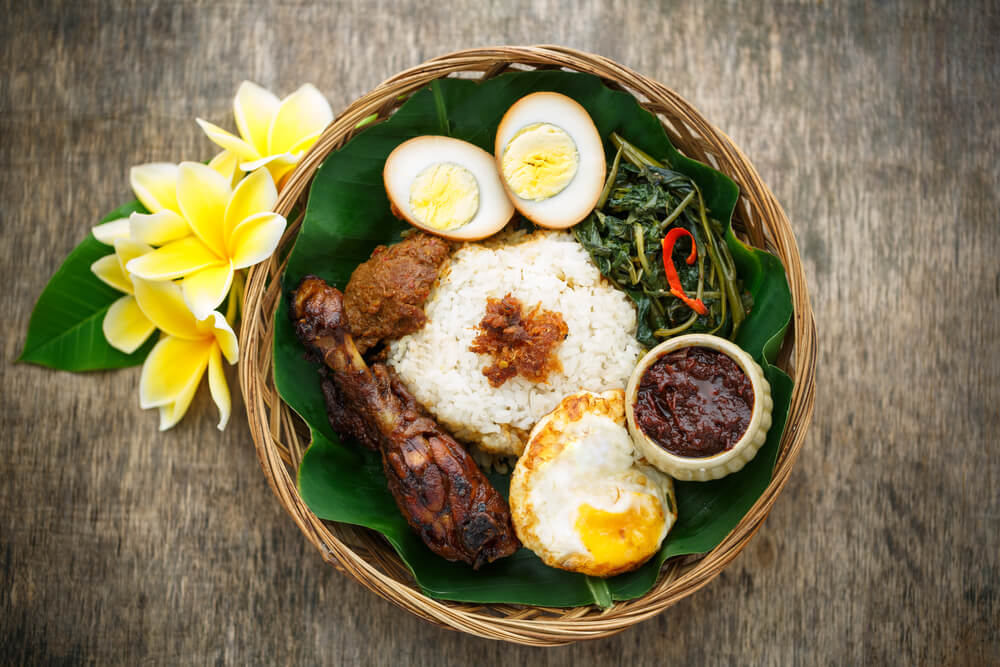 Nasi campur is a Jakarta street food staple representing the city's cuisine.
This mixed rice dish has boiled or steamed rice and tasty side dishes. Common side dishes usually include vegetables, duck, chicken, beef, or pork—or everything all at once!
Did you know there's a Balinese version of this street food? In Bali, nasi campur is made with tuna, tofu, spinach, vegetable curry, chili sauce, cucumber, corn, and beef cubes.
Average Price: IDR 50,000 ($3.34)
Sate Padang (Meat Skewers)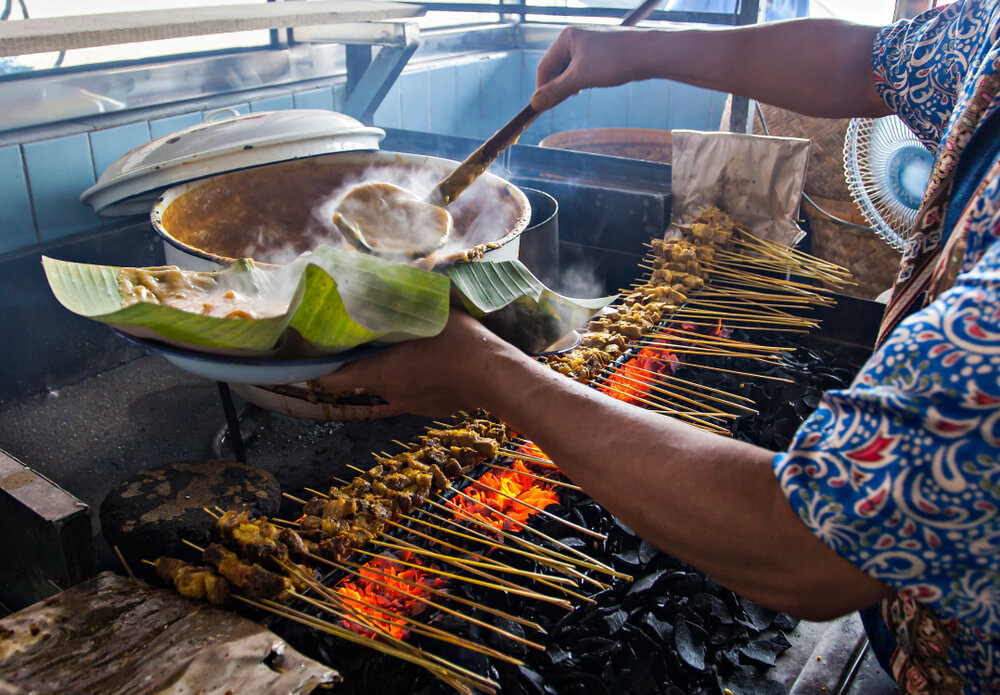 Sate is a cornerstone Indonesian delicacy, consisting of meat cubes and organs grilled and placed on bamboo skewers.
Sate padang originates from the Padang, Sumatra region. This type of sate is cooked in shallots and lemon grass for a fragrant taste. Available meat ingredients usually include beef, tongues, intestines, and the like.
Average Price: IDR 25,000 ($1.67)
Sate Ayam (Meat Skewers)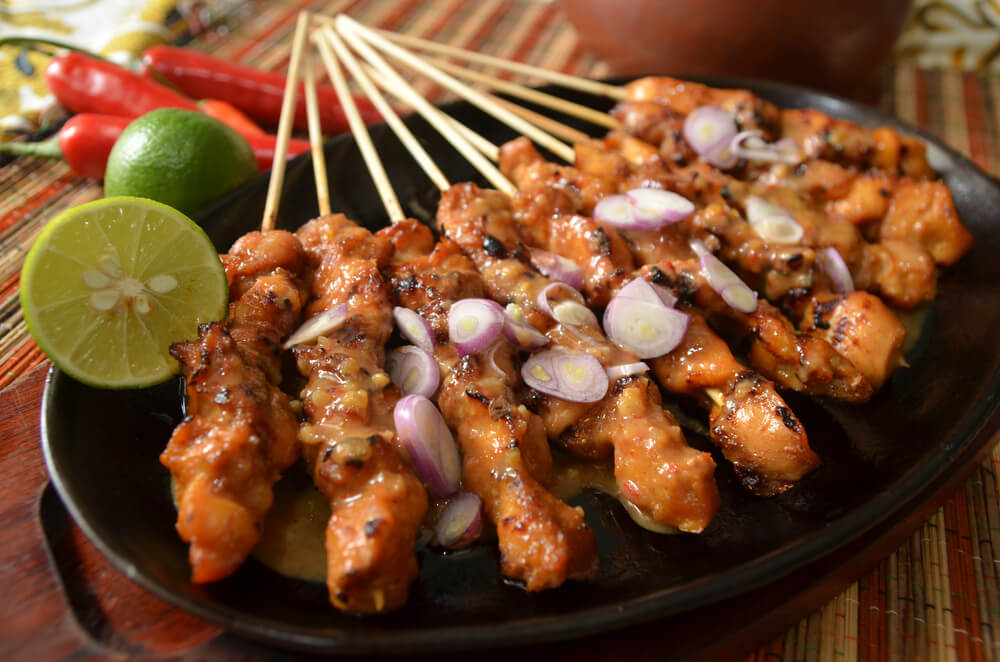 Another popular type of sate, sate ayam, can be found nationwide from independent vendors.
If your mouth waters at the thought of smoky BBQ-type tastes, you should make a beeline for this sate. It's usually soy sauce marinated chicken cooked with coconut cream and savory peanut sauce. Yum.
Average Price: IDR 45,000 ($3)
Kerak Telor (Egg Crusts)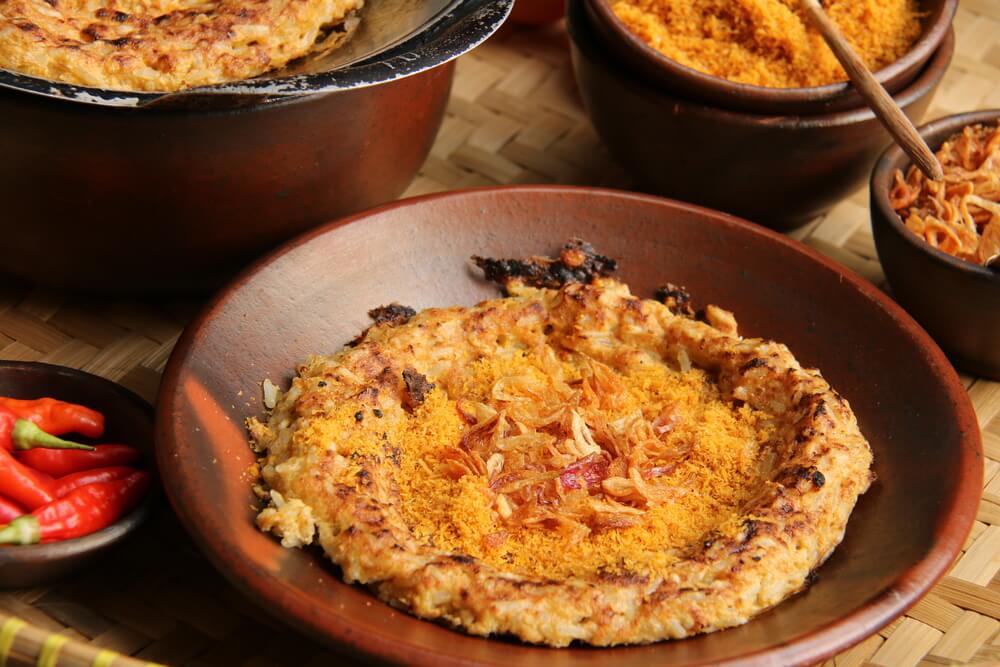 Kerak telor is considered an on-trend street food eaten by many Indonesians. But unlike widely available dishes, you can only find this one outside famous landmarks, not on all streets in Indonesia.
The dish is a mixture of omelet and rice, and it's always cooked in a small pan over hot charcoal. Though there are variations, it always contains lots of fried shallots, coconut, and meat.
Kerak telor is usually served piping hot on paper, allowing you to eat while sightseeing. Perfect!
Average Price: IDR 15,000 ($1)
Rendang (Beef)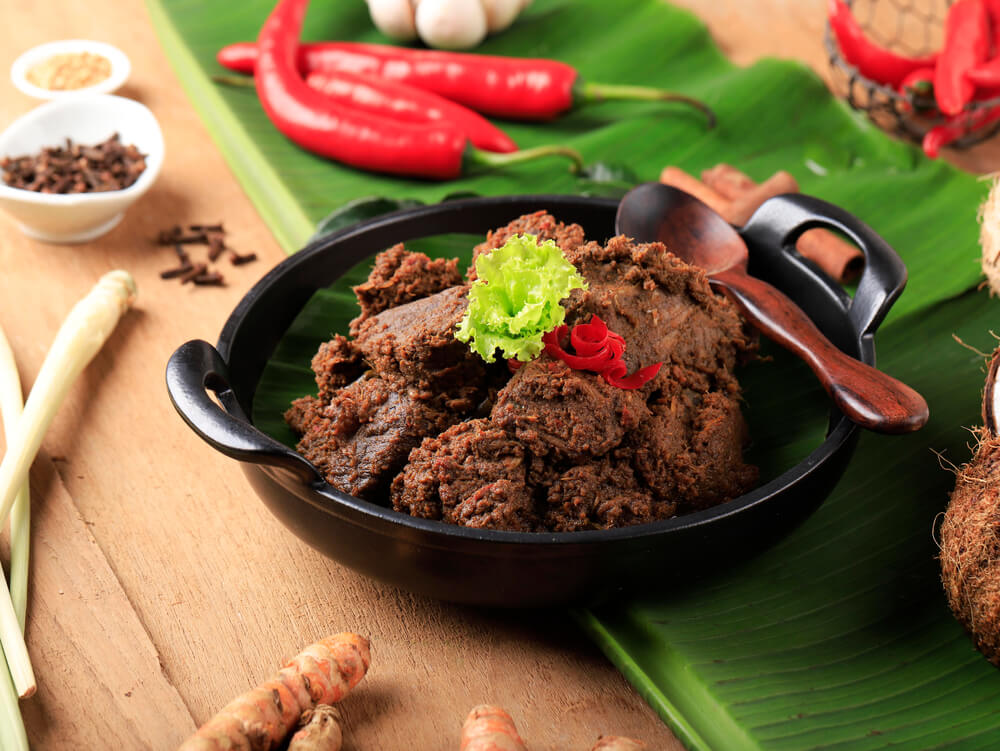 Visiting West Sumatra? You'll need to try some fresh rendang.
Rendang is traditionally a piece of beef simmered for hours with spices, leaving the meat seasoned to the hilt. It's paired with hot coconut milk rice, resulting in a succulent meal you'll never forget. But it's not one for the veggies and vegans among us.
Average Price: IDR 70,000 ($4.67)
Ketoprak (Peanut Noodles)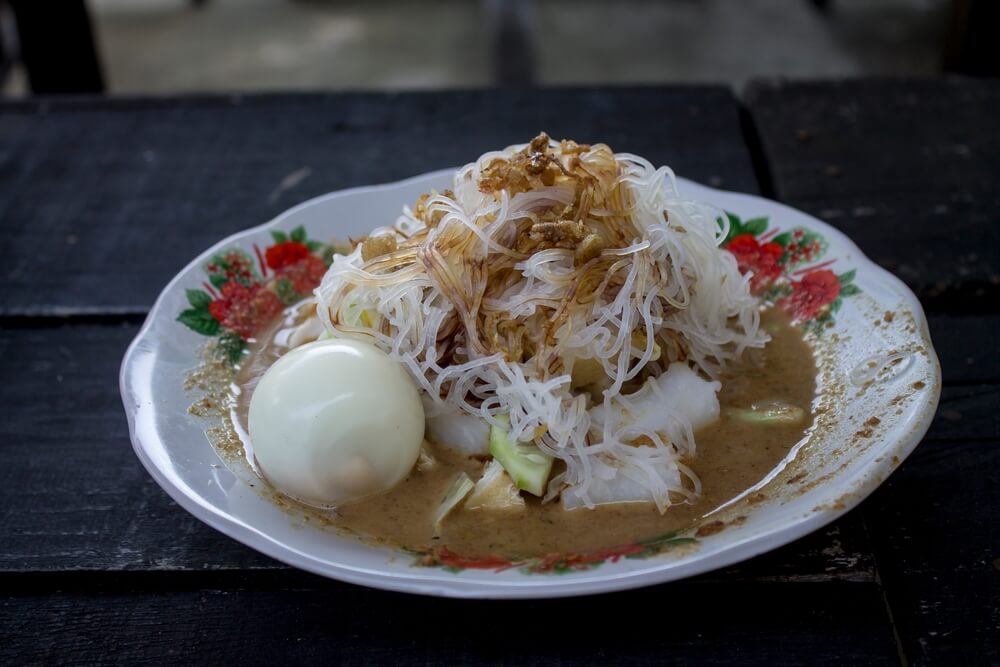 Calling all noodle lovers. Ketoprak is the meal you've been waiting for.
Made with vermicelli noodles, sweet soy sauce, tofu, veggies, and peanut sauce, this street food meal ticks all the boxes. You can even add an egg to the mix for extra flavor. Sweet, salty, and everything in between.
Average Price: IDR 30,000 ($2)
Bakso (Indonesian Meatballs)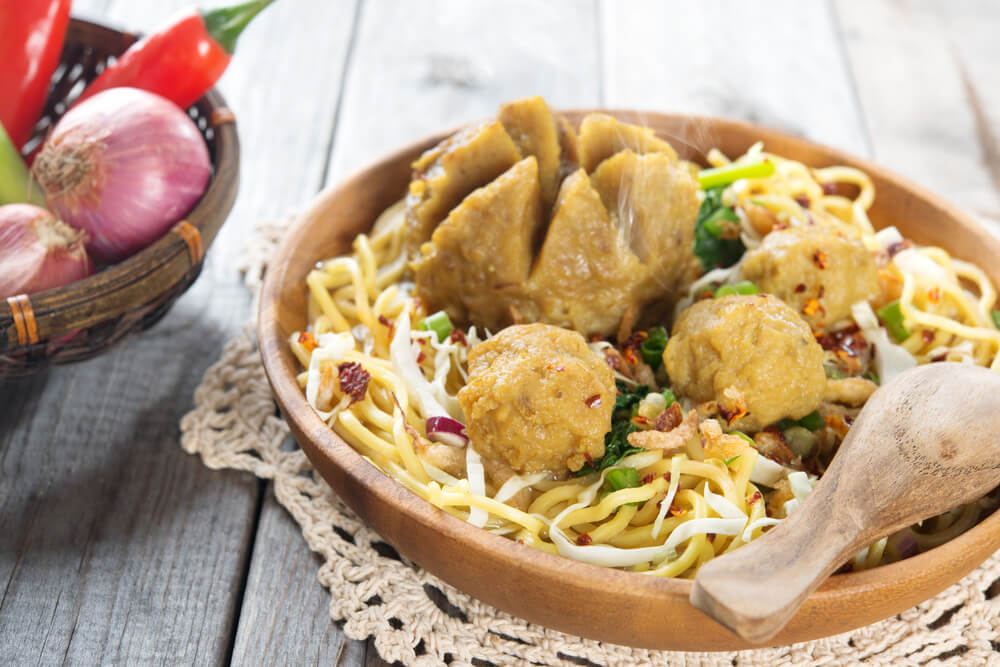 Street food changes across the world. However, in most cultures, you'll find a delicious soup, and bakso is Indonesia's answer to street food soup.
Bakso is a meatball soup that's extremely fashionable with locals. It's actually available in two options: the bakso kuah (the Chinese version) and mie bakso (the Indonesian version). The key contrast between the two is that bakso kuah is served without noodles, whereas mie bakso is served with white or yellow noodles.
Don't get too caught up on the noodles, though. The fresh meatballs are the star of the dish.
Average Price: IDR 25,000 ($1.67)
Martabak (Stuffed Pancakes)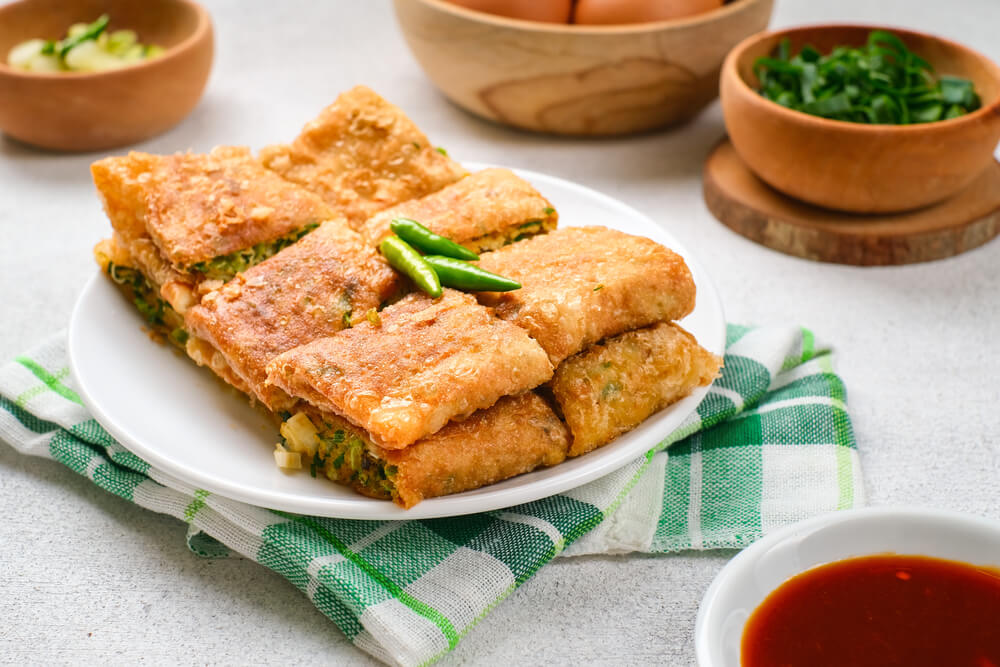 Known as the King of street food in Indonesia, martabak is something all tourists need to taste. And it's available in sweet and savory flavors. You can have it for dinner and dessert!
Savory martabak is a piece of white flour dough stuffed with eggs and your choice of meat. Typical options include mutton, chicken, or beef. It's then garnished with chilies, fried, and cut into square pieces.
If you have a sweet tooth, the sweet martabak will be right up your street. This version resembles a pancake covered in peanuts, vanilla, chocolate, Nutella, or sprinkles. The perfect pick-me-up after a day of sightseeing.
Average Price: IDR 64,000 ($4.27)
Siomay (Fish Dumplings)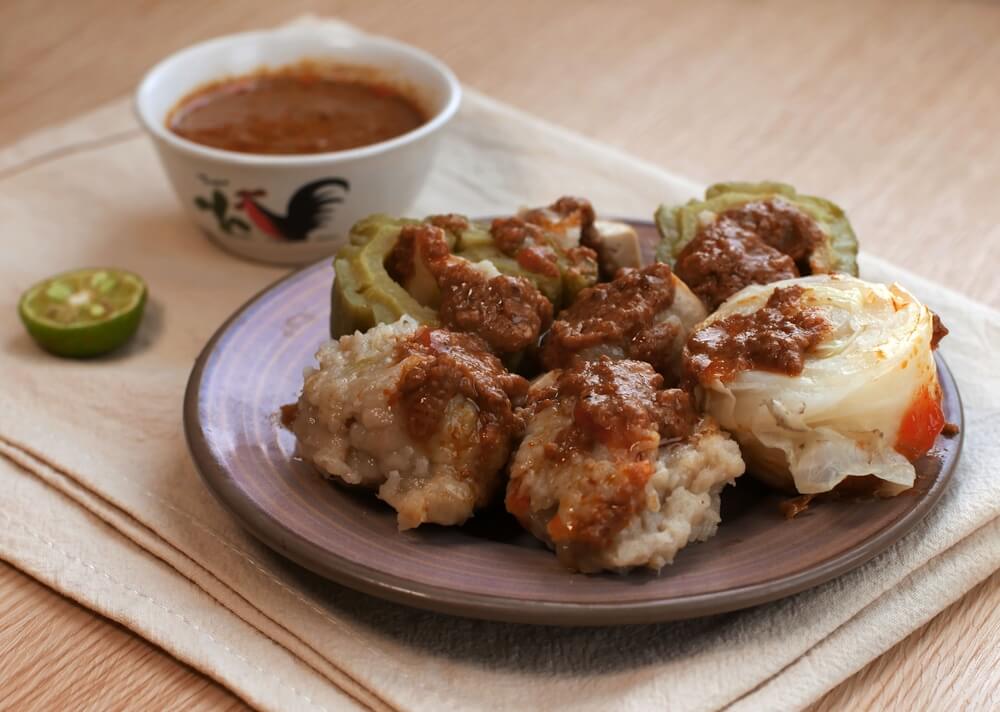 Want to try a fusion of Indonesian and Chinese tastes? Siomay is a street food with origins in both cultures.
Siomay is a dumpling dish, usually stuffed with mackerel or shrimp and then served with boiled eggs, cabbage, steamed tofu, and chili sauce—or peanut sauce if you want to turn the heat down.
You can usually find siomay in markets or at city food stalls.
Average Price: IDR 20,000 ($1.33)
Babi Guling (Pork)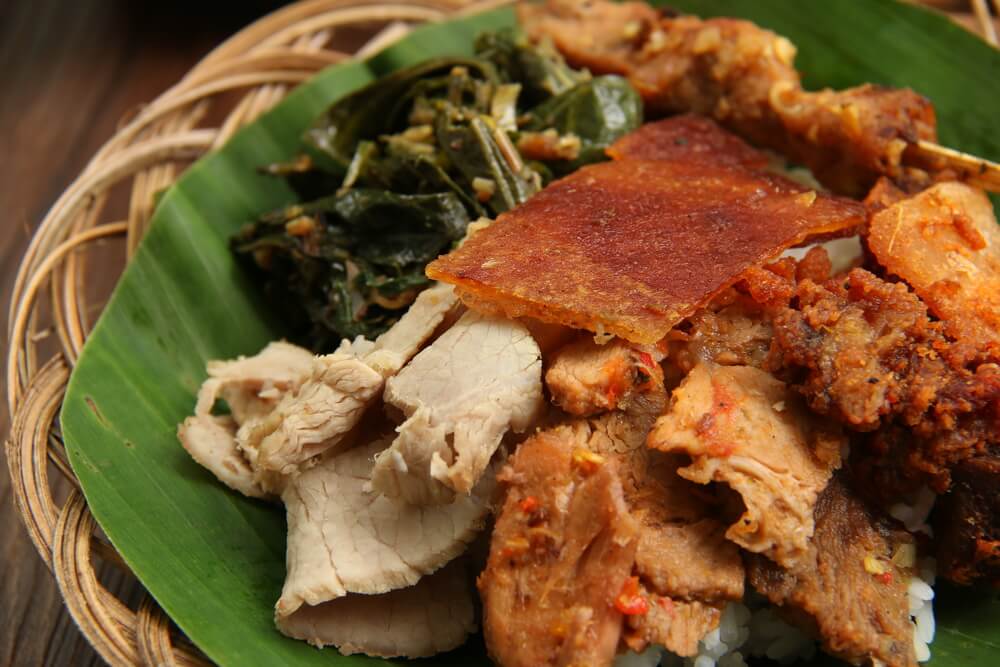 If you're searching for a pork-based recipe, seek out babi guling.
This dish is dedicated to the power of pork! It takes the best flavors and places them all together with fried pork meat, pork crackling skin, and pork satay skewers. It's also served with sticky rice, veggies, and sometimes pork sausages.
The fundamental trick to nailing this plate is roasting the pork for hours with spices and oil, making the meat extra juicy and flavorful.
Average Price: IDR 50,000 ($3.34)
Soto Betawi (Creamy Soup)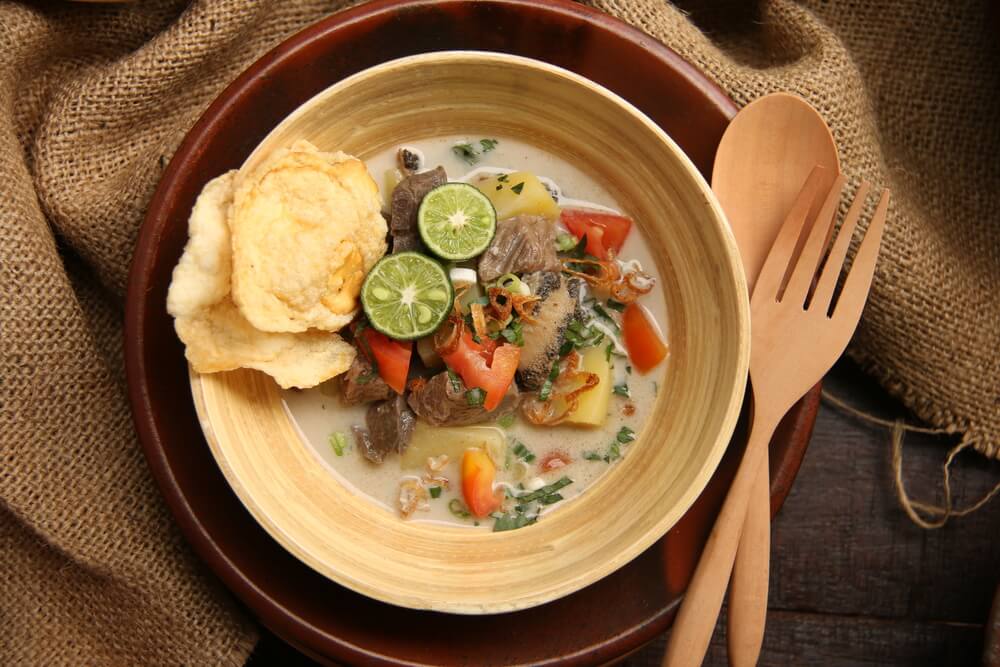 Another exquisite soup, soto betawi, is a creamy coconut milk delicacy.
Crafted with fresh lemongrass, shallots, meat, and an abundance of Indonesian spices, a bowl of this dish will take you to heaven in seconds. Unlike other soto dishes, soto betawi isn't a thin broth. This soup is thick, hearty, and ideal if you want some traditional comfort food.
Average Price: IDR 30,000 ($2)
Mie Goreng (Noodles and Meat)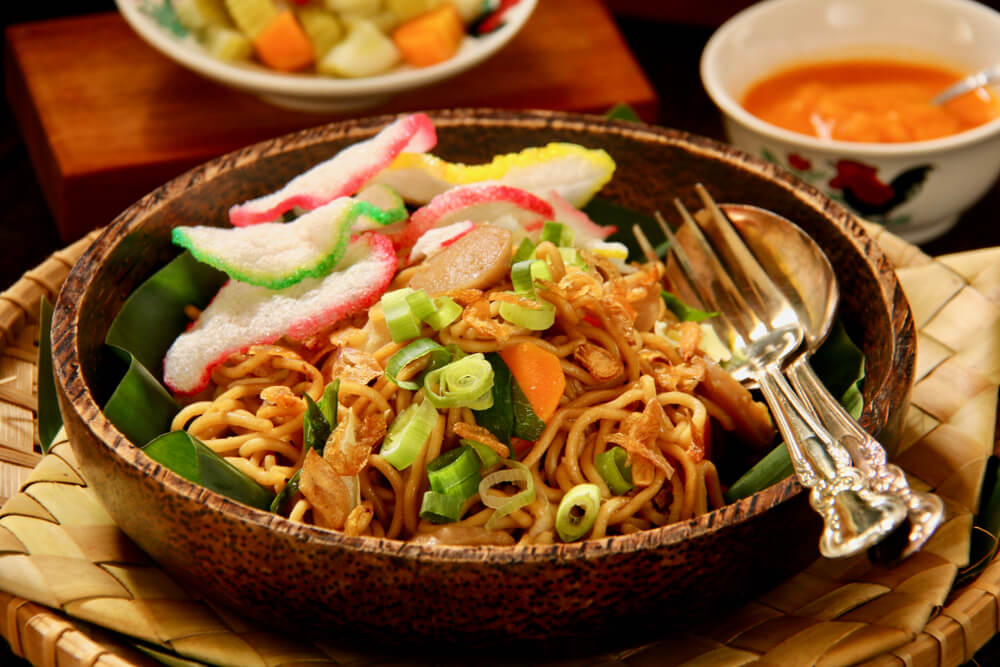 Chinese influence can be seen throughout Indonesian cuisine, and mie goreng is a perfect example of this cultural combination. It is a noodle dish from China mixed with Indonesian spices and flavors. The dish consists of egg-fried noodles, shrimp, shredded chicken, vegetables, and, of course, soy sauce.
Grab this while exploring the city to get the local Indonesian experience.
Average Price: IDR 32,000 ($2.14)
Gado Gado (Mixed Vegetables)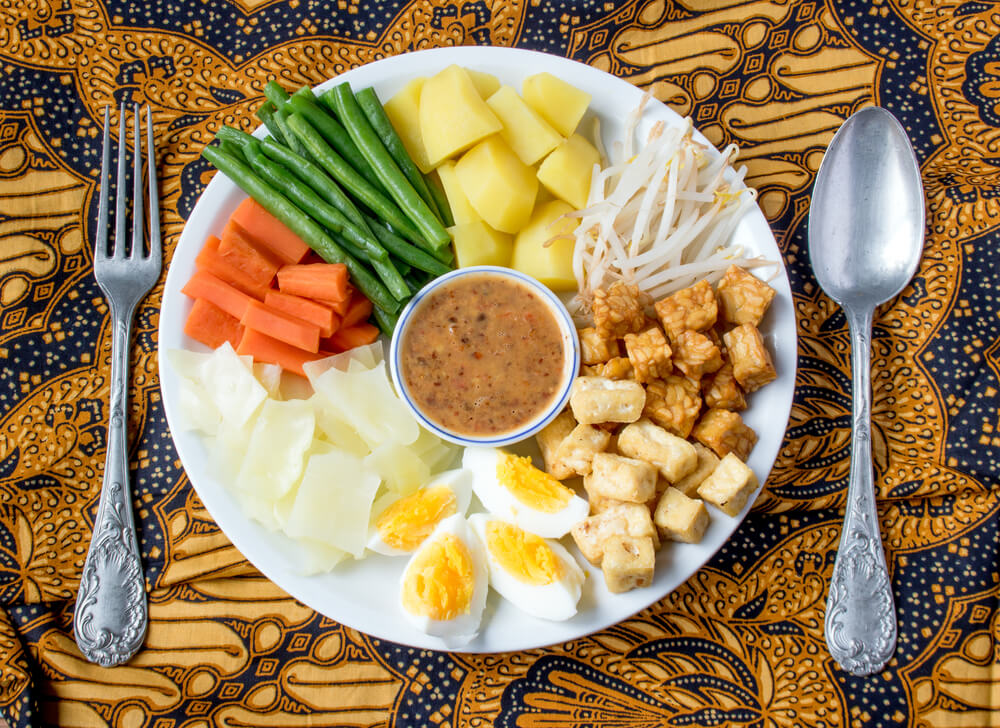 Want to be healthy while on the road? We gotcha.
Introducing gado gado, a healthy street food plate that's nutrient-rich and approved for vegetarians.
So, what's in gado gado, we hear you ask? This plate includes tofu, vegetables, sliced eggs, fried onions, and a thick peanut sauce. Absolutely divine.
Average Price: IDR 34,000 ($2.27)
Gulai (Meat Curry)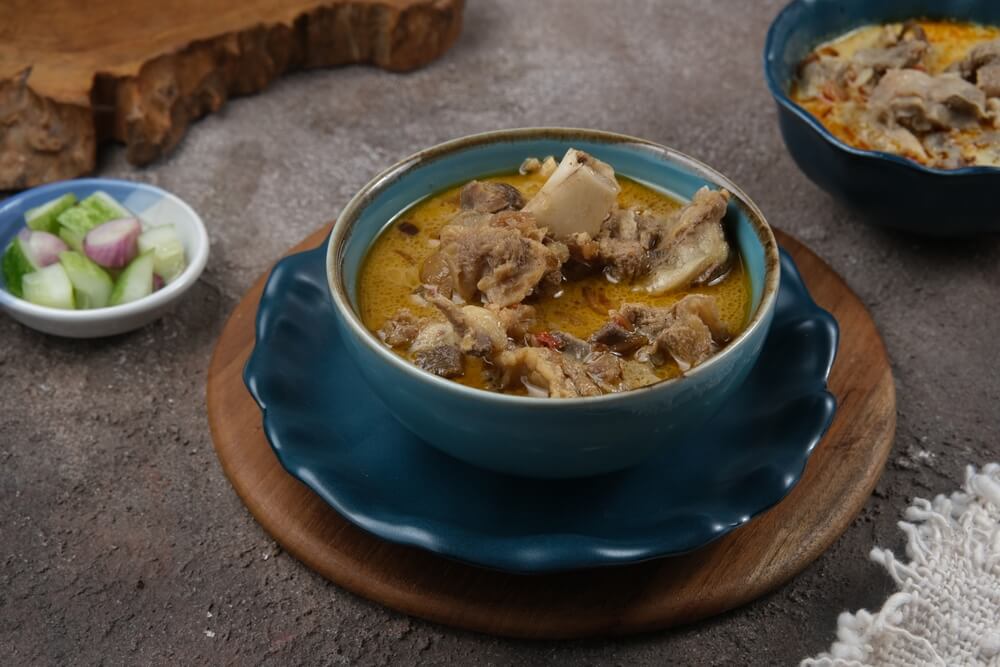 Nothing beats a rich curry, especially when prepared by a local expert.
Gulai is a savory curry from succulent meat, creamy gravy, spices, and spicy sauces. Typical meat fillings for this dish include prawns, mutton, beef, and chicken. Just pick your favorite and chow down on a taste-tastic sensation.
This dish is found nationwide but is extra prevalent in Jakarta. You'll likely find this at Grand Indonesia, a shopping mall where vendors gather in the city.
Average Price: IDR 10,000 ($0.67)
Pisang Goreng (Deep Fried Bananas)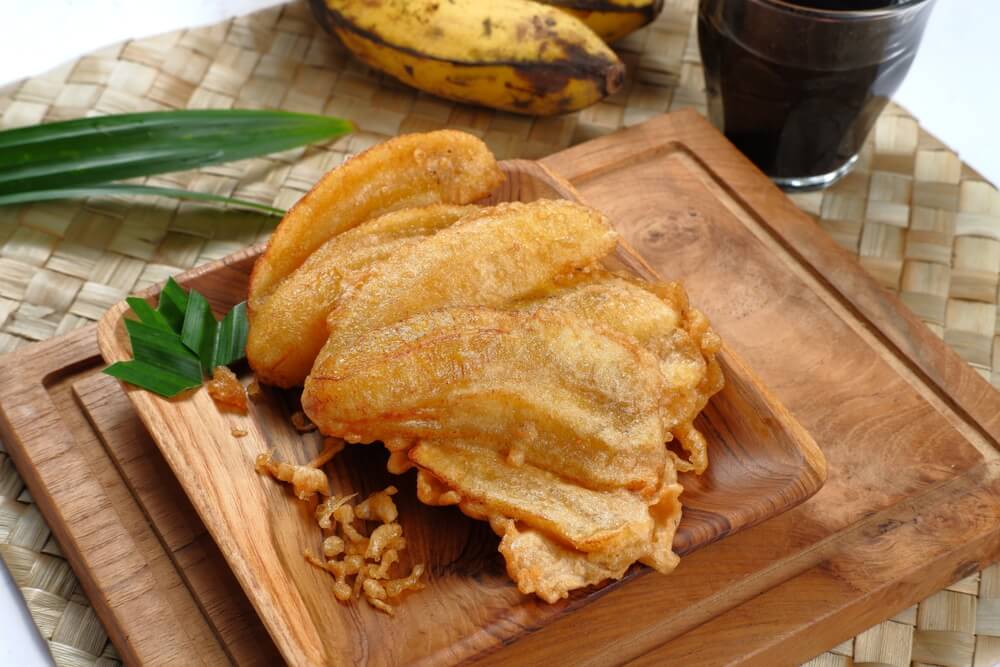 Do you secretly love fried food and batter? Me too. Pisang goreng is the deep-fried plate to try in Indonesia.
Deep-fried foods are common in this country, but pisang goreng is an excellent option if you want a sweet treat. Vendors deep fry battered bananas, resulting in a crunchy, creamy, crispy, and sweet taste. Perfect for desserts, snacks, and all meals!
Fun Fact: Goreng means fry in English.
Average Price: IDR 6,000 ($0.40)
Ikan Bakar (Grilled Fish)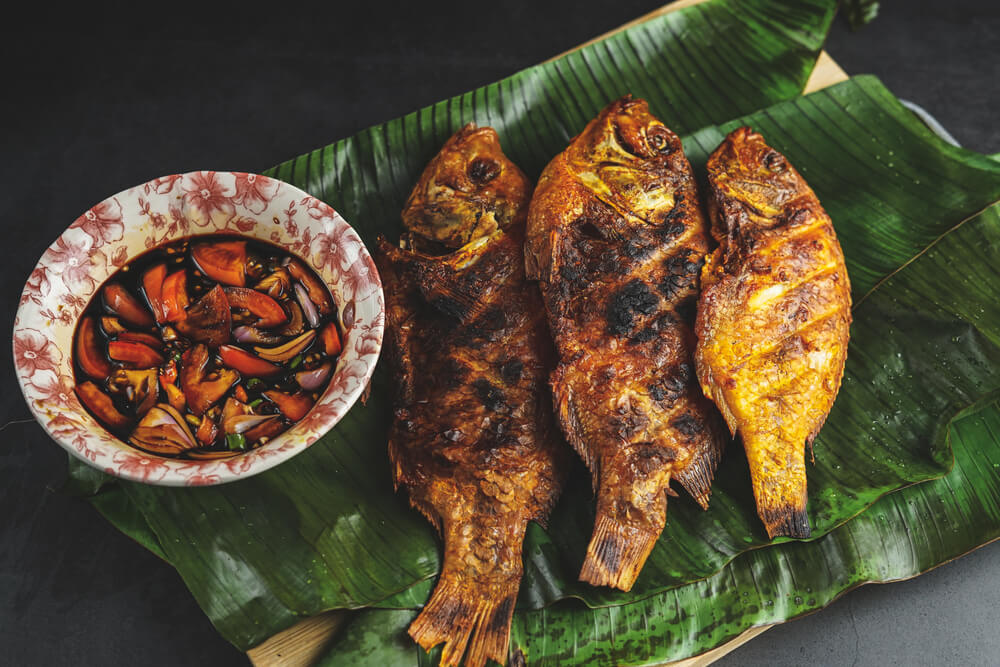 With over 17,000 islands, it's no surprise that Indonesia is also home to fabulous fish dishes. If you're looking for some pescatarian goodness, ikan bakar is the meal for you.
This BBQ fish plate is one of the most famous offerings in the country. You get a large piece of grilled fish with sticky rice, sambal sauce, fried shallots, and salad. It's smoky, stocky, and bursting with contrasting flavors.
Average Price: IDR 60,000 ($4)
Ayam Betutu (Grilled Chicken)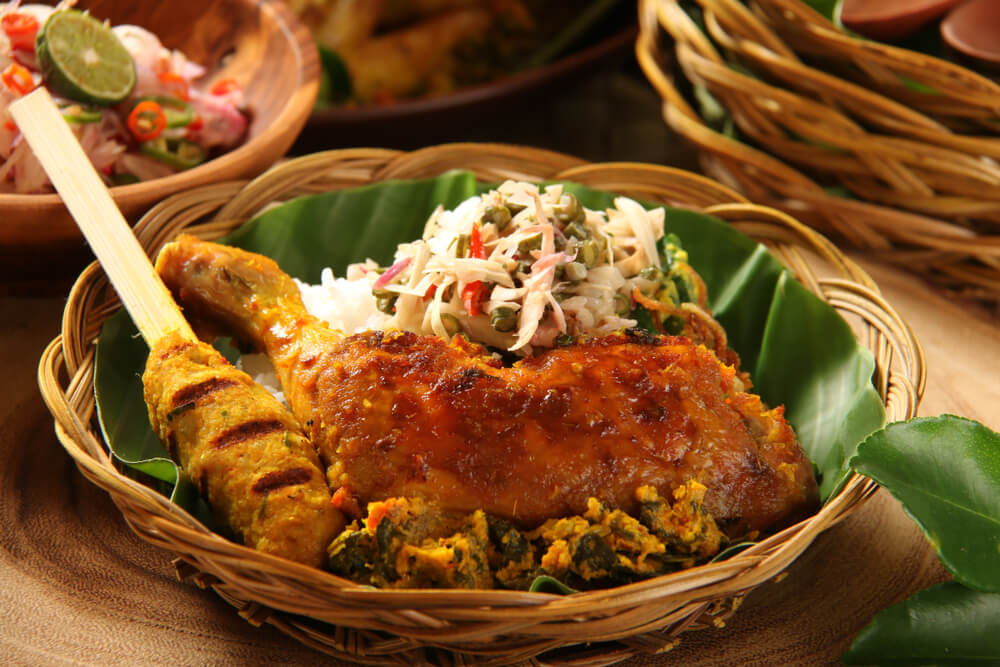 Grilled chicken is great for you, so maximize your health with a portion of ayam betutu.
As you may have guessed, ayam betutu is grilled chicken, but it's served with Balinese spices, ginger, lemongrass, and tamarind. It's also paired with eggs, shallots, cucumbers, and salad. Great for your body and your tastebuds.
Average Price: IDR 60,000 ($4)
Gudeg (Boiled Jackfruit)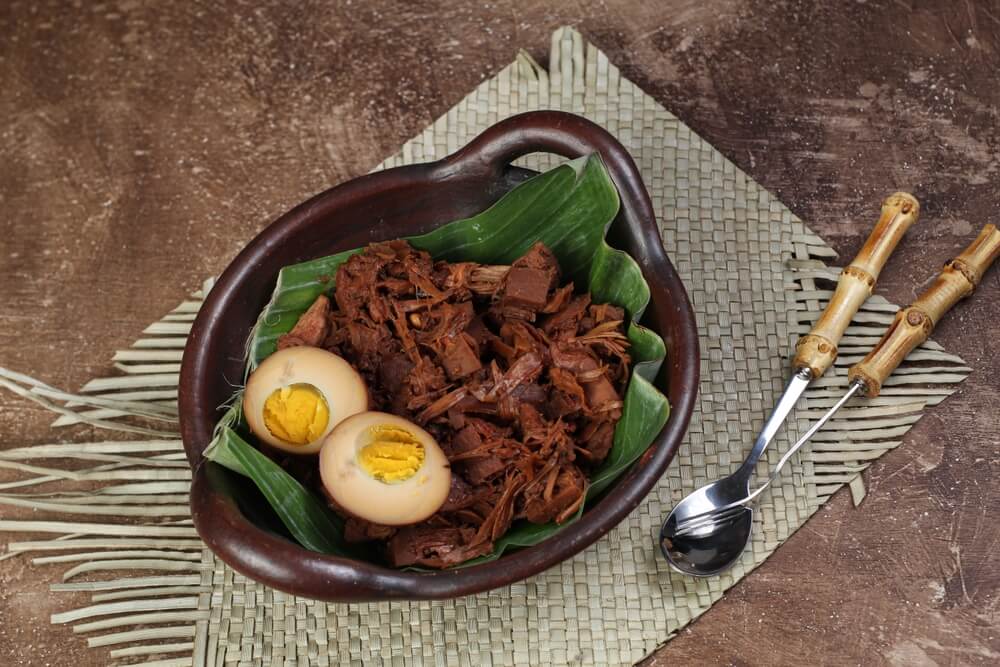 Gudeg is a jackfruit delicacy from Yogyakarta, where the jackfruit is boiled for hours with coconut milk, palm sugar, and multiple exciting spices. If you want to try something completely new (and healthy-ish), remember gudeg.
Average Price: IDR 20,000 ($1.33)
Pecel Lele (Fried Catfish)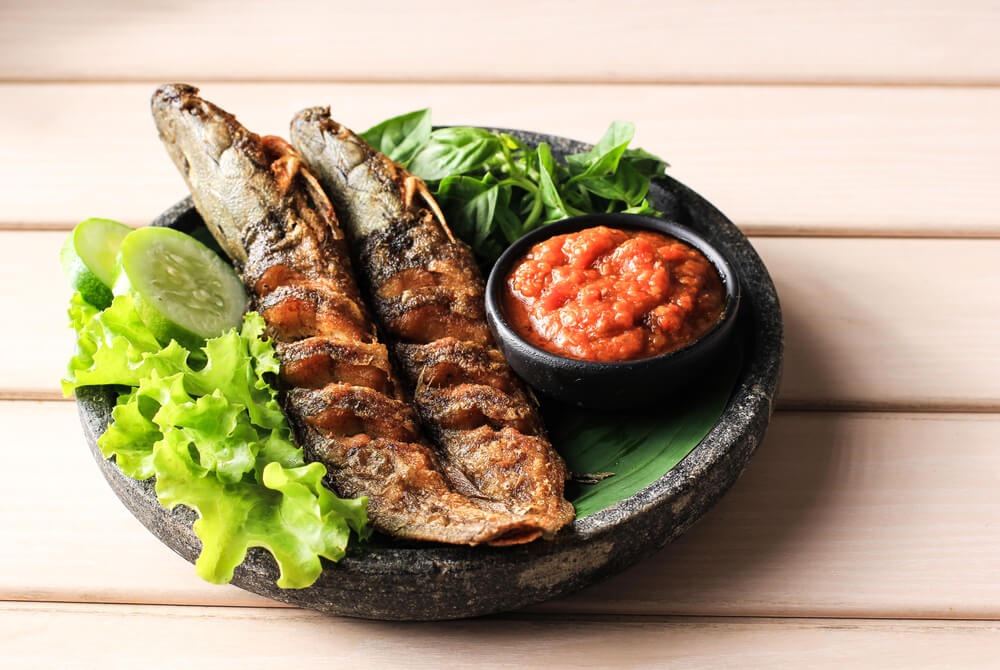 Pecel lele is found across the country, so you won't have a hard time hunting this dish down. It's made from fried catfish, fried tempeh, steamed rice, and an abundance of sambal sauce for a hot finish.
Average Price: IDR 45,000 ($3)
Opor Ayam (Fragrant Curry)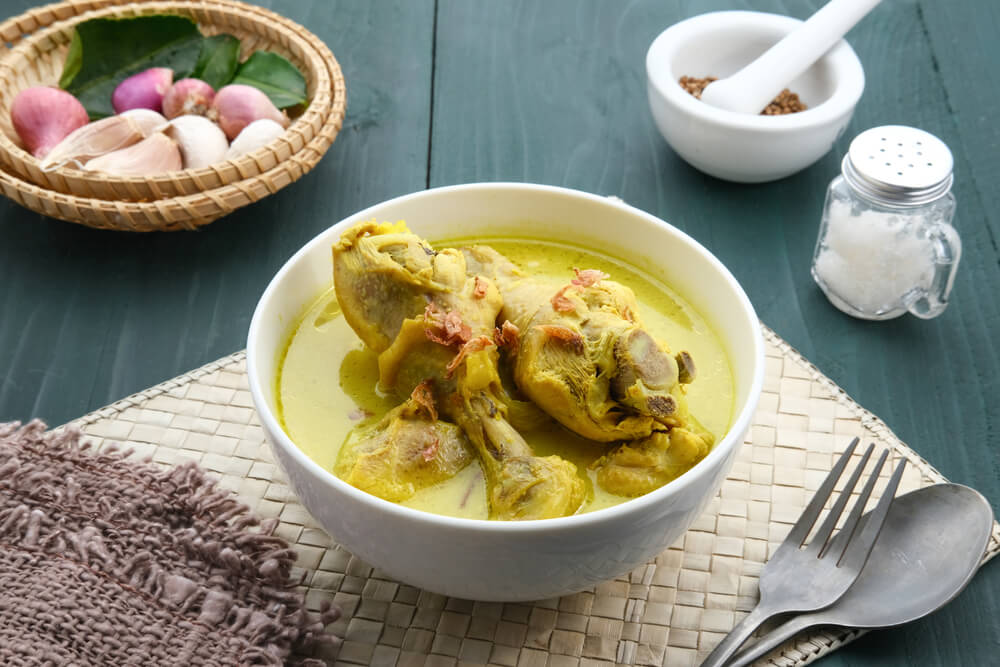 Sometimes, a fragrant curry really can fix everything. So, if you need a curry fix, opt for opor ayam, a mild coconut milk offering.
This curry always contains boiled chicken, cinnamon, lemongrass, ginger, candlenuts, and shallots. You'll see why it's an Indonesian staple!
Average Price: IDR 70,000 ($4.67)
Pempek (Fish Cakes)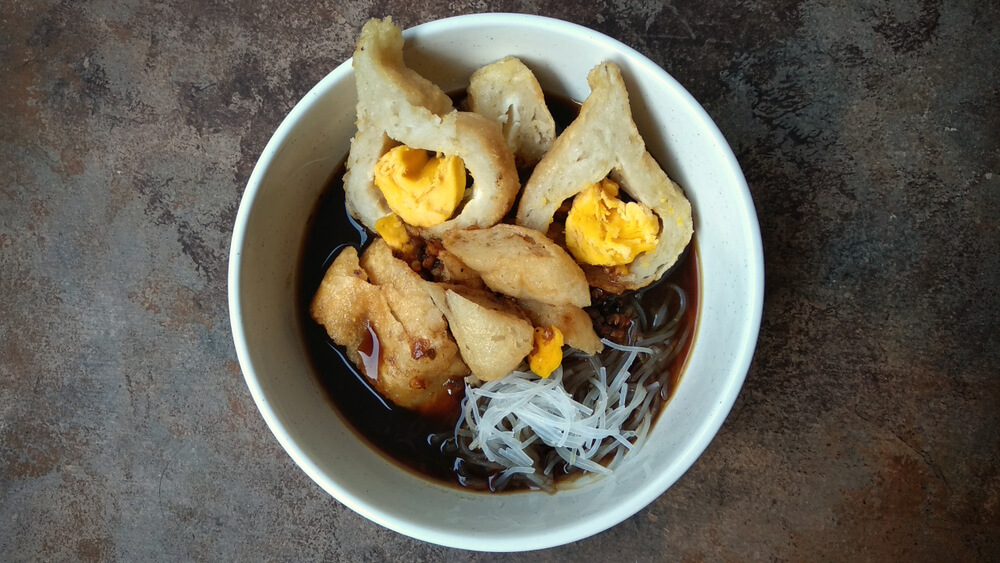 Pempek hails from the Sumatra region. If you find yourself on this island, you must have a bite!
This street food dish is made from fish and tapioca or sago and served with thick cuko sauce. It's also called egg-nested fish cake, so be on the lookout for both names.
Average Price: IDR 70,000 ($4.67)
Bebek Goreng (Fried Duck)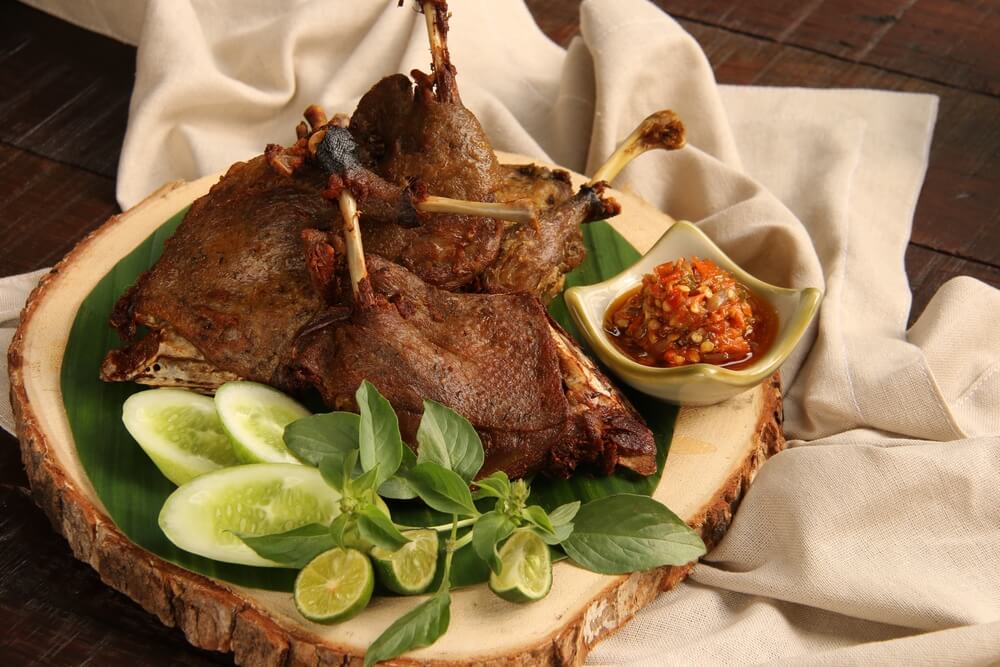 Fried duck is a worldwide delicacy, but you've never truly experienced duck until you've had Indonesian bebek goreng.
Paired with steamed vegetables and rice, this fried duck meat is the perfect addition to any city trip or sightseeing excursion.
Average Price: IDR 90,000 ($6)
Tauge Goreng (Stir-Fry Bean Sprouts)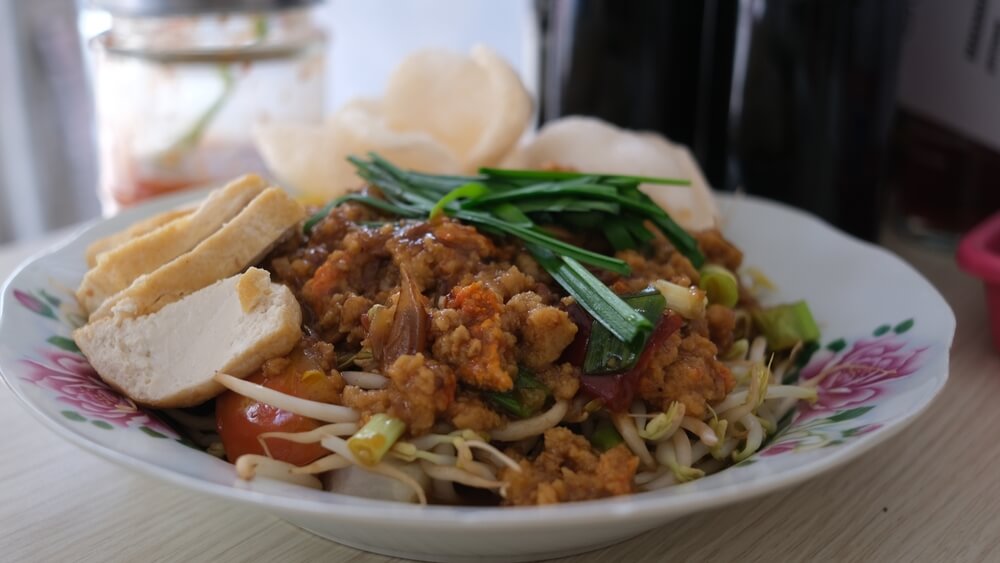 If you're a savory flavor lover, these stir-fried bean sprouts will impress your taste buds.
This vegetarian dish is stir-fried in water instead of oil, and then the chef adds yellow noodles, tofu, rice cakes, and veggies. Filling and animal-product free.
Average Price: IDR 50,000 ($3.33)
Bakmi (Noodles With Meat)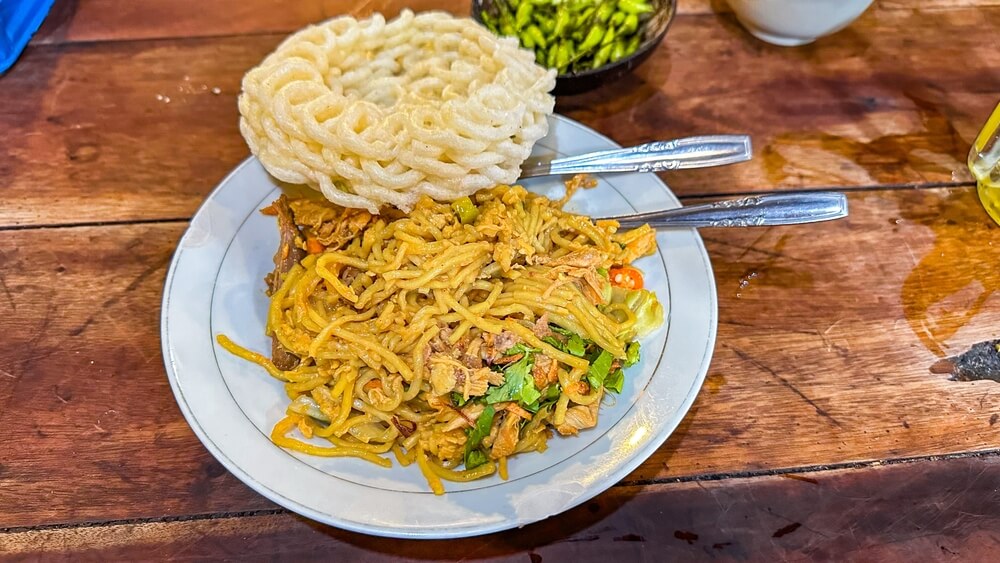 We have another fantastic noodle dish for carb lovers out there.
Bakmi is noodles paired with vegetables, meat, and eggs. Like many other Indonesian dishes, bakmi has Chinese influences, and the meats and spices differ depending on the vendor's style. Yum, noodle roulette!
Average Price: IDR 25,000 ($1.67)
Durian Ice Cream (Sweet Dessert)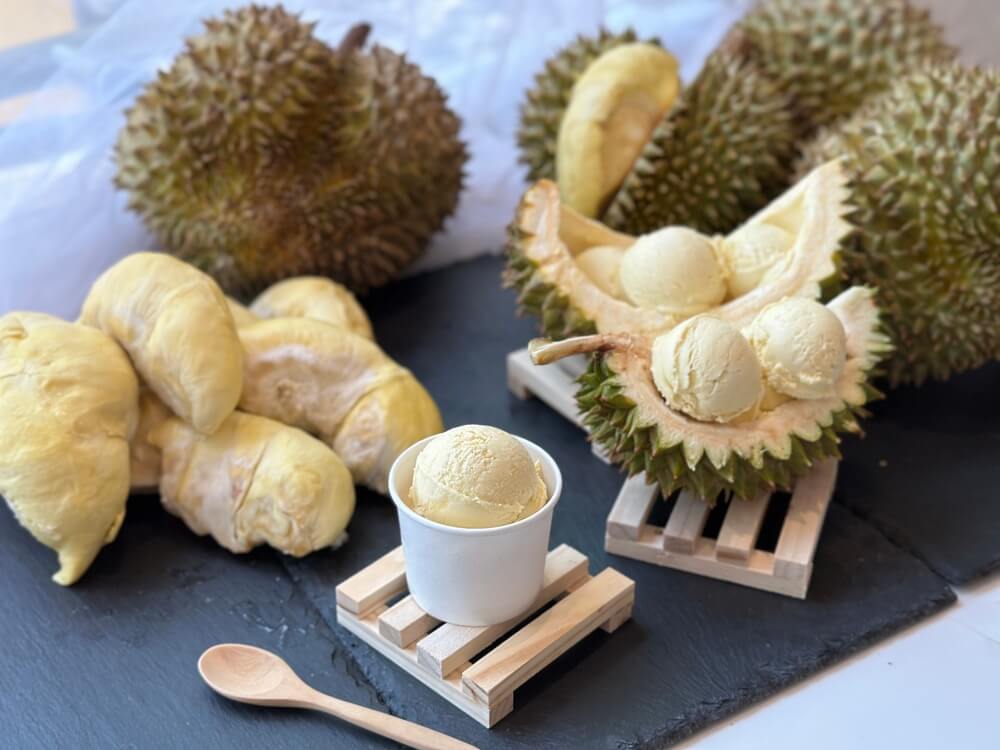 What's a meal without dessert afterward?
Durian ice cream is the icy dessert to try while on your travels. Durian fruit is known for having a well, offensive aroma. But don't let this put you off. This exotic fruit ice cream is super sweet and usually paired with sauces and toppings for extra sweetness.
Average Price: IDR 25,000 ($1.67)
Bonus: Korean Street Food, Indonesia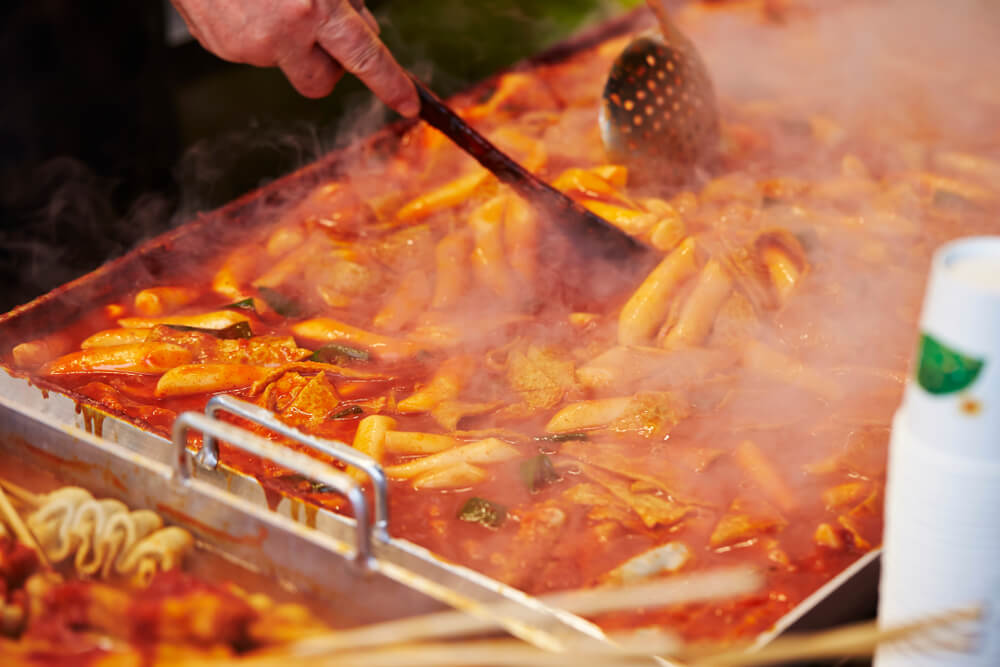 Ok, we know this isn't a 100% traditional offering. But Korean street food is an in-demand pick in Indonesia, too.
In and around Jakarta, you can find lots of Korean stalls and K-marts with soups, snacks, and more. Top dishes include kimbap, tteokbokki, ramyeon, and kimchi. Perfect if you want a quick palette change before diving back into the yummy Indonesian food.
Street Food in Indonesia: Final Thoughts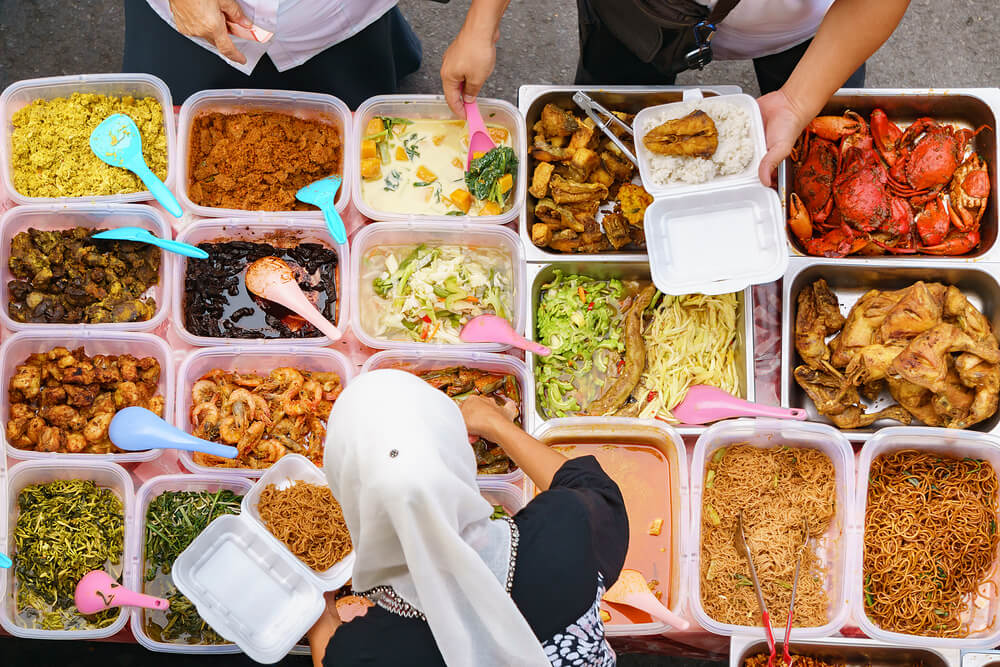 Indonesia's street food will blow your mind. It's a foodie's paradise, from succulent curries to crispy fried snacks. We hope this article has inspired you to fly to the streets of Indonesia for a quick snack—or two.
If you're taking off on a culinary journey, make sure you find the best food vendors with Bookaway's Indonesia routes. No matter where you are heading in the country, we've got your next few meals covered.
FAQ
Is Bali street food safe? 
Yes, most Balinese street food is safe. However, you should avoid vendors with unclean facilities or with reheated and pre-cooked food. Due to the hot climate, food can spoil quickly.
What is the most popular food in Indonesia? 
Nasi goreng is one of the most popular foods. Indonesians enjoy eating this fried rice dish for breakfast, lunch, and dinner. 
What is a popular comfort food in Indonesia?
Indonesian cuisine has many rich comfort foods, including mie ayam, bakmi, and bakso. Each will warm you up and improve your mood!