Beaches in Sayulita, Mexico: Sand, Sea, & Serious Vibes
Beaches in Sayulita are a blend of serenity and excitement. Don't miss out on the coastal magic – plan your Sayulita beach getaway ASAP.
Planning a trip to the beaches in Sayulita, Mexico? We've got you covered.
Located just north of Puerto Vallarta, this charming town is a paradise for water lovers seeking a warm vacation spot with vibrant waves, golden beaches, and a thriving surf culture.
Ready? Let's dive in.
Beaches in Sayulita
Playa Sayulita
Best beach if you don't want to miss a thing.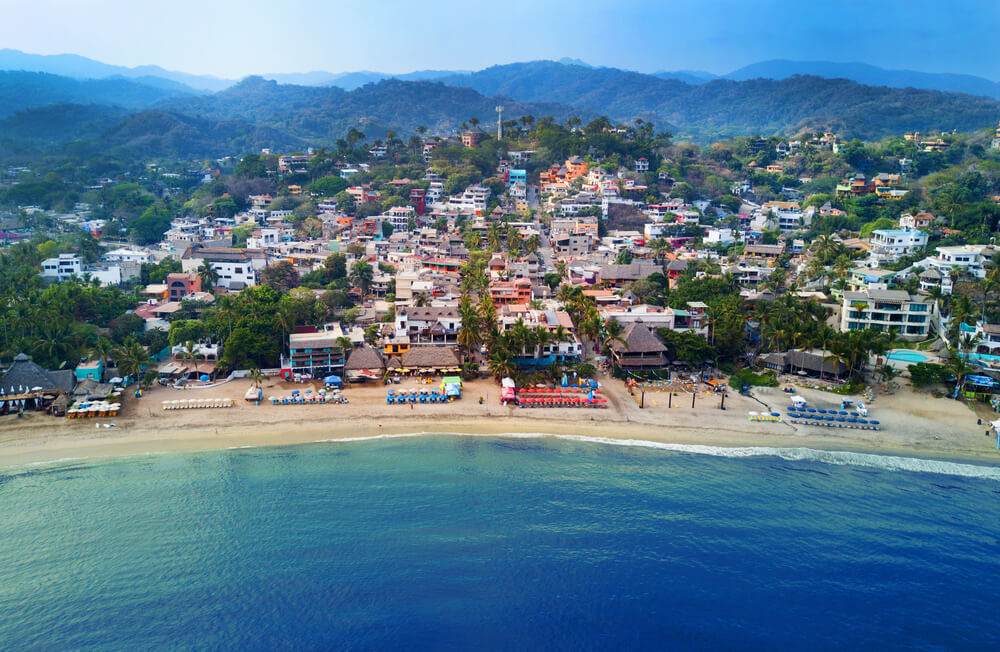 If you stay in Sayulita, it's impossible to miss this bustling beach. It's the beating heart and soul of the town.
This is where surfers take their boards into the gentle break, and families try out some water sports, from paddle boarding to kayaking.
There are lounge chairs and beach umbrellas to rent, as well as several beach restaurants, including Capitano Pablo's, where you can grab a chilled drink while watching the surfers.
Playa Patzcuarito and Playa Patzcuaro
Best beach for the bluest water in the area.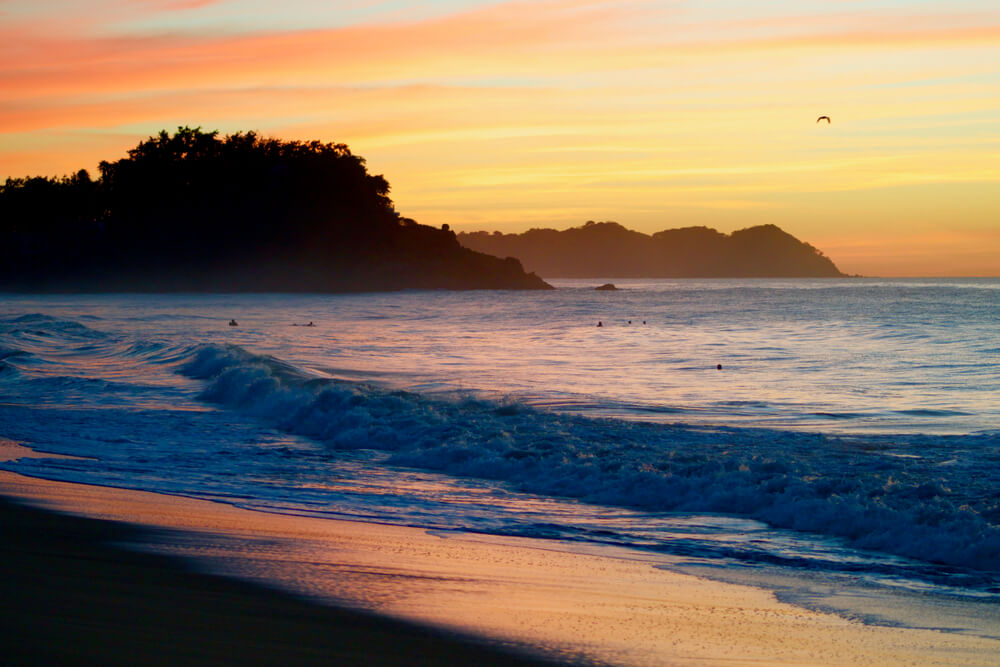 Do you dream of those postcard-worthy beaches? Where you can see your toes in the aqua water? Head to Playa Patzcuarito and Playa Patzcuaro, and your dreams will be a reality.
The black, white and golden colored sand at Playa Patzcuarito is divine. But be cautious in the water as there is the potential for big surf.
It's also a popular spot for horseback tours if that is up your alley.
On the other hand, you won't want to miss the views of Playa Patzcuaro from Cerro del Mono (Monkey Mountain). You can either walk an hour from the village of Sayulita or drive for 10 minutes to the top.
Pro tip: You'll need to bring all your beach essentials. There are no services at either of these spots.
Playa Carricitos
Best remote surfer's beach.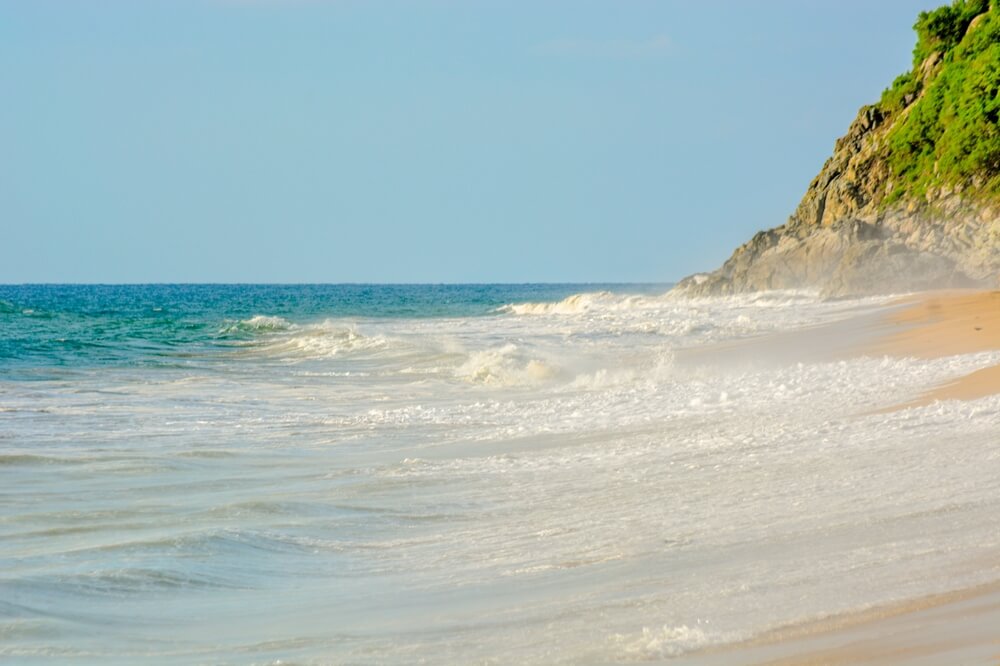 If you'd rather surf than swim and want your own waves, head to Playa Carricitos, a 40-minute walk through the jungle from Sayulita Plaza.
The powdery white sandy beach isn't suitable for swimming due to the powerful waves. Still, it will be heaven if you love surfing or bodyboarding.
Pro tip: There are no services on this beach, so make sure you pack some food and drinks for the day.
Playa de Los Muertos
Best for snorkelers hoping to see lots of tropical fish.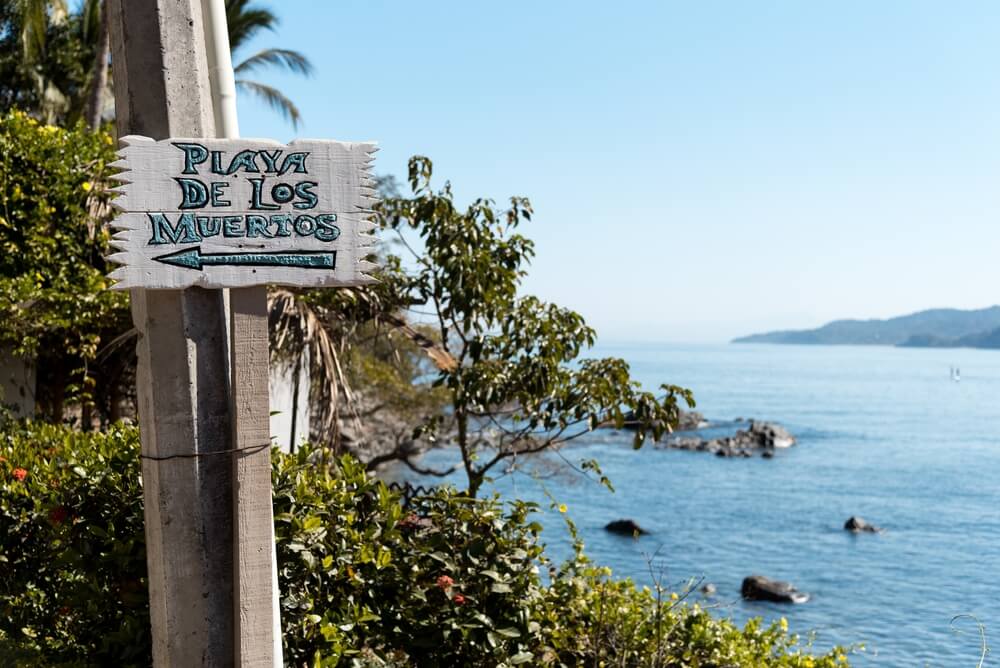 Playa de Los Muertos (Beach of the Dead) is a small beach named after the cemetery you'll walk through to reach it.
Search Villa Amor on Google Maps to find the beach and make your way there. Once on the walking path, follow it until you reach the cemetery and then the beach.
The beach offers clean, fine sand, lounge chairs and umbrellas for rent, toilets (although you will need to pay) and roaming food and drink vendors.
Popular with families due to its calm waters, it's easy to see why people love to swim there.
Don't forget your snorkel — colorful tropical fish are found just off the shore.
Pro tip: Arrive before 11 a.m. to snag a good spot. It can get crowded.
Playa Norte
Perfect for those who are looking for convenience.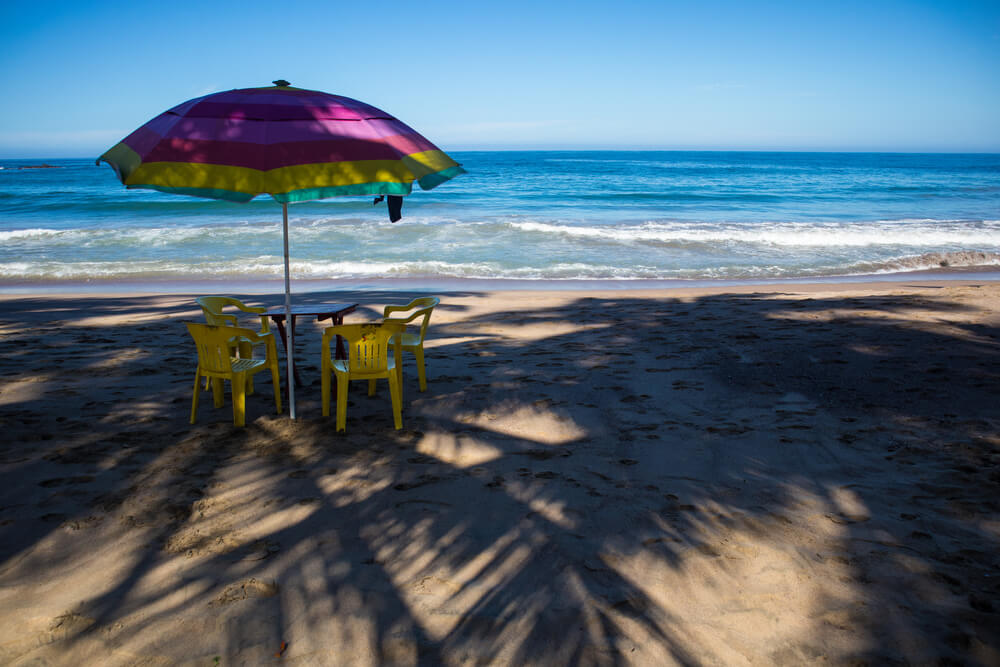 Playa Norte, also known as North Beach, is a beautiful spot in the heart of Sayulita.
It is easily accessible and great for swimming and surfing. Just beware, as the waves can get quite rough, particularly for children.
You can choose to dine in one of the nearby restaurants, making it a convenient spot to spend the day.
The further north you go on the beach, the less busy it will be, especially during peak season.
Playa Las Cuevas
Best beach for any photographer.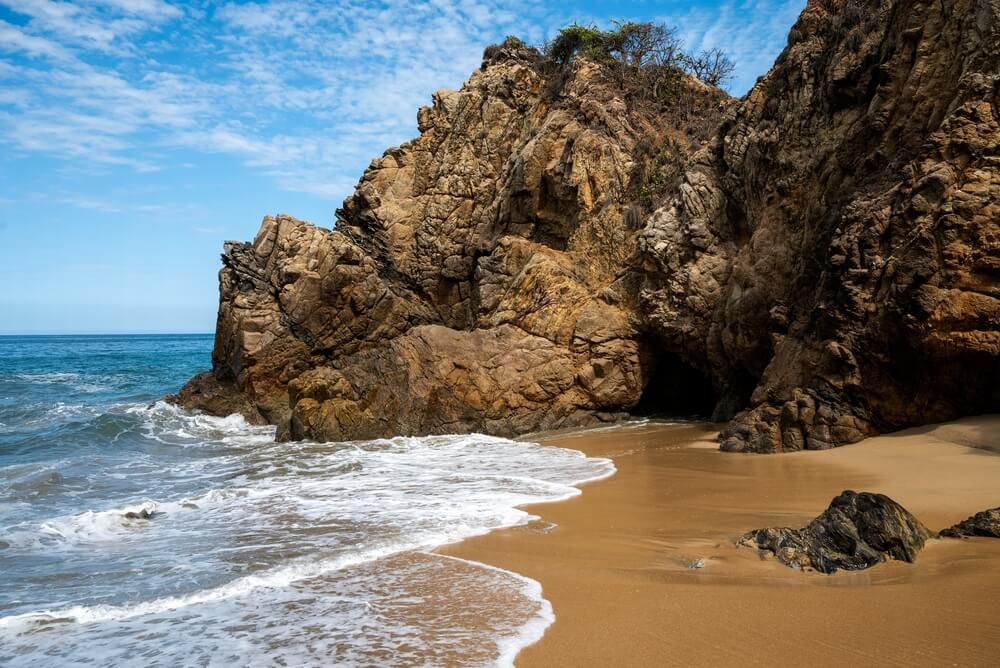 Playa Las Cuevas, or Caves Beach, is a secluded beach named after the small caves and rock formations along its shoreline.
There are three ways to access Playa Las Cuevas. One option is to pass through one of the natural tunnels at the south end of Playa Malpaso during low tide. Another option is to take the steep trail over the headland from Malpaso that's marked with pink ribbons. The third option is to use a network of inland paths.
This beach is a photographer's dream — the rock formations are truly spectacular. And if you're looking for quiet, this is the beach for you. Just pay attention to the tides.
Again, there are no facilities or restaurants at this location.
South of Sayulita
Punta Negra
Best beach for escaping reality.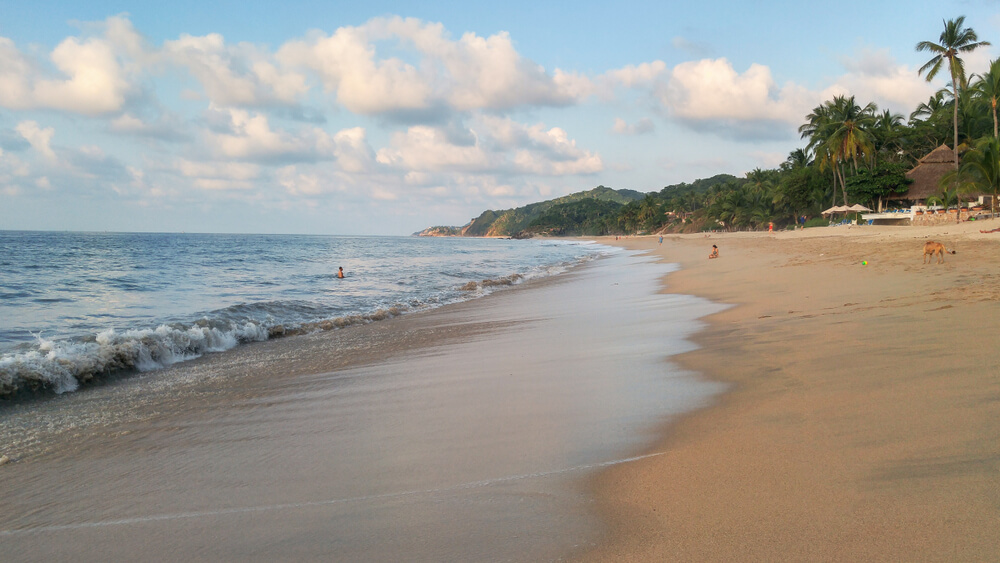 Punta Negra is a peaceful, quiet beach about 25 minutes south of Sayulita, off Highway 200.
This beach is the perfect escape for anyone looking to escape the crowds.
It is known for its clear blue waters, soft, golden sand and tranquil atmosphere, making it an excellent spot for swimming, sunbathing and relaxing.
There are also some caves you can explore if you are feeling adventurous.
There are no restaurants or facilities on the beach, so bring your snacks and drinks.
Playa La Lancha
Best hot spot for keen surfers.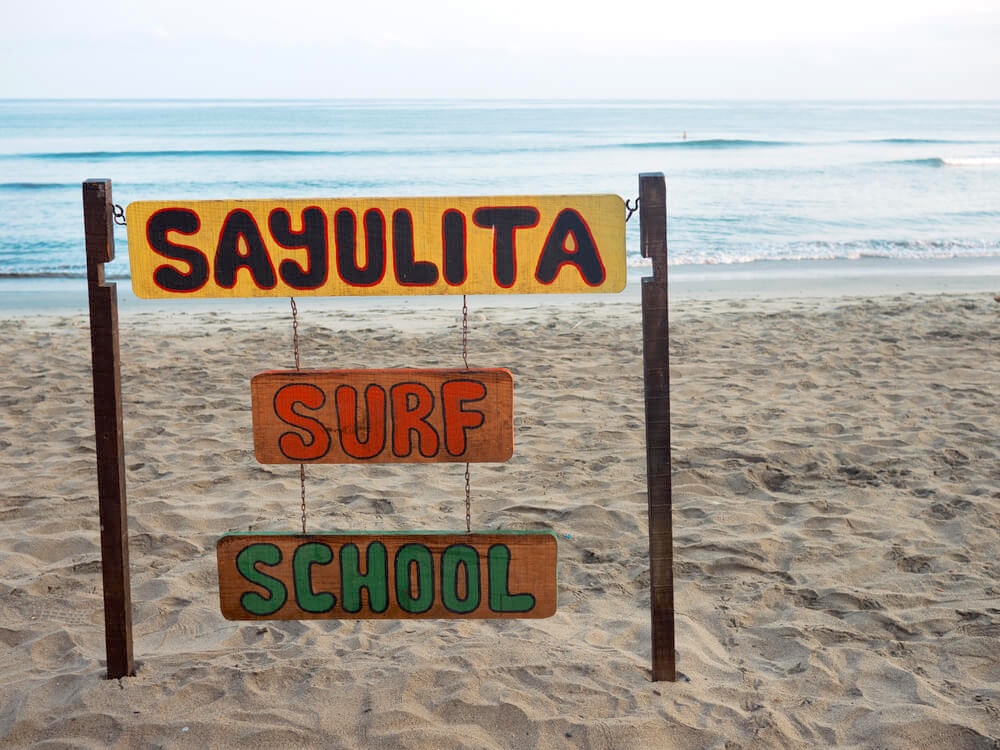 Playa La Lancha Surf Break is a popular spot near Punta Negra. It is known for its consistent waves, attracting surfers of all levels from around the world.
You can park your car near Wildmex Surfing School, the surf shop opposite the jungle trail leading to the beach. The walk through the jungle will only take you 10 minutes. You rent a board there for the day if you are up for it.
Expect blue waters, beautiful lush green surroundings and a relaxed atmosphere. This place is picture-perfect.
There is nothing on the beach, so bring snacks and drinks.
North of Sayulita
San Pancho Beach, San Pancho
Perfect if you like to go straight from the ocean to lunch.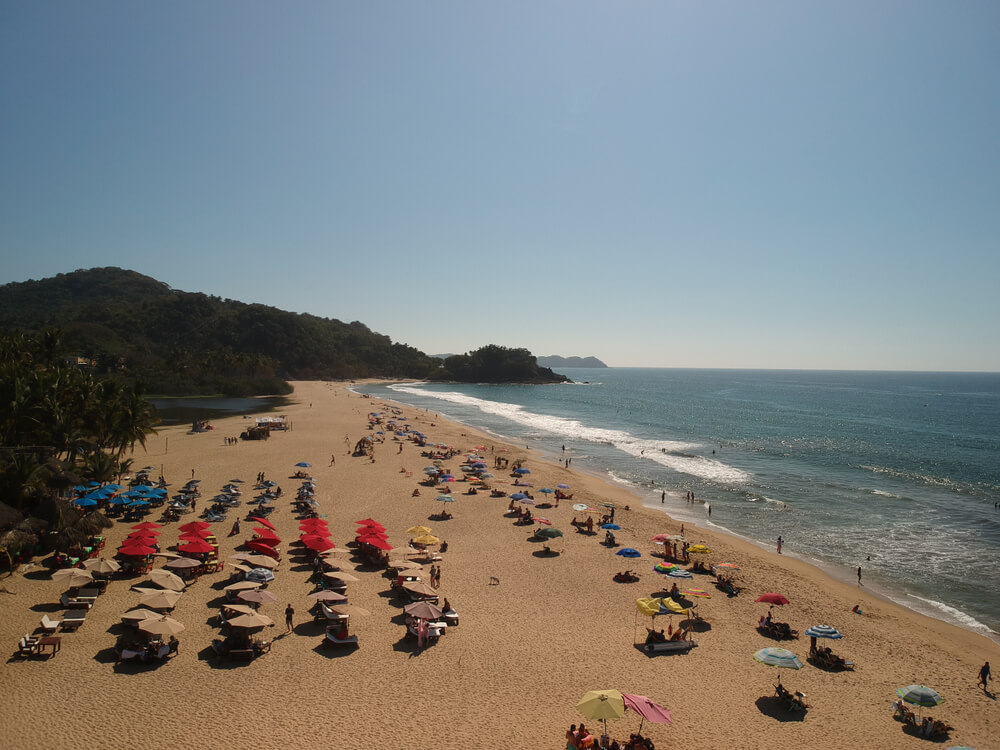 This beach is in the adorable town of San Pancho, about 20 minutes north of Sayulita.
Come here in the morning to rent a beach umbrella and lounger with table service from one of the beachfront restaurants.
The beach is short but wide, so take a quick stroll along the soft white sand, swim in the ocean, or wander the adorable shops, restaurants and cafes in town.
San Pancho is for catching up on your chill time. It's a super small town, not a place to come for a party. For that, stay in Sayulita.
Playa San Panchito, Nayarit
Ideal if you want a quiet spot that is close to the action.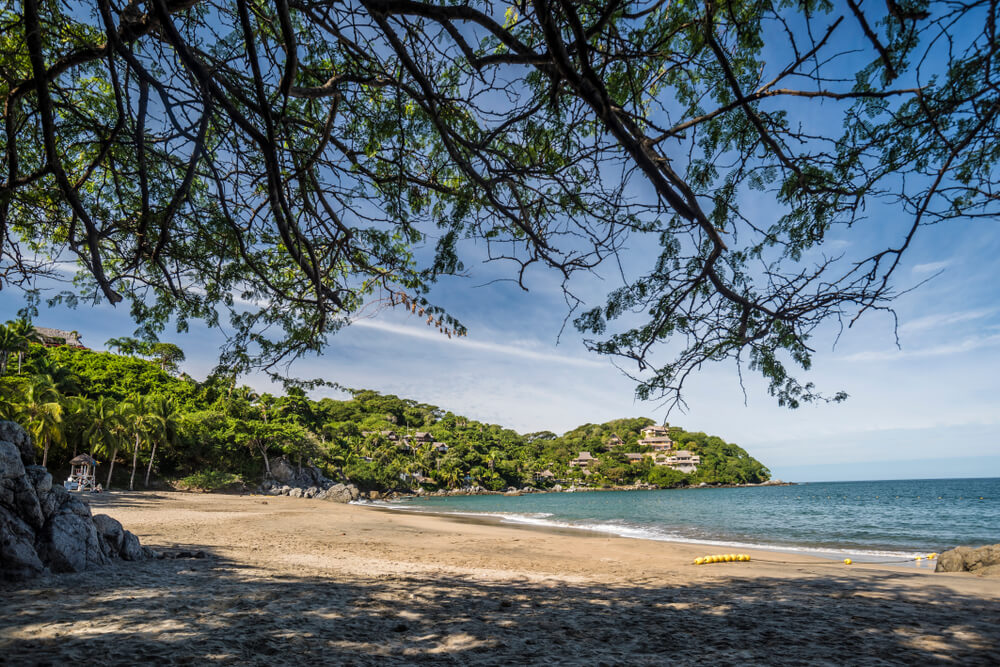 This is the little sister to San Pancho Beach.
The two are separated only by a seasonal creek and lagoon that emerges from the Sierra Madre mountain range.
Although you won't find any services, eateries, or vendors, it's the perfect place to bring a book and enjoy the peace and quiet.
Playa Lo de Marcos, Nayarit
Best beach if you like to take long walks in the sand.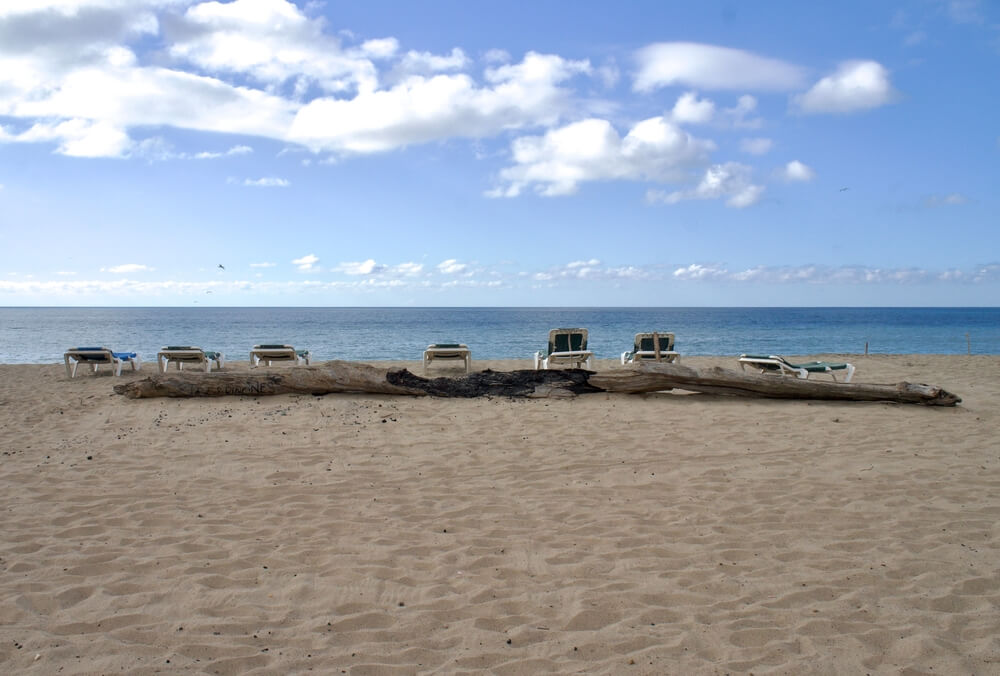 About 20 minutes north of San Pancho is Playa Lo de Marcos, in the quiet town of the same name.
This idyllic, golden sand beach stretches for two kilometers and is backed by lush mountains.
If you get hungry, head to the southern end of the beach. There are a couple of small seafood restaurants where you can eat the day's fresh catch with your feet in the sand.
There are beach umbrellas to rent for the day.
Day trip from Sayulita
The Hidden Beach, Las Islas Marietas
Best for an epic day trip you won't forget.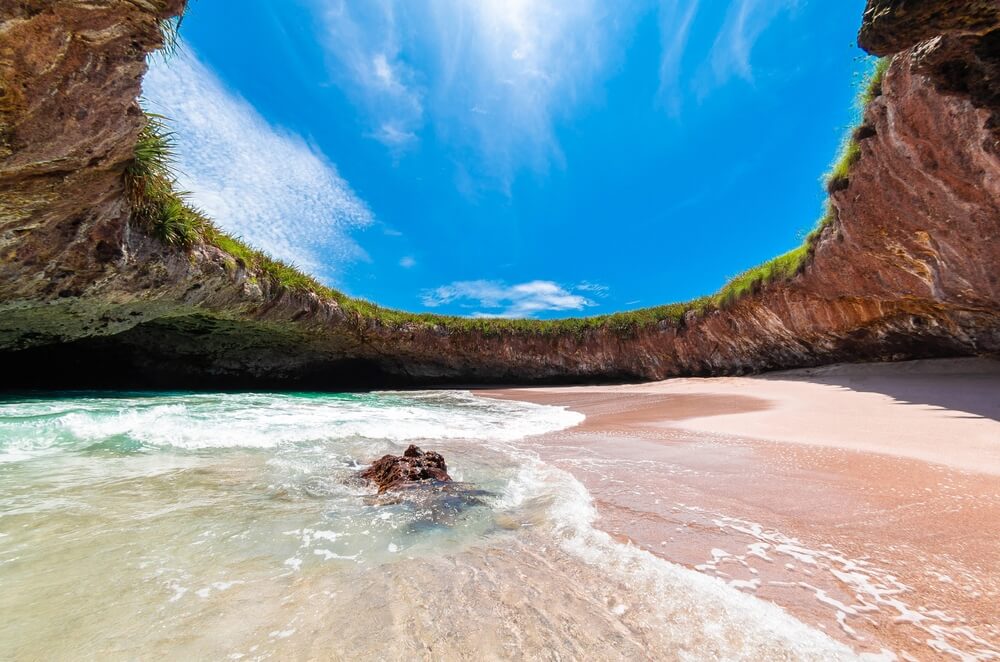 If you're looking for an unforgettably unique beach, take a trip to the Hidden Beach in the Marietas Islands.
It is only accessible by water and approximately a 30-minute boat ride from Sayulita. You must swim or kayak through a cave to reach this heavenly beach. And it's so worth it for the crystal clear turquoise waters surrounded by rocky cliffs and lush vegetation.
What more could you ask for?
Weather in Sayulita, Mexico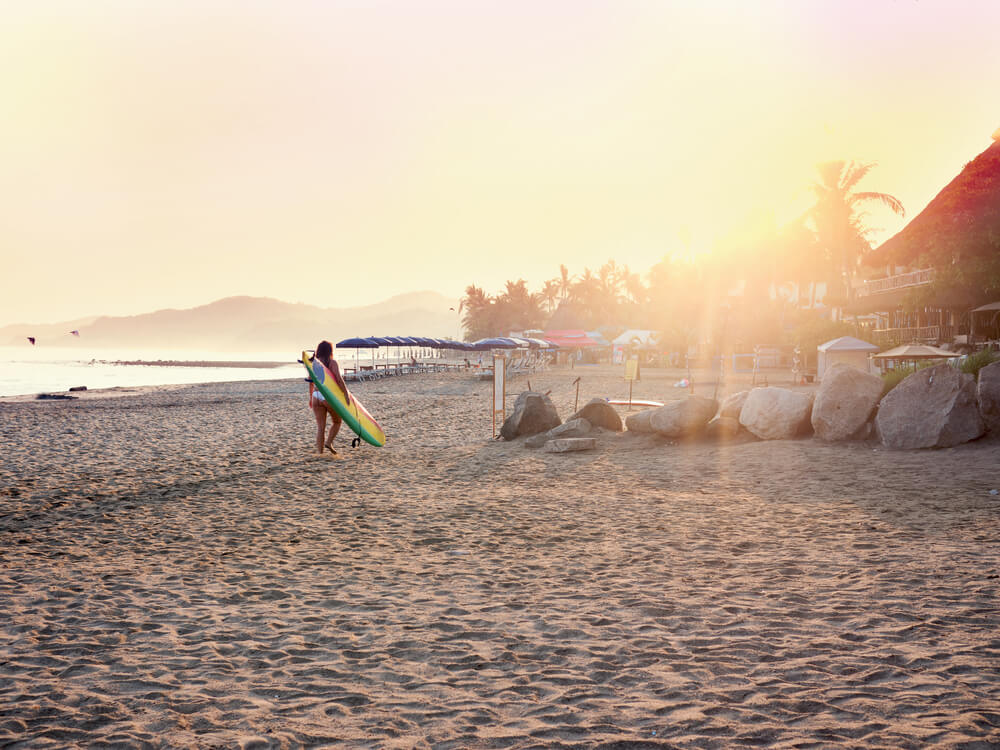 If you are the type of traveler who prefers to holiday during ideal weather conditions, try and book your trip between October and March.
During these months, the prices may be more expensive, but you can also expect fantastic weather conditions. Keep in mind that Thanksgiving, Christmas, New Year's and spring break fall between these months.
Daytime temperatures will reach 27°C (80°F), and the nighttime temperatures drop to a low of 13°C (55°F). Be sure to pack a sweater or two, just in case.
June to October brings warmer weather and the occasional thunderstorms. While you can expect temperatures to reach 34°C (93°F), come prepared for rainfall.
August and September are the quietest as the rainfall, thunderstorms and extreme humidity are at their peak. You may also find a lot of bars and restaurants close as locals leave the town to travel elsewhere.
Packing list essentials for Sayulita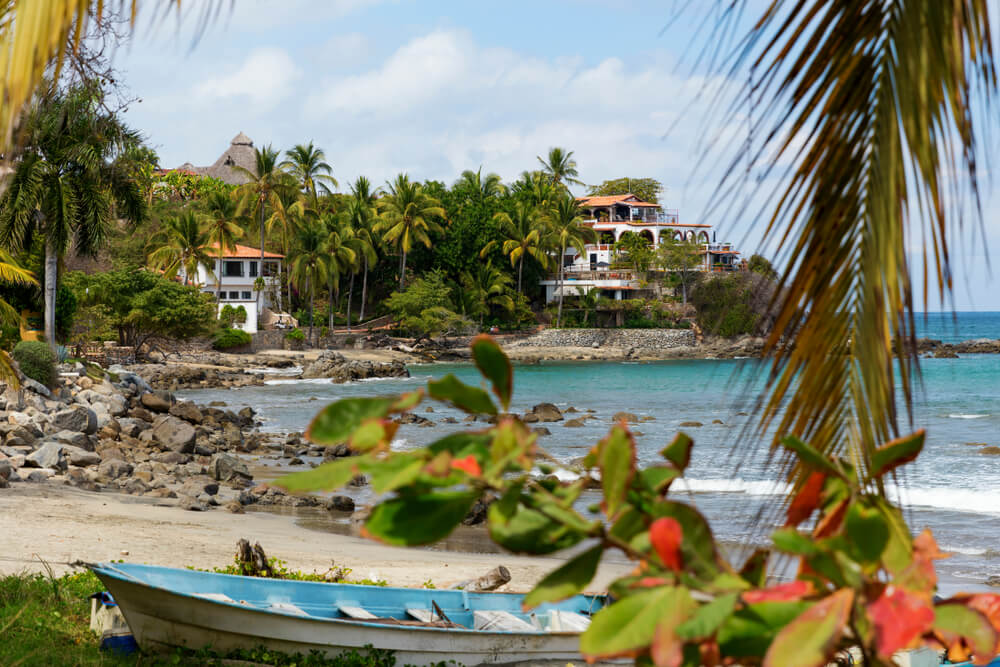 If you plan to spend most of your days at the beach, you are in luck, as packing should be relatively straightforward. Think swimsuits, cover-ups, a wide-brimmed hat and sunscreen.
Below are a few more items that will make your trip more enjoyable:
Dry bag: As you will be spending most of your time close to the ocean, you will want to ensure that your valuables are protected from water and sand.
Travel towel: Depending on where you are staying, you may not have access to beach towels. Travel towels are light and easy to pack in your suitcase and save you the hassle of buying one when you get there.
Gym shoes: If you plan to visit any beaches accessed by a walking path, such as Playa de Los Muertos, make sure you have a comfortable pair of shoes, as flip-flops can be uncomfortable and dangerous at times.
Portable charger: Nothing is worse than spending a day at the beach only to realize your phone has died. Bringing a portable charger means you can recharge your phone to access directions back to your accommodation.
Refillable water bottle: Some beaches (Playa Patzcuarito and Playa Patzcuaro) have no services available, so bringing water for the day is essential.
Map of Sayulita's beaches
As you can see, a lot of these beaches are very close to each other. This will be helpful when it comes time to plan your day-to-day activities.
How to get to Sayulita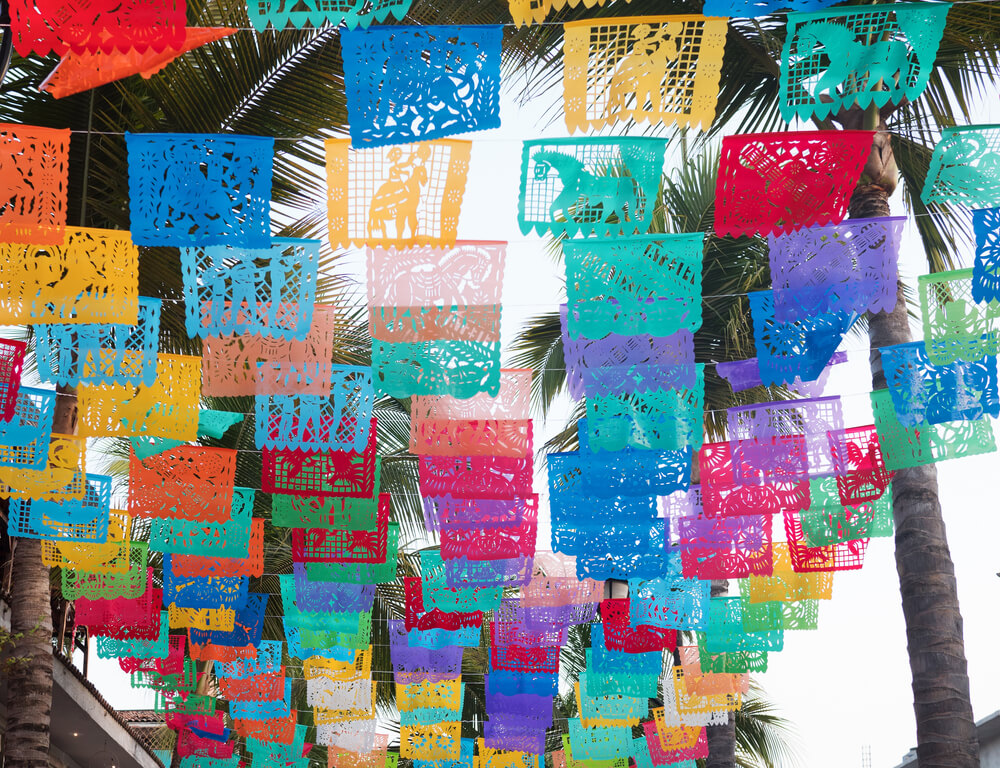 The good news is that Sayulita is not located far from the well-known city of Puerto Vallarta.
Depending on where you are coming from, you may find yourself in Mexico City. From Mexico City to Puerto Vallarta, you have two options. The first and easiest choice is to take a 1-hour 35-minute domestic flight. Otherwise, you can take in the scenery of Mexico on an 11-hour and 30-minute bus ride.
If arriving by air at the Puerto Vallarta International Airport, you will want to take a car or minivan transfer to Sayulita.
A final thought about the beaches of Sayulita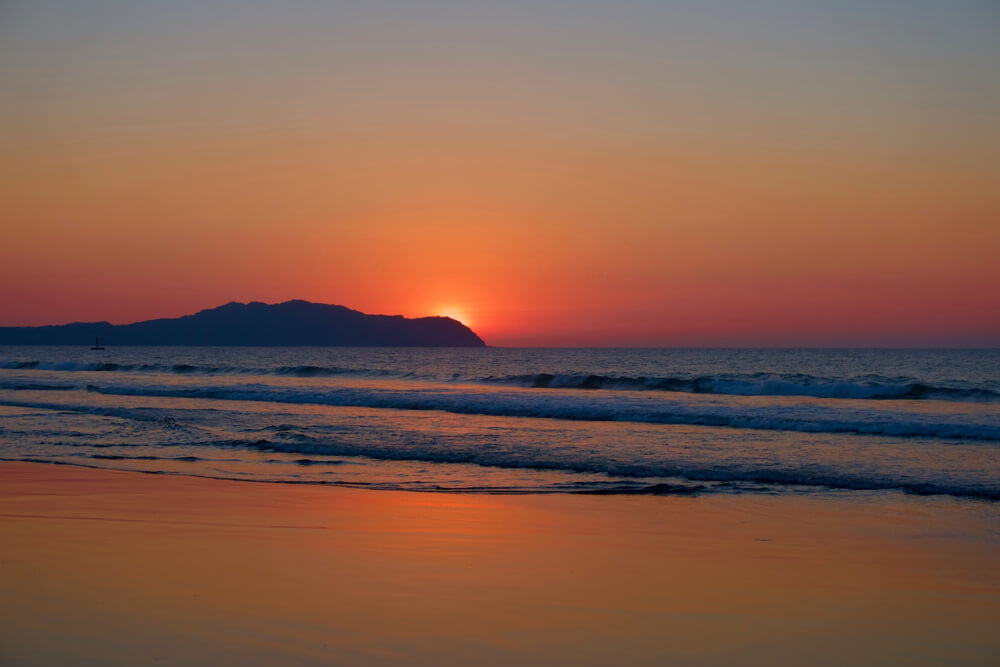 While beach holidays are always a great time to switch off and relax, it's always best to come prepared.
With so many beaches to choose from, hire a bike, golf cart, or car so you can fit the most into your days.
FAQ
Is the water safe to drink in Sayulita? 
It is not recommended to drink the tap water. Most accommodations will provide bottled water, and restaurants and bars use purified water. 
What is the closest airport to Sayulita? 
Puerto Vallarta International Airport is approximately 38 km (23.6 miles) from Sayulita. 
Is Sayulita safe?
In general, yes. As with any new destination you are unfamiliar with, it is always best to avoid walking alone at night and keep all your valuables locked in your suitcase or in a safe when you are out.